No Fuss Apple Wrapper Pie – Scratch-made apple pie is great, but sometimes a busy cook just needs a hassle-free way to get dessert on the table. No fuss apple wrapper pie for the win!
Let's face it, making an apple pie from scratch is a lot of work. If you're crunched for time, or if you want to simplify your holiday meal prep without having to digress to store-bought pie, this is the perfect recipe for you! It has all the amazing flavor and freshness of traditional homemade pie, but I cut some corners on this one. Sometimes a busy cook's gotta do what a busy cook's gotta do!
Confession time: more often than not I use a store-bought pie crust. This rings especially true if I'm making multiple dishes for a large meal. *Gasp!* I know! I'm a food blogger, so that must be terrible! But not really… Just practical. Homemade pie crust is fabulous, but when you're busy it's for the birds. I make a nice flaky and buttery crust of my own, but I like the pre-made crust produced by Immaculate Baking Company just about as well (note: this is not a sponsored post).
On the other hand, although I'm willing to take the semi-homemade route with pie crust, the filling has got to be homemade and to-die-for. In the past, I've sweetened my apple pie filling with white sugar, but this batch uses light brown sugar, which adds a touch of molasses to the flavor. The light brown sugar mixed with the cinnamon gives the pie a deeper sweet and spicy flavor than most apple pies. This coating, over slightly tart Cripps Pink apples (aka. pink ladies), which are fabulous at holding their shape when baked, makes for one delicious pie!
In the spirit of simplicity, I've taken step-by-step photos of this recipe and turned it into a pinnable image for you. If you're feeling frazzled by holiday entertaining, pin it for later and share it with your friends. It's pretty straightforward and if you give this recipe a try you'll have dessert ready in a jiffy!
Now that you've gotten an amazingly-delicious (and amazingly-easy) pie on the table, sit back and enjoy your family, friends, and all the things that truly make the holidays special.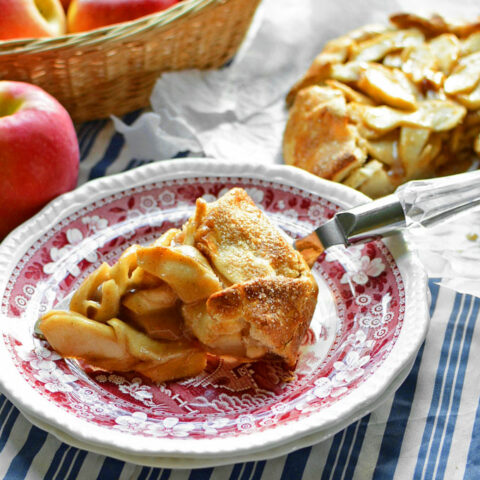 No Fuss Apple Wrapper Pie
Yield: 6

Prep Time: 15 minutes

Cook Time: 30 minutes

Total Time: 45 minutes

Scratch-made apple pie is great, but sometimes a busy cook just needs a hassle-free way to get dessert on the table. No fuss apple wrapper pie for the win!
Ingredients
1 Immaculate Baking Company pie crust
2/3 C light brown sugar
1/3 C all-purpose unbleached flour
3/4 tsp cinnamon
1/4 tsp salt
5 C peeled and thinly-sliced cripps pink (aka pink lady) apples
1 beaten egg
1 Tbsp granulated sugar
1 Tbsp butter divided in 4
Instructions
Preheat oven to 425ºF. In a large bowl mix together the light brown sugar, flour, cinnamon, and salt.
Peel, seed, and thinly slice your apples and then fold them into your dry ingredients. Allow them 3-5 minutes to release some of their juices so that they form a sauce with the dry ingredients.
On a light colored baking sheet, carefully roll out 1 store-bought pie crust. If it tears at all be sure to patch up any holes by squeezing the dough together.
Heap your apple pie filling into the center of the crust and pour any of the remaining juices into the center.
Fold over the pie crust, working in a circle around the pie.
Check the pie for potential holes or leaks and seal them with your fingers.
Thinly brush the crust with the beaten egg. Expect to have a lot of egg left over.
Sprinkle the crust with granulated sugar.
Divide 1 Tbsp of butter into 4 butter pads and scatter them over the top of the pie filling.
Bake in a 425ºF oven for 30-35 minutes or until the filling is bubbling and the crust is golden brown.
If you enjoyed this post, you may also enjoy…