Cranberry Stuffing Turkey Cutlets – When you just can't get enough of that good fall turkey, this holiday-season-inspired dish is an easy-to-make yet elegant addition to your table that is packed with traditional flavors!
On our weekly treks to pick up our crop share, my son and I are faithfully greeted by a boisterous turkey who is all plume, pomp, and circumstance. Although I'm unsure of his fate this holiday season, it can certainly be said that he lived well this spring, winter, and fall.
At the CSA I belong to, they raise free-range chickens that lay the most delicious eggs with amber (not yellow) yolks. Throughout the year they rotate the location of their chicken coop along with a large area for them to roam free, pecking at grasses and bugs. At the center of their little flock is our friend, the prideful and rather loud turkey. Throughout the day he marches along the perimeter of their grassy area while sticking his neck out and loudly proclaiming his authority with a gobble that says "these are my hens and this is my field." The hens seem unfazed by his display and contently submit to his authority while pecking at the ground for bugs. It's a good life for all.
Today's recipe is not so much a Thanksgiving recipe as it is a general holiday season recipe. In my home we celebrate Christmas, and we traditionally serve beef tenderloin on Christmas day. After I got married and celebrated Christmas with my husband's family, it was brought to my attention that a lot of people serve turkey on Christmas day. Personally, I think I'll stick with the beef tenderloin, because come on, it's tenderloin! But it did get me thinking about the fact that turkey really is excellent for serving throughout the holiday season. It's festive and there are a lot of great cuts available at good prices this time of year. Another plus is that it's a lighter cut of meat amongst all those cookies and cocoa (she says while nibbling on a chocolate cherry scone).
When developing a post-Thanksgiving turkey recipe, I decided that it had to have a decidedly "Christmas-y" flare, so in comes lots of pretty red cranberries and the added flavors of pearled onions and pecans. This recipe cooks up quickly and can be made in large batches and prepped a day in advance, making it perfect for a weeknight or for a low-stress holiday party entree that your guests will love. Check out the photos below to see the process of assembling these little bundles of flavor.
To garnish this dish I laid the cutlet on a couple of mizuna leaves topped with three frozen cranberries to give it an edible and festive holly-leaf-and-berry look. If you're serving this to a crowd, you could lay the mizuna leaves all along a large platter and, after placing the cutlets on top, sprinkle cranberries around the dish. It will look so beautiful and festive on your holiday table or buffet!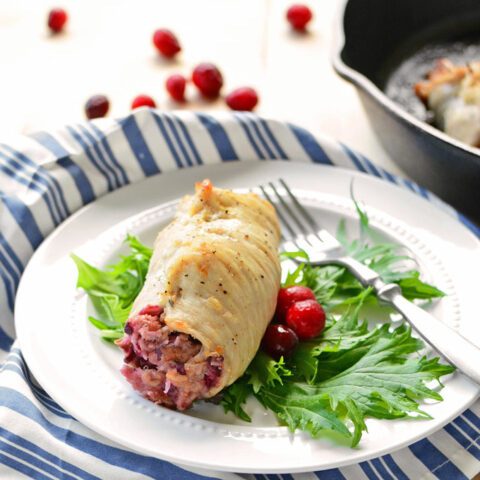 Cranberry Stuffing Turkey Cutlets
Yield: 6

Prep Time: 15 minutes

Cook Time: 30 minutes

Total Time: 45 minutes

When you just can't get enough of that good fall turkey, this holiday-season-inspired dish is an easy-to-make yet elegant addition to your table that is packed with traditional flavors!
Ingredients
6 4 oz turkey cutlets
3/4 C thawed frozen cranberries
3/4 C thawed frozen pearl onions
1 1/2 C stale whole wheat bread broken up into pieces*
1 C shredded fresh parmesan
1/4 C chopped pecans
1/8 tsp sage
1/8 tsp thyme
1/8 tsp rosemary
1/2 Tbsp olive oil
salt and fresh cracked pepper to taste
large toothpicks
Instructions
Preheat an oven to 375ºF.
To make the cranberry stuffing, coarsely chop the cranberries and pearl onions in a food processor. In a medium bowl, fold together the contents of the food processor, bread crumbs, parmesan, pecans, sage, thyme, and rosemary.
Lay your turkey cutlets out on a cutting board, cover them with a piece of plastic wrap and gently pound them with a mallet until they are even in thickness.
To stuff the cutlets, evenly divide the stuffing amongst the center of the six cutlets. Tightly roll them up and secure them lengthwise with a large toothpick or two. If any stuffing pops out, pop it back into the rolls with your fingers.
Arrange the cutlets along a cast iron pan or an oven-safe dish. If using something other than cast iron, brush oil along the bottom of the dish. Next, lightly brush olive oil along the outside of the cutlets and season with salt and pepper to taste.
Bake in at 375ºF oven for 30-35 minutes and then serve immediately.
Notes
*Use whole wheat bread that doesn't contain seeds. Think the cheaper stuff for this recipe.

For a weeknight, the recommended serving for a person is one cutlet, but it you are throwing a large party count on some big eaters and plan on 1 1/2 to 2 cutlets per person depending on your crowd and how many hors d'oeuvres and sides you're serving.



If you enjoyed this post, you may also enjoy…