Celeriac and Fennel Soup – In the midst of rich holiday food, celeriac and fennel soup is the perfect light meal. We're sure you'll agree with Mr. Elton and "simply love celery root!"
After digging my way out from under Thanksgiving leftovers, I can't help but be in the mood for soup and salad before the next rush of rich holiday food hits. I spent Thanksgiving traveling to see my in-laws with a fever and lower respiratory tract infection. They were perfectly lovely during our visit, but I'm wiped! Nourishing foods and time to recharge must happen for me before I allow myself to become hot-chocolate-and-cookie-crazed amongst all of the busyness of the holiday season.
Recently we've been getting lovely bulbs of celeriac from our crop share. The humble-looking vegetable has become one of my favorite winter treasures. I first learned of celeriac (a.k.a. celery root) when I was a teenager and watching the movie Emma. In the movie, the main character spends much of her time playing the role of matchmaker. She tries to set things up between her friend Harriet and a Mr. Elton. During one of her matchmaking escapades, she arranges time for the two to be alone, only to be disappointed to find that Mr. Elton uses the time to proclaim his love for celery root. Check out a clip below from the 1996 Miramax film Emma.

Celeriac is a variety of celery that's grown for its large, round root instead of its stalks. When fresh, the bulb is firm and crisp. When cooked it is easily roasted, mashed, or pureed, with a texture somewhere between a rutabaga and a potato. It's flavor is sweeter and more delicate than that of celery stalks. If you haven't cooked with this vegetable before, take the word of Mr. Elton and myself when I say that it's lovely.
Today's recipe for Celeriac and Fennel Soup is mellow and fresh. I decided to combine the celeriac with fennel, as it adds a freshness and a mild herbal quality to the soup. Today's post is all about celeriac, however, so I'll have to save gushing over fennel for another day… This soup may not share in the excessive richness of so many recipes to be found during this time of year, but its pale green color would be so pretty at a Christmas brunch or luncheon. Serve it with a little crème fraîche and a drizzle of olive oil for added flavor and flair.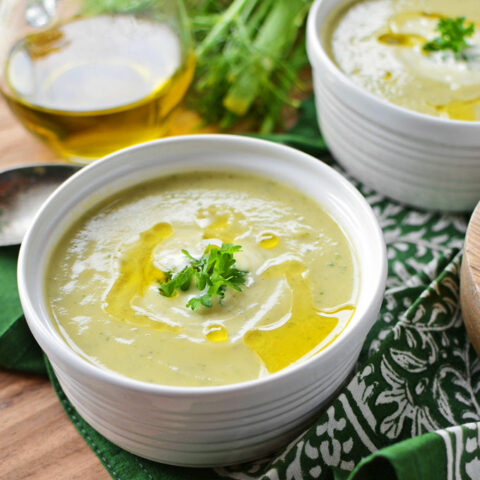 Celeriac and Fennel Soup
Yield: 4

Prep Time: 15 minutes

Cook Time: 50 minutes

Total Time: 1 hour 5 minutes

In the midst of rich holiday food, celeriac and fennel soup is the perfect light meal. We're sure you'll agree with Mr. Elton and "simply love celery root!"
Ingredients
1 1/2 C diced white onion
2 Tbsp butter
1 1/2 C chopped fennel
4 1/2 C chopped celeriac
7 C low sodium vegetable stock
salt and white pepper to taste
1 C curly parsley plus more for garnish
4 Tbsp crème fraîche
4 tsp olive oil
Instructions
Prep all of the vegetables.
Melt the butter and soften the onions, fennel and celeriac over medium heat for about 3 minutes. Then add a few dashes of white pepper and cook one more minute.
Add 7 C of low sodium vegetable stock to the pot, bring to a boil over high heat, and then reduce to medium-low heat and simmer about 45 minutes or until the celeriac is beginning to fall apart and the fennel is tender.
Puree the soup until it's smooth using a hand mixer or a blender.
Next, blend in 1 C of curly parsley until the herb is broken up into small pieces, but not completely pureed into the soup.
Add more salt and white pepper to taste.
To serve, divide among 4 bowls. Garnish each with a Tbsp of crème fraîche, a drizzle of olive oil, and a sprig of parsley. Serve hot.
If you enjoyed this post, you may also enjoy…