Savory Mushroom and Quinoa Stuffed Mini Pumpkins – Easy to make and deliciously sweet and savory, these adorable little stuffed pumpkins will be the hit of your next fall gathering!
My five-year-old has had what some might argue an unhealthy obsession with pumpkins. We can't go by the fall display in the supermarket or by the local farm stand without pleas to buy more pumpkins.
He likes them all, too – big ones, small ones, orange ones, white ones, Cinderella's-carriage-looking ones, you name it… If it's a pumpkin, he simply MUST have it.
One would think that the pumpkins are secretly filled with candy, or even better, 100 dollar bills! The result has been an "artful," in the five-year-old sense, arrangement of pumpkins all over my home.
I've been a bit pumpkin-obsessed myself, but for completely different reasons. I just want to eat them – pumpkin spice lattes, pumpkin breads and muffins, and even as a featured ingredient in savory dishes.
For many years I assumed that, along with gourds, the adorable mini pumpkins that are widely available every fall were poisonous. Much to my delight, however, I found out a few years ago that they're edible and actually quite delicious.
When their tops are cut off, the seeds removed, and they're roasted, they make the perfect little festive bowls for holding sweet or savory delights. This is so easy to do, and these little, magical pumpkin bowls will be the perfect conversation piece at your next fall or Thanksgiving party.
Today's recipe for Savory Mushroom and Quinoa Stuffed Mini Pumpkins flaunts all that mini pumpkin table drama! The sweetness of the pumpkin paired with a savory, nutty, and healthy quinoa pilaf makes a perfect fall side or vegan entrée.
They look so impressive, yet they're so easy to make, but shhh! Your dinner guests never have to be any the wiser. Also be careful with any five-year-old guests as they may try to tell you that your mini pumpkin bowls should actually be part of their pumpkin collection!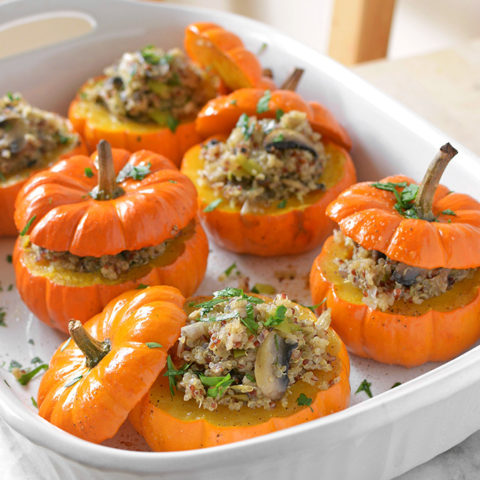 Savory Mushroom and Quinoa Stuffed Mini Pumpkins
Yield: 6 servings

Prep Time: 20 minutes

Cook Time: 30 minutes

Total Time: 50 minutes

Easy to make and deliciously sweet and savory, these adorable little stuffed pumpkins will be the hit of your next fall gathering!
Ingredients
6 mini pumpkins
1 C uncooked quinoa
2 C vegetable broth
1 Tbsp plus 2 tsp olive oil
8 oz sliced button mushrooms
1 C chopped leeks
1 clove minced garlic
1/8 tsp rosemary
1/4 tsp thyme
1/3 C dry white wine
1/2 tsp salt
1/8 tsp black pepper
Instructions
Preheat the oven to 400º F. Meanwhile, cut the tops off of 6 mini pumpkins and remove the seeds. The seeds can be discarded, but they can also be reserved for roasting, much like larger pumpkin seeds. Lightly brush olive oil over the insides and outsides of the pumpkin bottoms and tops and season with salt and pepper to taste. Bake for 25-30 minutes with the tops on the pumpkins. The pumpkins are done when the inner flesh is tender.
After placing the pumpkins in the oven, make the quinoa. First rinse the quinoa well and then combine 1 cup of quinoa in a sauce pan with 2 cups of vegetable broth. Bring to a boil, then reduce to a simmer and cook covered until all of the liquid is absorbed. This will take 15 to 20 minutes.
Meanwhile, sauté the mushrooms and leeks in 2 teaspoons of olive oil for about 5 minutes, or until tender. Add the garlic, rosemary, and thyme to the pan and cook 1 more minute. Next, add the white wine and cook until the wine is mostly evaporated. Season with the salt and pepper. By now the quinoa should be done cooking. Measure 2 cups of cooked quinoa into the skillet with the mushrooms and leeks. Stir to evenly combine.
Remove the cooked pumpkins from the oven and spoon the quinoa pilaf evenly into each pumpkin. Consider garnishing with a little parsley for added color. Serve immediately.