Amish Macaroni Salad – For your outdoor events, skip the hot sides and instead enjoy the creamy coolness of this classic summer macaroni salad.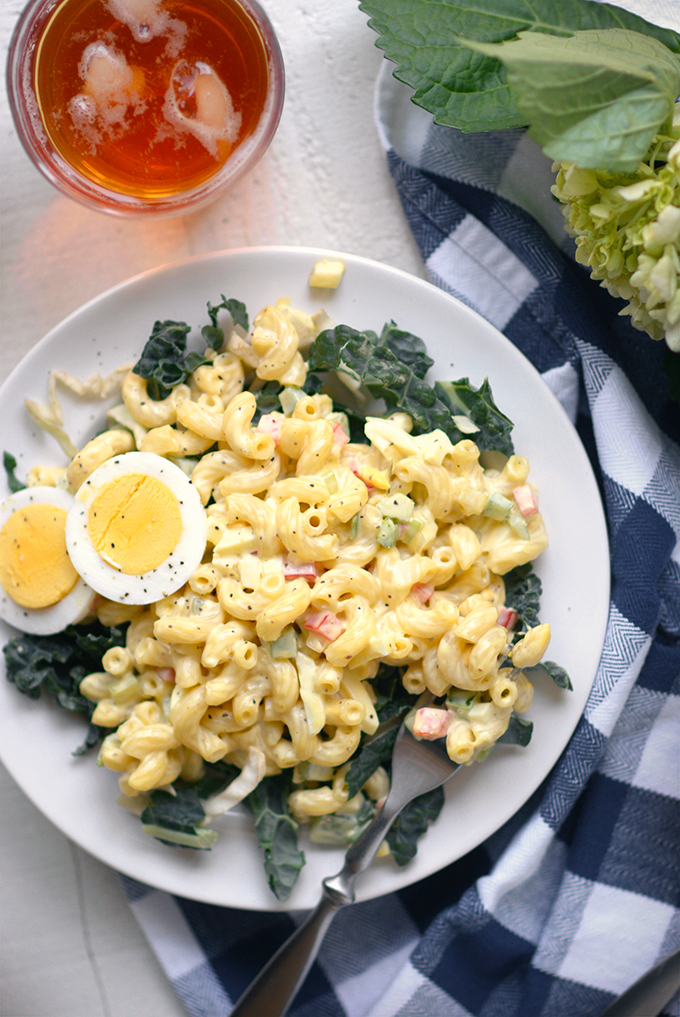 Like almost every American kid, I grew up looking forward to Memorial Day and 4th of July picnics. I mostly remember them being hot. Us kids would spend picnic afternoons running around in the grass that my dad had freshly mowed until the grass clippings stuck to our sweaty foreheads. We'd all play a horribly embarrassing game of croquet after which the grown-ups would sit in lawn chairs and drink from cold cans of beer that dripped with condensation from the hot and humid Philadelphia air.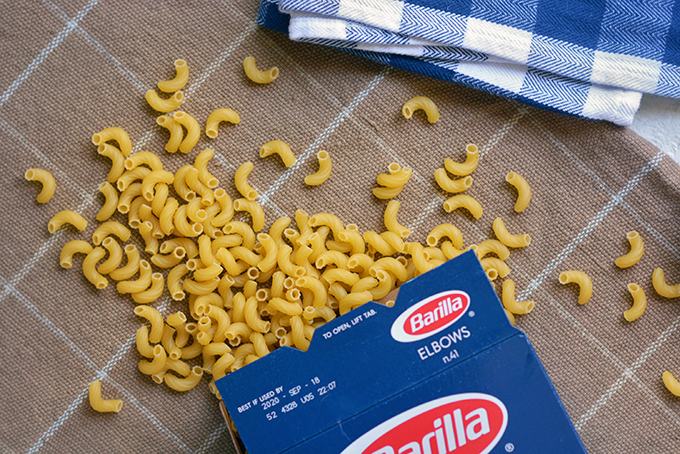 If we weren't too annoying we could talk my parents into letting us play in the sprinkler. That didn't always work out for us though… Fortunately, once the sun set the heat and humidity would settle (a little) and the fun could really begin. We'd have a family picnic followed by lightning-bug-catching, bottle rockets, and sparklers. It was everything an American kid could want from a hot summer night.
My family always put on quite the picnic spread. The hamburgers and hot dogs were always great, but my favorite part of a summer picnic has always been the assortment of cool homemade salads. In addition to tasting great, they keep you feeling cool.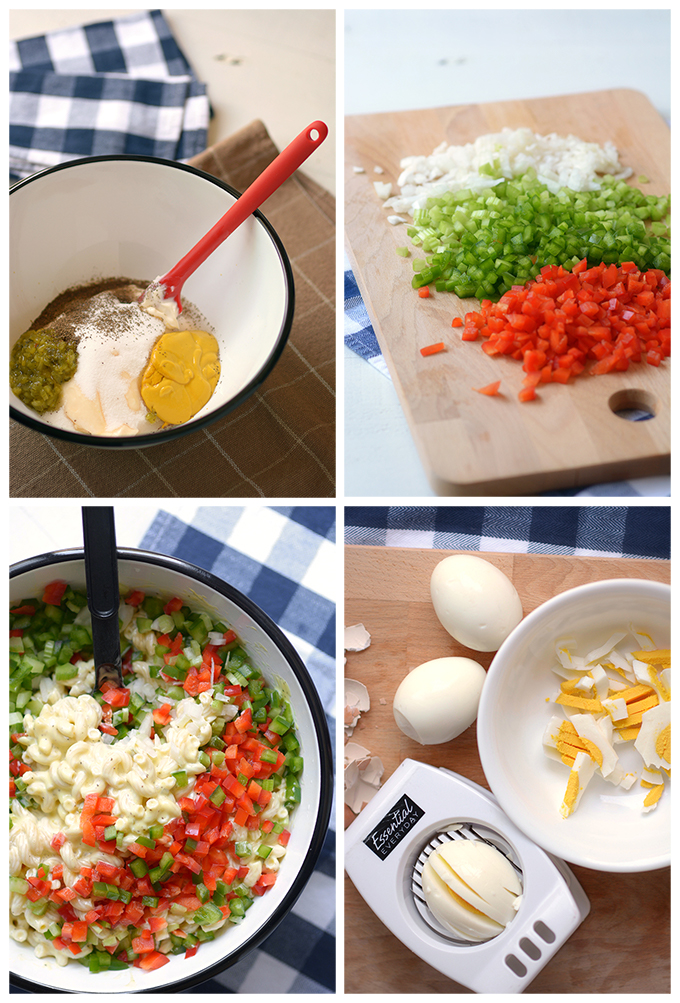 Over the years I've been more of a pasta salad kind of girl, as opposed to the ubiquitous Amish Macaroni Salad, which I've always found just a little bit boring. That's why the recipe I've developed for my blog is more of the "loaded" variety. It has tons of celery, onion, and red and green bell peppers, but the key is in the dressing. In addition to traditional mayo, mustard, and white vinegar, I added sweet relish and celery seeds.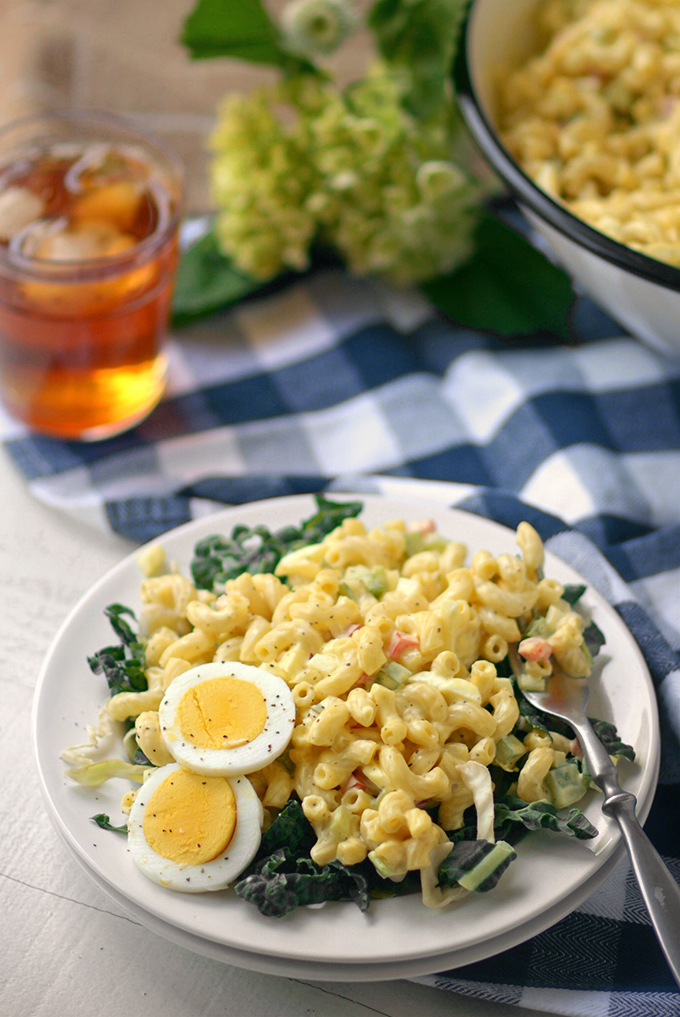 The end result is a flavorful sweet and tangy Amish Macaroni Salad that's also popping with crunch. Now I don't think I can choose between the pasta salad and the macaroni salad at our family summertime picnics. Fortunately, I don't think there's a picnic rule against taking a little of each!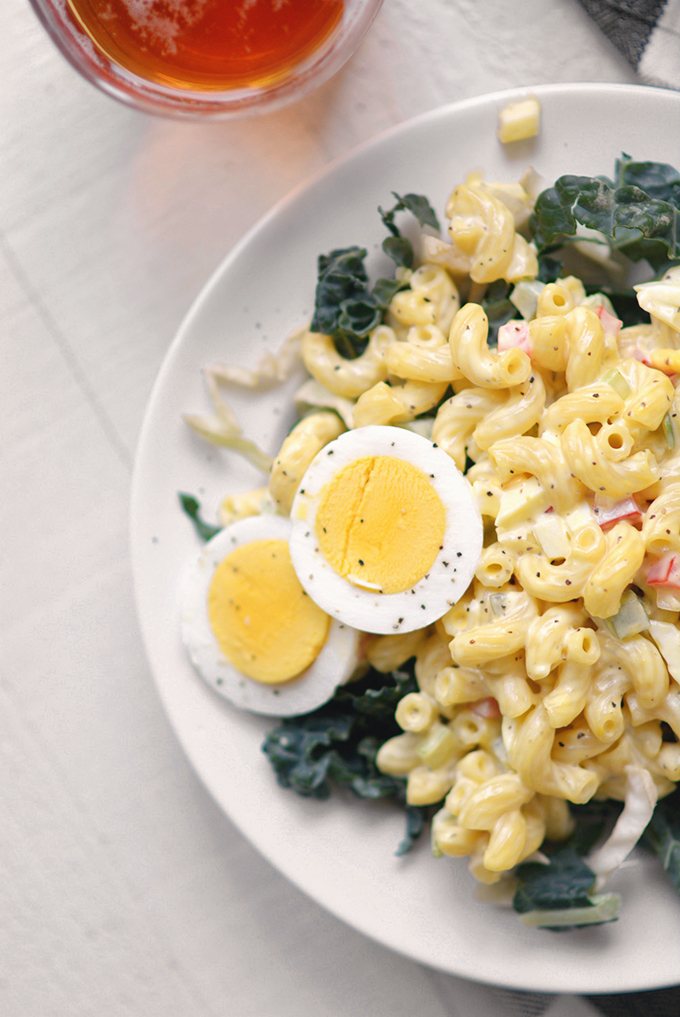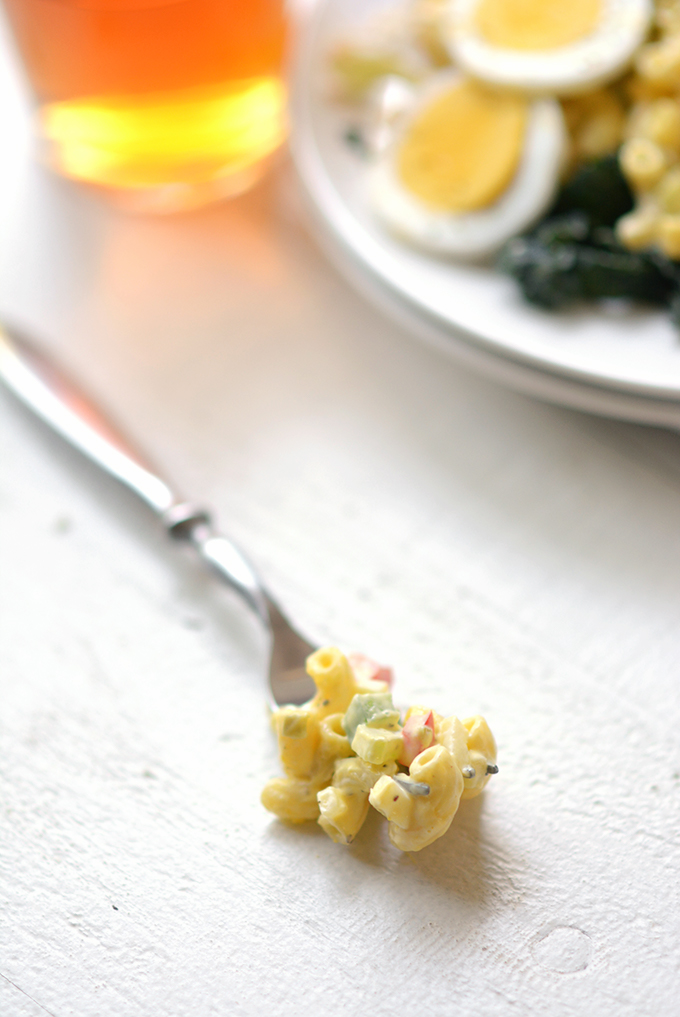 Amish Macaroni Salad
For your outdoor events, skip the hot sides and instead enjoy the creamy coolness of this classic summer macaroni salad.
Ingredients
Dressing
2 C mayo
⅓ C sugar
3 Tbsp yellow mustard
2 Tbsp sweet relish
2 tsp white vinegar
1 tsp celery seed
½ tsp salt
Salad
4 finely chopped hard boiled eggs plus 2 more for slicing as garnish if desired.
1 Tbsp white vinegar (for cooking eggs)
1 lb box elbow macaroni*
1 Tbsp salt
⅔ C finely chopped sweet onion
⅔ C finely chopped celery
⅔ C finely chopped sweet bell pepper
⅔ C finely chopped green bell pepper
Instructions
Place 4-6 eggs in a pot of cold water. Bring to a boil over high heat. Once boiling, turn off the water, cover the pot, and allow the eggs to sit in the hot water for 11 minutes, then place the eggs in an ice bath or rinse with cold water until they are cool. Refrigerate until you are ready to use.
While the eggs are cooking mix together all of the dressing ingredients in a large bowl until smooth and then set it aside.
Bring 4-6 quarts of water to a boil in a large pot. Add 1 Tbsp of salt and then add the pasta to the water. Boil the pasta according to the package instructions until it is al dente (approximately 7 minutes). Drain the pasta and lightly rinse it with cold water. Allow the pasta to come to room temperature before incorporating it into your salad.
While the pasta water is heating and the pasta is cooking, chop all of the vegetables.
Fold the cooked and cooled pasta into the dressing. Next, fold in the vegetables. Finely chop the eggs and fold them in. Serve immediately, but it is best served chilled. Store in the refrigerator for up to five days.
Notes
*I prefer the version of elbow macaroni that Barilla produces as it has indentations in the pasta that hold onto the dressing.
You may also enjoy…