Spring Vegetable Crème Fraîche Potato Salad – Even if spring has not quite yet sprung, this fresh, flavorful salad with a zesty dressing will put you in the mood for sunshine and daffodils!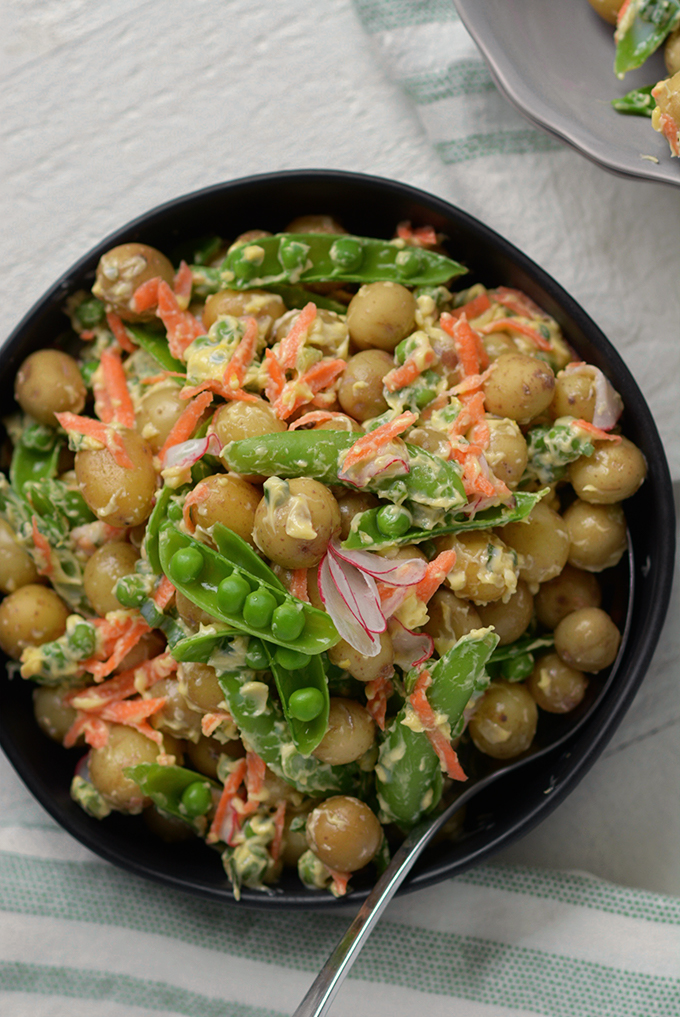 Easter really snuck up on me this year. I suppose that's because we celebrated it pretty early. It hardly seemed like the daffodils would be blooming and the birds would be tweeting as early as April 1st! I had bought my 16-month-old an adorable Easter outfit which is an overall set with knee socks. When I put it on him he looks like he should be chasing frogs and butterflies in an English garden. In truth we ended up bundling up in sweaters and boots. The crocuses were just barely peeking out of the cold ground and then they were buried the next morning in an inch of snow!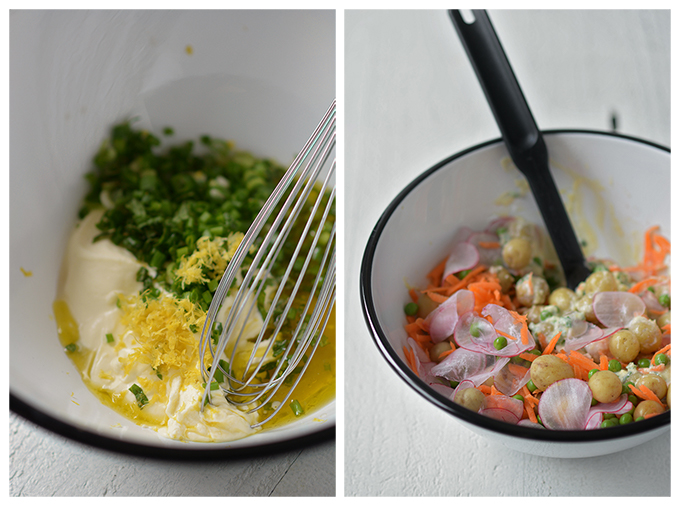 All that to say, I'm just getting over my St. Patty's Day hearty Lamb Shepherd's Pie and tasty Mint Chocolate Chip Cupcakes. But it's time to embrace spring – fresh foods and what (hopefully) will be lots of warm weather with flowers and bunnies outside!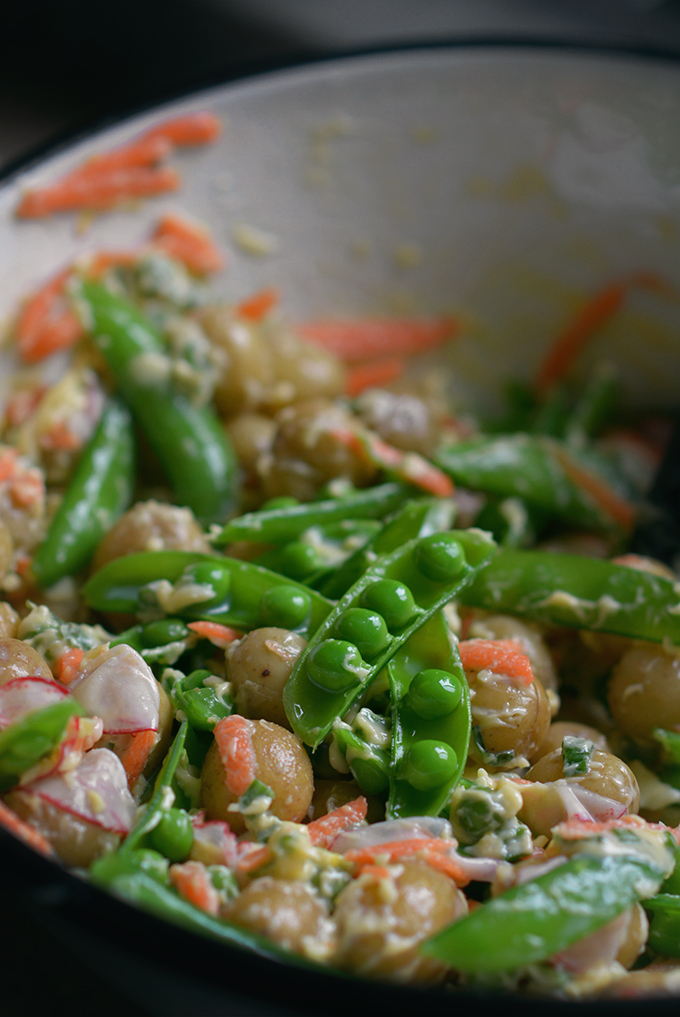 To get in the spring mood I've created this Spring Vegetable Crème Fraîche Potato Salad. Crème Fraîche and lemon make this potato salad taste bright and fresh. If you've never had crème fraîche before, it's most similar to sour cream, but it's richer and creamier. I've seen it utilized often in European cooking. America hasn't quite caught on yet, but I'm hoping to see it more in the future! If you're not sure where to find it, it's available in many specialty and gourmet food stores, and Whole Foods Market always seems to have it in stock.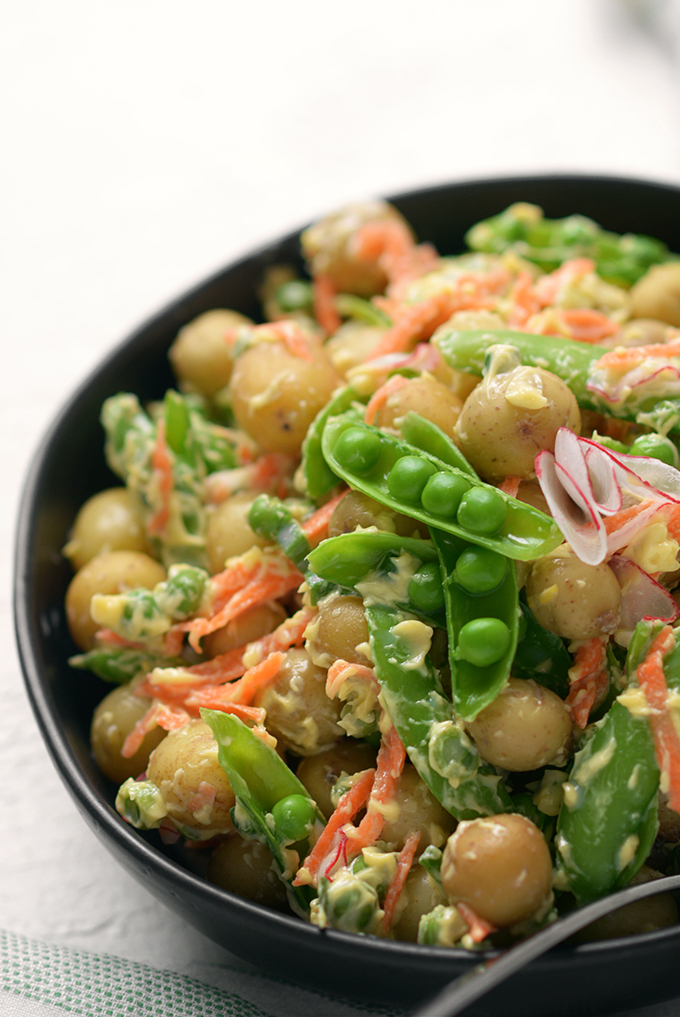 To add to the freshness of this potato salad I added a bunch of fresh spring vegetables and fresh herbs to the mix. The bright dressing, plus the colorful spring vegetables makes the salad look and taste perfectly springy. Even if it's still a bit chilly outside, this salad will bring spring to your kitchen table!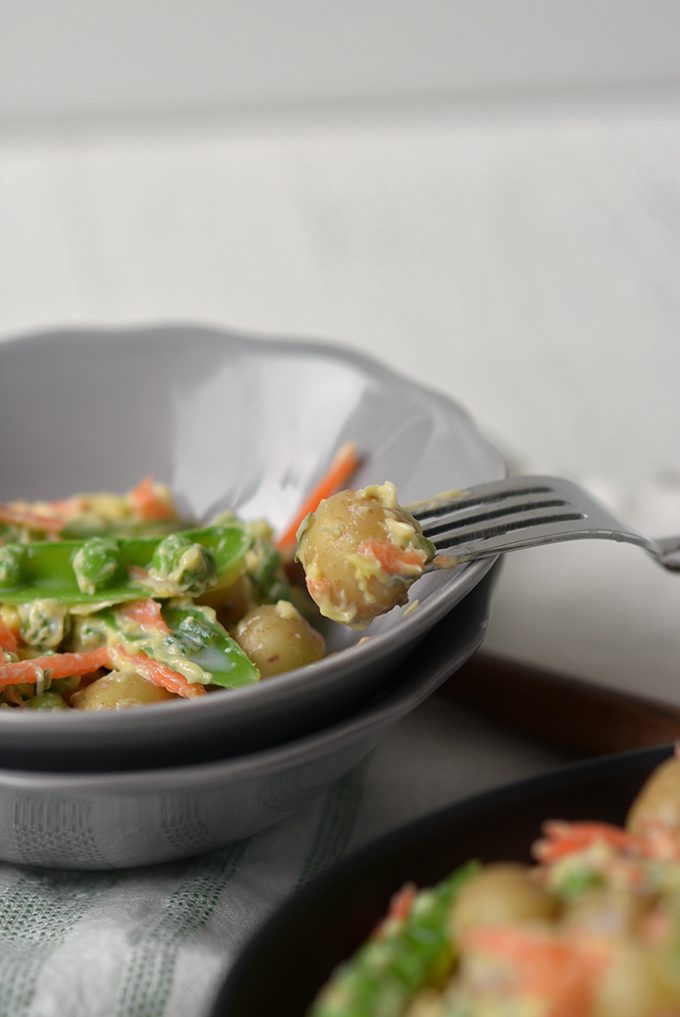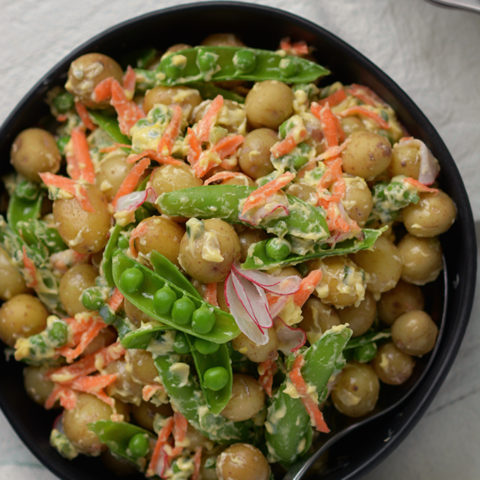 Spring Vegetable Crème Fraîche Potato Salad
Yield: 6 servings

Prep Time: 25 minutes

Cook Time: 20 minutes

Total Time: 45 minutes

Even if spring has not quite yet sprung, this fresh, flavorful salad with a zesty dressing will put you in the mood for sunshine and daffodils!
Ingredients
Spring Vegetable Salad
1 1/2 lbs new yellow potatoes*
1 C sugar snap peas
1/2 C fresh peas**
1/2 C grated carrots
Crème Fraîche Dressing
2/3 C crème fraîche
1 Tbsp olive oil
1 Tbsp white wine vinegar
1 Tbsp fresh squeezed lemon juice
zest of 1 lemon
4 chopped green onions
1 Tbsp finely chopped chives
1 Tbsp finely chopped mint
1/2 tsp salt
black pepper to taste
1/4 C thinly sliced radishes for garnish
additional chives and mint for garnish (optional)
Instructions
Clean the potatoes and place them in a pot of cold water. Bring to a boil and then reduce the heat to a gentle simmer. Simmer for 15-20 minutes. This cooking time is the average for new potatoes. The time can vary widely based on the size of your potatoes. They are done when they are just fork tender. Take care not to over cook. Once cooked, strain them and run them under cold water to stop the cooking process. Cut each potato into bite sized pieces if needed.
Meanwhile, bring a smaller pot of water to a boil. Wash and de-string the sugar snap peas. Prepare an ice bath with a tray of ice cubs and cold water in a bowl. Blanch the sugar snap peas and fresh peas by adding them to the boiling water for one minute and then immediately add them to the ice bath. Once cooled, remove them and open each pea pod leaving the peas intact and set them aside.
In a large mixing bowl, while the potatoes are cooking, make the dressing. Whisk together crème fraîche, olive oil, white wine vinegar, lemon zest, green onion, chives, mint, and salt.
Add the cooled potatoes and grated carrots to the bowl and stir until the salad is evenly coated. Next add the peas to the bowl and gently fold them in so that they don't fall apart.
Season with black pepper to taste and garnish with radishes and fresh herbs. Be sure to add the radishes right before serving as they will release water into the salad if they sit. Serve immediately or store in the refrigerator for up to five days.
Notes
*If you're unable to find new potatoes you can also use baby potatoes. You will have to cook them longer and then once cooked, cut them in halves or quarters for your salad.

**You can substitute with thawed frozen peas. There is no need to blanche the frozen peas.

You May Also Enjoy…