Shepherd's Pie with Lamb – The result of an effort to recreate the best lamb shepherd's pie we've ever had, this recipe will blow you away with it's tangy, spicy flavor. Meat and potatoes never tasted so good!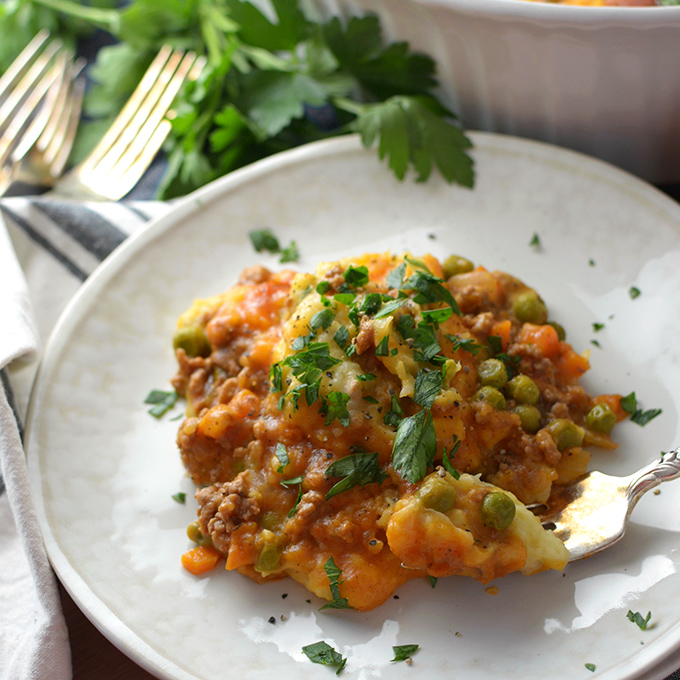 When I was in nursing school I commuted into Center City Philadelphia for class every day.
After an almost hour-long train ride from the 'burbs – a great time for studying (or napping) – I would hop off the train at Suburban Station and make my way to class past a delicious-smelling Irish pub, the iconic statue in Love Park, and finally end up at Hahnemann Hospital.
One night my husband met me in town, for what reason I can't remember, and we decided to have dinner at that yummy-smelling Irish pub.
I can't remember what Dan ordered – this was eight years ago (wow, I'm old)… All I remember is that he wished he had gotten what I had: The Lamb Shepherd's Pie.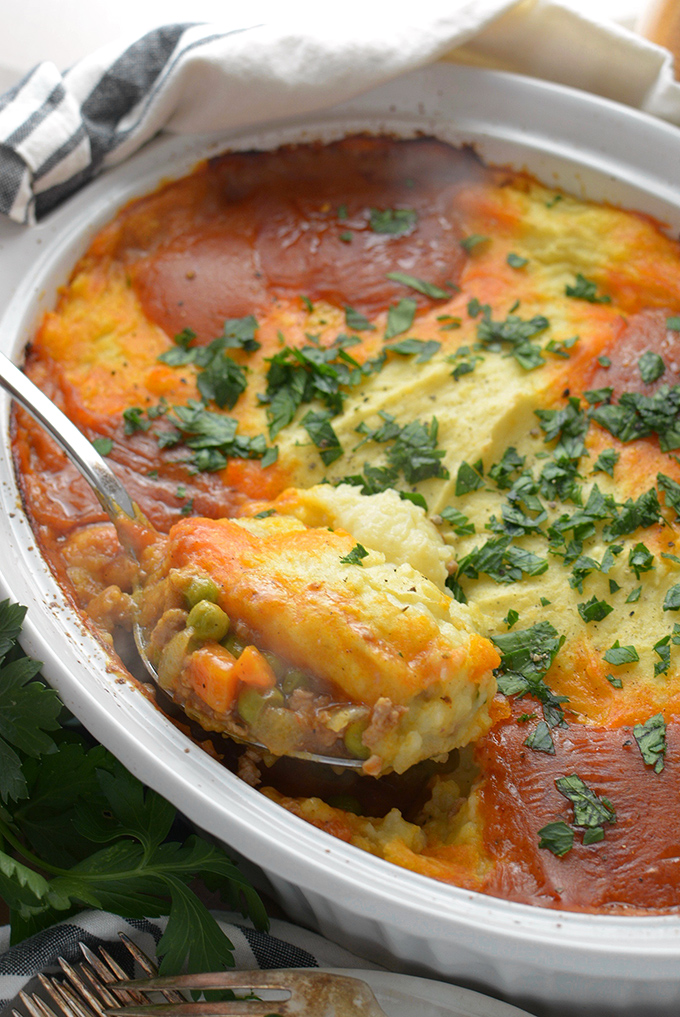 Eight years later Dan and I don't often get into Center City, with our rambunctious five-year-old and needy four-month-old.
Recently we were talking about how good that Lamb Shepherd's Pie was (we occasionally reminisce about those glorious days before kids)… That's when I decided that if I can't go to the Shepherd's Pie, then I was going to make the Shepherd's Pie come to me!
After trying a few batches I came up with the recipe that my husband and I LOVE. Even the five-year-old is a fan. Now with St. Patty's Day just a week away, the timing is perfect!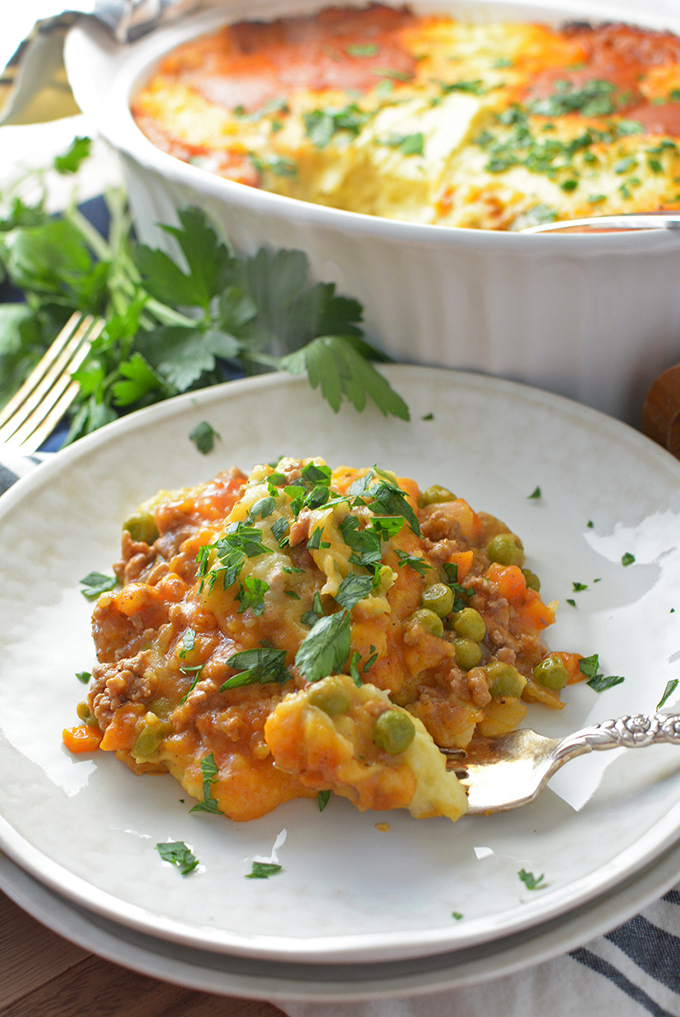 This recipe is the casserole embodiment of comfort food. And although this is a seemingly simple meat and potatoes dish, I took the time to create a recipe for the gravy that's just a little bit tangy and has some complexity with an assortment of spices.
I promise you've never had Shepherd's Pie like this before!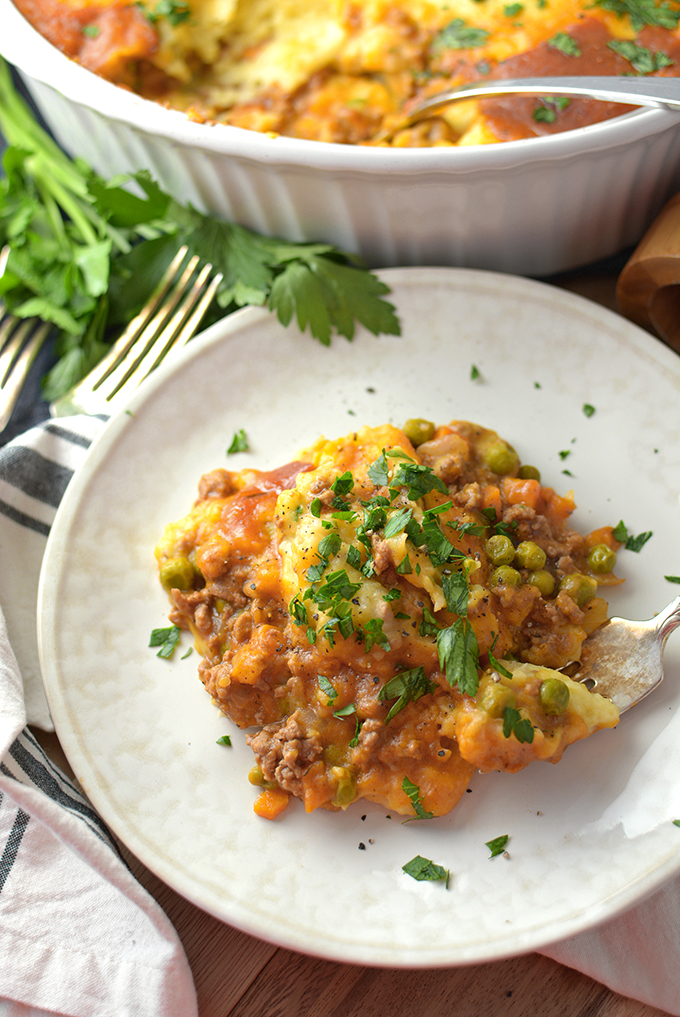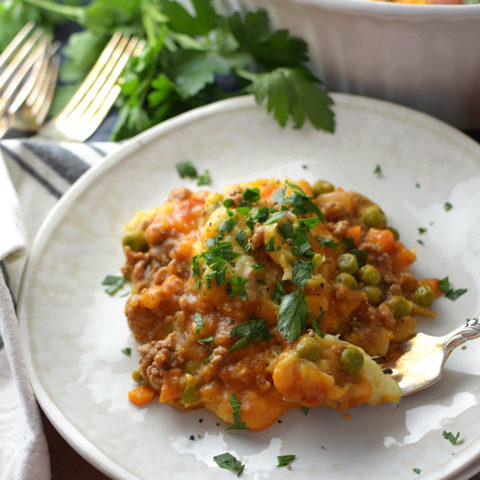 Shepherd's Pie with Lamb
Yield: 4-5 servings

Prep Time: 40 minutes

Cook Time: 20 minutes

Total Time: 1 hour

The result of an effort to recreate the best lamb shepherd's pie we've ever had, this recipe will blow you away with it's tangy, spicy flavor. Meat and potatoes never tasted so good!
Ingredients
Lamb Pie Filling
1 Tbsp safflower or canola oil
1 C chopped sweet onion
1 C chopped carrots
1 lb ground lamb
1 tsp Worcestershire sauce
2 cloves minced garlic
1/2 tsp salt
1/2 tsp black pepper
1/4 tsp dried thyme
1/4 tsp dried crushed rosemary
3 Tbsp all-purpose flour
3 Tbsp tomato paste
2 C beef broth
1 C frozen sweet peas
Mashed Potato Topping
2 lbs yukon gold potatoes
4 Tbsp butter*
1/4-1/3 C vegetable broth
1 tsp salt
1/4 tsp black pepper
2 egg yolks lightly beaten
Instructions
Wash, peel, and chop the potatoes and place them into a pot so that they are submerged in water. Bring to a boil and boil for 10 to 15 minutes until they are beginning to fall apart. Drain and place in a mixing bowl. Add in the butter* and allow to melt. Next, add in 1/4 C vegetable broth, salt, and black pepper. Beat until fluffy and then mix in two egg yolks. If the potatoes seem dry add a little more vegetable broth, keeping in mind you want them slightly more firm than how mashed potatoes are typically served.
On the stove top, over medium-high heat, sauté the onions, carrot, and lamb in 1 Tbsp of oil until the lamb is cooked through. While the lamb is cooking break it apart with a spoon.
Once the lamb is cooked through add the Worcestershire sauce, minced garlic, and tomato paste. Cook one minute. Stir in the spices and flour and cook 1 more minute. Next, slowly pour in the beef broth while continuously stirring and bring to a simmer. Remove from the heat and stir in the frozen peas.
Pour the lamb pie filling into a 2.5 quart baking dish and cover with an even layer of the mashed potatoes. Cook in a 425º F oven for 20-25 minutes or until the shepherd's pie is bubbling and the potatoes are beginning to turn golden brown. Allow the dish to sit for 5 minutes before serving.
Notes
*Simply replace the butter with a dairy-free butter alternative to easily make this recipe dairy-free.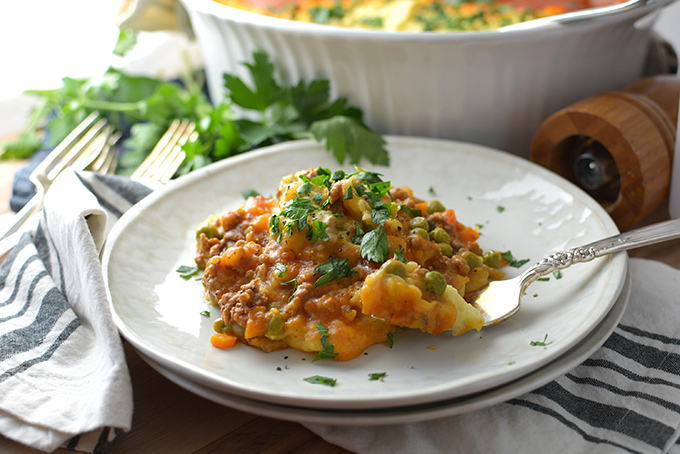 You may also enjoy…