Slow Cooker Beef and Vegetable Stew – Fill your home with the inviting smell of a warm, savory stew all day long – without the hassle of watching it all day long!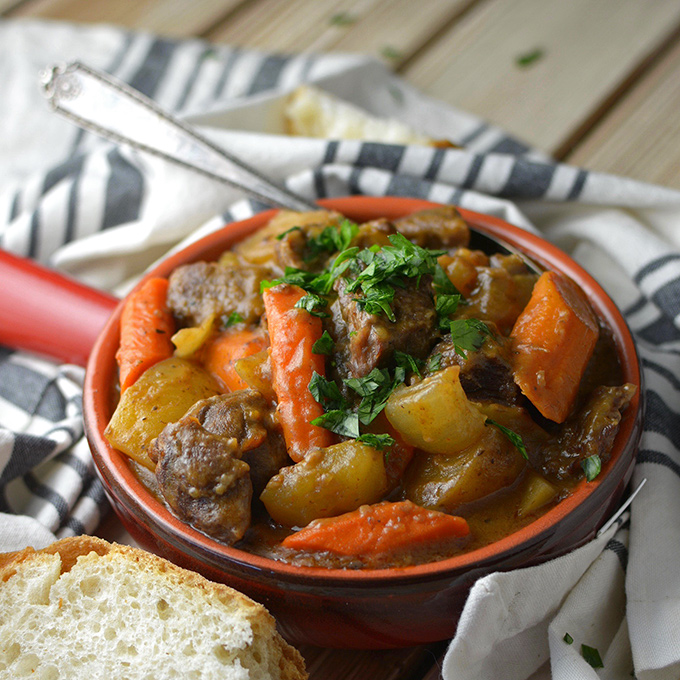 I have such fond childhood memories of my mom's beef and vegetable stew simmering away in a large cast iron pan on chilly winter afternoons.
There was nothing like coming in to that savory, warm smell after playing out in the cold for a couple of hours in a world of snow forts, sled races and snow angels. My mom's stew was the promise of a warm, comforting dinner. A perfect and cozy end to a fun winter day.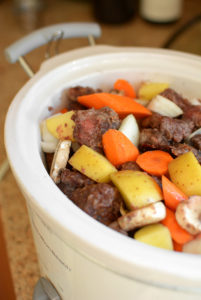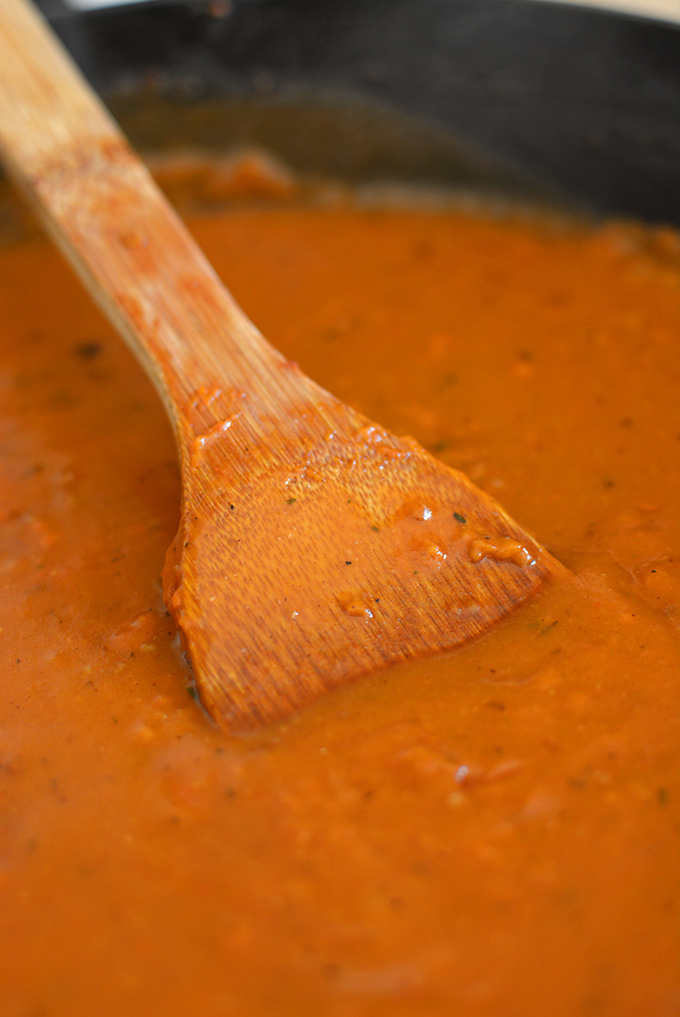 Every time I make stew I'm brought back to those simple and cozy childhood memories.
The thing with stew (and that amazing-smelling house) is that it involves cooking the beef slowly… All… Afternoon… Long…
That's great if you have time to watch an open flame for a number of hours. I don't know about you, however, but that's just not my reality.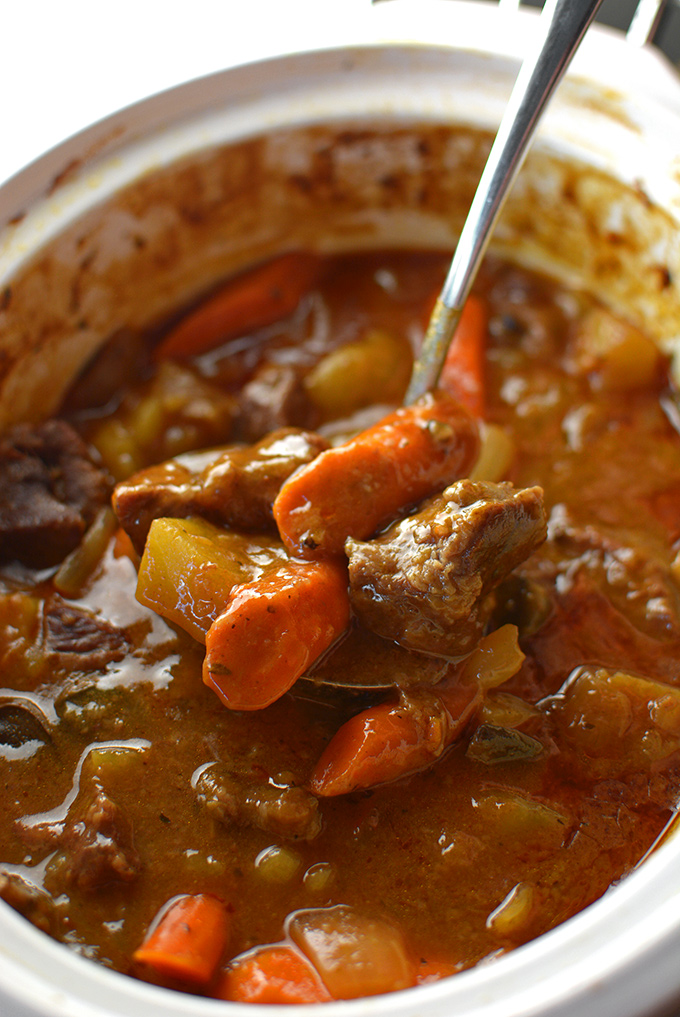 That's why, over the past few years, I've worked at perfecting a from-scratch version of Slow Cooker Beef and Vegetable Stew.
It's Mom's version, in that I start it in a cast iron pan by browning the beef and making the gravy from scratch (both important steps in making an outstanding stew). After this, however, I assemble the stew in the slow cooker so that it has time to stew for hours without me tending to it.
The end result is enjoying that savory, warm smell all day long with much less fuss on the part of me, the cook. That's more free time for making snow angels (with my little angels), or just enjoying some peace and quiet while I watch my five-year-old get lost in a world of epic snow adventures from the kitchen window.
Plus, don't forget about that perfectly tender beef and a flavorful gravy that could've only been made from scratch and lots of love, but in this case, not so much of your precious time!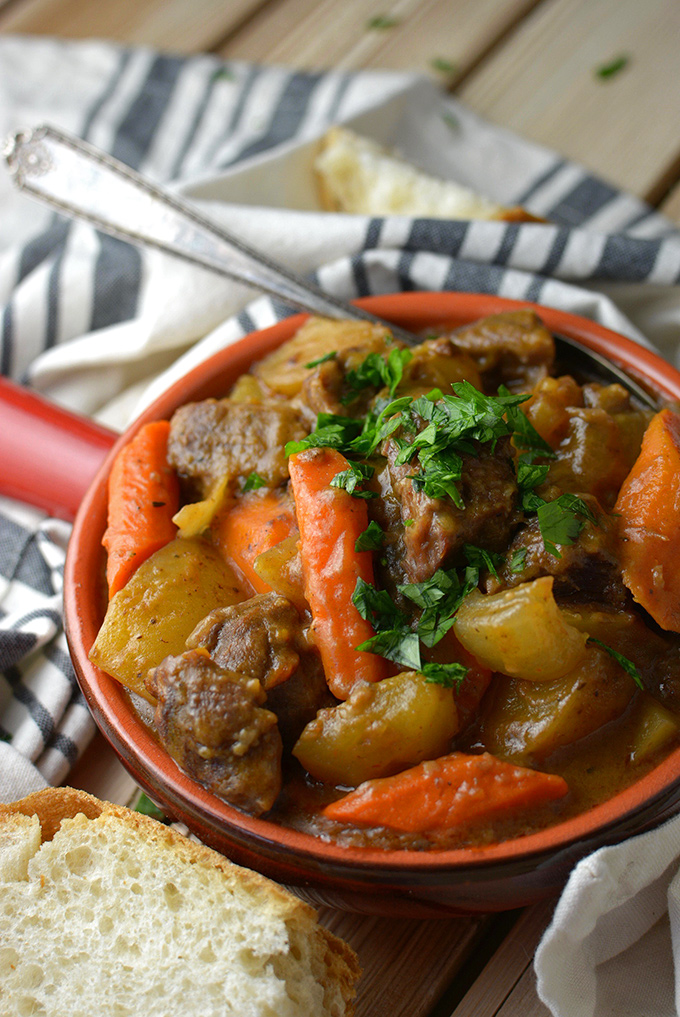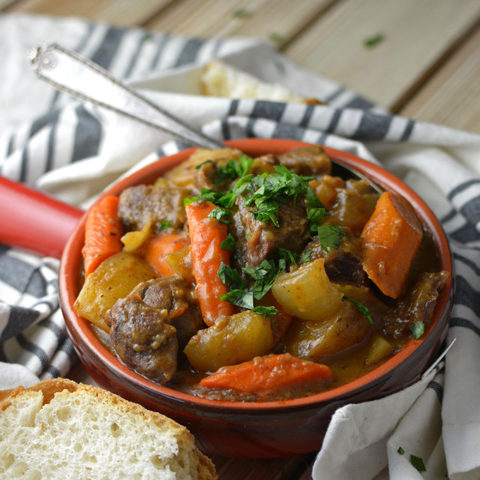 Slow Cooker Beef and Vegetable Stew
Yield: 4 servings

Prep Time: 30 minutes

Cook Time: 8 hours

Total Time: 8 hours 30 minutes

Fill your home with the inviting smell of a warm, savory stew all day long - without the hassle of watching it all day long!
Ingredients
1 1/2 lbs cubed beef chuck
1/4 C flour, plus more for coating beef
2 Tbsp olive oil
1 lb cubed young yukon potatoes
1 8 oz box sliced button mushrooms (optional)
6 carrots cut into 1 inch pieces
1 coarsely chopped medium sweet onion
2 Tbsp tomato paste
2 1/2 C beef broth
1/2 tsp paprika
1/4 tsp dried thyme
1/4 tsp garlic powder
1/8 tsp black pepper
salt to taste (1/2 tsp)
Instructions
Add the potatoes, mushrooms (optional), carrots, and onion to the slow cooker.
Heat 1 Tbsp of olive oil over medium high heat in a large pan. Coat cubed beef chuck in flour and add to the pan. Cook until the beef is browned on all sides. Using a slotted spoon, add the beef chuck to the slow cooker.
Reduce pan heat down to medium and add 1 Tbsp of oil and 1/4 cup of flour to the pan. Cook for about 1 minute and then add the tomato paste and spices. Stir to evenly combine and form a paste. Next, add the beef broth to the pan in intervals, 1/4 cup at a time, while stirring to form a thick gravy and avoiding lumps. Once all of the broth has been incorporated, bring to a simmer and then remove from the heat. Add the gravy to the slow cooker and evenly coat the vegetables and beef.
Cook the stew in the slow cooker on low for 8 hours or on high for 4 hours. The stew is finished when the vegetables and beef are tender.
Notes
Cut up the vegetables, brown the beef, make the sauce, and assemble in the slow cooker crock. Refrigerate the night before and cook in the slow cooker the next day. This is great way to plan a home-cooked meal for a busy day.