Strawberry Chicken Pinwheel Sandwiches – This fun, healthy, and satisfying meal brings together the flavors of summer in a beautiful way!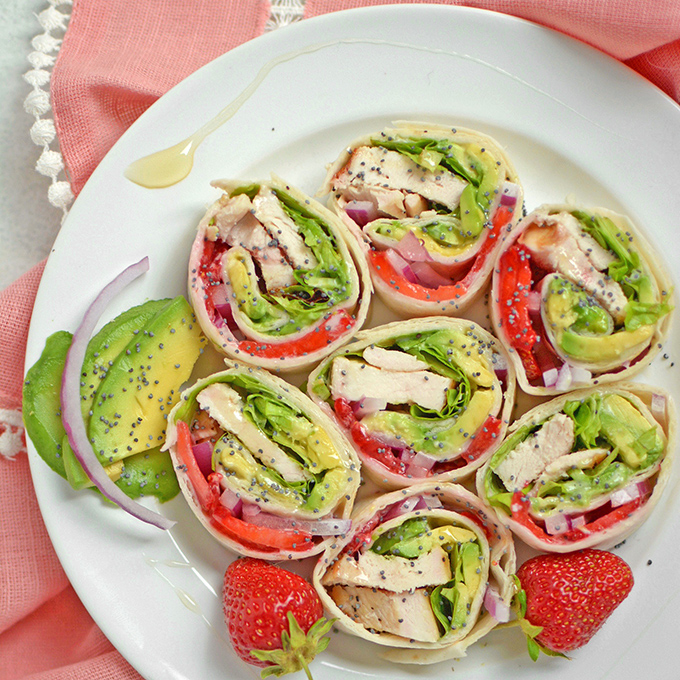 I love today's recipe for Strawberry Chicken Pinwheel Sandwiches because, in addition to being super tasty, it's just plain fun!
I've made these pretty little spirals of red and green a couple of times for my family now. Both times they cleaned them out. I think my 6 year-old liked them for both the pretty colors and the finger food aspect of this recipe. My husband and I both agree that the sweetness of the strawberry and the savoriness of the chicken and avocado is an awesome compliment to the sweet nuttiness of the poppy seed dressing.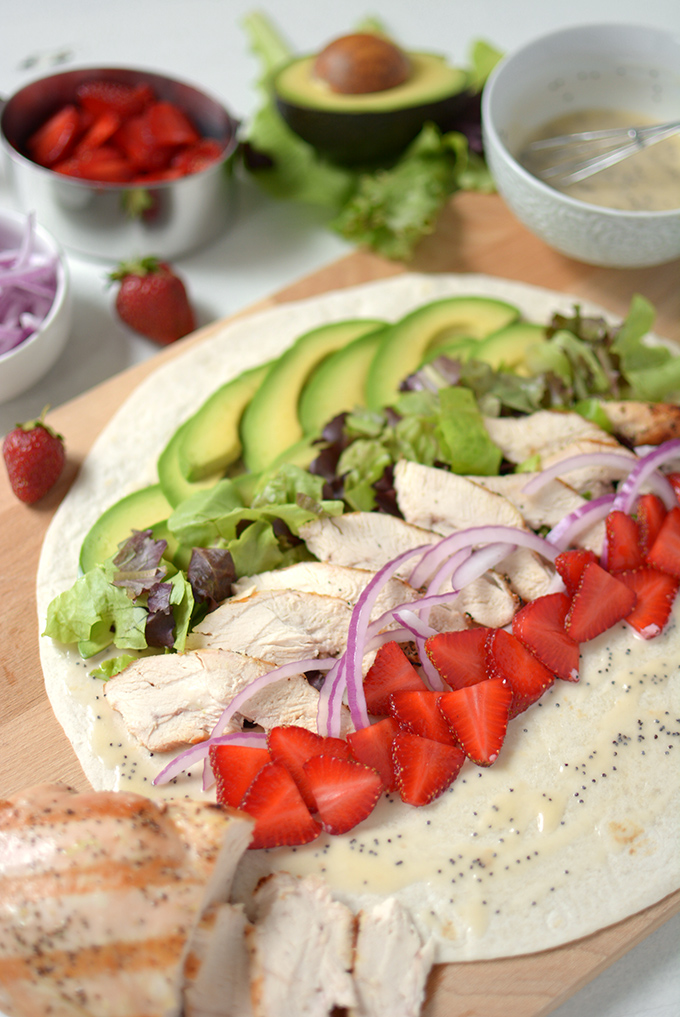 Another thing I love about this recipe is that it doesn't take long to make and since the chicken is grilled, there aren't many dishes when you're done. In fact, I'm thinking these pinwheels would be just as tasty on paper plates, so only about five dishes when you're done. 😉
Now, there's a challenge to making pinwheel sandwiches. The ingredients need to be thoughtfully arranged so that they don't burst out of the sides as you're wrapping and cutting the pinwheels. No exploding poppy seed-covered strawberries and avocados, please! That's why I included some easy-to-follow visual steps below.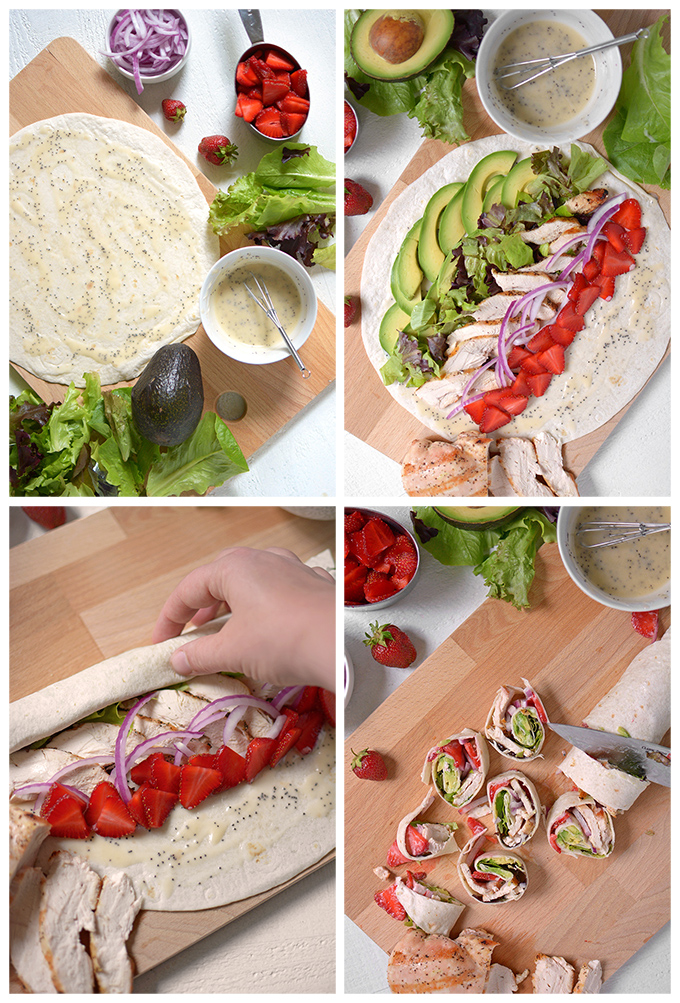 Once you're done wrapping and slicing the pinwheels, they're ready for popping into your mouth, but hurry before they disappear!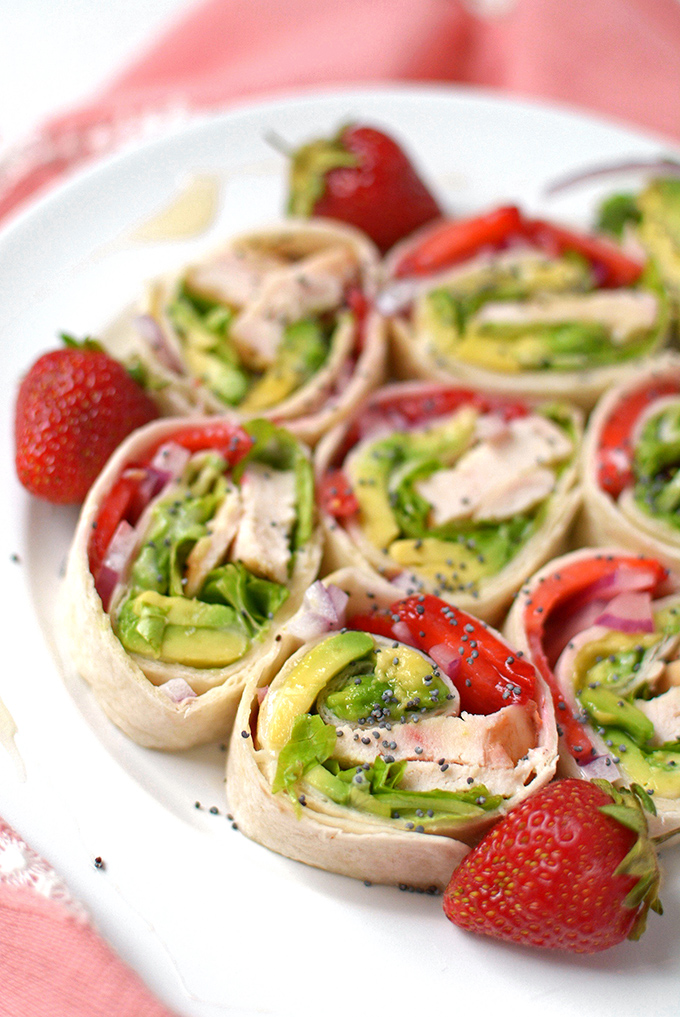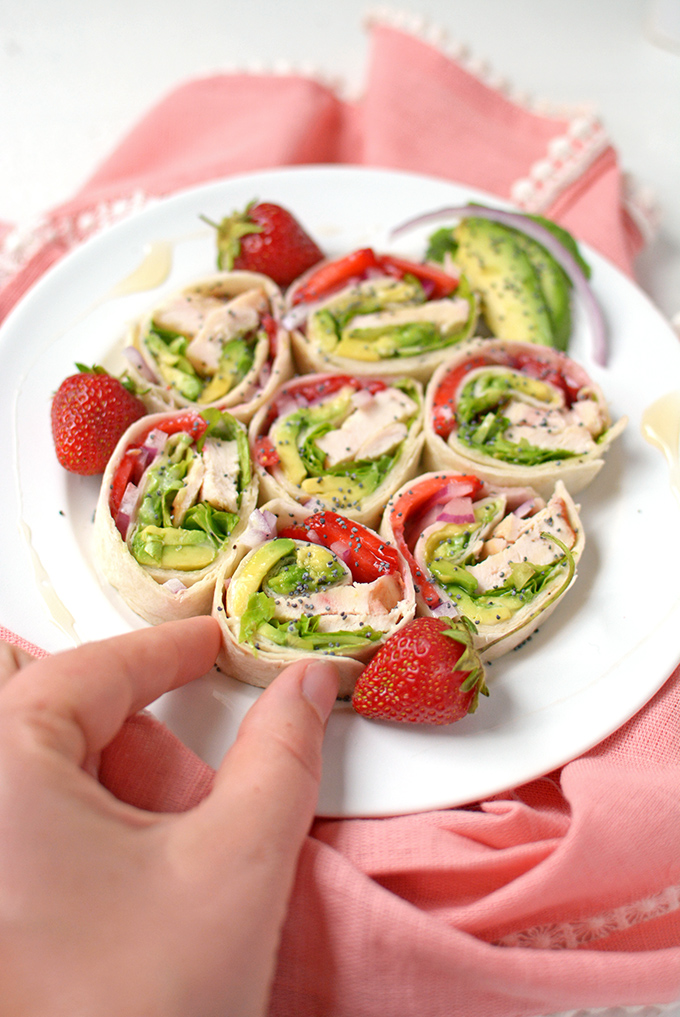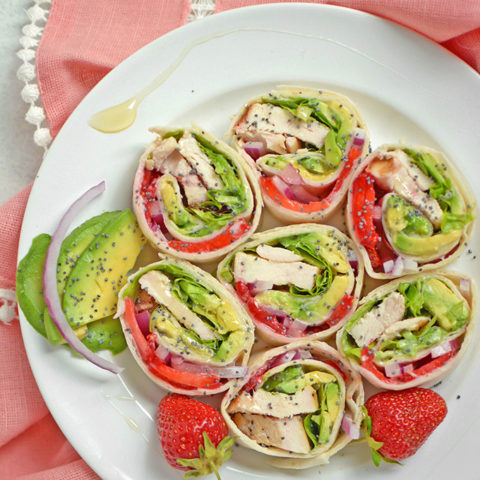 Strawberry Chicken Pinwheel Sandwiches
Yield: 4 servings

Prep Time: 15 minutes

Cook Time: 8 minutes

Total Time: 23 minutes

This fun, healthy, and satisfying meal brings together the flavors of summer in a beautiful way!
Ingredients
Grilled Chicken
2 boneless, skinless chicken breasts
1 Tbsp olive oil
salt and pepper to taste
Sweet Poppy Seed Dressing
4 Tbsp mayo
1 Tbsp honey
1/2 tsp red wine vinegar
1/2 tsp poppy seeds
Wraps
4 tortilla wraps*
1 C thinly sliced strawberries
1 avocado thinly sliced
1/4 C thinly sliced red onion
leaf lettuce
Instructions
Trim any excess fat off of the chicken breast, and then coat with olive oil and season with salt and pepper to taste. Grill over direct medium heat until the meat is no longer pink and the juices run clear.
While the chicken is grilling, whisk together the dressing ingredients and set aside. Also prep the strawberry and avocado slices as well as the red onion.
To make the wraps, start with lightly spreading one side of each wrap with the sweet poppy seed dressing. Next arrange a thin layer of the strawberries, chicken, avocado slices, and lettuce across the wrap. Lightly sprinkle with red onion. Roll up into a wrap, so that the tortilla makes a cylindrical shape. Cut the wrap into three-quarter-inch slices to make a pinwheel shape. Serve immediately.
Notes
*Pinwheels work best when you purchase the largest, softest tortillas you can find.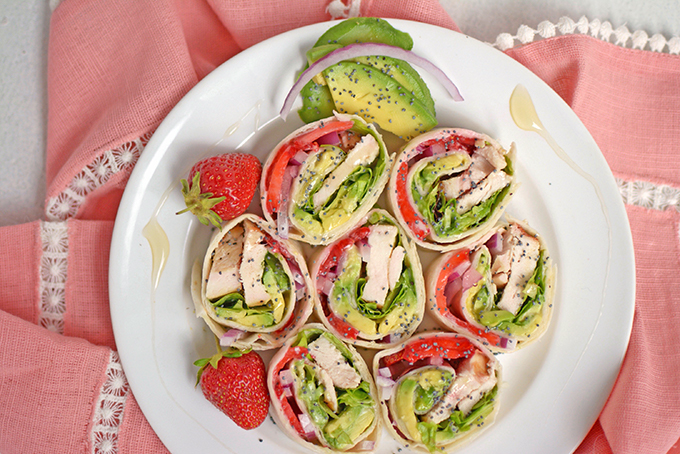 You may also like…