Lemon Pepper Chicken Pitas – Easy to make and family-approved, these delicious chicken pitas blend bright Middle Eastern flavors and mild spices with the satisfying crunch of fresh veggies.
When my sisters and I were kids, it was inevitable that somewhere between 2-3pm we would ask my mom that ever-important question, "What's for dinner tonight?" Now, my mom is a pretty good cook, so our responses generally leaned toward the positive. Of course, each of us had our own food idiosyncrasies. For instance, I HATE lima beans and my youngest sister finds lasagna unbearable (weirdo).
One of the meals that I particularly loved was chicken pitas. My mom would execute it with various dressings, marinades, and fillings, but it always ended in something delicious. And I'm pretty sure that a love for chicken pitas was a sentiment shared by all.
Twenty years later, my kid agrees that chicken pitas are pretty awesome. Today's recipe for Lemon Pepper Chicken Pitas is uniquely my own, and at first I thought he might be turned off by some of the Middle Eastern flavors that are involved in this dish. Thankfully, that's not the case at all! He loves the tender chicken and crunchy vegetables, not to mention the fact that I allow him to assemble his own pita. As such, I've made this recipe numerous times this summer and there have been no complaints from the peanut gallery. Another generation of chicken pita lovers lives on!
To speed up the time it took to make the salad, I used my trusty, economical, and very sharp mandoline that I purchased on Amazon. You can find it here: http://amzn.to/2aWav43
I also used a Cut-Resistant Glove for operating the mandoline. No cuts or tears here! http://amzn.to/2b67tuG
Note: The links above are Amazon Affiliate links and a portion of the sales go to support Simple Seasonal at no additional cost to you.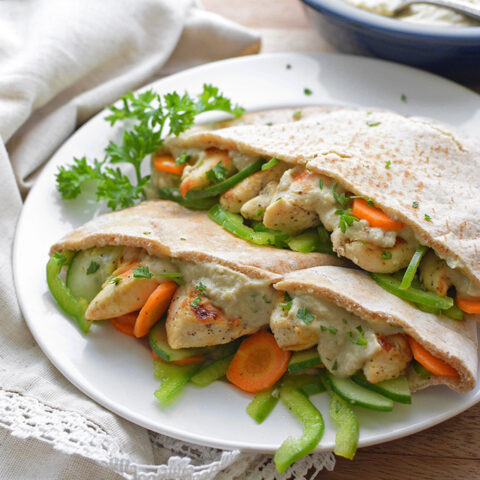 Lemon Pepper Chicken Pitas
Yield: 6 servings

Prep Time: 35 minutes

Cook Time: 10 minutes

Total Time: 45 minutes

Easy to make and family-approved, these delicious chicken pitas blend bright Middle Eastern flavors and spices with the satisfying crunch of fresh veggies.
Ingredients
Chicken
1 lb chicken tenderloins
1/8 C olive oil
2 Tbsp fresh lemon juice
1/2 tsp salt
1/4 tsp black pepper
Green Pepper and Cucumber Salad
1 C green pepper cut into slivers
1 C cucumber cut into slivers
1/2 C carrots cut into thin coins
2 tsp white wine vinegar
1 Tbsp olive oil
1/4 tsp salt
pepper to taste
6 pitas
store bought or my fresh baba ganoush* (garlic hummus work with this recipe too)
Instructions
To prep the chicken, whisk together the olive oil, lemon juice, salt, and pepper. Allow the chicken to marinate for 30 minutes to an hour before cooking. Grill the chicken over medium-high heat for 8-10 minutes, or until it reaches an internal temperature of 165ºF.
Make the salad while the chicken is marinating and grilling. The salad tastes the best when the veggies are thinly sliced. This is most easily done with a mandolin slicer, but an extra sharp knife will work, too. Evenly coat the vegetables with the white wine vinegar, olive oil, salt, and pepper that have been whisked together.
If you decide to make fresh baba ganoush be sure to check out my Baba Ganoush* recipe for detailed instructions. To save on time, you can purchase canned baba ganoush from many grocery stores, but it's not nearly as tasty. Garlic hummus is also a delicious alternative in this recipe.
To assemble, cut the pitas in half, spread with a generous portion of baba ganoush, and stuff with the salad and grilled chicken. Serve immediately.
Notes
*Full Baba Ganoush Recipe: https://simpleseasonal.com/recipes/homemade-roasted-garlic-baba-ganoush



If this looks delicious to you, you may also love…