Lately, my son and I have been spending a considerable amount of time at a local orchard in beautiful Bucks County, PA. It's the sort of place that, aside from having rows and rows of beautiful fruit, also has a quaint charm and a "pick your own" experience that transcends the busy nearby metropolis of Philadelphia. Here you'll find zinnias, cosmos, and black-eyed susans growing around the perimeter of every barn, and hand-painted signs pointing the way to sweet things ripe for the picking. There is a market that sells apple cider slushies and doughnuts from last season's apple bounty – a promised reward after a hard day's work picking your own fruit to enjoy under the shade of a tree. If you live in the city or the suburbs, it's a taste of the country and a chance to lose yourself, at least for a couple of hours, in the good and simple things of life.
This year the beginning of the fruit season has been ushered in with gobs of cherries. Maybe it's just me, but I think that it's been a particularly successful cherry season. When my son and I recently went picking, all I had to do was reach up and grab cherries by the handful off the tree. No ladder needed. Even my little one had no difficulty reaching cherries.
While I picked cherries, my son parked himself on a small ladder where he picked (and perhaps ate) contently.
A few sour cherries made it into his bucket, but the sweet cherries didn't stand a chance…
At the end of our adventure we came home with a couple quarts each of Sour, Bing, and Rainier cherries, and I got to work developing new recipes. A delicious Sour Cherry Absinthe Cocktail is already up on the blog, a dessert with Rainier cherries is yet to come, and for today we have a Cherry Orchard Baguette. My husband claims that it's the best sandwich he has ever eaten in his entire life. I believe there may be a bit of hyperbole in that statement, but this sandwich is a good one. It has fresh ingredients that capture the taste of summer – perfect for your next picnic!
If you live in the Philadelphia area and are looking for a place to lose yourself in some quiet fruit picking, check out Solebury Orchard's website! The microgreens are from Blue Moon Acres which are available for sale at Solebury Orchard.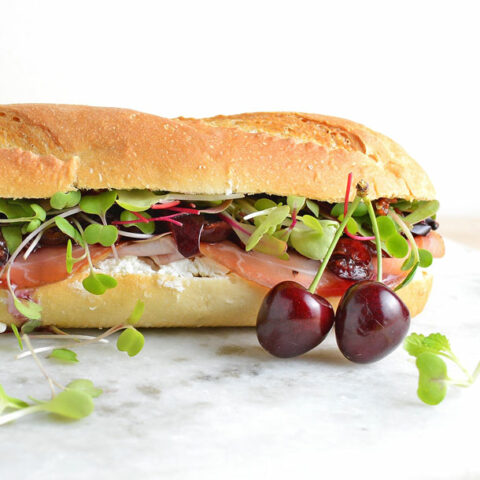 Cherry Orchard Baguette
Yield: 4

Prep Time: 15 minutes

Total Time: 15 minutes

Lose yourself in the savory and sweet flavors of summer with this exceptional cherry season-inspired sandwich!
Ingredients
1 baguette
2 Tbsp whole grain dijon mustard
4 oz semi soft goat cheese
2 ounces sliced prosciutto
3/4 C pitted and chopped Bing cherries
1 C spicy microgreen mix
Instructions
Cut your baguette lengthwise and set both pieces on a cutting board with the inside of the baguette open so that you can begin assembling your sandwich.
Spread 1 Tbsp each of whole grain dijon mustard onto what will become the top and bottom of the sandwich.
Spread 4 oz of goat cheese onto the bottom half of the baguette.
Layer prosciutto on top of the goat cheese.
Sprinkle the chopped Bing cherries over the prosciutto.
Sprinkle mirogreens over the cherries.
Place the top of the baguette on the sandwich, cut into quarters, and serve.
Notes
If you are planning on taking this sandwich on a picnic, wrap it in aluminum foil and to eat peel down the foil as you go.