When you have kids in the house, sometimes you have to use some creativity to get them to eat, or at least try, their vegetables. This applies to all things squash in our home, but at least pattypan squash helps me out with it's unusual shape. My son loves learning about the stars and planets, and more recently he enjoys pretending that there are aliens (he's such a nerd). He got the idea from the hilarious British show Shaun the Sheep. In a few of the episodes aliens land their flying saucer on the farm that Shaun the sheep lives on, wreaking all kinds of havoc with their stun guns and alien experiments. Every time he watches it, he goes into fits of giggles with his cute little-kid laugh. With this in mind, being the savvy parent I am, I've told my son that pattypan squash is shaped like a flying saucer, so it's like he's eating space alien food. He totally buys it and everyone is happy!
Pattypan squash, although less commonly found at the grocery store, is a variety of summer squash that you can find at your local farmer's market or CSA. In today's recipe I use a yellow variety, but they also come in green and white. Pattypan squash are typically harvested when they are quite small, only 2-3 inches in diameter, as they are the most tender at this size. They are still delicious, however, when allowed to get a little bigger. Pattypans behave in recipes much the same way that other summer squashes do, which means they're quite versatile. For today's recipe I chose to stuff them!
My Stuffed Pattypan Squash recipe hasn't decided yet whether it's an Italian or a Mexican dish, with it's basil and cotija cheese. I guess if I call it American I'm allowed to put anything in it I please, right? Basically, this recipe is cheesy, garlicky, and full of veg. A larger serving makes for a great vegetarian entree, or you can serve it as a side with your Italian or Mexican entree. This can be made ahead for your summer party, potluck, or a picnic!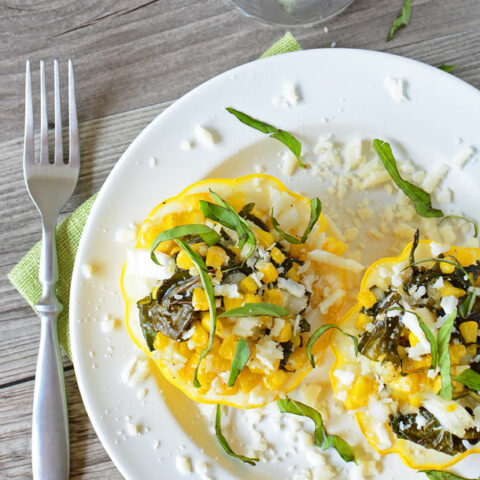 Stuffed Pattypan Squash
Yield: 6

Prep Time: 15 minutes

Cook Time: 45 minutes

Total Time: 1 hour

Have a close encounter of the veggie kind! These saucer-shaped goodies are cheesy, garlicky and full of veg, with a fun shape that kids will love, too!
Ingredients
6 pattypan squash, approximately 3 inches in diameter
2 C roughly chopped kale
1 Tbsp olive oil
1/3 C low-sodium chicken broth or vegetable broth
2 C corn, fresh or frozen
1/2 C diced white onion
1 Tbsp minced garlic
1/2 tsp salt
1/8 tsp black pepper
1 C grated Cotija cheese plus more for garnishing
1/4 C chiffonade basil
cooking spray
Instructions
Preheat your oven to 350º F. Chop the kale and place it in a pan with the olive oil and vegetable broth and cook over medium-high heat until all of the liquid is absorbed (about 8 minutes). Once cooked, set aside.
While the kale is cooking, prep the pattypan squash by cutting the stems off the top and the bottom, removing as little of the flesh of the squash as possible. Then scoop out the seedy center of each squash, leaving a "cup" to place your stuffing into.
To prepare your stuffing, mix together your kale, corn, white onion, garlic, salt, pepper and 1 C of cotija cheese in a bowl.
Lightly grease a large casserole dish with olive oil or cooking spray and evenly place your pattypan in the dish, cup side up. To stuff the pattypan squash, squeeze together a ball of stuffing in your hands (as if you are making a snowball), and place it into one pattypan cup. The balls will be approximately the size of a medium ice cream scoop. Continue doing this until all of the pattypans are filled.
Bake at 350º F for 35-45 minutes. Cooking for a shorter amount of time will yield a firmer squash and cooking for 45 minutes with result in a softer squash.
Once cooked, remove the pattypans from the oven and sprinkle them with cotija cheese and chiffonade basil.