Today's cocktail recipe is brought to you by Dan (Rachel's husband). Photography by Rachel.
Cherry season is at it's peak in southeastern Pennsylvania and I've been dying to try an idea that I've been nursing for a while. Last summer I made a batch of brandied cherries from a recipe that called for star anise, the sweet, licorice-flavored spice grown in China and used widely in many staple dishes of Asian and Indian cuisine. From my brandied cherry experiment, I discovered that star anise pairs very well with fresh cherries, especially the bright red sour Morello and Montmorency varieties. Given the reciprocal nature of these flavors, it gave me an opportunity to explore an anise-flavored spirit that has oft been shrouded in mystery, one of which I wanted to gather some more concrete facts about: absinthe!
As an art school graduate, I was steeped in the legacy of absinthe, especially as it related to the late 19th and early 20th C bohemian artist culture in Paris. Derived from anise, wormwood, and sweet fennel mixed with a neutral distilled alcohol, it has a strong licorice flavor and was said to arouse the senses, cause hallucinations, and the like. Artists, in particular, were drawn to it in search of new ways to stimulate creativity and create unusual experiences from which they could draw upon to produce art with greater depth. The "little green fairy" as it was called due to the drink's pearly green appearance, found it's way into the folklore of the era, gaining popularity both in Europe and overseas in America as well until the growing temperance movement put an end to it. By 1915 it was effectively banned across much of Europe and America. Absinthe's alleged hallucinogenic effects were later conclusively proven false, and it is today believed that the reports of such experiences were more likely due to the combination of the spirit's high alcohol content (usually in the neighborhood of 60-75%), improper distillation methods, and toxic coloring additives used at the time. Given the emerging science proving original-recipe absinthe to be no more harmful than most other spirits, the drink was eventually made legal again, including across the USA in 2007, a mere 8 years before this writing.
The allure of the drink, apart from it's fabled psychoactive properties, lies in the ritual surrounding it's consumption. Traditionally, absinthe is prepared by putting one "dose," usually an ounce, in the bottom of a glass. Some absinthe glasses have a measuring line or bubble just above the stem to mark the proper dose. A sugar cube is then placed on a special perforated spoon that rests across the top of the glass. Ice water is slowly dripped onto the cube and the sugar-water mixture drips evenly down into the spirit, causing the absinthe to "louche," or turn a milky pale green as the sugar reacts with the botanicals. The water also helps to dilute the strong alcohol content, making the absinthe more pleasant to drink and opening up the flavor, much for the same reason that water is often added to bourbon or Scotch whiskey.
For this recipe I wanted to explore the flavor combination of the fresh cherries and anise, while also giving a nod to the traditional preparation of absinthe with sugar. Using powdered sugar with the absinthe and cherries tasted great, but I needed a vehicle to create the body of the cocktail. Absinthe is too strong by itself to constitute more than about a quarter of a drink mixture before it begins to overpower everything else. Indeed, some cocktails call for only a rinse of absinthe in the glass to add the aromatic qualities without affecting the flavor. That said, I landed on white rum. Being distilled from sugar cane and imparting that sugary sweetness into the mixture, it made perfect sense.
The absinthe I chose was Vieux Carré, made right in my backyard by Philadelphia Distilling. I also used Bacardi white rum and Peychaud's Aromatic Cocktail Bitters (the best bitters for absinthe, in my opinion). One final note: I can't stress enough how important it is to make this cocktail with sour cherries. The sourness of the fruit mixed with the sweetness of both the rum and absinthe are delicious and balance each other out perfectly. So go ahead, raise some eyebrows and bring home a bottle of absinthe this weekend. Regale your friends with stories of wild bohemian art colonies, of mad hallucinations, and bursts of creativity induced by the "little green fairy." Just remember to keep her secret to yourself!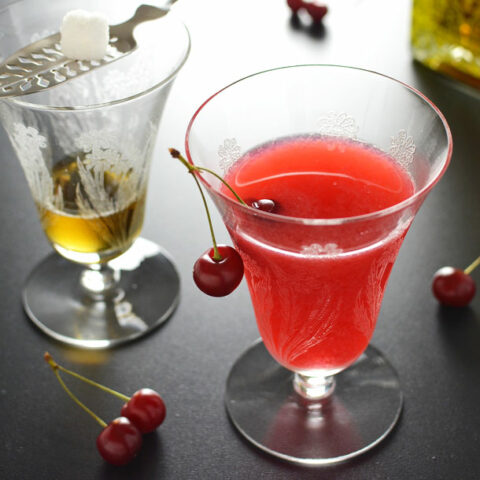 Sour Cherry Absinthe Cocktail
Yield: 1

Prep Time: 10 minutes

Total Time: 10 minutes

Impress your friends and raise some eyebrows when you serve this decadent, sweet, and seasonal cocktail. With each sip, the "little green fairy" will share some of her mysteries with you!
Ingredients
3/4 C sour cherries
2 oz Bacardi white rum
1/2 oz Vieux Carré absinthe
3 dashes Peychaud's Aromatic Cocktail Bitters
Instructions
Remove the pits from your cherries.
Place the cherries in a cocktail shaker and muddle thoroughly.
Fill the cocktail shaker 3/4 of the way full with ice.
Add rum and absinthe to the shaker.
Shake thoroughly and strain into a coupe or large cordial glass.