One-Skillet Shrimp and Okra – Quick and easy never looked so elegant as this one-skillet dish featuring shrimp and fresh okra.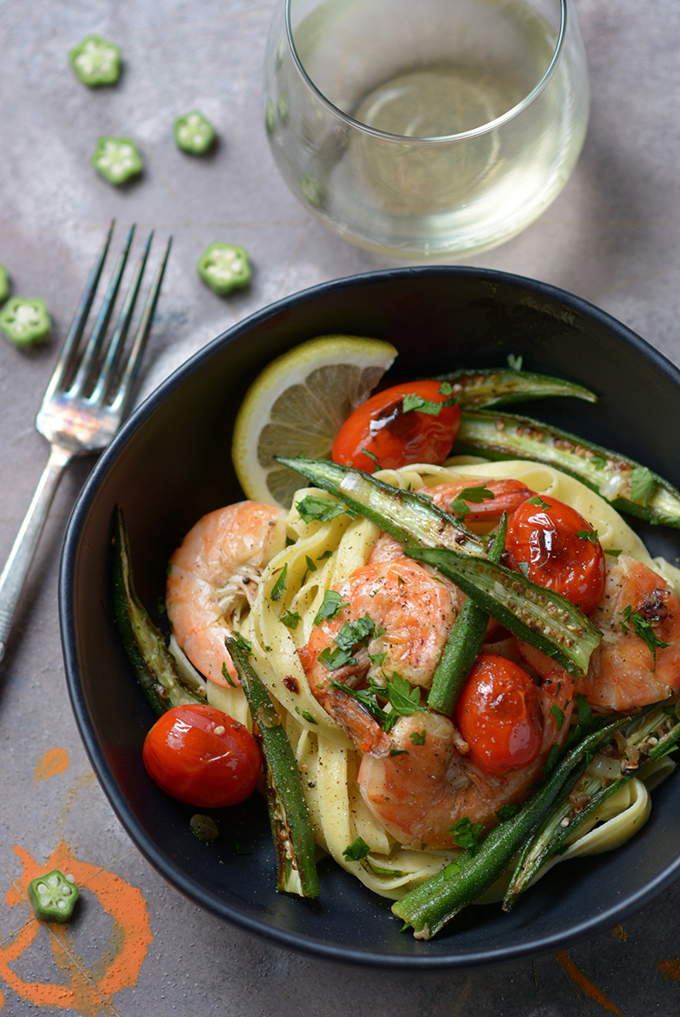 This September things have been a little quiet here on Simple Seasonal. The reason is that I've somewhat upturned my personal and my blogging life with a new job.
If you've visited Simple Seasonal before you've gotten to know the food blogger part of me. The truth is, long before I started blogging I was a Registered Nurse. This past summer I decided I was ready to switch things up with my career. After 7 years in the same place I transferred from the home care department to a telemetry med-surg floor at my local hospital.
I've been loving my new job! It's a totally different type of nursing compared to my last job and I'm glad for the new experiences and growth. My only complaint, if you can even call it that, is that I have to work full time and I've had to study during my orientation period. With two little kids and a small business something's gotta give.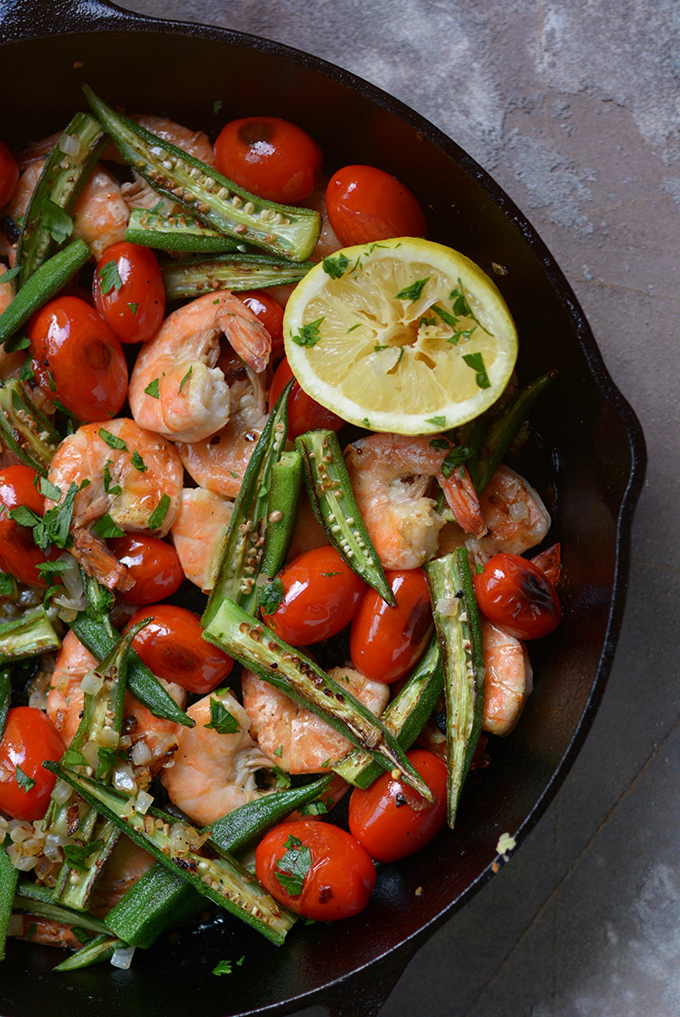 One of the things I love about blogging is that it's forgiving during times like these. I took a break when my second son was born. Yeah, my revenue dropped a little during my maternity leave, but it was still here for me when I was ready. That's part of the beauty of working for myself!
With my temporarily busy schedule we've had a lot of taco nights, rotisserie chickens, and (admittedly) boxed mac n' cheese. My menu has centered on convenience meals. As such, I've been experimenting with easy week night dinner recipes that I know will find their way on the blog this winter!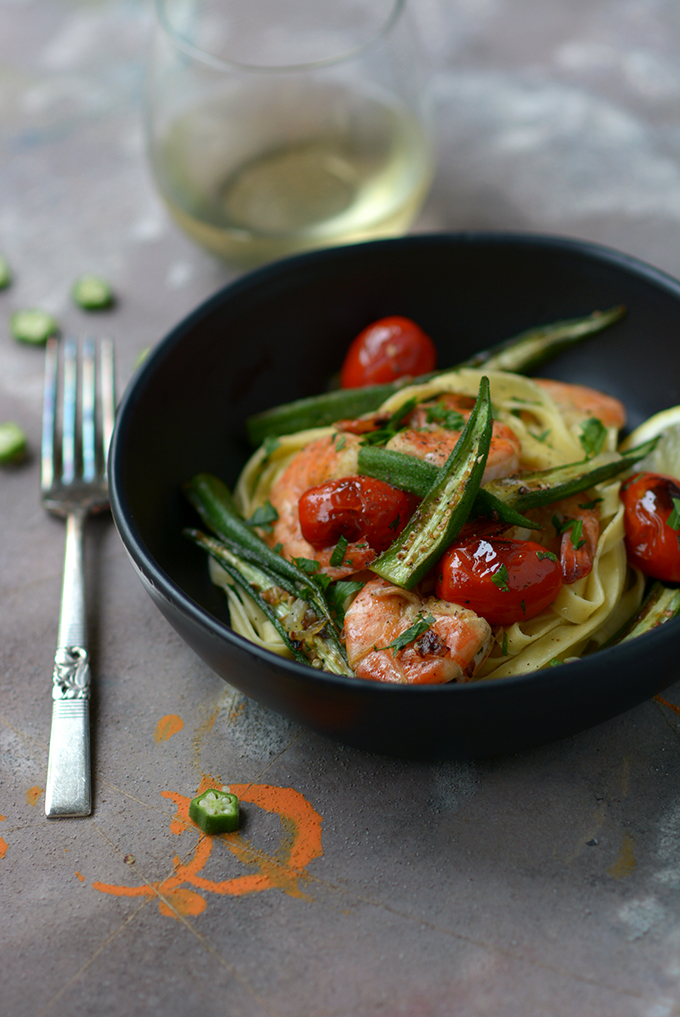 Keeping with the quick and easy theme, today's recipe is sophisticated, yet it will be on the table in less than 30 minutes. Maybe like me, you need a break from boxed mac n' cheese, but you don't have much time to cook. This southern-inspired shrimp and okra meal might be just what you're looking for!
What I love about this One-Skillet Shrimp and Okra is that it features okra without getting all weird. Because it's cooked at a high heat the okra isn't slimy. Paired with blistered tomatoes and fresh lemon and parsley it has a simple and fresh flavor. I recommend enjoying this after a long day of work, fork in one hand and a glass of white wine in the other!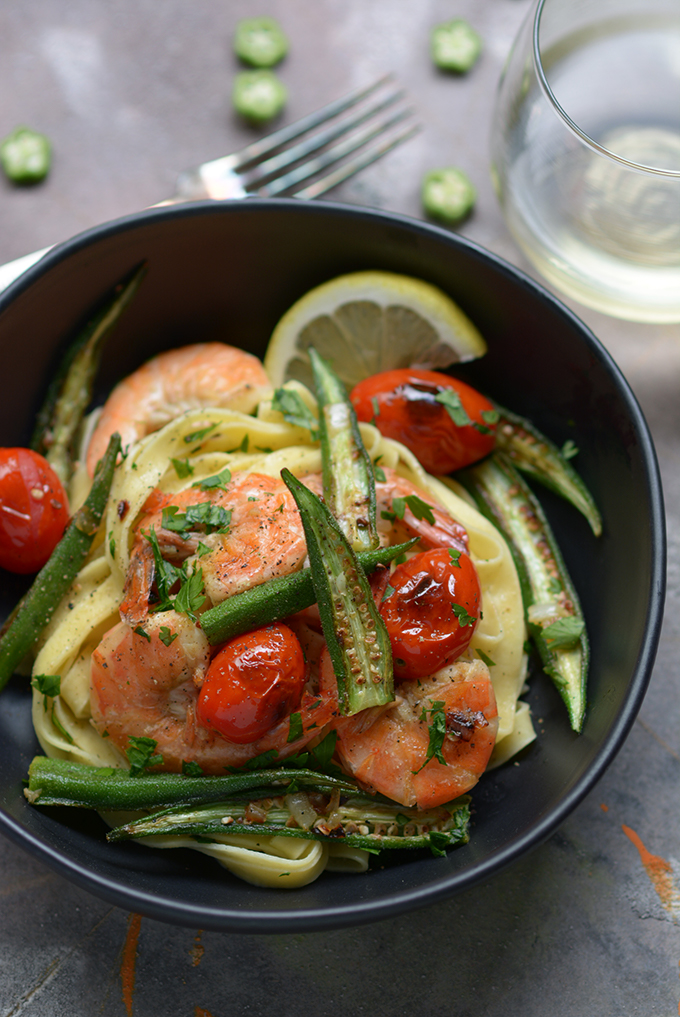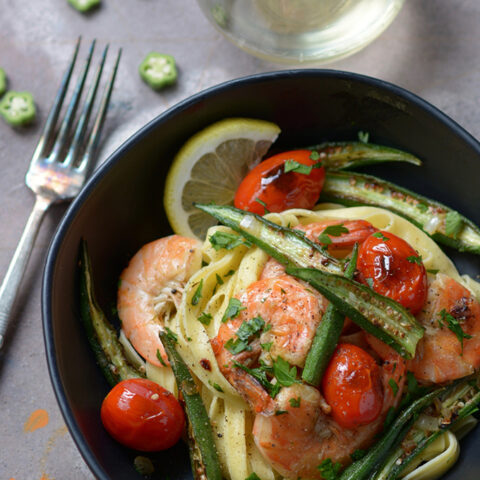 One-Skillet Shrimp and Okra
Quick and easy never looked so elegant as this one-skillet dish featuring shrimp and fresh okra.
Ingredients
1 1/2 Tbsp olive oil, divided
1 Tbsp butter
1/3 C sweet onion, small diced
2 C (6-8 ounces) fresh okra, cut in half lengthwise with the stems removed
1 pt grape tomatoes
1 12 oz bag frozen large shrimp, defrosted*
3 cloves minced garlic
1/4 tsp crushed red pepper
1/4 tsp black pepper
1/2 tsp salt
1 Tbsp fresh flat leaf parsley, chopped
1/2 lemon, juiced
Instructions
Heat 1 Tbsp of olive oil over medium-high heat. Once hot, add the onion and okra to the pan. Place the okra seed side down and then sprinkle with the diced onion. Do not stir the okra for 3 minutes so that it can brown. If you don't brown your okra it will likely be slimy. After 3 minutes give the vegetables a stir and cook for 1 more minute. Transfer the okra to a bowl and set aside (do not cover).
Add another 1/2 Tbsp of olive oil to the skillet and add the cherry tomatoes to pan. Cook them for about 3-4 minutes, stirring every minute or so until they begin to soften and blister. Transfer the cooked tomatoes to the bowl of okra and set aside.
Reduce the heat to medium. Melt 1 Tbsp of butter in the skillet and then add the shrimp, minced garlic, and crushed red pepper. Cook for 2-3 minutes or until the shrimp is pink and cooked through.
Add the tomatoes and okra back into the skillet and season with salt and pepper. Cooking for 1 more minutes.
Remove the dish from the heat. Season with lemon juice and flat leaf parsley. Serve immediately.**
Notes
*Feel free to use tail on or tail off shrimp.
**Serve this recipe atop pasta, couscous or rice for a complete meal.
You may also enjoy…