Corn and Okra Maque Choux – In the mood for a spicy Creole dish? Maque Choux is a one pot, no fuss meal that's zesty, savory, and will have dinner on the table in no time!
Over the last few years there are a few one-pot meals that my husband has become a master of.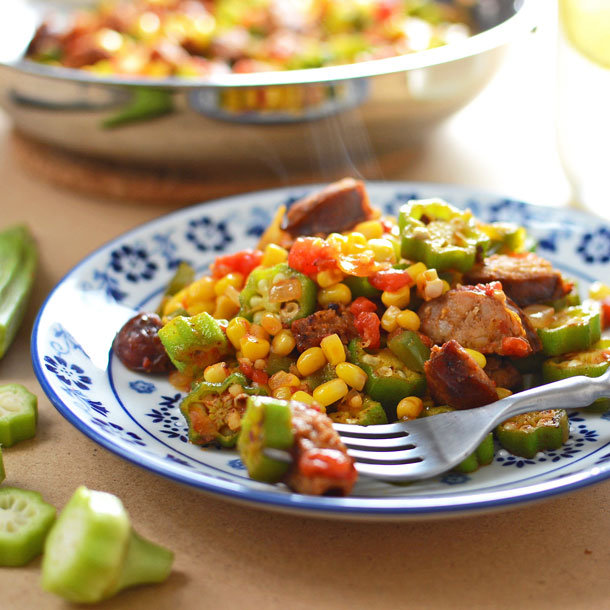 I work a couple of loooooong weekends a month as a visiting nurse. In theory, my work days are supposed to be about 8 hours, but anyone who works in healthcare, or loves someone who works in healthcare, knows that never happens!
Thus, my husband and I usually plan on me not being home in time to cook dinner.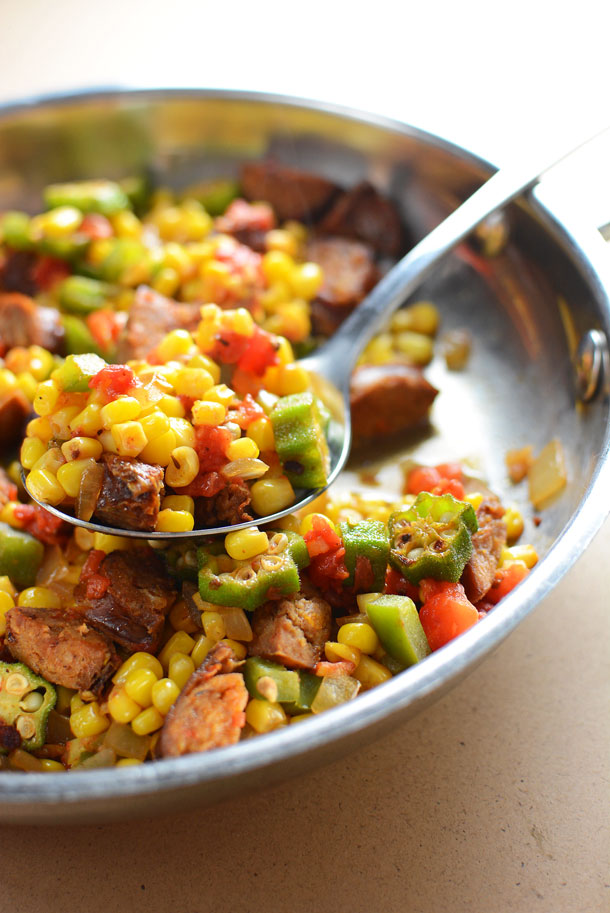 He's been a real champ about expanding himself outside his comfortable realms of grilling and mixology. He started with things like spaghetti and taco kits, but over the last couple of years has learned some tasty and healthy one-pot meals, including a repertoire of stir fries and this recipe for Maque Choux.
I think I've heard him say that Maque Choux is his favorite dish to cook.
This spicy Creole dish comes together really quickly and easily, but you would never know because it's so zesty and savory. Plus, all of the warm colors of the dish are so inviting, especially after a long day at work.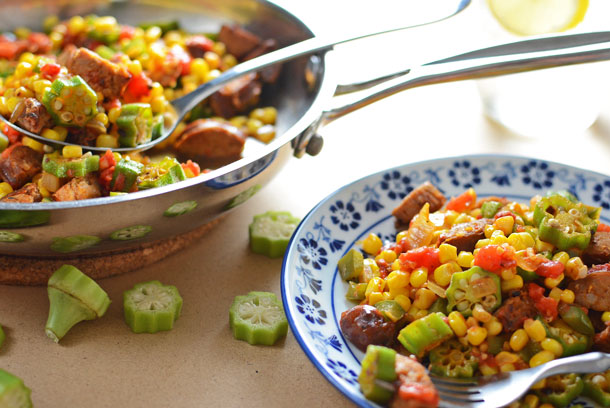 Sadly for my husband, this is a seasonal recipe that he can't cook all year long. If you're in the mood for maque choux, I recommend making it sometime (or a few times) in August or September when there's plenty of fresh corn and okra to be enjoyed. It's almost like a confetti celebration of summer!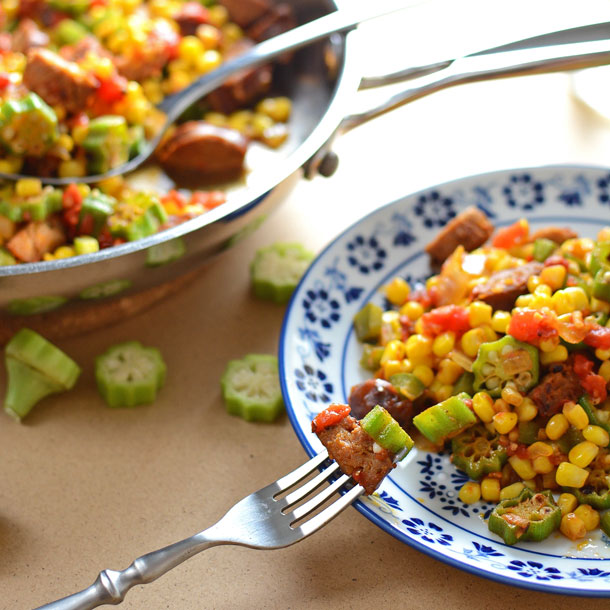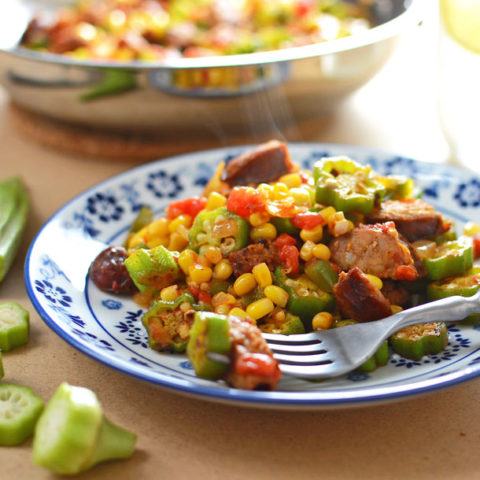 Maque Choux
Yield: 4

Prep Time: 10 minutes

Cook Time: 15 minutes

Total Time: 25 minutes

In the mood for a spicy Creole dish? Maque Choux is a one pot, no fuss meal that's zesty, savory, and will have dinner on the table in no time!
Ingredients
1 12 oz package andouille sausage, cut into bite sized pieces*
1/2 tsp olive oil
1 1/2 C fresh okra, cut into coins
2/3 C diced green pepper
1/2 C sweet onions, diced
2 tsp fresh minced garlic
3 C sweet corn (fresh or frozen)
1 C skinned and seeded tomatoes (you
can use drained canned diced tomatoes)
salt and pepper to taste
Instructions
As with stir fries and most one-pot meals, I like to have most of my ingredients prepped before I begin cooking, so chop and dice everything that needs to be chopped and diced. For the andouille sausage, I typically cut it in half lengthwise and then chop the halves into bite sized pieces.
Heat a large, deep pan and 1/2 tsp of olive oil over medium high heat for 1 minute. Add the andouille sausage to the pan and brown, stirring a few times, for about 3 minutes. Pour the sausage into a large bowl or onto a plate, and set aside.
Add the okra to the pan and cook it in the oils that are left over from the sausage. Cook until browned and beginning to soften, and then add it to the bowl with the sausage. Be sure not to over-cook, so that it doesn't become slimy.
Reduce the heat to medium and add your green peppers and onions to the pan. Cook until softened, again, about 3 minutes.
Add minced garlic to the pan and cook for 1 minute.
Add the corn and diced tomatoes to the pan. Also add the andouille sausage and the okra back in as well. Cook until everything is heated through. 3-5 minutes.
Serve piping hot and right from the pan.
Notes
*Use a chicken andouille sausage for a lighter dish.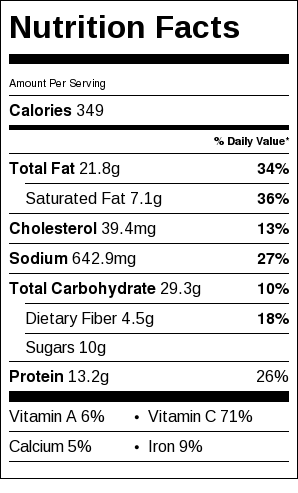 Other Creole-inspired dishes you may enjoy…