It's September 1st and the first screech of school bus brakes echoed outside of my cozy suburban court this morning, but I'm not quite ready to let go of the summer flavors. After all, it's 90ºF and muggy outside, and I have six whole days until Labor Day. Isn't that the unofficial end of summer anyway? The week after that my little family packs into our car and we head to the beach for one last hurrah. It's occurred to me that the big push for the fall season is mostly fabricated by the media. My crop share hasn't quite caught wind of fall yet, and I would think they would know the changing of the seasons best. We're still getting cucumbers, sweet peppers, okra, and glorious tomatoes in our weekly crop share. So don't be surprised when you see summer lingering on for a couple weeks on Simple Seasonal. Besides, who would want to trade in the fleeting heirloom tomatoes before it's necessary for pumpkins and apples that store well for months?
Today's recipe is a healthy and light celebration of heirloom tomatoes. It's eaten chilled for those hot days that are still lingering, with a polenta crust and light farmer's cheese to tie the dish together. It's a perfect appetizer for a warm night, or you can serve it at your next brunch or luncheon. The beautiful arrangement of unusual tomatoes is sure to make a great conversation piece for your guests!
Heirloom tomatoes, like many old things have an element of both beauty and ugliness to them. I believe their beauty definitely wins out, but I have often heard them referred to as "uglies," "ugly tomatoes," or "pretty uglies." I have to say, it was a lot of fun slicing into and arranging these pretty uglies. I'll let you and your guests decide; beautiful or ugly? Whatever your opinion, this recipe is sure to make you think twice about giving up on summer just yet!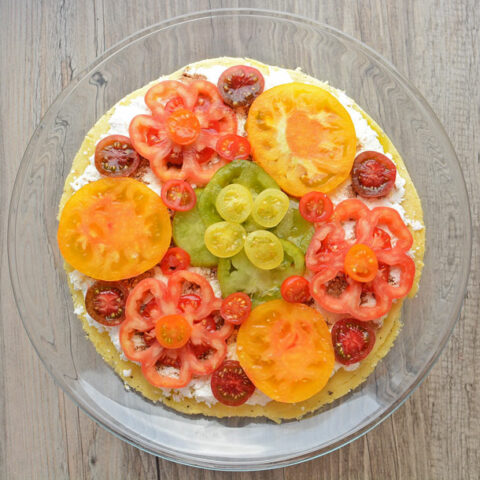 Heirloom Tomato and Polenta Pie
Yield: 8

Prep Time: 15 minutes

Cook Time: 20 minutes

Total Time: 35 minutes

Give your guests something to talk about with these beautifully ugly heirloom tomatoes healthfully arranged on a chilled polenta pie!
Ingredients
Polenta Crust
3 C water
1 Tbsp olive oil
1/2 tsp salt
1/2 tsp dry basil
1 C polenta or yellow corn meal
1/2 C parmesan cheese
Pie Assembly
1/2 lb farmer's cheese
1 Tbsp balsamic vinegar
1 Tbsp olive oil
assorted heirloom tomatoes (at least 4 large)
salt and pepper to taste
Instructions
You will need to make your polenta crust at least 2 hours in advance, so that it has adequate time to chill. In my case, I made it the night before to make assembly time of about 10 minutes the next day. Place your water, olive oil, salt, and dry basil into a medium saucepan and bring to a boil over medium-high heat. Once boiling, slowly pour your polenta into the pot while continuously whisking to prevent unpleasant clumping. Once combined, turn your heat down to low and continue to cook while stirring every few minutes until the mixture becomes thick. This will take about 15 minutes. Remove from the heat and stir in your parmesan cheese.
Lightly coat a jelly roll pan or a cookie sheet with oil. Pour the polenta on the pan and spread it out in a roundish shape that is large enough to cut your pie crust out of, but not so large that you end up wasting a ton of polenta. Allow it to cool for about an hour and then chill it for at least 1 hour before assembling your heirloom pie.
After the polenta has chilled, find something round whether it be a bowl or a cake tin, to use as a guide for cutting out your round pie shape. Place it on top of the polenta and cut around the edges with a knife as if you're tracing. Transfer it to whatever plate or cake stand you plan to serve it on.
Spread a layer of farmer's cheese over the polenta and then drizzle with balsamic vinegar and olive oil.
Cut your heirlooms into 1/4 inch slices and arrange them however you wish over your pie. Season with salt and pepper to taste before serving.