Park Ranger Birthday Party – Got a kid with a preference for the outdoors? This Park Ranger birthday party is a perfect way to celebrate their special day!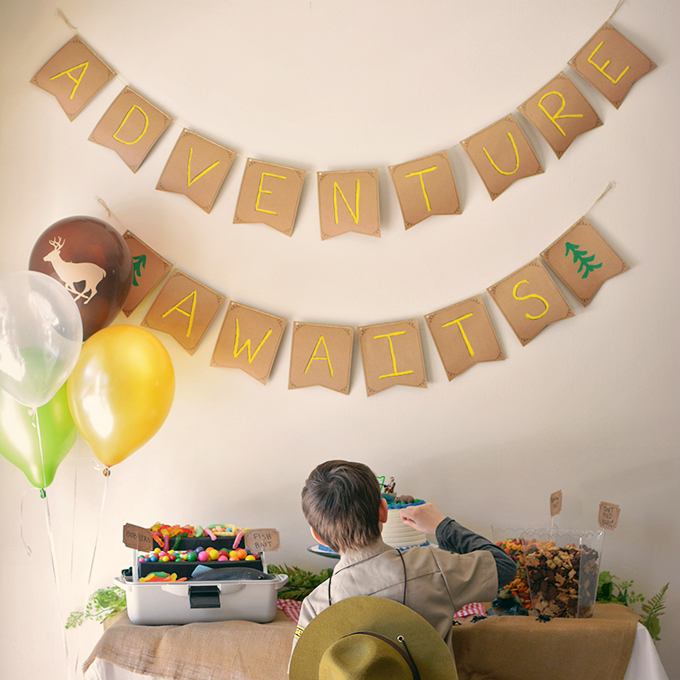 Every year Mr. Simple Seasonal and I throw each of our boys epic, themed birthday parties. We're not typically the sort of parents who spoil or pander to our kids, but we're definitely flirting with crossing that line when it comes to the kid's birthday parties.
My husband was an illustration major in college and I'm a photographer/blogger. Both being creative types, we've kind of allowed the whole birthday decoration thing to spiral out of control. Perhaps we're both pandering to our own needs for a creative outlet. All that to say, neither of us intends on stopping! Mom, Dad, and the kids are having way too much fun with this insane birthday tradition.
This year my 7-year-old wanted a Park Ranger/National Parks Birthday Party. At the moment he wants to be a park ranger when he grows up. He's the kind of of kid who spends every possible moment outside and who's happiest when his cheeks are kissed by sun and dirt. When he is stuck inside he can be found poring over documentaries and PBS nature shows. He's often dreaming of outdoor adventures in which new animals are discovered and poachers are brought to justice! Perhaps he's been watching a little too much Wild Kratts on PBS…
At first I was a little stumped over how to create a Park Ranger Birthday Party. Like seriously… This theme isn't available at your local party store. My son must not have gotten the family morning memo, which I thought clearly stated that predictable birthday party themes are preferred. Fortunately, Mr. Simple Seasonal and I eventually got some creative ideas going and we decided to turn the downstairs of our small town home into an actual national park.
Here's how we turned our home into a national park…
(Click the affiliate links to conveniently get the supplies you need from Amazon)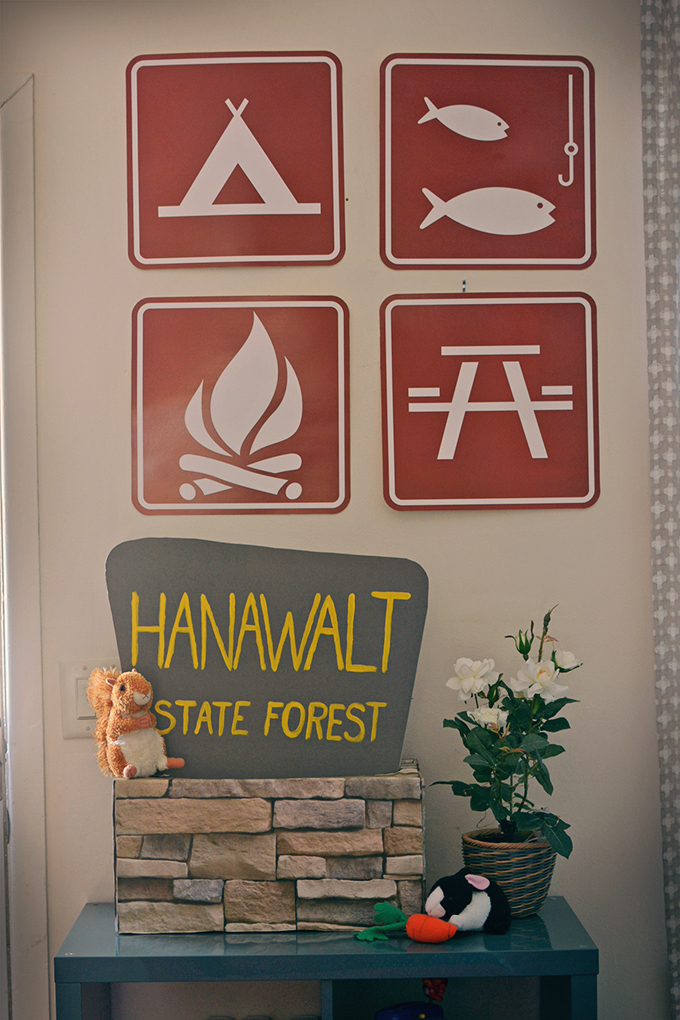 The state park sign is made from an up-cycled Amazon box that we covered in rock colored contact paper. We then cut out and painted the signage on a piece of gray foam board with yellow acrylic paint. To attach the sign we cut a slit in the box and then slid the bottom of the sign into it.
The camping cutouts are simply prefab cardboard ones.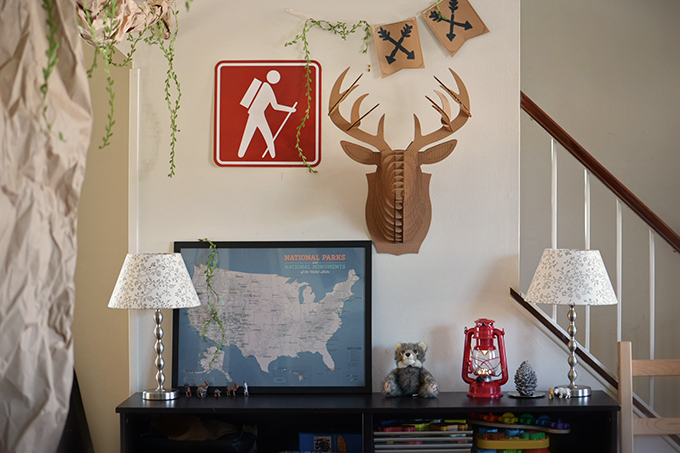 My son has been needing some more grown up wall decorations for his bedroom. He currently has adorable framed Winnie the Pooh prints, but he's 7 now. We got him a 3D cardboard puzzle deer head, a National Parks Print and a forest wall hanging with the plan to decorate his party and then redecorate his bedroom afterwards. We also got an LED lantern which was great for replacing a Very Hungry Caterpillar night light from our son's early childhood.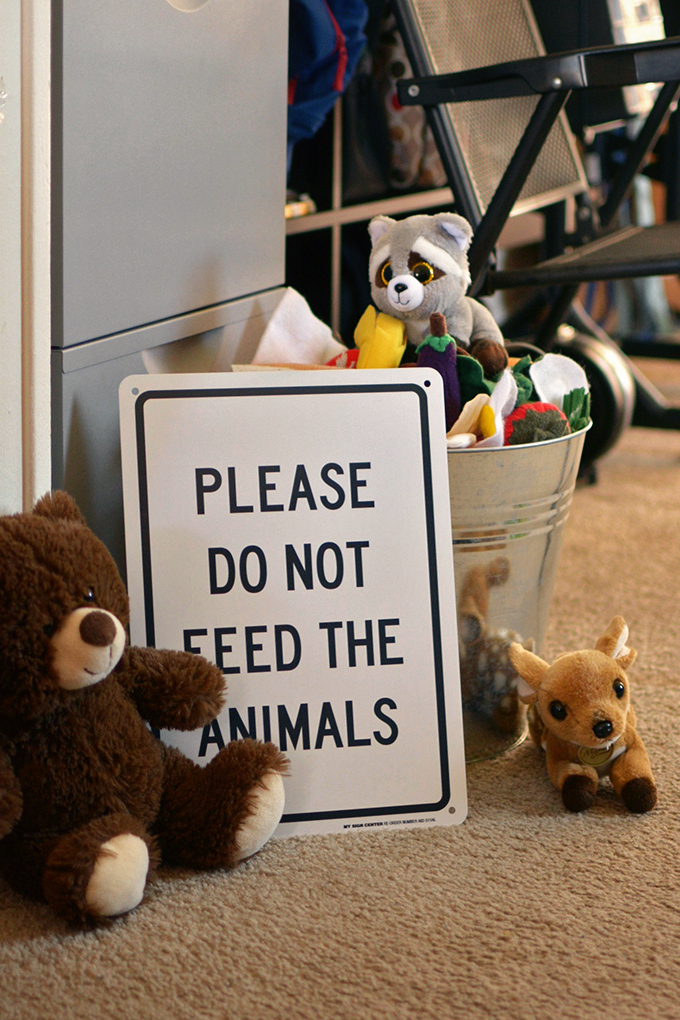 I think it's impossible to go to a national park without reading at least one sign telling you not to feed the animals! For the trash can we filled a metal bucket half way with newspaper and then dumped the kids play food on top. I was able to find all the hungry wildlife I needed in the piles of stuffed animals in my kids' rooms!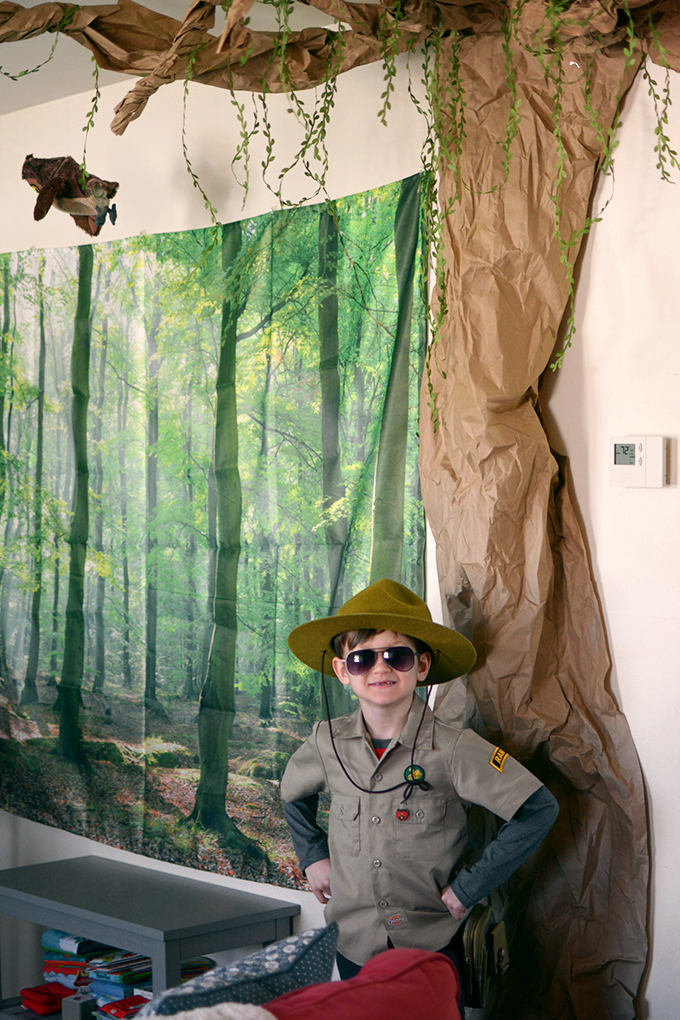 A good park ranger needs his uniform. The shirt is a Dickies Boys' Twill Shirt. It's decorated with a Ranger Badge and a Smokey the Bear Pin which says "Junior Forest Ranger". The finishing touches are a Rangers' Costume Hat and Childs 'Aviator Sunglasses.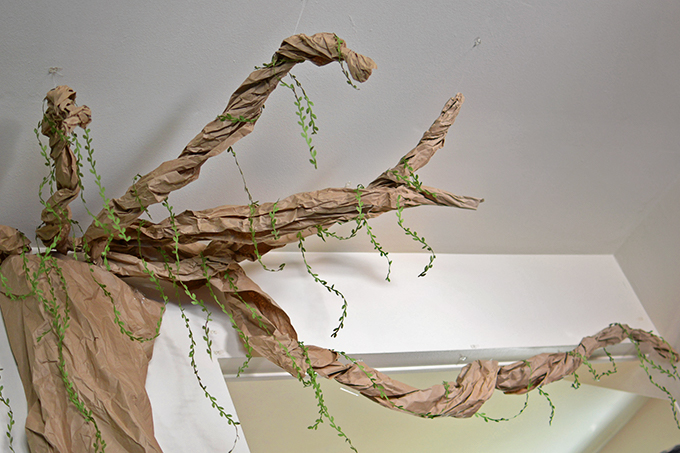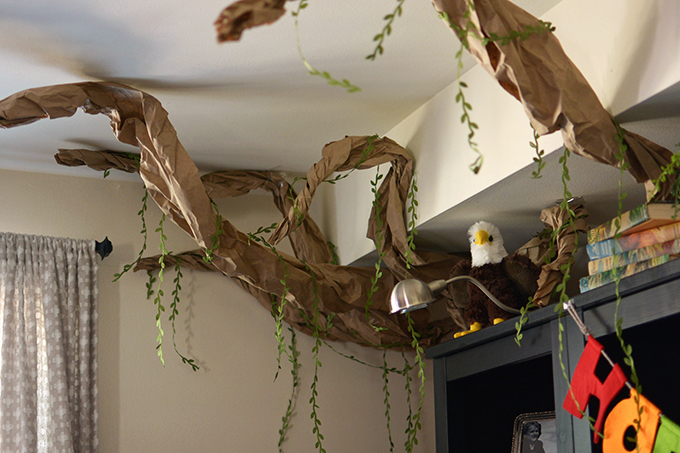 The trees were the biggest artistic and architectural challenge of this party. The trunk and branches are made from Brown Kraft Paper. The branches are suspended with clear plastic Command Decorating Clips and fishing line.
The trick is to pull out the full length you'll need for the trunk from the paper roll, cut it off, and crumple it lengthwise on the floor before hanging. This will give it a "bark-like" look. You can tape them almost completely flat to the wall at the base (so that no one runs into them as they walk by) and then gradually allow the trunk to bow outward as it reaches toward the ceiling. This will also give it the illusion of being wider at the bottom and narrowing as it ascends.
Branches can be started in a similar way. You'll want to pull out twice the length you'll need for a branch, then begin twisting it from one end, crumpling as you go until you reach the other end. This long twisted tube can then be folded in half so that it actually makes two branches. We tied the first loop of fishing line around the fold. This can then be hung from a Command Decorating Clip placed directly above where you'd like the branches to begin. Tucking this end into the top of the trunk will help push the illusion that the branches are growing out from it. After that, you can support the branch by placing a couple more decorating clips on the ceiling in the direction you want the branch to go, The branch can be suspended from the clips with more fishing line.
To decorate the trees we draped artificial leaf garlands. I dare say that the end result was quite whimsical!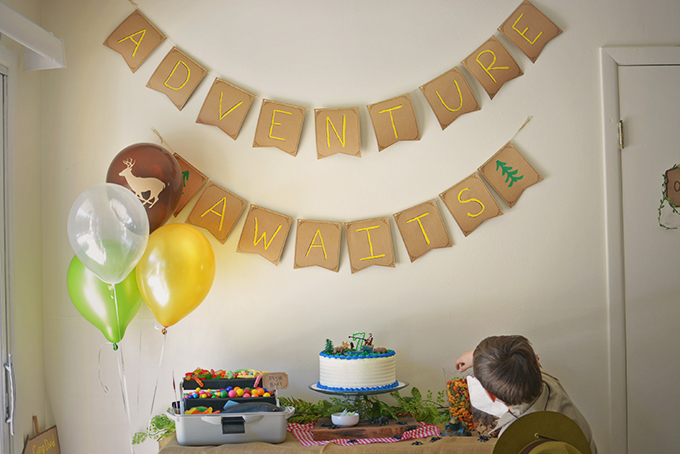 What's a party without a banner? I wanted ours to say "Adventure Awaits" because that pretty much sums up the spirit of my son's whole existence. I looked for one at Party City and on Etsy, but none quite fit my motif, so I made an easy-to-make homemade one. The banner is a Pre-made DIY Blank Banner. I lightly drew the lettering on the banner with a pencil and then painted over it with Acrylic Paint. It was that easy!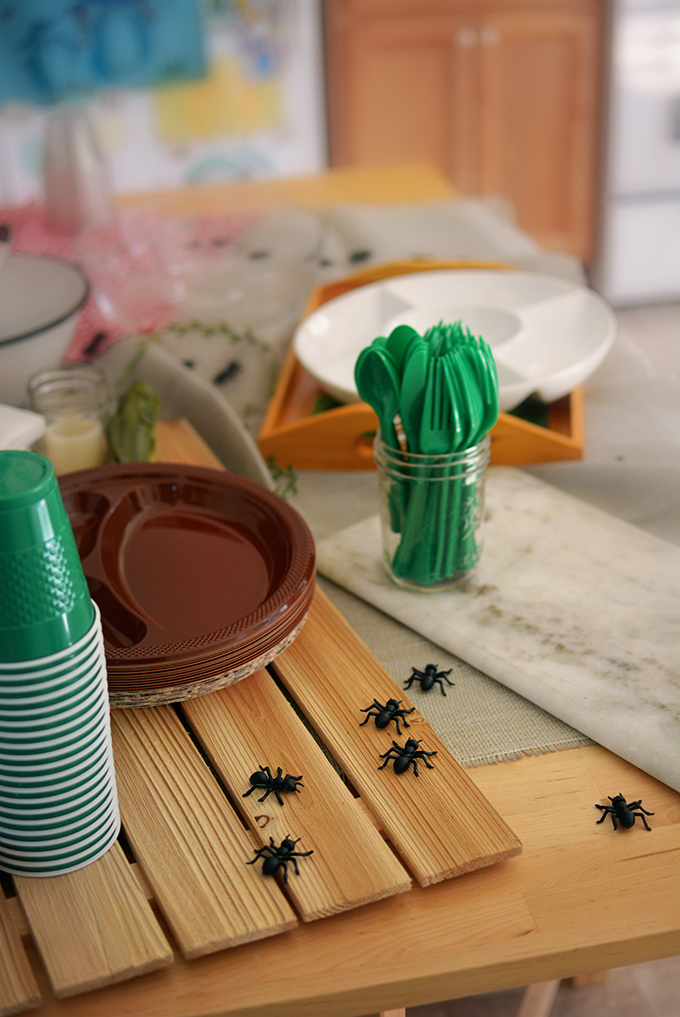 To decorate the food table I used odds and ends from around my home like pieces of burlap, red gingham scraps and a wooden slat board. I also purchased disposable Green Plastic Cups, Brown Plastic Dinner Plates and green plasticware. And of course, what's an outdoor meal without some Plastic Ants?!
Park Ranger Party Food
As a food blogger, the food is obviously a very important part of any party I throw. Keeping with the Park Ranger and National Parks theme, I stuck with classic picnic food for the meal. You know; hamburgers, hot dogs, pasta salad, fresh cut fruit, veggie sticks, chips, and pretzels.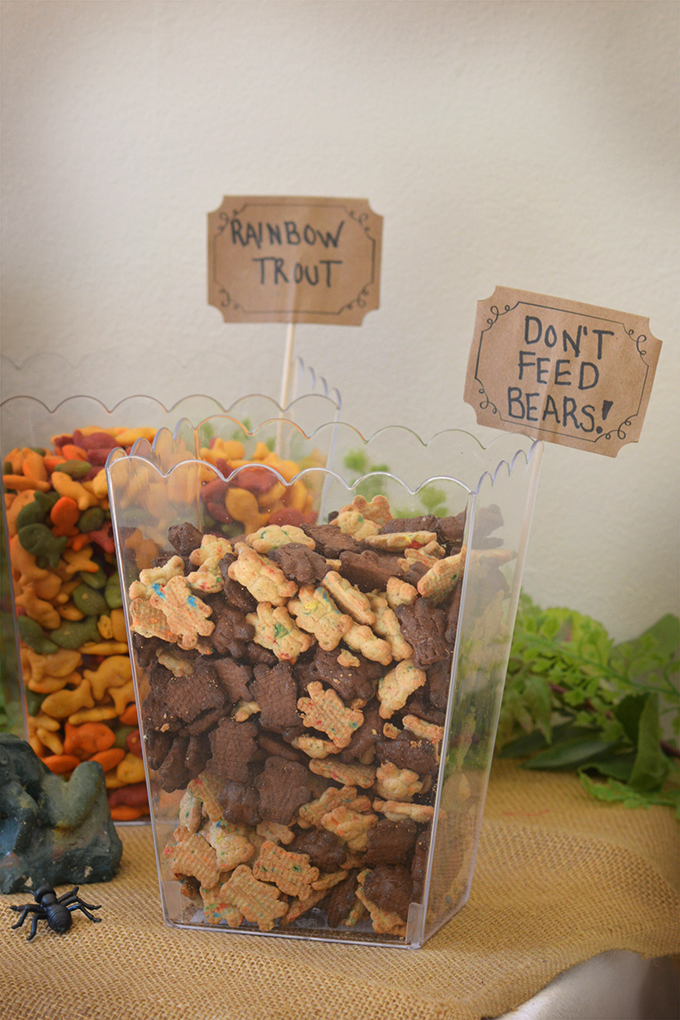 But – being a food blogger – I had to add in a few fun snacks and treats for the kids. To start things off I had "Rainbow Trout" made from Pepperidge Farm Goldfish Colors. Next, I added assorted Teddy Grahams to the mix with a sign instructing our guests "Don't Feed the Bears." To really get the full effect of the snacks I though it was helpful to put them into clear plastic disposable party serving bowls. I wasn't able to find what I needed on Amazon, so I purchased them from Party City. The food labels are also from Party City as well.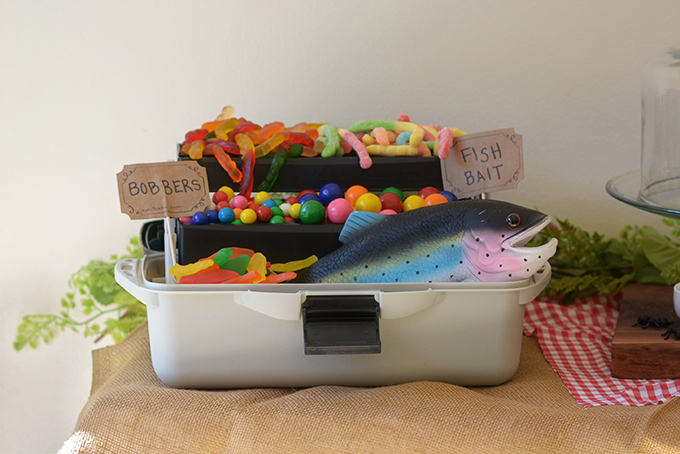 I think the party favorite by far was the edible tackle box. When you make this, be sure to buy the tackle box brand new, because a used tackle box would just be disgusting! I also recommend washing it well with soap and water before use. As I was saying before, the kids went nuts over this party treat. The grown-ups did too, as I saw the adults stealing many gummy worms, gum balls, and Swedish fish!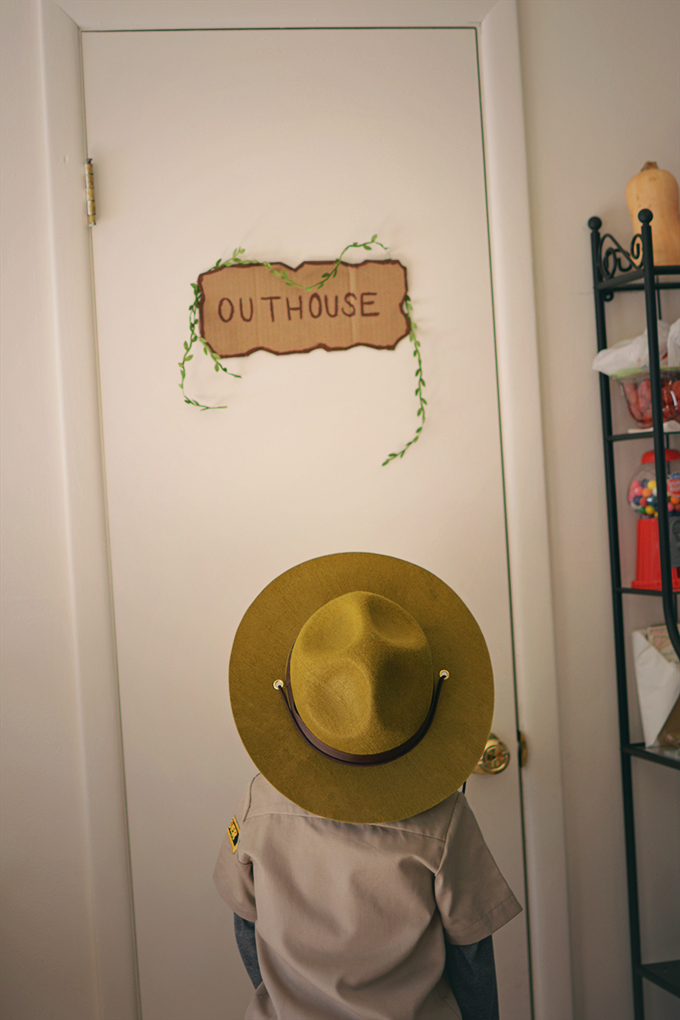 Naturally, if you're going to have a Park Ranger Party in your own homemade national park, you're going to need an outhouse. We didn't want our guests to get lost or confused, so we made this sign from cardboard and acrylic paint.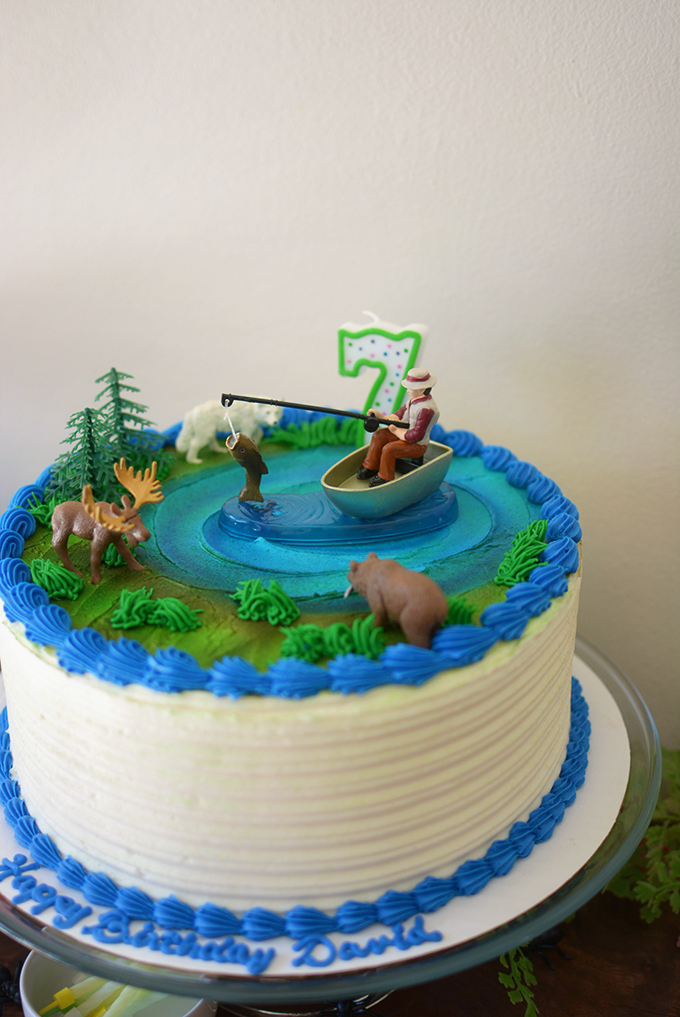 I almost forgot to tell you about the cake (only the most important thing at a birthday party)! I had my son's made at a local bakery largely because I was tired from decorating but even more so because it was too much to do along with providing care to my toddler. If you want to make a similar cake yourself (or add some finishing touches to one made at your local bakery) I have the links for the cake toppers I used. The Fishing Action Set Cake Decorating Kit comes with the fisherman in the boat along with two pine trees. I also added some American wildlife of my own from a Safari Ltd TOOB to give the cake more of a national park feel.
The cake ended up being a delicious ending to our picnic in the woods at Hanawalt National Park!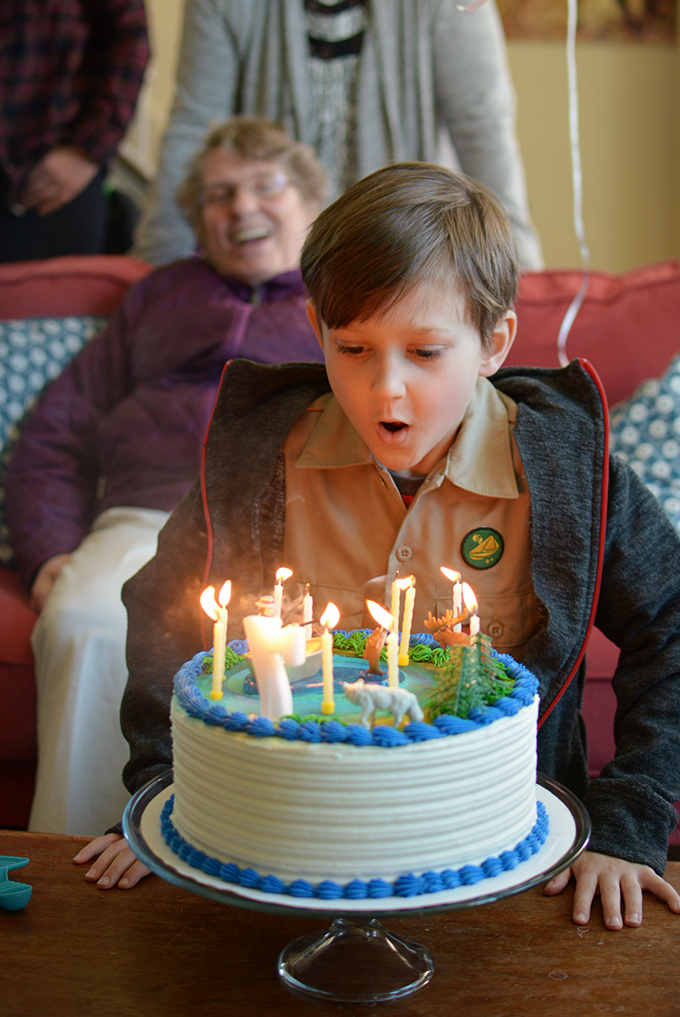 You may also enjoy…