Turkey Meatballs with Cranberry Glaze – Whether serving them as a meal or a fun appetizer at your next party, these zesty little meatballs are the perfect complement to the holiday season!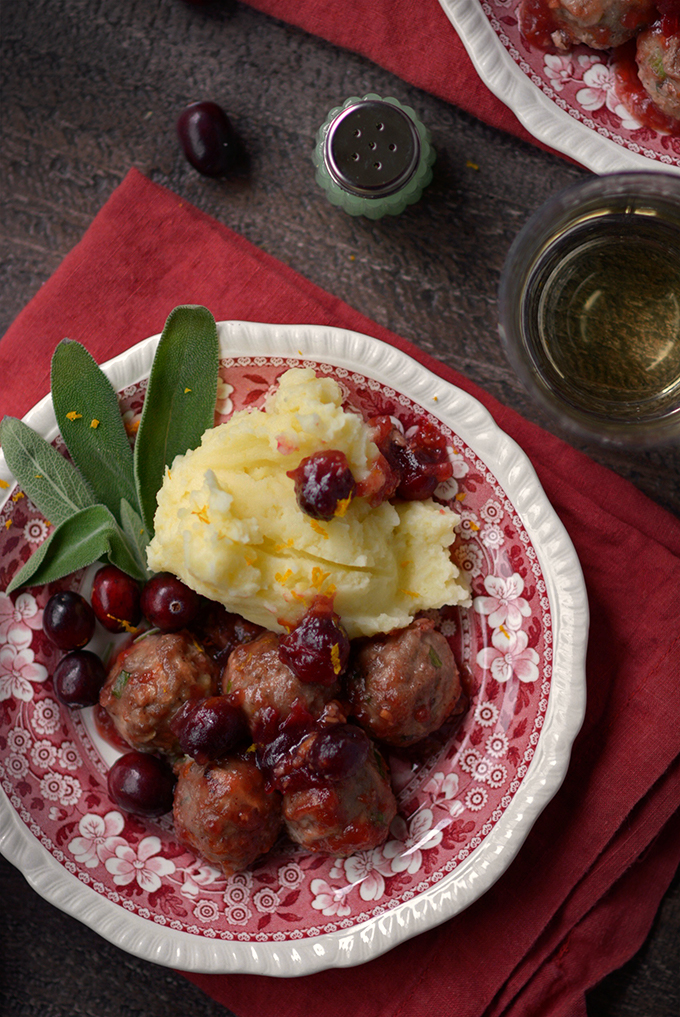 My home has undergone it's annual transformation into the Hanawalt winter wonderland. A felted Santa and his reindeer are flying over my living room as if keeping watch over our 3 nativity scenes, 3 advent calendars, and ample greenery. This is all lit up with about a dozen strands of twinkle lights. You can also find our Elf on the Shelf, affectionally called Jingle Belle, flitting around each night (creepy, right?).
It has become clear to me that I allow my children to influence my decorating a little too much. It's all Christmas magic and happiness for them, though, so I guess it's worth it.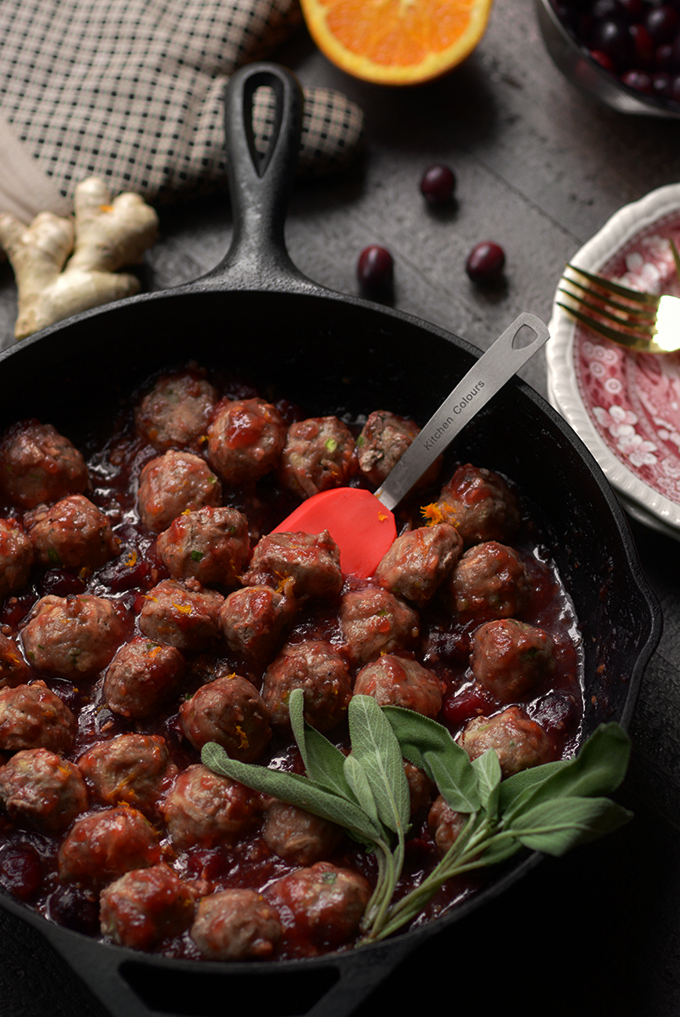 As for me, however, during the holiday season I feel a bit like I've been shaken up in one of their snow globes. I've been totally stressing out the last couple of weeks trying to get all the preparations and shopping done early. I think the stress now will totally pay off in the week before Christmas. I'll then have time snuggle into out winter wonderland with my kiddos. I'll also have plenty of time to do one my favorite activities of the season – cooking and baking!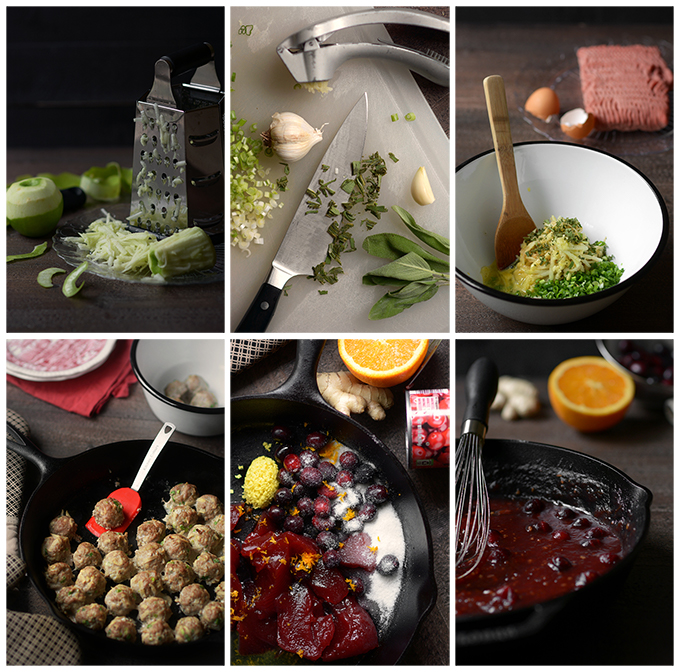 One festive recipe my family has been enjoying this holiday season is Turkey Meatballs with Cranberry Glaze. I've been cooking it up since Thanksgiving, as it works well for the entire holiday season! I've been serving it to my family with mashed potatoes for a satisfying dinner, but this recipe can be presented as an appetizer as well (think the ultimate holiday party cocktail meatball)!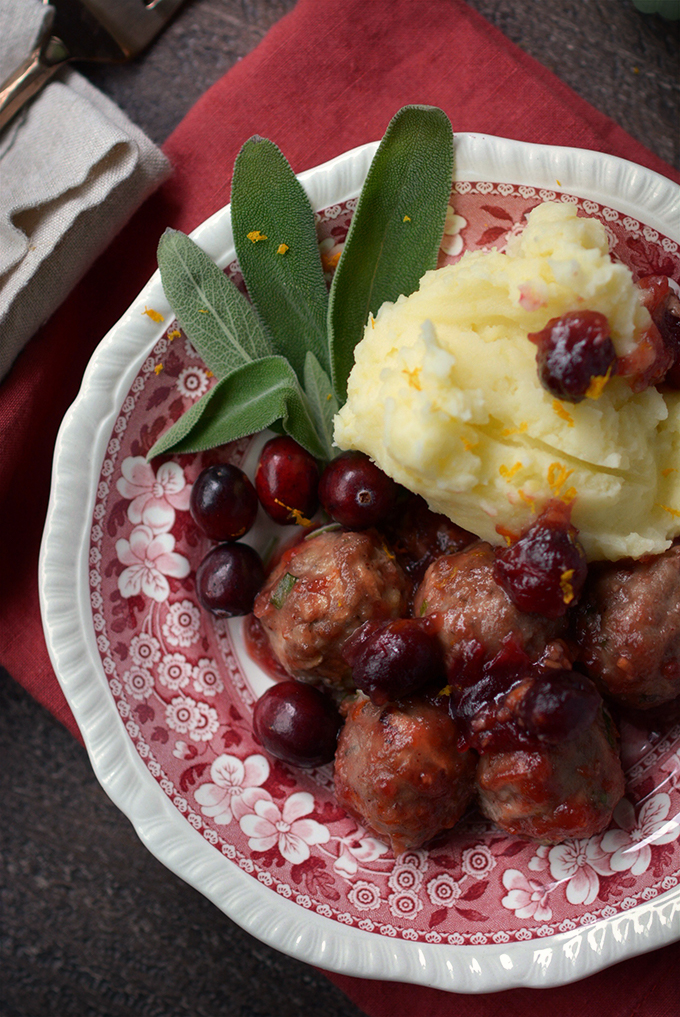 These meatballs are tender with a touch of apple and sage. The cranberry, orange, and ginger sauce is a perfect festive and seasonal compliment. Like my excessive living room winter wonderland, this sweet and savory duo is guaranteed to be an instant hit with grown-ups and kids alike!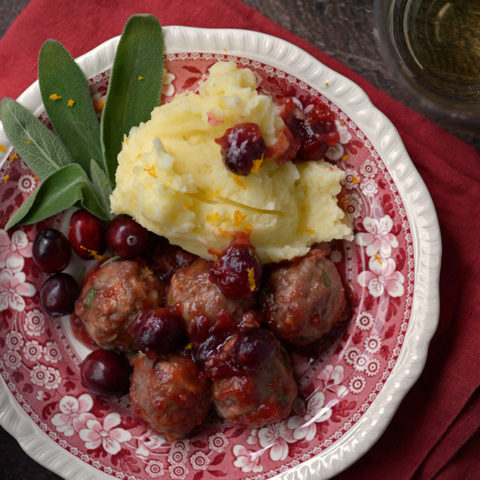 Turkey Meatballs with Cranberry Glaze
Yield: 4-6 servings

Prep Time: 35 minutes

Cook Time: 20 minutes

Total Time: 55 minutes

Whether serving them as a meal or a fun appetizer at your next party, these zesty little meatballs are the perfect complement to the holiday season!
Ingredients
Meatballs
1.25 lb ground turkey
1 C peeled and shredded tart apple*
1/4 C panko bread crumbs
1 lightly beaten large egg
2 finely chopped green onions
2 cloves minced garlic
1/2 Tbsp finely chopped fresh sage
1/2 tsp salt
1/4 tsp black pepper
1 Tbsp vegetable oil
Cranberry Meatball Glaze
1 14 oz can jellied cranberry sauce
1/3 C water
1 C fresh cranberries
1 Tbsp finely chopped fresh ginger
2 Tbsp fresh orange juice
2 Tbsp white sugar
zest of 1 orange
1/8 tsp salt
Instructions
Preheat oven to 450º F.
In a mixing bowl combine the apple, panko, large egg, green onions, garlic, sage, salt, and pepper. Gently stir until evenly combined. Add the ground turkey to the bowl and mix it in with the other ingredients using your hands until just evenly combined. Don't over-work the meat.
Coat the bottom of an oven safe pan or skillet with 1 Tbsp vegetable oil. Using your hands mix together the meatball ingredients. Form the meat mixture into 1 inch balls. I used a slightly heaping 1/2 Tbsp to scoop my meat and it made the appropriate sized meatballs. Arrange the meatballs in the skillet or pan.
Cook the meatballs in a 450ºF oven for 14-19 minutes. Cook until they reach an internal temperature of 165ºF.
While the meatballs are cooking prep the ingredients for the Cranberry Meatball Glaze. You can make the glaze in a saucepan or if you cooked your meatballs in a skillet you can transfer them to a dish and make the glaze in the skillet with the meatball drippings. I recommend this method as it will yield a more flavorful sauce.
Combine all the glaze ingredients in the skillet or in a sauce pan that's large enough to hold the meatballs and the glaze. Bring the glaze to a boil over high heat and then reduce to a simmer. Simmer for 3 minutes, stirring frequently to prevent burning to the bottom of the pan.
Add the cooked meatballs to the sauce pan and return to a simmer, then simmer for one more minute.
Serve immediately**
Notes
*I used a granny smith apple for this recipe.

**Serving Suggestions: Serve with mashed potatoes or couscous and green beans

**Party Suggestions: For a cocktail party serve individually with a fancy disposable toothpick and a fresh cranberry for garnish. Sprigs of fresh sage arranged on the serving plate are also attractive. For a more relaxed atmosphere or a potluck, serve to guests from a slow cooker that is set to the "keep warm" setting.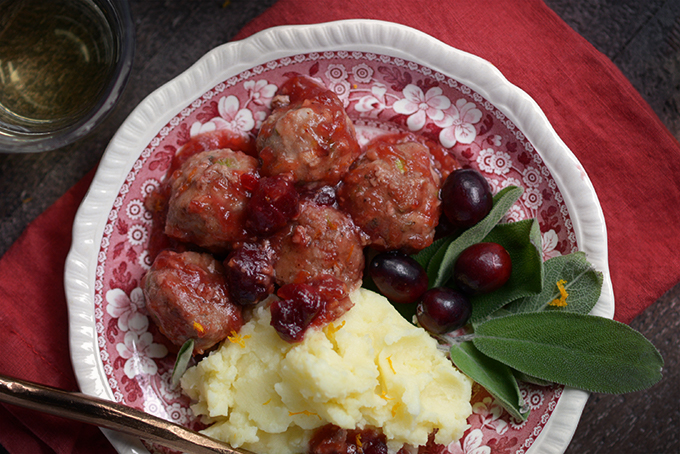 You may also enjoy…