Beef Roulade with Celeriac Puree – Make your table warm and inviting on a chilly day with this elegant, rich, seasonal recipe complete with some wise words for hosts and hostesses alike.
Yes, I know it's the time of year when people start becoming turkey-crazed maniacs, but amongst all of the turkey waddles, gobbling, and wobbling, I'm in the mood for beef… Maybe it's because I can't imagine eating the adorable turkey at my CSA. And perhaps it's because my son is so obsessed with getting him to go "gobble, gobble, gobble" that he runs up and down his fence line until the poor thing is throughly upset. Hasn't he suffered enough? Truth be told, I'll be eating turkey on November 26th without shame. It's just that the months of November and December put me in the mood for leisurely, rich, and elegant meals around the table with loved ones.
Today's recipe for beef roulade with celeriac puree is one that I've been sitting on for quite some time now. Celeriac recently became available at my local farm and I couldn't wait to make this recipe and share it with you! Usually I write recipes with the main attraction first in mind – flank steak in this case – and then build the rest of the recipe around it. For this one, the opposite was true. I just knew I needed something amazing to pair with this lovely celeriac puree. After playing with a few recipes I settled on a beef roulade stuffed with greens and sun-dried tomatoes. It's a pretty recipe, with savory swirls smothered in fluffy celeriac clouds and a brown gravy. Rich and elegant, just the way I like it.
The pretty swirls are sure to impress whoever you're cooking for. This is achieved by butterflying your flank steak, tenderizing it, rolling it up like a jelly roll, and then tying it with a butcher's knot. The thought of making a roulade out of meat might be intimidating for the novice home cook, so if you're feeling a little unsure, check out my post on How to Cut and Tie a Pork Tenderloin for an explanation of the butcher's knot. Tenderloin is a different cut of meat, which is cut in a swirl instead of being butterflied, but the same principles apply.
Even if your roulade doesn't turn out as perfectly as you'd like, don't stress about it. It will still taste amazing. Besides, isn't this time of year about enjoying those you love, and not about a perfect presentation? As Ted Allen of TV's Chopped says:
Planning a dinner party in a way that you're actually capable of getting it done without panicking is important. It's bad hospitality for the host to be freaked out.
And I love these words from etiquette expert Maralee McKee:
The ornaments of your home are the people who smile upon entering time and time again.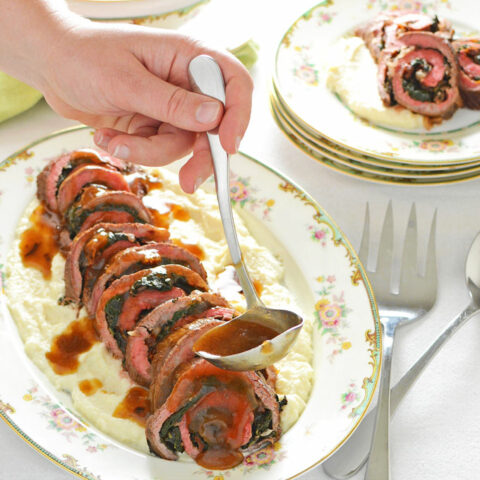 Beef Roulade with Celeriac Puree
Yield: 4

Prep Time: 30 minutes

Cook Time: 1 hour

Total Time: 1 hour 30 minutes

Make your table warm and inviting on a chilly day with this elegant, rich, seasonal recipe complete with some wise words for hosts and hostesses alike.
Ingredients
Flank Steak Roulade
1 1/2 lbs flank steak
1 Tbsp butter
1 C diced shallots
1/2 lb baby tatsoi or spinach
1/3 C diced sun-dried tomatoes
1 1/2 Tbsp olive oil
salt and fresh cracked pepper to taste
Celeriac Puree
2 1/2 lbs celeriac
1/3 C light cream
1 Tbsp butter
salt and pepper to taste
Brown Gravy
1 1/2 C beef broth
2 Tbsp corn starch
Instructions
Flank Steak Roulade
Butterfly your flank steak with the grain running parallel to your stabilizing hand, which means you'll be cutting with the grain.
Once it's flat, gently tenderize it with the smooth end of a mallet. Set aside.
In an uncoated pan or a cast iron skillet, melt 1 Tbsp of butter over medium-low heat. Add the diced shallots to the pan and cook until they begin to soften. Add baby tatsoi or spinach next, and cook until wilted and all of the water from the greens has cooked off.
Remove from the heat and mix in diced sun-dried tomatoes, and add fresh cracked pepper to taste.
Spoon the cooked vegetables in the center of your piece of flank steak and evenly spread out, leaving a 1/4 in border around the perimeter of the meat.
Tightly roll the flank steak with the grain and then tie using a butcher's knot. Season with salt and fresh cracked pepper to taste.
Add 1 1/2 Tbsp of oil to your pan that you cooked the vegetables in, and heat over medium-high heat. Once the oil is hot, add the flank steak and sear or brown on each side.
Place your pan in an oven that has been preheated to 350ºF. Cook for 20-25 minutes or until your roulade reaches an internal temperature of 125ºF at the center.
Allow the cooked roulade to rest at room temperature for 10 minutes before cutting. Just before serving, slice the roulade against the grain into 1/4 in medallions.
Celeriac Puree
Wash off your celeriac (aka celery root) and individually wrap each in foil. Place them on a baking sheet and in an oven that's been preheated to 350ºF. Bake for 45 minutes to 1 hour, or until the celeriac feels mushy when you squeeze it with an oven mitt.
Allow the celeriac to become cool enough to handle and then cut it in half. Scoop out the soft center, place it in a medium mixing bowl, and then discard the skin.
Add butter and light cream to the bowl. Using an immersion blender, puree until smooth and creamy. If you don't have an immersion blender, this can be done in a regular blender.
Brown Gravy
While the beef roulade is resting, take the dirty pan that it was cooked in and heat it over a burner on medium heat.
Whisk together the beef broth and cornstarch in a small bowl using a heat-safe whisk.
Once the pan is hot, pour the beef broth and cornstarch mixture into the pan and begin scraping the whisk along the bottom of the pan. This will pull up the drippings from your roulade and add awesome flavor to your gravy. Continue to stir frequently until the sauce is bubbling and thickened, then remove from the heat.
Notes
To serve, spread a layer of celeriac puree on a plate, top with the beef roulade, and pour brown gravy over top of the roulade.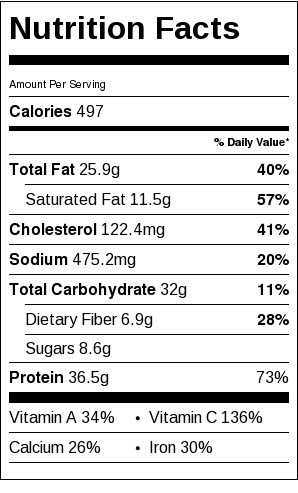 If you enjoyed this post, you may also enjoy…