Strawberry and Spinach Salad with Balsamic – This super-healthy salad is packed with early summer flavors and easily transforms into a satisfying dinner.
For the last two weeks, I've been spending blissful Tuesday afternoons in a sunny field picking strawberries with my son. Fresh-picked strawberries are nothing like those from the grocery store. They are juicy, sweet and red all the way through. I could eat these garden rubies for days on end…
The only problem with fresh-picked strawberries is that they have an exceptionally short shelf life. I guess that's why they sell those hard, under-ripe, white, strawberry-like things at the grocery store… Fortunately, I know some great strawberry storage tips that keep fresh-picked strawberries tasting fresh for a number of days. The ones pictured here had already been in my refrigerator for 48 hours and they still look as if they were just picked!
My recipe for Strawberry Spinach Salad with Balsamic is so good that it's deserving of some of my lovingly-picked berries. This salad has been making it into my dinner rotation weekly and will continue to do so until the end of strawberry season. It's so good my 5-year-old ate it (spinach included) without a quibble! The juicy fresh berries with spinach, feta, and toasted almonds pair deliciously with my recipe for Homemade Balsamic Vinaigrette to create a sweet and nutty explosion of flavor. Not to mention, this salad is quick and easy to make!
Feeling extra hungry? I recommend grilling up some chicken breast, lightly seasoned with olive oil, salt, and pepper. Slice it up and serve it warm on top to take this salad to the "satisfying dinner" level.
Now back to those perfectly-ripened berries. It would really be a shame for them to spoil after being so lovingly picked. So I've included my tips for keeping your strawberries fresh.
Tips For Keeping Your Strawberries Fresh:
Do not wash before storing. If they are wet from the field, lay them on a towel to dry for an hour or two.

Store strawberries in a large dish that has been lined with paper towels. Arrange the strawberries in a single layer and touching each other as little as possible. If you must stack your berries in two layers, place the larger and heavier berries on the bottom and the smaller ones on the top.

Loosely cover the dish with plastic wrap, so that air can circulate into the container. If you see moisture begin to accumulate under the plastic wrap, remove it. Store in the refrigerator for a few days.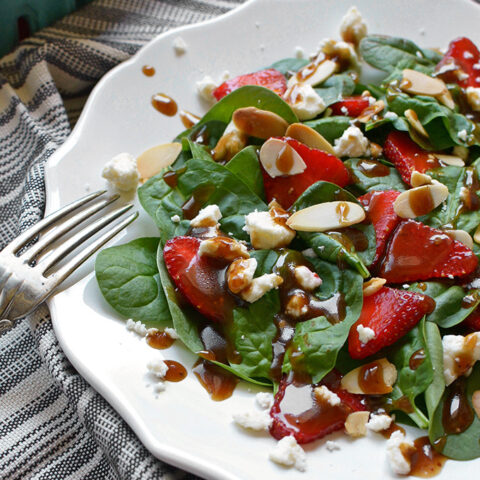 Strawberry and Spinach Salad with Balsamic
Yield: 4 servings

Prep Time: 10 minutes

Cook Time: 12 minutes

Total Time: 22 minutes

This super-healthy strawberry and spinach salad with balsamic is packed with early summer flavors and easily transforms into a satisfying dinner.
Ingredients
Chicken (optional)*
4 small skinless chicken breasts
1 tsp olive oil
salt and pepper to taste
Salad
8 C baby spinach
2 C fresh sliced strawberries
4 Tbsp crumbled feta
4 Tbsp toasted sliced almonds
Dressing
See my recipe for Homemade Balsamic Vinaigrette: https://simpleseasonal.com/recipes/homemade-balsamic-vinaigrette
Instructions
If you are making your salad with chicken, prep the chicken before cooking by brushing it with olive oil and then seasoning with salt and pepper to taste. Cook in a stove-top skillet over medium heat for 10-12 minutes flipping mid way while keeping covered with a piece of foil, or until it reaches an internal temperature of 170ºF. Allow the chicken to rest for 5 minutes prior to slicing for the salad.
To assemble the salad sprinkle a bed of spinach with freshly sliced strawberries, crumbled feta, and toasted slivered almonds. Top with sliced chicken breast as desired. Dress with balsamic vinaigrette.
Notes
Consider making without the chicken as a side salad and a vegetarian dish. Make with the chicken for a complete meal.



Nutritional Facts reflect the salad with grilled chicken and the dressing.
If you enjoyed this recipe, you may also enjoy…