Lobster Linguine in Blushing Saffron Sauce – Nothing says romance like fresh lobster and pasta in a creamy blush sauce. This Valentine's Day, treat your lover to this decadent, aromatic, and romantic dish.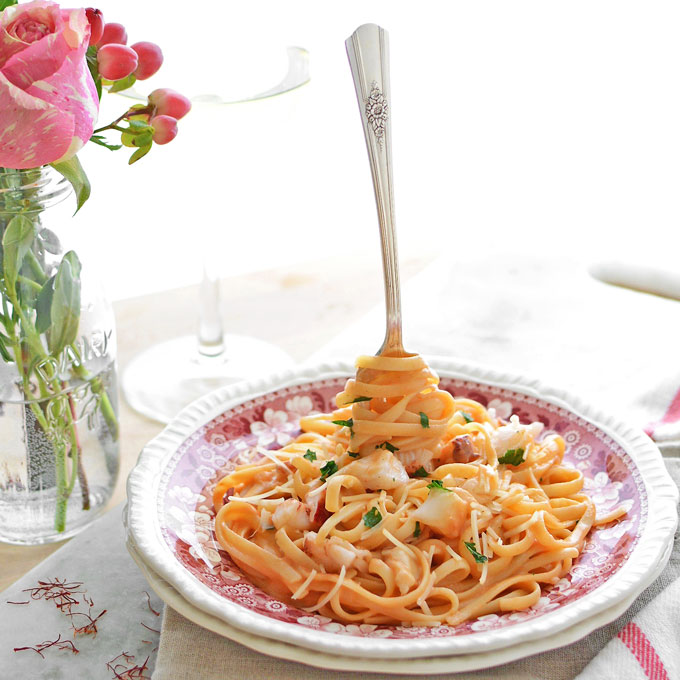 Today is a continuation of my love affair with rich Valentine's Day food. If pasta in a blushing, creamy saffron sauce with lobster isn't your thing (weirdo), than bear with me. I'll be returning to my norm of light, local fare later this week. In the meantime, twirl and slurp this pasta before diving fork-first into my Chocolate Flourless Cake with Raspberry Sauce for dessert. It's Valentine's Day, after all – a time to pause and enjoy the pleasures of life.
Although featuring such luxurious ingredients as lobster and saffron, this recipe is anything but snobby or difficult to make. It's French-sophistication-meets-Italian-peasantry. Bring gourmet flavors into your home kitchen without having to learn any difficult cooking techniques. It's almost as easy as making spaghetti and meatballs! I recommend making this in front of your Valentine's date (to impress, of course), with the lights low, and candles lit. As the saffron cooks it will create an aromatic quality and romance in the air. And don't forget to sip the white wine that's left in the bottle after sufficiently dousing your sauce.
For this dish I had my lobster steamed at the grocery store about an hour before starting to prepare dinner. This ensured that I had fresh lobster, it saved on time and, well, the trauma of cooking my own live lobster. I don't recommend brining home raw lobster tails. They have a very, very, extremely short shelf life and can spoil within hours. Trust me, I'm speaking from experience and lots of dollars lost here.
If you have a pet, chances are they'll have an opinion about your bringing a crustacean into their home. I think my cat believes that pinching food aught not to be trusted. After breaking into the lobster I offered him a piece and he appeared quite offended.
This dish doesn't require exorbitant amounts of lobster. Unless you have the kind of money to spend on tons of lobster, then by all means buy two, three, or four lobsters. The sauce in this dish compliments and showcases that lobster so that it doesn't get lost in the pasta.
For the sauce, you will build a base by sautéing shallots and a pinch of fresh saffron until it's aroma is released. Add a little flour to the pan to act as your thickener. You'll then deglaze the pan with a little white wine and simmer clam juice and tomato paste for a few minutes before adding your milk and cream. From start to finish it takes about 10 minutes, and you're left with a rich, flavorful sauce.
Stir in al dente linguine and chopped lobster and soon you'll be compelled to give in to your base desires for creamy, aromatic, lobster and pasta bliss!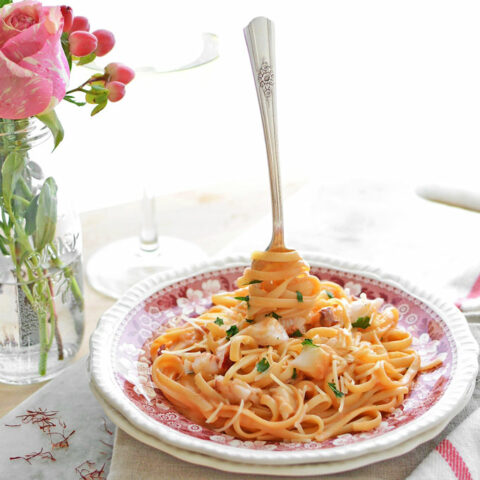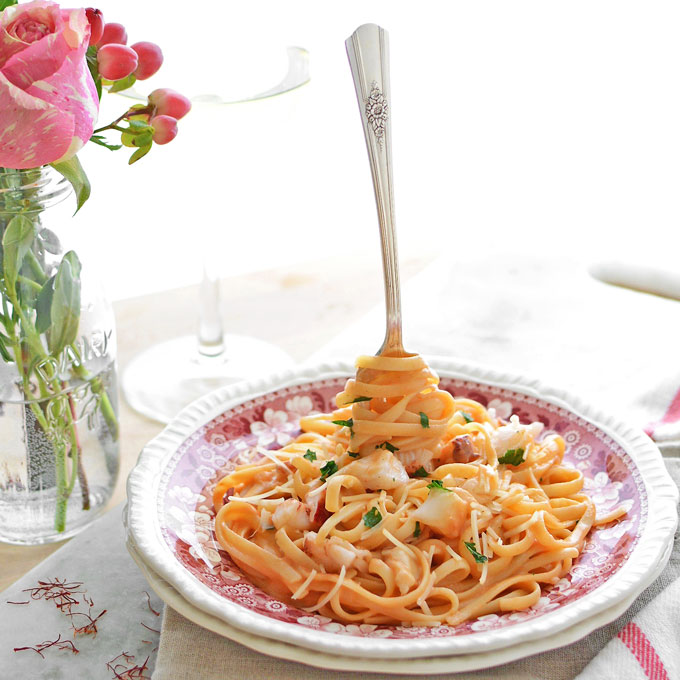 Lobster Linguine in Blushing Saffron Sauce
Yield: 2 generous servings

Prep Time: 15 minutes

Cook Time: 15 minutes

Total Time: 30 minutes

Nothing says romance like fresh lobster and pasta in a creamy blush sauce. This Valentine's Day, treat your lover to this decadent, aromatic, and romantic dish.
Ingredients
1 large steamed lobster
8 oz dry linguine (if you can get fresh, even better)
large pot with 6 quarts of water and 2 tsp salt
2 Tbsp minced shallots
1 Tbsp butter
1 pinch saffron
1 1/2 Tbsp unbleached flour
1/3 C white wine
1/3 C clam juice
2 Tbsp tomato paste
1/4 C whole milk
1/4 C heavy cream
salt and pepper to taste
Instructions
Have a live lobster steamed at the grocery store about an hour before you plan on making this dish. If you're brave you can steam your own live lobster, but avoid purchasing raw lobster meat and then bringing it home to cook, as it spoils quickly and your dish won't taste as fresh, or you may get food poisoning!
Break into your lobster and chop the meat. If you're new to eating lobster, check out this link at thekitchn http://www.thekitchn.com/how-to-eat-a-whole-lobster-118405
Begin bringing your pasta water with salt up to a boil.
Melt 1 Tbsp of butter over medium-low heat. Once the pan is hot, add minced shallots and a pinch of saffron that you have rubbed between your fingers. Sauté until the shallots begin to soften and the saffron becomes aromatic.
Turn the pan up to medium heat and add the flour into the pan, stirring it into the butter. Cook for 1 minute. Add the wine and cook for 1 minute while rubbing a wooden spoon along the bottom of the pan.
Add the clam juice and tomato paste to the pan. Continue to stir frequently with a wooden spoon and bring up to a simmer. Once simmering, decrease the heat to low and cook at a low simmer for 10 minutes, while stirring on occasion.
While the sauce is simmering, add your linguine to the boiling water and cook according to package instructions using the lower recommended cooking time so that it is al dente.
Add the whole milk and heavy cream to the pan and stir it into the sauce until smooth. Heat through, but don't allow the sauce to bubble. Remove from the heat.
Add the linguine from the pot of boiling water into the pan with the sauce. Be sure to reserve the pasta water and add it to the dish as needed if the pasta appears dry. Fold in the fresh lobster meat. Season with salt and pepper to taste. Garnish with fresh parmesan and parsley as desired. Serve immediately.
If you enjoyed this recipe, you may also enjoy…