Chocolate Flourless Cake with Raspberry Sauce – If you can't make it out for a Valentine's Day dinner, this chocolate flourless cake with raspberry sauce will make for an evening of well-planned hedonism!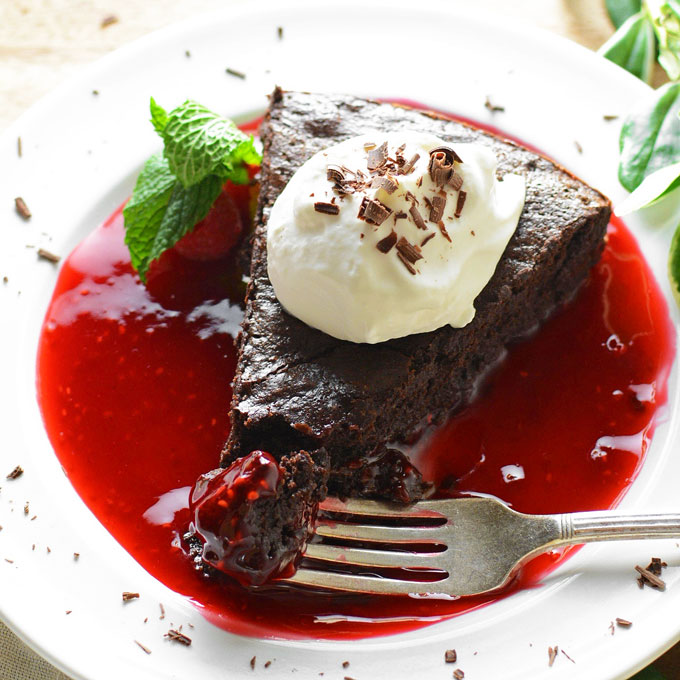 Today's recipe is an unapologetically rich dessert. As a devout lover of all things chocolate, I couldn't let Valentine's Day pass me by without making a decadent dessert befitting the holiday. We all need a little culinary romance from time to time, after all. I included real fruit in this recipe with a homemade raspberry sauce, so that's my something healthy. I hear chocolate is healthy too, so they say… The sauce is made from frozen raspberries since they aren't in season, but red desserts are, so I went with it. Not to mention, it's to die for when smothering this flourless chocolate cake…
I'm excited for Valentine's Day this year because Dan and I are going out on a real dinner date for the first time since May! Seriously… that's like 9 months, and that's way too long! We used to go out all the time, but then the kids and bills thing happened. As someone who loves fine dining, it's been pretty tough. But I'm sure that in 15 years, when I'm surrounded by teenagers who can't wait to be left alone and have the house to themselves, I'll look back on this season of life longingly. In the meantime, Dan and I have learned to create our own dates. I make a quick and easy kid dinner for my little one and get him settled into bed. Then, Dan and I make something more sophisticated together, whether it's a savory dinner (I have one planned for my next post), or a rich dessert like this Chocolate Flourless Cake with Raspberry Sauce. And a bottle of wine, of course!
If you don't have dinner reservations this Valentine's Day, don't sweat it! Not all is lost. Consider carving out some time to cook something completely hedonistic with someone you love, open a bottle of wine, light some candles, and create your own romance this February!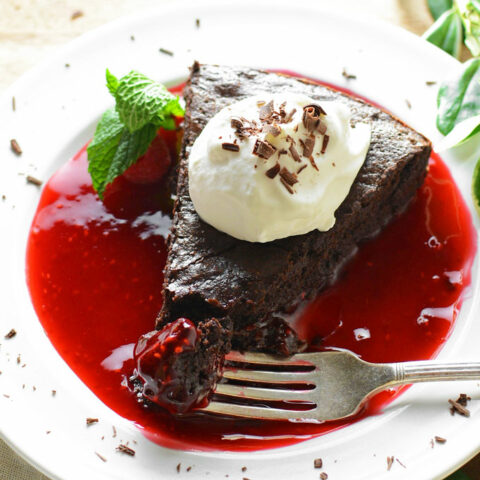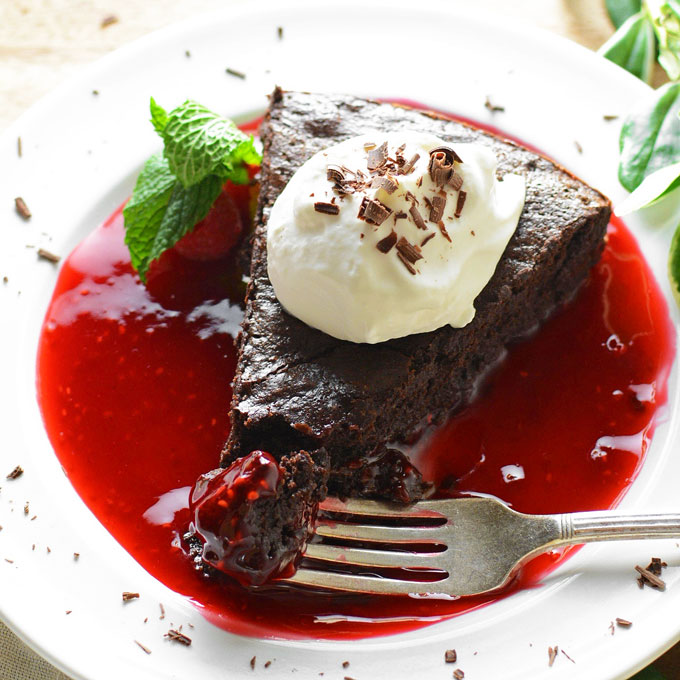 Chocolate Flourless Cake with Raspberry Sauce
Yield: 12

Prep Time: 45 minutes

Cook Time: 35 minutes

Total Time: 1 hour 20 minutes

If you can't make it out for a Valentine's Day dinner, this chocolate flourless cake with raspberry sauce will make for an evening of well-planned hedonism!
Ingredients
Chocolate Flourless Cake
8 oz 60% bittersweet chocolate
1 C (2 sticks) butter
1 1/2 C granulated sugar
1 C cocoa powder
6 large eggs
1 tsp real vanilla extract
1/4 tsp salt
Raspberry Sauce
12 oz frozen raspberries
1/2 C water
1/2 C granulated sugar
1 1/2 Tbsp corn starch
Whipped Cream
1 C heavy cream
2 Tbsp granulated sugar
1/4 tsp real vanilla extract
Instructions
Chocolate Flourless Cake
Grease a 12 inch springform pan with butter and then line the bottom of the pan with a piece of round parchment cut to the size of the pan. Preheat your oven to 325º F.
Melt the bittersweet chocolate and butter over a double boiler while taking care to mix every minute. To make a double boiler you will need a medium sauce pan and either a small metal or glass mixing bowl. Bring 2-3 inches of water to a simmer at the bottom of the pot. While maintaining a simmer, place your bowl on top of the pot so that it's not touching the water, but so that the heat is trapped in the pot underneath it. This will keep your chocolate from burning.
Sift 1 C of cocoa powder into the boiler while continuing to heat and stir frequently. After the cocoa is mixed in, stir in the sugar. Continue to heat and stir until the sugar is mostly dissolved and then remove from the heat.
Combine the eggs, vanilla, and salt in a large mixing bowl. Beat on high for 5 minutes until the eggs are light and fluffy.
Gently fold the beaten eggs into the melted chocolate until evenly combined, taking care not to over-mix. Pour the mixture into the springform pan.
Bake at 325º F for 30-35 minutes. After removing the cake from the oven, allow it to rest for 10 minutes and then gently remove it from the springform pan by removing the sides of the pan, and then sliding the parchment lined bottom off of the bottom of the pan. Allow it to cool completely for 1-2 hours before serving.
Raspberry Sauce
While the cake is cooking, make the raspberry sauce. Place the frozen raspberries in a fine mesh colander and allow the juices to drip into a bowl as they thaw out. Once thawed, use a spatula or wooden mallet to push any remaining juice through the colander. Discard the pith and reserve the juice.
Combine the reserved raspberry juice, water, granulated sugar, and corn starch in a saucepan. Whisk the ingredients together until the corn starch is completely dissolved. Heat the sauce over medium-low heat until it's bubbling and then cook until thickened for about 2 minutes. Serve chilled.
Whipped Cream
For best results, chill a metal mixing bowl and your beaters in the freezer before making.
Combine heavy cream, granulated sugar, and vanilla extract in the chilled metal bowl. Beat on high until the cream just becomes light and fluffy and forms stiff peaks. If you over-beat, it will begin to turn into butter.
Whipped cream is best if it's served immediately, but it can be stored up to 10 hours in the refrigerator in an airtight container. If refrigerated, quickly beat for about 15 seconds before serving.
I know… But it's Valentine's Day!
If you enjoyed this recipe, you may also enjoy…