Warm Butternut, Cabbage, Quinoa, and Almond Salad – This warm winter salad combines filling and colorful vegetables to create a meal that will satisfy and restore your natural glow!
It's Super Bowl Sunday and I'm daring to post a salad recipe. Trust me though, come tomorrow morning many of us will all be wanting to awaken from our hot-wing-junkie stupor. So why not plan on Monday night being a meatless Monday, salad kind of night? This recipe for Warm Butternut, Red Cabbage, Quinoa, and Almond Salad is just the ticket. It's filling and savory enough for dinner, but it's packed with colorful veggies to help your glow return after a fun-filled weekend of finger food, beer, and Super Bowl commercials. Oh, and football too, I guess…
If you want some healthy-ish and de-lish football recipes in the meantime, check out some of my game day favorites. They're fun and lightened-up indulgences!
1 . Sticky Chipotle Cauliflower Wings
2. Avocado Lime Yogurt Dipping Dressing (perfect for dipping said cauliflower wings)
3. Game Day Vegan Chipotle Sliders
For this recipe I was lucky enough to get an intensely sweet butternut squash and this crunchy red cabbage from my CSA (crop share). Aren't my veggies pretty?
I know my kitty has been appearing in a lot of my posts lately. He's decided to make this chair by my chopping block his spot while I cook and photograph recipes for Simple Seasonal. I was beginning to think that he might be my little sous chef, but here he is, sleeping on the job. I can't fire him, though. His fluffiness and purrs redeem him every time.
Now back to the recipe… It's savory with a touch of sweet, but mostly nuttiness. It will restore your healthful constitution after a weekend of game day revelry. So have some fun this weekend!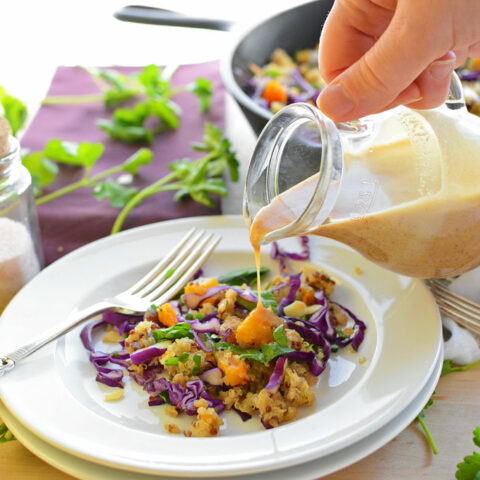 Warm Butternut, Red Cabbage, Quinoa and Almond Salad
Yield: 4

Prep Time: 15 minutes

Cook Time: 30 minutes

Total Time: 45 minutes

This warm winter salad combines filling and colorful vegetables to create a meal that will satisfy and restore your natural glow!
Ingredients
Salad
3 C small cubed butternut squash
2 C small chopped red onion
1 Tbsp olive oil
1 C bi-color quinoa
2 C vegetable broth
2 C red cabbage cut into thin strips
2/3 C coarsely chopped parsley
1/4 C toasted slivered almonds
Maple Almond Dressing
4 Tbsp almond butter
3 Tbsp maple syrup
1 1/2 Tbsp apple cider vinegar
1/8 C water
1/2 tsp lemon juice
1/8 tsp cayenne pepper (optional)
salt and pepper to taste
Instructions
Preheat your oven to 425ºF.
Peel and seed your butternut squash and then cut it into small cubes. Cut the red onion to a small chop. Place both vegetables into a cast iron pan or on a cookie sheet with 1 Tbsp of olive oil and bake for 30-35 minutes, or until the butternut squash is tender. While the vegetables are roasting cook your quinoa, make your dressing, and prep the rest of your ingredients.
Before cooking your quinoa, be sure to rinse it well first. This removes the bitter flavor quinoa sometimes has and makes it easier to digest. To cook, place the quinoa and vegetable broth in a small saucepan. Bring to a boil over high heat and then reduce to a simmer and cover. Cook covered for about 20 minutes, or until all of the vegetable broth is absorbed.
Cut your cabbage into thin slices and coarsely chop the parsley. If your almonds aren't pre-toasted, you can do so in in a skillet over medium heat.
To make the dressing, combine all the ingredients and purée together using a hand mixer or a food processor. Set aside.
Once the butternut and onions and the quinoa are done cooking, mix them with the red cabbage, parsley and almond. Serve warm with maple almond dressing drizzled on top.