Maple Sweet Potato Chicken Meatballs – Struggling with picky eaters who don't like their veggies? These savory meatballs are healthier than you think, and smothered in a sweet, sticky, maple glaze. The fact that they're loaded with vegetables can be just between us…
If there is one thing I can always get my picky preschooler to eat, it's meatballs. If there's one thing I can't get him to eat, it's sweet potatoes. His disdain for sweet potatoes began with the little jars of baby food when I first started introducing him to solids. I could shovel the puréed green beans into his little pudgy cheeks without complaint, but if I offered him sweet potato it was as if I was trying to feed him toxic waste. He'd wrinkle his little nose and gag, refusing to finish the remainder of his meal. Personally, I didn't find this all that cute. I wanted him to like sweet potatoes! What kind of person doesn't like sweet potatoes?! They're one of the easy-to-like vegetables! All that to say, not much has changed over the last few years except that mommy has gotten smarter with time.
Today's recipe for Maple Sweet Potato Chicken Meatballs is one that my little sweet potato hater gobbles up without complaint. I may not have told him that these meatballs contain sweet potatoes, but I think this is one of those situations where ignorance is bliss. I'll tell him when he's older… As a replacement for the bread crumbs in traditional meatballs, the sweet potatoes add a sweetness to the dish, plus they sneak in a little extra nutrition for sweet potato lovers and haters alike. To make things even healthier, they're packed with nutritious winter greens. But all the fussy eaters out there have no need to fuss, as these meatballs are covered in a sweet and savory maple glaze. They're so moreish, yet so healthy!
Another fabulous thing about this dish is it's friendly for a weeknight dinner. The meatball mix can be made in advance, frozen, and thawed out overnight in the fridge before you plan on cooking it. The meatballs and the glaze can also be cooked up in one pan, keeping dishes to a minimum. The secret is using an oven-safe pan and cooking the meatballs through for about 15 minutes. Next, add the sauce to the pan with the meatballs and cook for another 5 minutes. Pull it from the oven, give it a little stir, and then you have meatballs smothered in a sticky, sweet, and savory glaze.
I typically serve this with a hearty and nutty whole grain like bulgar or quinoa for a complete dinner. It's also good stored in the crockpot on the warm setting and served as a cocktail meatball at a party. Just don't tell your guests that you're feeding them a bunch of veggies! Best of luck with the little (and big) picky eaters in your life!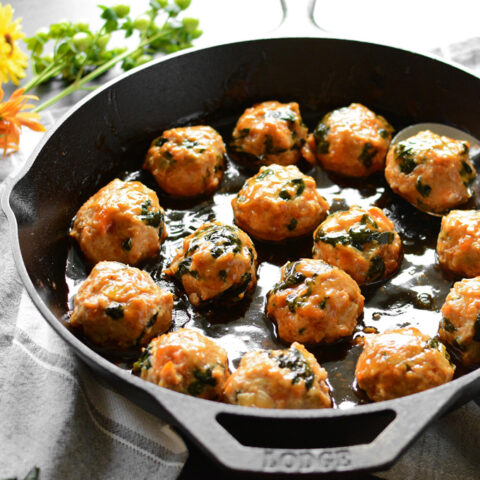 Maple Sweet Potato Chicken Meatballs
Yield: 4 servings

Prep Time: 35 minutes

Cook Time: 20 minutes

Total Time: 55 minutes

Struggling with picky eaters who don't like their veggies? These savory meatballs are healthier than you think, and smothered in a sweet, sticky, maple glaze. The fact that they're loaded with vegetables can be just between us...
Ingredients
Chicken Meatballs
1 lb ground chicken
1 C grated partially-cooked sweet potatoes (see instructions)
1 tsp olive oil
1/4 C water
6 oz baby spinach or tatsoi
2/3 C diced sweet onion
3 cloves garlic, minced
1 Tbsp maple syrup
1 tsp low sodium soy sauce
1/2 tsp cinnamon
1/4 tsp rubbed dry sage
4 dashes nutmeg
1/8 tsp salt
pepper to taste
Maple Glaze
1/4 C maple syrup
1/4 C low sodium chicken broth
1 Tbsp low sodium soy sauce
1 Tbsp corn starch
1/8 tsp cayenne (optional)
Instructions
To prep your sweet potatoes, bake 1 large sweet potato in a 425º F oven for about 25 minutes, or until it's beginning to soften but isn't cooked through. (Instead of baking, you could expedite this process by microwaving it on the "potato" setting on your microwave, taking care not to overcook.) Once cooked, grate the sweet potato with a cheese grater. Set aside.
To prep the spinach or tatosoi, combine it with the sweet onion, 1 tsp of olive oil and 1/4 C of water in a skillet and cook over medium heat. Add more water to the pan as needed if the greens appear to dry out. Cook until the greens are wilted, the onions are soft, and the water has evaporated. Add the minced garlic to the pan, cook 1 more minute, and then set aside.
Preheat your oven to 425º F. In a medium sized bowl combine the ground chicken, grated sweet potato, cooked greens, maple syrup, soy sauce, cinnamon, sage, nutmeg, salt, and pepper. Gently mix together with your hands, but be careful not to over-mix. Form into meatballs that are approximately 1 inch in diameter and place them into a cast iron skillet.
Cook the meatballs in a 425º F oven for 15 minutes. While the meatballs are cooking, whisk together the maple glaze ingredients. Make sure that all of the corn starch is evenly mixed in with no lumps.
After 15 minutes have passed, flip the meatballs and add the maple glaze mixture into the skillet. Return the meatballs to the oven and cook another 5 minutes.
After 5 minutes have passed, remove the meatballs from the oven and coat them in the sauce at the bottom of the pan. Serve immediately.
If you enjoyed this recipe, you may also enjoy…