Angel Hair Pasta with Fennel – Expand your pasta night possibilities with this sophisticated and delicately flavored rustic Italian dish!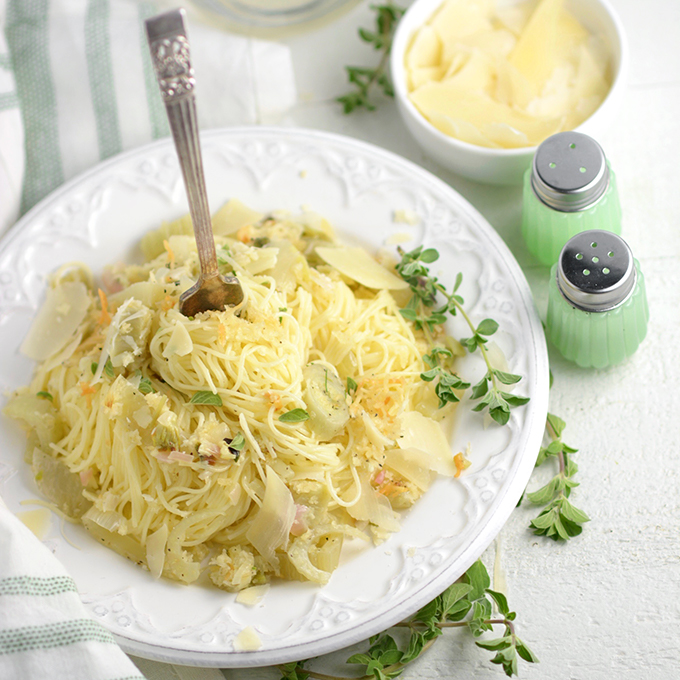 Continuing on from my last blog post, I'm once again tackling fresh fennel. You know, that weird, tree-like vegetable that smells like black licorice? Fortunately cooked fennel doesn't taste anything like black licorice!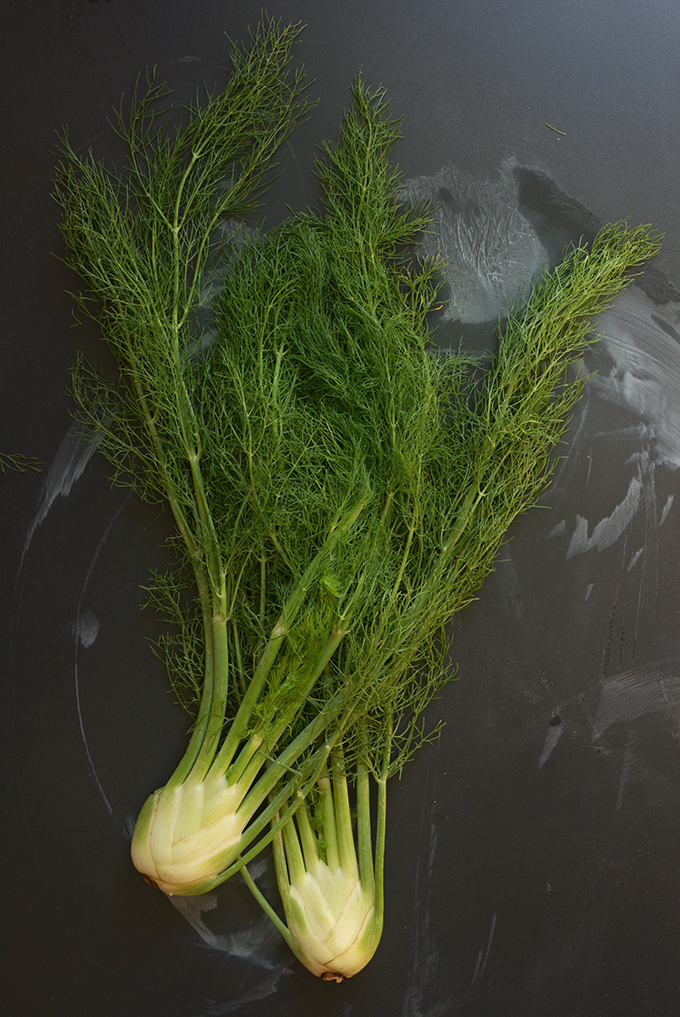 Pasta night is never a hard sell in my household. Early in my marriage I pretty much stuck with traditional spaghetti and meatballs. Back then my husband and I loved it, even when using the weird store-bought meatballs. Fortunately for us, over the years I've learned that I can tackle my own Italian Meatballs way better than the grocery store freezer section.
I've also learned that in addition to becoming a meatball aficionado, I can also get creative with my pasta. There's an endless combination of flavors that work with pasta. Cooked fennel is one such flavor!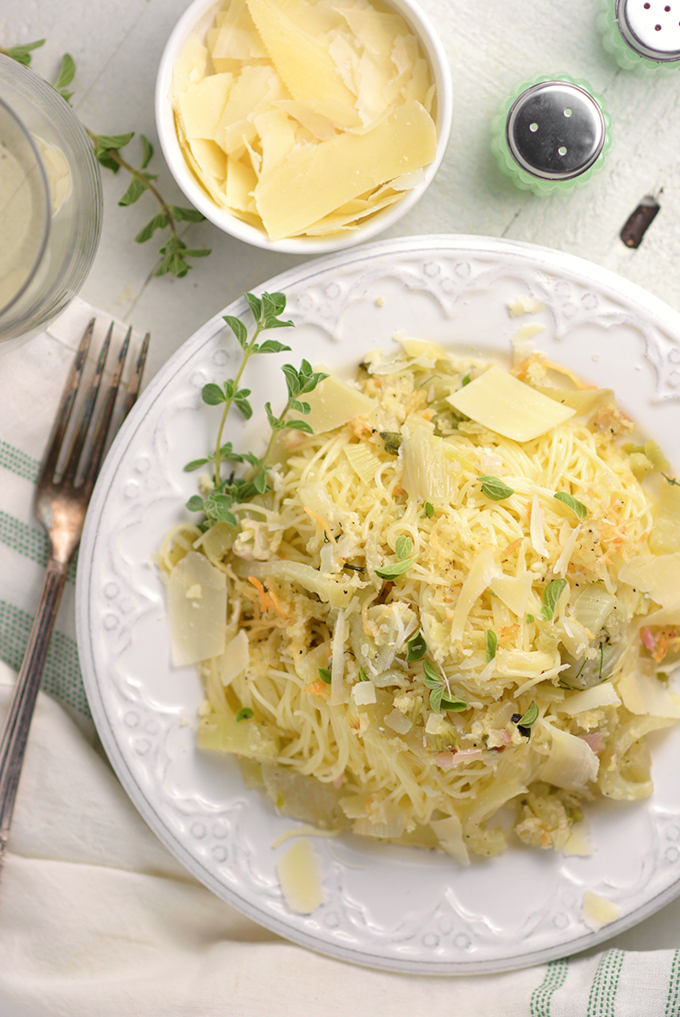 What does cooked fennel taste like?
When fennel is cooked it's tough bulb becomes tender. It takes on a sweet and mild floral flavor. Even though fennel's peak season is fall and winter, it's delicate taste is bright and fresh. It brings the promise of spring to your kitchen!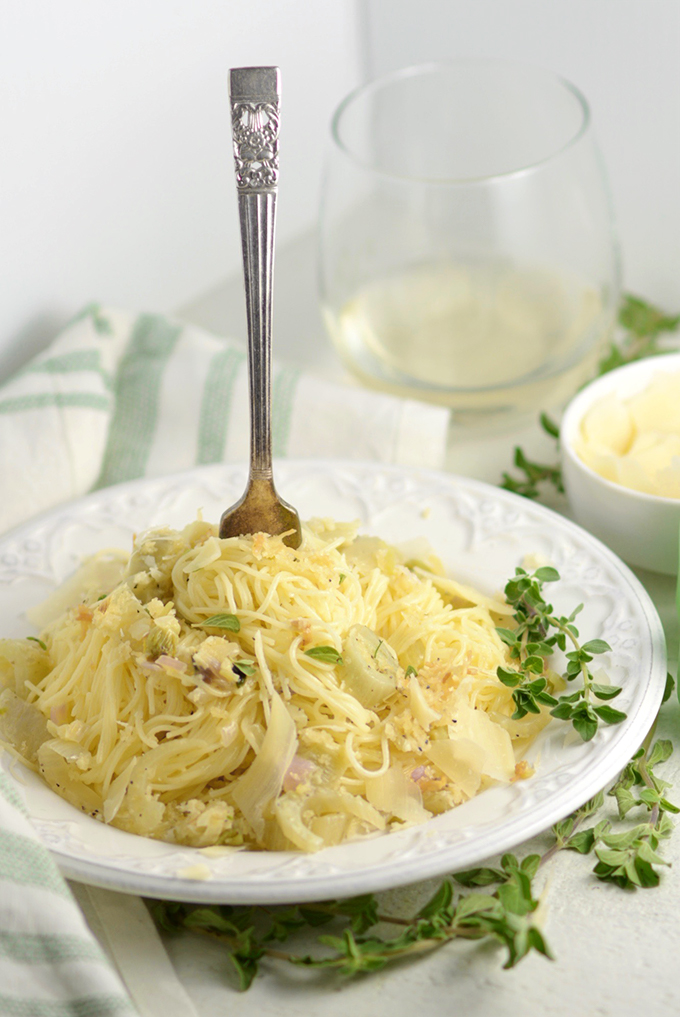 Angel hair pasta is a dainty pasta so it's the perfect choice to pair with fennel. In my recipe for Angel Hair Pasta with Fennel I gently season the pasta with the additional flavors of shallots, garlic, lemon, and oregano. A little added cream melds all of the flavors together and adds a subtle richness to this otherwise delicate meal.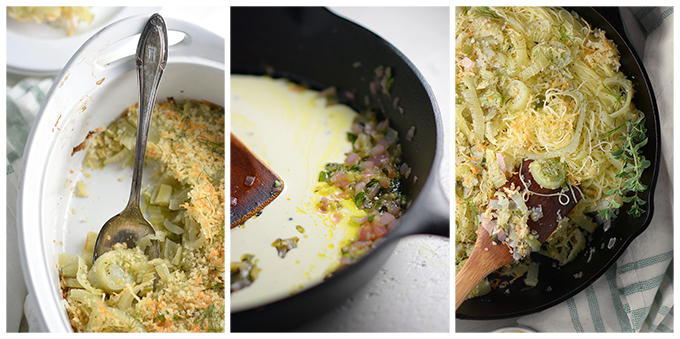 This pasta dish has certainly come a long way since those spaghetti dinners I made my husband 10+ years ago! Since that time our lives together have come a long way in the form of two rambunctious boys. I'm thinking this meal is deserving of a candlelit dinner after the kids are tucked into their beds. Good night boys! Mommy and Daddy are having pasta night!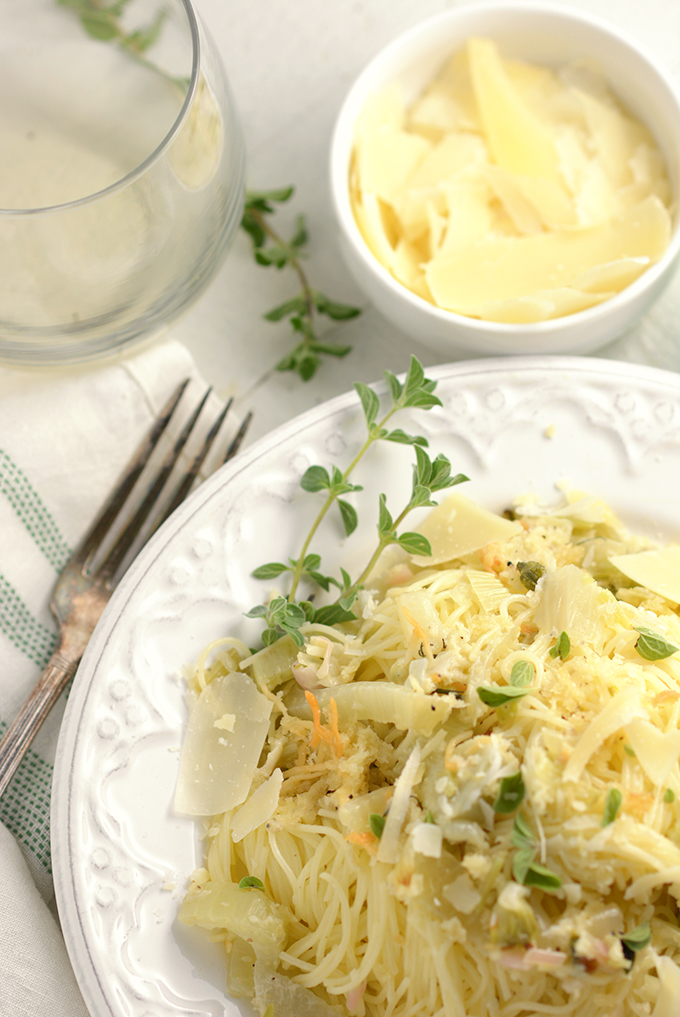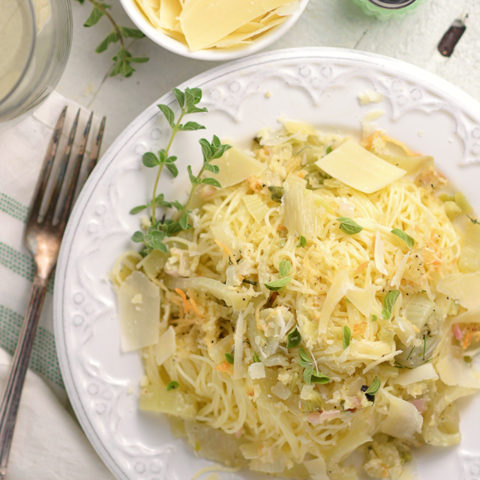 Angel Hair Pasta with Fennel
Total Time:
1 hour
15 minutes
Expand your pasta night possibilities with this sophisticated and delicately flavored rustic Italian dish!
Ingredients
Oven Roasted Fennel
1 lb fennel bulbs
2 Tbsp melted butter, divided
1/2 C grated parmesan
1/2 C panko bread crumbs
1/2 C coarsely chopped fennel fronds
salt and pepper to taste
Pasta
8 ounces (1/2 box) Angel Hair Pasta
1 Tbsp olive oil
1 Tbsp salted butter
2 cloves minced garlic
1/8 tsp fennel seeds
1/3 C chopped shallots
1/2 Tbsp fresh oregano leaves
1 Tbsp lemon juice
1/4 C heavy cream
salt and pepper to taste
1/2 C reserved pasta water
1/2 C shaved parmesan
fresh oregano for garnish
Instructions
Oven Roasted Fennel
Preheat oven to 375º F. Fill a medium-sized pot three quarters full with water and bring to a boil.
Clean the fennel bulbs and remove the stems, as well as the tough outer layer as needed. Place the fennel bulbs in the pot of boiling water. Boil for approximately 10-15 minutes. The fennel is done cooking when it's fork tender. Drain the water from the pot and allow the fennel to cool for 5 minutes or until it's cool enough to handle.
While the fennel is cooling, melt the butter in the microwave using a microwave-safe dish. Place approximately 1 Tbsp of the melted butter into a small mixing bowl with the parmesan cheese and panko bread crumbs. Gently mix to evenly combine and then set aside.
Slice the cooked fennel bulbs on the horizontal, so that the slices have the appearance of 1/4 inch rings. Once sliced, pat the fennel dry with a paper towel.
Evenly spread out the sliced fennel on the bottom of a 2.5 quart casserole dish. Drizzle the remaining melted butter over the fennel. Last, evenly sprinkle the panko/parmesan mixture over the fennel.
Roast in a 375º F oven for 20-25 minutes. The dish is done when the bread crumb topping is golden brown.
Pasta
Once the fennel is roasting in the oven bring a 4 quarts of water to a boil for the pasta.
While the pasta water is heating prep the garlic, shallots, oregano, lemon, and parmesan.
In a large pan heat 1 Tbsp of olive oil and 1 Tbsp of butter over medium heat until the butter is melted. Next, add the garlic, fennel seeds, and shallots to the pan and cook for about 3 minutes until the shallots are softened. Add in the oregano leaves and lemon juice and cook for 1 more minute. Finally, reduce the temperature to low and stir in the the heavy cream. Heat the heavy cream until it is steaming, but don't allow it to boil or simmer.
After the pasta water comes to a boil, season with 2 tsp of salt. Add the angel hair pasta to the water and cook per package instructions for al dente results (about 2 minutes). Drain the cooked pasta while reserving 1/2 C of the pasta water.
Add the cooked pasta to the pan with the shallots and spice. Toss the pasta to coat with the seasoning. Add pasta water to the pan as needed if the pasta is dry.
At this point the fennel should be just about done. Remove it from the oven and toss it into the seasoned pasta. Garnish with shaved parmesan, salt and pepper to taste, and fresh oregano leaves.