Frozen Watermelon and Lime Yogurt Bites – This cool, refreshing, and healthy treat is perfect for grownups and kids alike, especially on those long, hot summer days!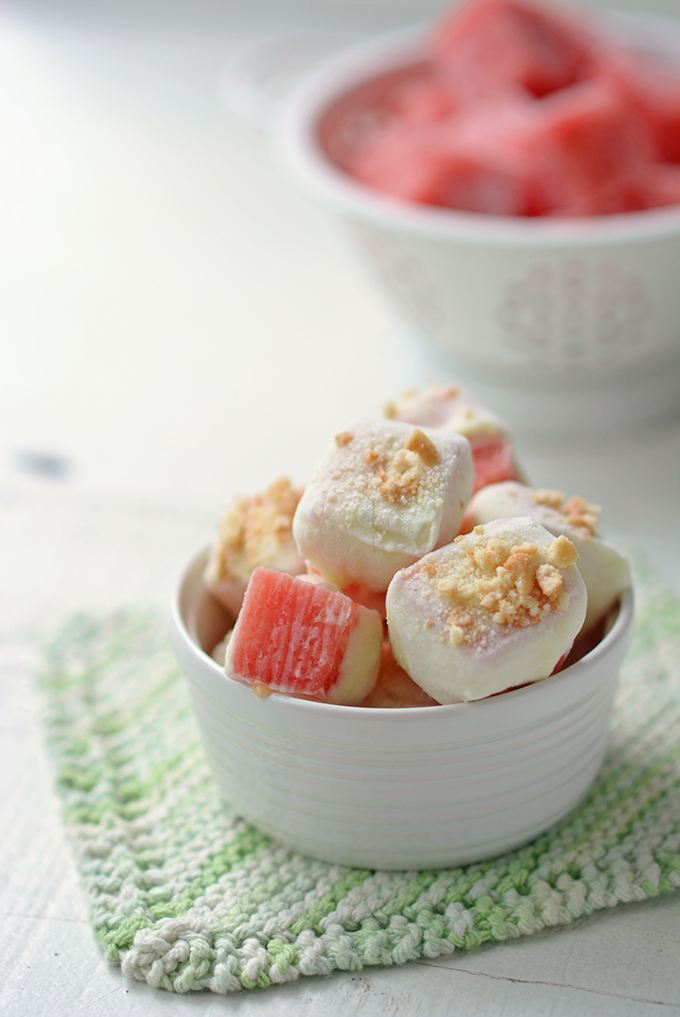 Today's recipe is one that was written with my sweet little grumpy, teething 1-year-old at heart. The frozen watermelon bites soothe his poor, sore, little mouth.
My family just loves how he enjoys noshing on them when he's unhappy. They restore his good mood, along with the good mood of the rest of the household, if you know what I mean…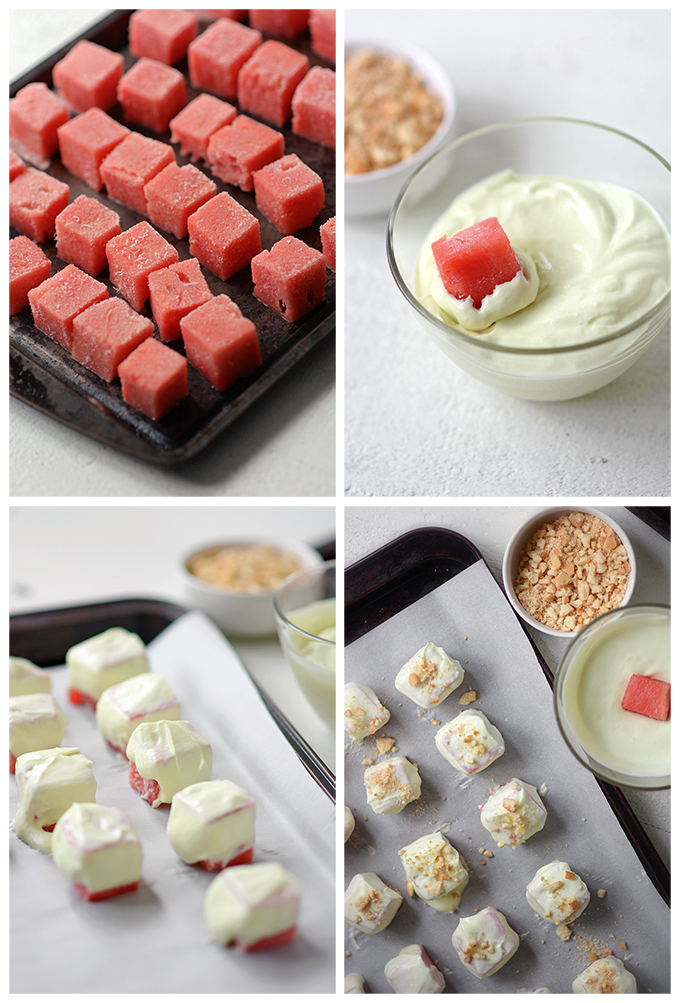 That said, these Frozen Watermelon and Lime Yogurt Bites aren't just perfect for little teething monsters. They're cool and refreshing for big kids and grownups, too!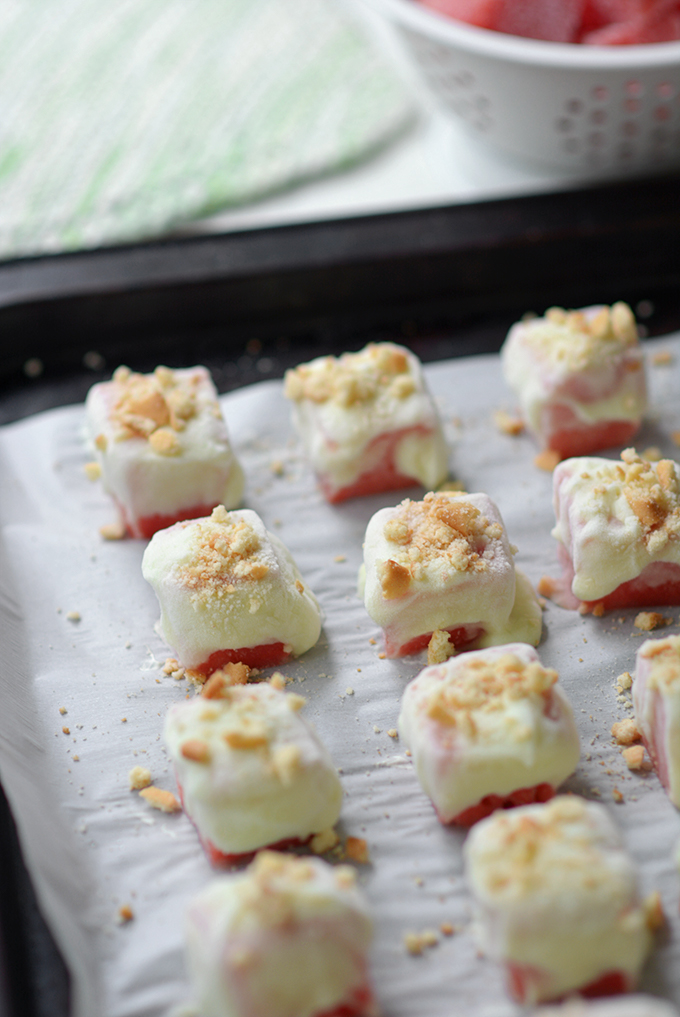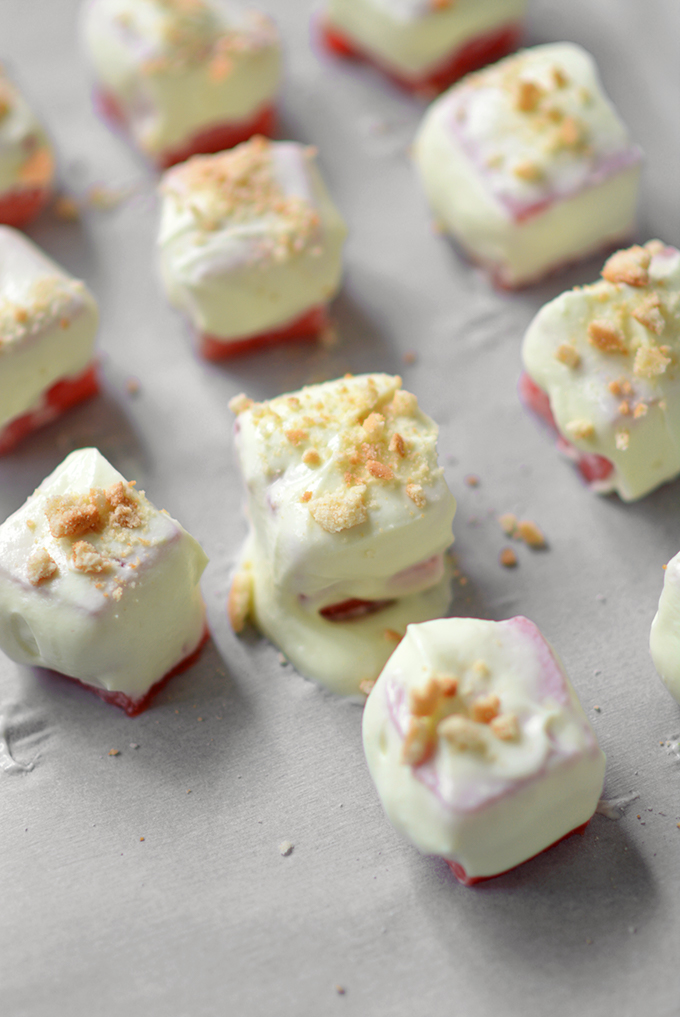 The summertime is one long snack fest for my older son. I swear, every hour he's like, "Mom, can I have a snack?" I get tired of providing snacks ALL DAY LONG!
It's tempting to only reach for processed, convenience foods to satisfy his ravenous summertime appetite. Aside from being bad for him, however, the problem then is that I'm tempted to eat all that junk food, too.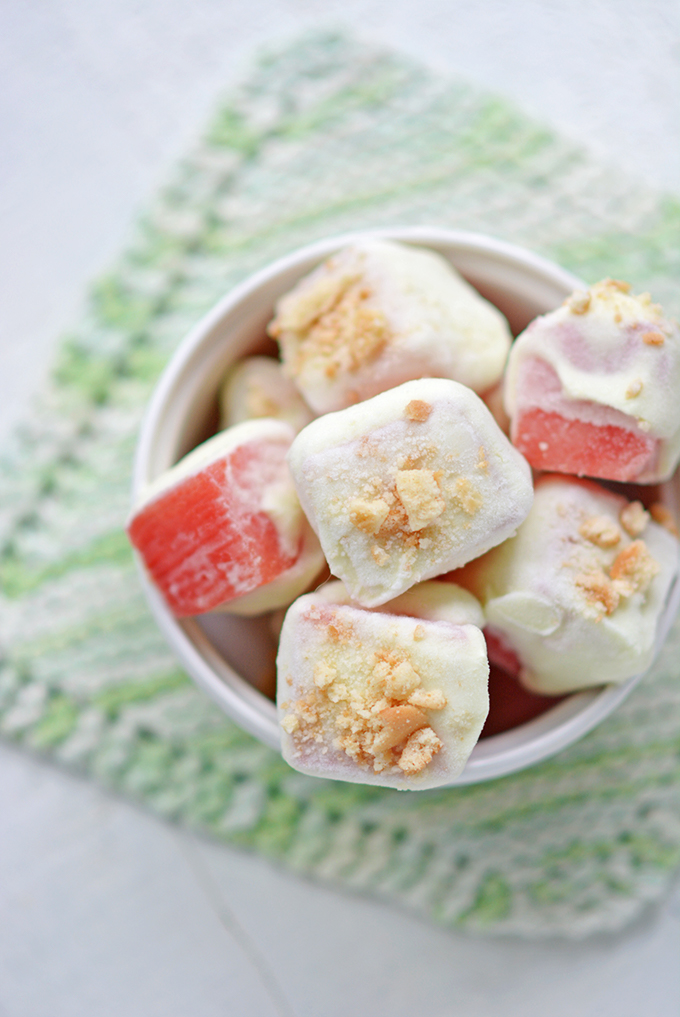 These Frozen Watermelon and Lime Yogurt Bites can be made ahead of time and stored in the freezer in a ziplock bag. When you or the kids feel a snack attack coming on, just grab what you need and enjoy!
It's a great way to cool off on a hot summer day. It's also a great way get some more fruit into your family's diet. The protein from the Greek yogurt serves as a perfect pick-me-up, too!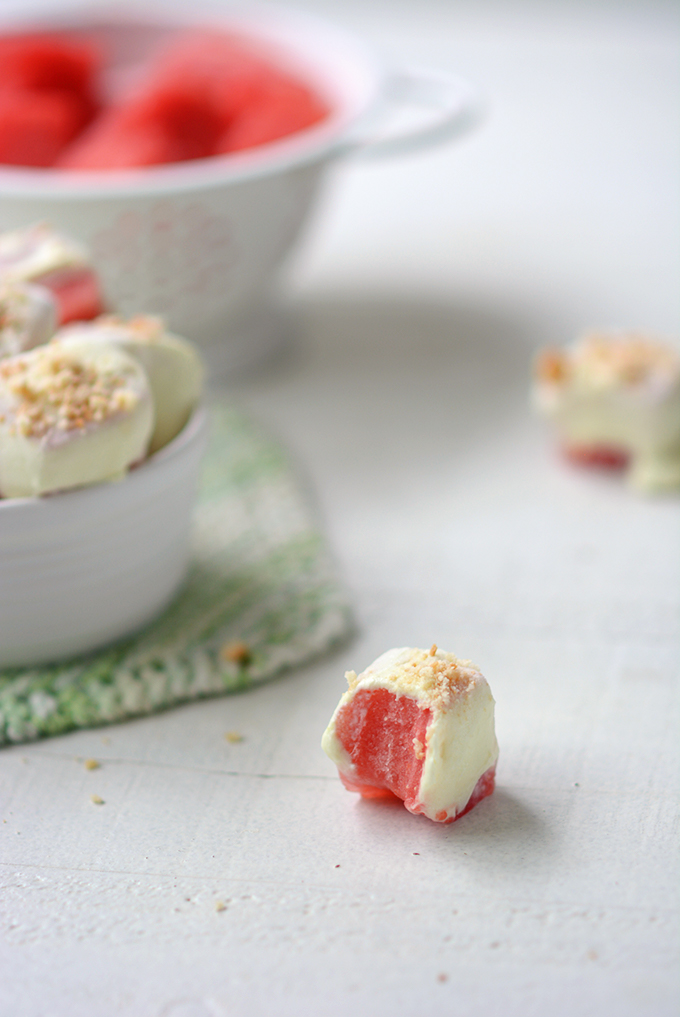 Whether you're teething (hopefully that's not a problem for you any more), or maybe you're a growing kid, or an adult whose trying not to grow any more, this snack is just what you need for your summertime munchies!

Frozen Watermelon and Lime Yogurt Bites
This cool, refreshing, and healthy treat is perfect for grownups and kids alike, especially on those long, hot summer days!
Ingredients
25-50 bite-sized watermelon cubes (approximately half a watermelon)*
2 5 oz key lime Greek yogurt cups
6 vanilla wafers, crushed (optional)
Instructions
Arrange the watermelon cubes on a baking sheet so that they are not touching. Place them into a freezer for 2 hours.
Remove the frozen watermelon cubes from the freezer. Dip each cube into the lime yogurt and then place back onto the baking sheet with the yogurt side facing up.
Sprinkle them with the optional crushed vanilla wafers.
Place the yogurt-coated watermelon cubes back into the freezer and freeze for another 2 hours.
The watermelon can be stored in freezer-safe ziplock bags for up to 3 months.
Notes
*I recommend cutting the watermelon cubes to the approximate size of a game dice, so that once they are dipped in yogurt, they are the perfect size for popping in your mouth. For toddlers, make them larger so that the "bites" are big enough for your child to fist. This is so they can chew and suck on them without choking. As they chew on the fruit it will melt and become soft so that they can safely swallow the small pieces of watermelon. For babies, place the bites into a Fresh Food Teether. See the Amazon affiliate link below. Note: Never leave small children unsupervised with food.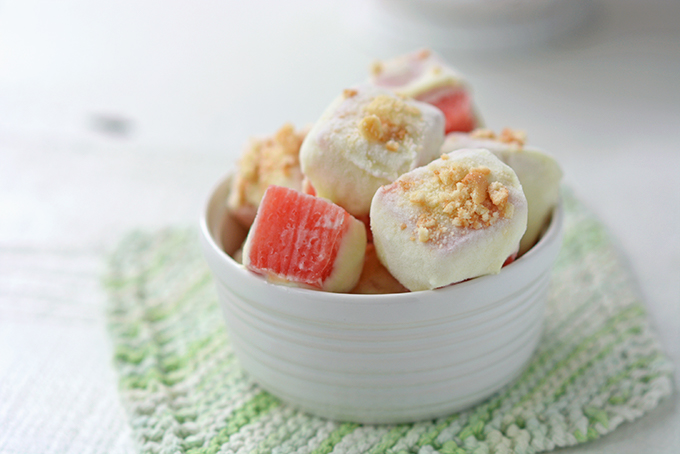 You may also enjoy…