All About Blue Hubbard Squash – Have you tried blue hubbard squash yet? This helpful guide will teach you everything you need to know about this sweet, nutty member of the squash family – including how to prep and cooking tips.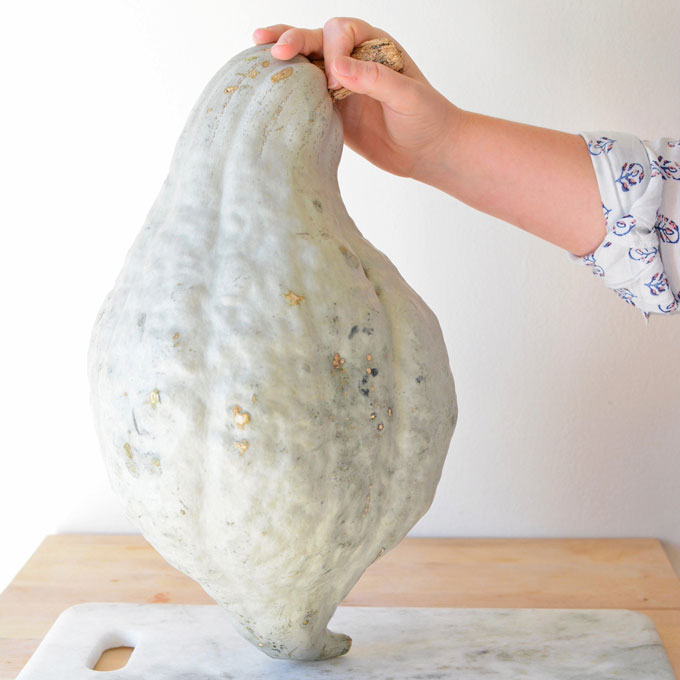 Confession time… I'm totally crushing on blue hubbard squash. Don't tell my husband! After all, it's just a squash.
Even so, if I had to choose a favorite it would be this one. Not just because of it's unusually large size, blue-hued skin, and golden center. It's smooth, sweet, savory, and just a little bit nutty. Such wonderful characteristics for person and squash alike…
This post is the second in my All About Strange Vegetables series. (Check out my last post All About North Georgia Candy Roaster Squash.) If you want to learn more about this big mother hubbard keep reading!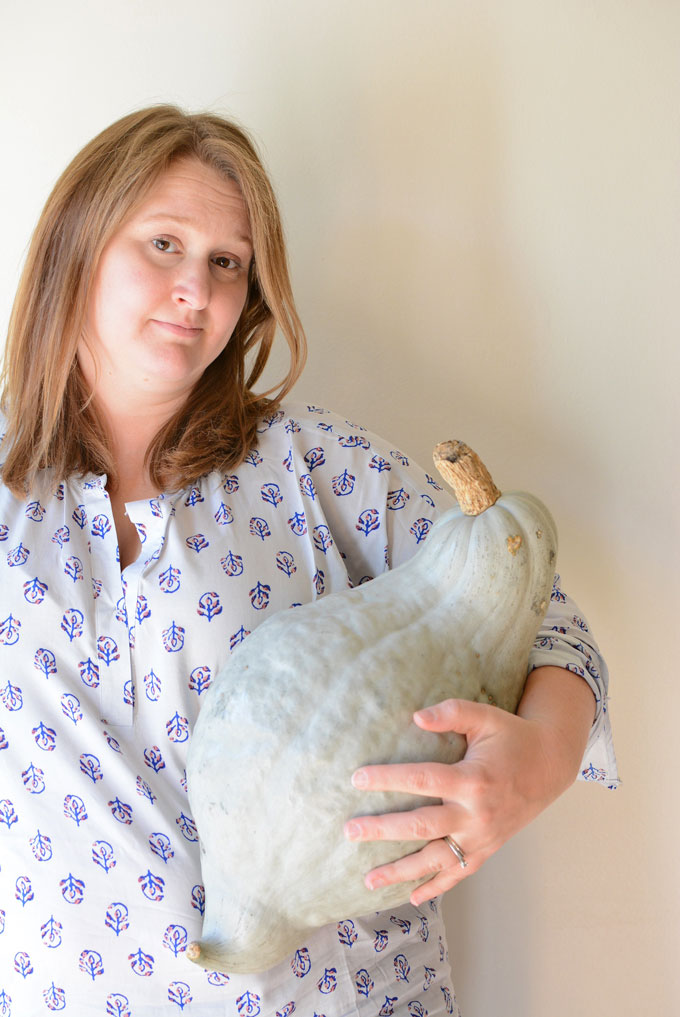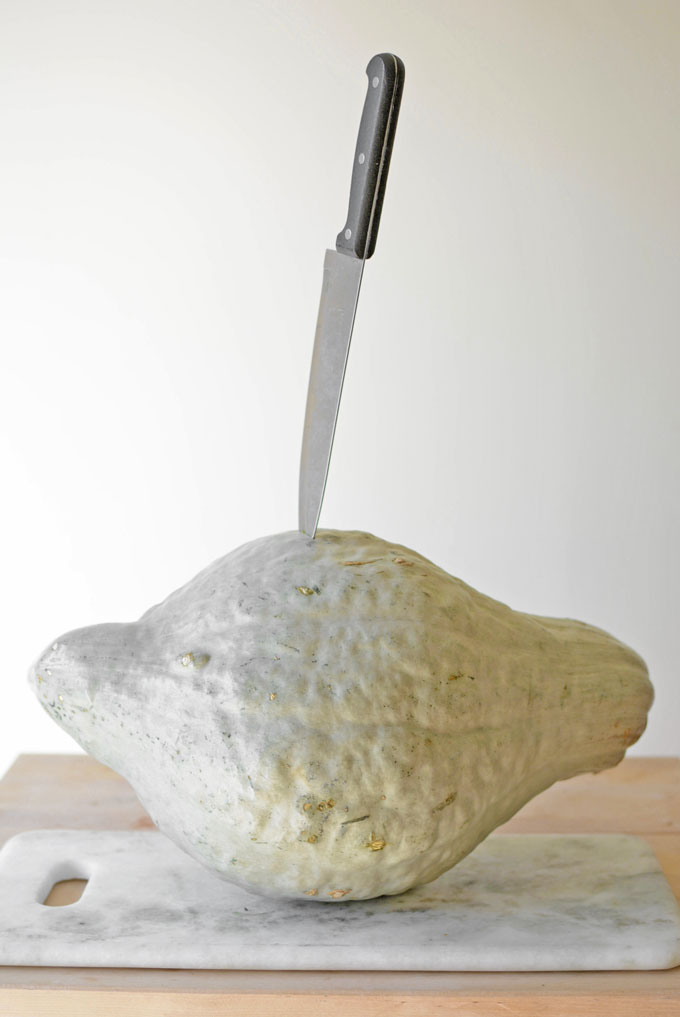 Facts
Name:
Blue Hubbard Squash – Cucurbita Maxima
Origin:
Heirloom variety with debated origins. According to James J. H. Gregory, who first marketed hubbard seeds, in his book Squashes and How to Grow them (1867) he mentions two stories.
The first is that an elderly woman told Gregory that she remembered tasting the squash when she was younger, which was first brought to Marblehead, Massachusetts by a man with the last name Green.
The second story is that Elizabeth Hubbard, the Gregory's wash woman, got the seeds from Captain Knot Martin, which she then gave to Mr. Gregory.
There is another account (1981) of blue hubbard squash according to Louise Martin Cutler, a Marblehead historian, who claims that her great aunt Sarah Martin, sister of Captain Knot Martin, developed the squash with her sister Martha.
She was shy about approaching Mr. Gregory with the seeds, so she gave them to Elizabeth Hubbard to present to Mr. Gregory.
Information paraphrased from The Complete Squash: A Passionate Grower's Guide to Pumpkins, Squashes, and Gourds by Amy Goldman Fowler (2004)
Taste:
Smooth texture with a sweet and nutty-tasting flesh.
Uses:
Substitute in recipes that use pumpkin, butternut squash, or sweet potatoes.
This squash can be baked, roasted, and steamed. Make into a purée and use like puréed pumpkin in breads, pies, or pasta dishes.
It's also a delicious addition to soups, stews, or casseroles. Pairs well with flavors like chipotle, chili, cinnamon, nutmeg, curry, sage, and brown sugar (I know that's not a spice, but it works here).
To Prep For Cooking:
See pictures below… It ain't easy!
Recipes:
Size:
15-40 lbs. Yes. 40 lbs. That's not a typo! There is the large variety, pictured in this post, as well as the baby blue hubbard which weighs in at a mere 6 lbs. They taste very similar, with the smaller variety being a little sweeter.
Get:
The baby blue hubbard has been seasonally available at Whole Foods Market. You can also get this squash from local farmer's markets or CSAs.
I've seen it available in the "ornamental" section at a couple of pumpkin patches… If only more people realized that it's better to eat than look at!
Grow:
Sew seeds indoors 3 weeks before transplanting to your garden. Plant outdoors after the danger of frost has passed. Space 18-36 inches apart. Closer for the baby variety, further for the larger variety. Plan on these babies taking over! 😉
Harvest in the fall before hard frost hits. Cut a stem that is about 1 inch in length and allow the squash to cure in the field for 5-7 days before bringing inside, making sure to cover it if frost is forecasted.
Seeds:
Storage:
This squash winters well for up to six months. It's January and I just enjoyed one that was harvested at the beginning of October!
Now on to how to prep this beastie…
This squash has a seriously thick and tough skin, so to get into this thing your only good choice here is to chuck it on the ground. Unless, of course, you want to cut yourself by accident or give yourself carpal tunnel syndrome…
I actually go for more of a controlled drop – slamming it on the ground with a little help from gravity. It cracks the squash right open without having to go out to the shed for your saw. Plus, it's good for stress relief.
Just be prudent about the surface you choose. Probably not a good idea to be doing this on your hardwood floors.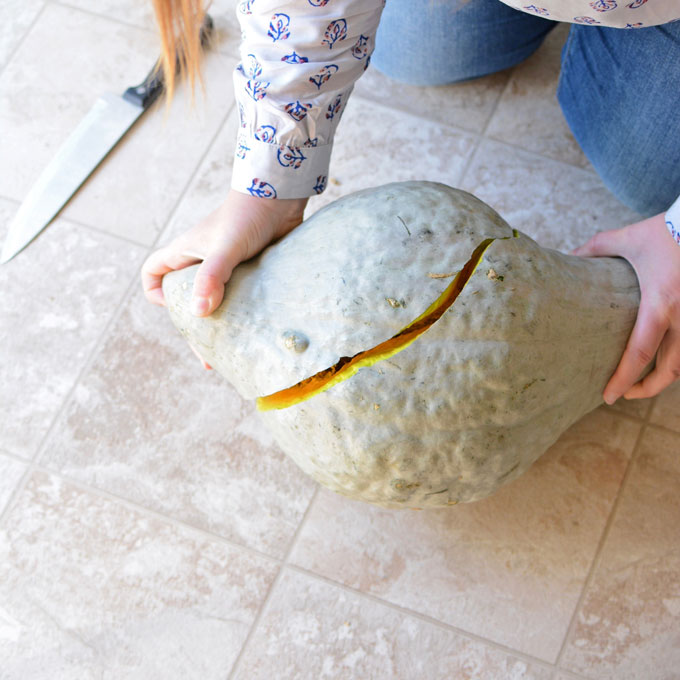 Once you get this thing open you reveal a beautiful golden center.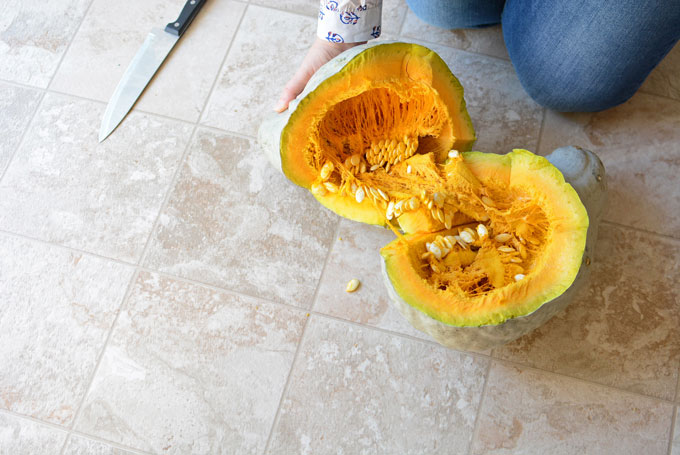 To prep, remove the seeds – which can be saved and roasted like pumpkin seeds.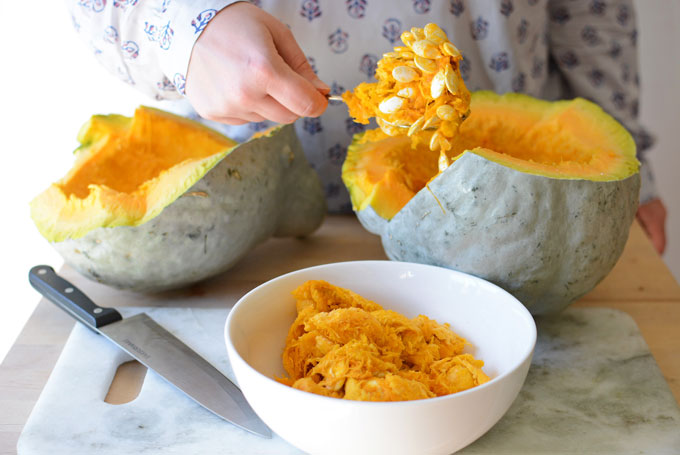 To break into smaller pieces, cut a small slit into the squash with a sturdy knife and and rock it back an forth. This will cause the squash to crack further instead of having to try and cut through it with brute force.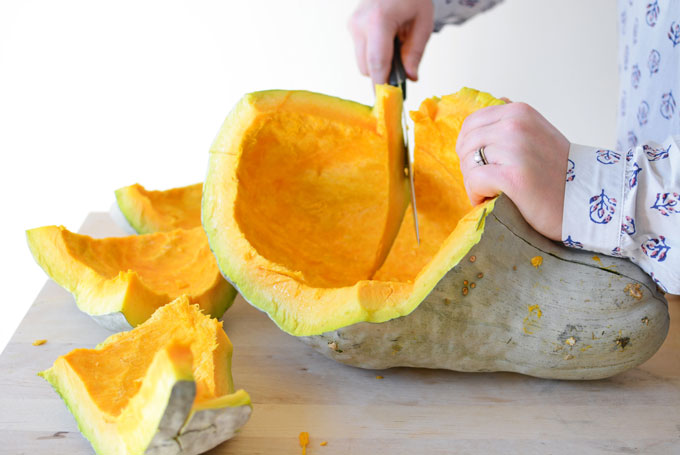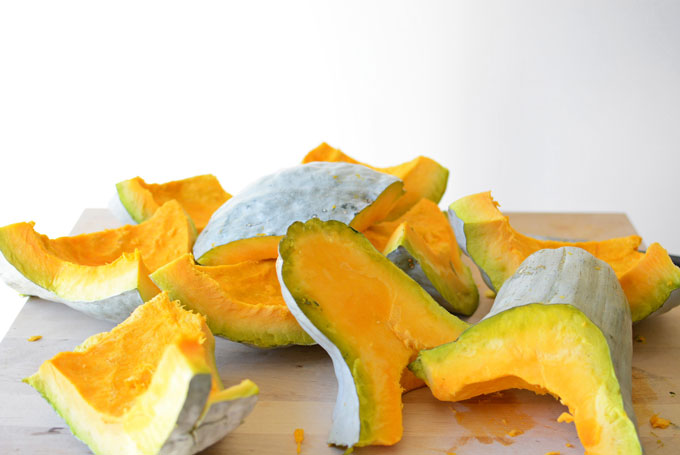 You can roast the squash pieces at 350º F for about 45 minutes, or until the squash is soft, seasoning it as desired.
If you roast it plain, you can also purée it in a food processor, and the then use it like pumpkin purée (check out my post How To Make Pumpkin Purée for more details).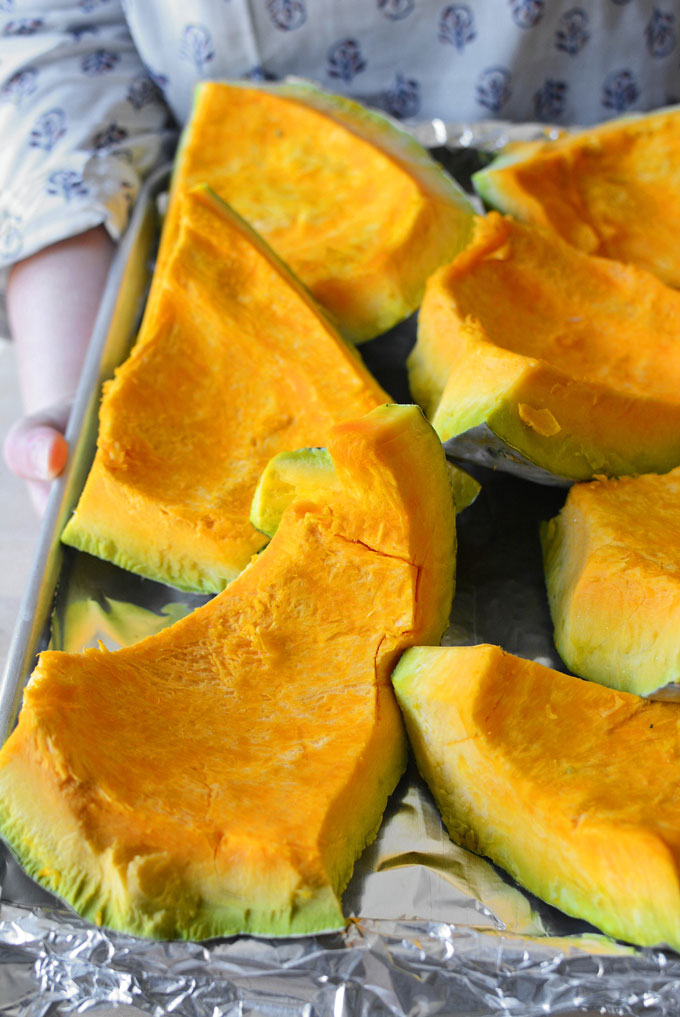 Alternatively, instead of roasting the pieces you can also cut the raw flesh away from the skin and cube it. Enjoy it sautéed, baked, or in a casserole.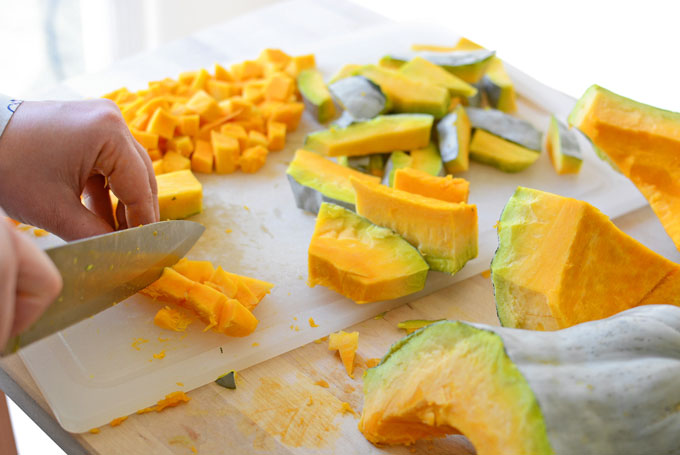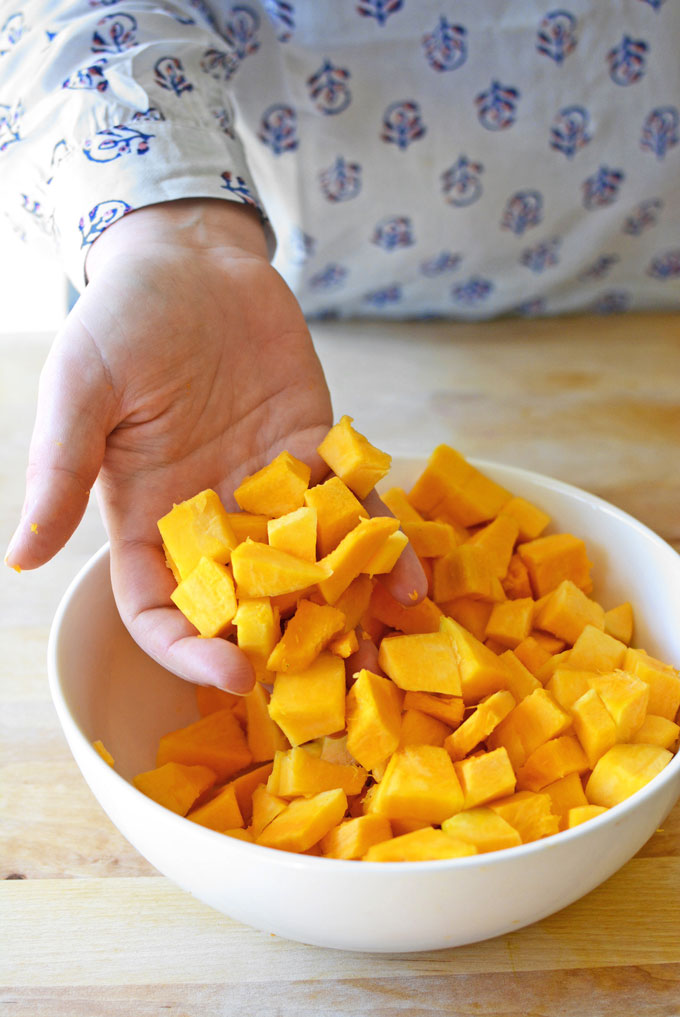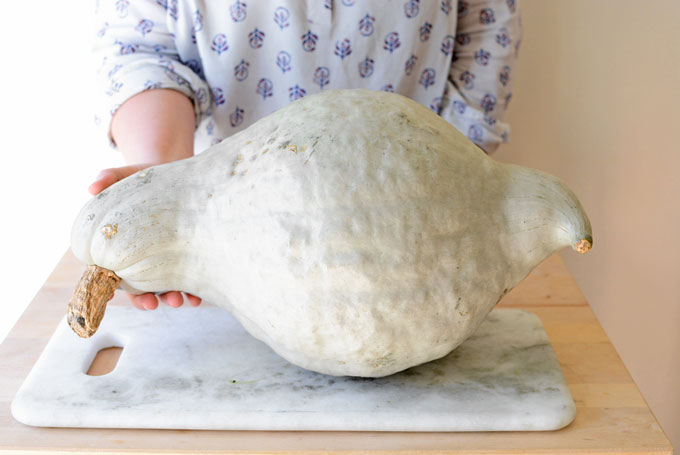 If you enjoyed this post, you may also enjoy…