Sweet Potato and Gouda Quesadillas – Banish the winter blues with these bright, festive, and delicious quesadillas. Full of cheesy, tangy flavor, they're also packed with nutritious seasonal veggies!
I'm very excited to share today's recipe with you. It's one that I've made four or five times this winter and just can't get enough of. It's a savory and rich vegetarian quesadilla that's worth every moment spent in the kitchen. All of the ingredients can be prepped up to a day in advance, too, so it's perfect for game day, movie night, or any event that you deem fiesta-worthy!
I decided to make this recipe with ingredients that are seasonally available in March. When I think of the dregs of winter (food-wise, that is), March is by far the leanest month. Although some warm days are sneaking in here and there, the least amount of local, fresh, seasonal produce is available. That makes those of us who love the rainbow of seasonal variety get a little stir crazy… At this time of the year we're mostly dealing in root vegetables and leafy greens, but the selection of those even seems to narrow until we've had our last frost. That said, the challenge of this recipe was to make something bright, fresh, and new to roll away the gray winter funk. It seemed apropos since my last post was all about National CSA Day and why a person should join a CSA. It's exactly the time of year that I'm dreaming of the coming spring and summer harvests and the bounty of delicious foods that will soon be filling up my crop share box!
To cook this quesadilla I simply used two cast iron skillets. One large for cooking in, and the other small to act as a press. Of course, you can always use a quesadilla maker, but I thought this worked just as well, if not better. The tortilla became wonderfully crunchy!
After you've cooked up your quesadilla in your cast iron pan, it will be dripping in cheese and flavor. The thing that ties this dish together, however, is the sweet and tangy balsamic drizzle. If you're intimidated by making a balsamic reduction, it's easier than you think!
Drizzle them with your awesome balsamic reduction and: YUM!
The best thing about the recipe? Even though it looks so rich (and, quite frankly, bad for you), it's packed with good-for-you vegetables and nutrients. Okay, it's a little higher in fat than everyday food, but check out all of that Vitamin A, Vitamin C, Calcium, and Iron in the nutrition facts at the end of the article. Enjoy!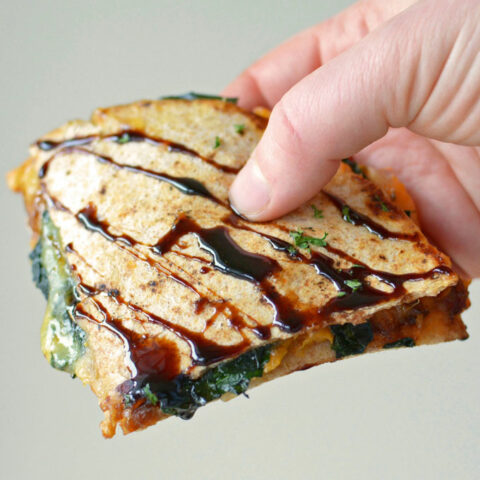 Sweet Potato and Gouda Quesadillas
Yield: 6 servings

Prep Time: 1 hour 25 minutes

Cook Time: 12 minutes

Total Time: 1 hour 37 minutes

Banish the winter blues with these bright, festive, and delicious quesadillas. Full of cheesy, tangy flavor, they're also packed with nutritious seasonal veggies!
Ingredients
2 white onions
2 Tbsp olive oil divided
1 head of garlic
1 1/2 C medium sweet potatoes
1/4 tsp fresh minced rosemary or 1/8 tsp crushed dry
1/8 tsp salt
1 bunch of kale
1 1/2 C gouda
6 whole wheat tortillas
1/2 C balsamic vinegar
2 tsp honey
Instructions
To begin, you will need to prep all of your ingredients. Preheat your oven to 400ºF.
To caramelize the white onions, start by trimming off each end, cutting the onion in half, and then slicing. Combine in a steel or cast iron skillet with 1 1/2 Tbsp olive oil and cook over low heat for 45 minutes to an hour, taking care to stir every 10 minutes. The onions are done cooking once they are brown in color. If you've made caramelized onions before, take note that the white onions don't tend to get as deep of a color as sweet onions do, but I like their stronger flavor in this recipe.
To roast your head of garlic, slice off the top, drizzle in 1 tsp olive oil, wrap in foil, and roast in a 400ºF oven for 35-45 minutes, or until it becomes soft and squishy.
Pierce 2 medium sweet potatoes 2 or 3 times with a fork, wrap in tinfoil, and bake in the oven with the roasting garlic. Bake for approximately 45 minutes, or until soft. Once it's done baking, allow the potatoes cool until you are able to handle them. Scoop 1 1/2 C worth of the cooked sweet potato into a dish and smash together with the roasted garlic and rosemary. Add salt to taste as desired.
While the onions, garlic, and potatoes are cooking, prep the kale, shred the gouda, and make the balsamic drizzle. Roughly chop the kale and cook it in a skillet over medium heat with 1 tsp of olive oil until the kale is soft and tender. Add water to the pan 1 Tbsp at a time if the kale begins to dry out.
To make the balsamic drizzle, whisk it together with honey. Bring to a boil over high heat and then reduce to low heat and simmer until the liquid is reduce by half. If you are making this ahead, you will want to heat it slightly before serving so that it's a better consistency to work with when drizzling.
To cook the quesadillas you will need either a quesadilla maker or a cast iron skillet. To assemble, place one tortilla on a quesadilla maker or in a large cast iron skillet over medium heat. If using cast iron, make sure that it's well-seasoned and add the remaining olive oil to the skillet as needed to prevent sticking. Next, layer the sweet potato mixture, caramelized onions, kale, gouda, and then top with another tortilla. Finally, close the quesadilla maker, or press down with the second cast iron skillet. Cook 2 minutes in the skillet, then flip and cook another 2 minutes on the opposite side. If using a quesadilla maker, just wait for the "done" indicator to appear.
Once cooked, let each quesadilla cool for a minute before cutting. Serve immediately and garnish with a drizzle of the balsamic reduction. Repeat two more times for a total of 3 quesadillas.
Notes
• Serving size is based on eating 1/2 of a quesadilla, or 3 slices.
• Most of the work of this recipe is in the prep, which can all be done up to a day in advance if you are planning on throwing a party. If all the prep is done ahead of time, plan on it taking about 20 minutes to assemble, cook and serve this dish.



If you enjoyed this recipe, you may also enjoy…