Mini Rainbow Fruit Pizzas – This lightened up version of the traditional fruit pizza uses some surprising ingredients to easily create a fun and colorful good-for-you dessert.
With St. Patty's Day right around the corner, my little one has been asking me to make him a rainbow "leprechaun treat." The thing is, as a general rule, I try avoid supplying him with the artificial coloring needed for said treats. It's not because I'm a mean Mom, but because they seem to end in a series of tantrums and hyperactivity. Totally not worth it for either of us! So the challenge was to think of something festive for St. Patrick's Day that will also aid in keeping the peace in my home.
There are naturally-dyed sprinkles and food dyes on the market I could use, but they lack the intensity of color needed for a rainbow treat. The obvious colorful solution was fruit! As a kid, one of my favorite fruit desserts was fruit pizza. So I took the inspiration of the fruit pizza and cut out processed sugar and added whole grains. Also, when you eat these you'll never guess that the secret ingredient is a bunch of good-for-you dates! For the frosting layer I whipped together cream cheese, honey, and vanilla, which is much lighter than the traditional high-in-sugar-and-shortening frosting.
To achieve the rainbow coloring, here is a list of recommended fruit:
Red- strawberries
Orange- oranges
Yellow- pineapple
Green-kiwi
Blue- blueberries
Purple- grapes
When I first wrote this recipe, I planned on arranging the fruit to look like an actual rainbow (which turned out to be pretty cute by the way). It also ended up being pretty time consuming too, and I thought, "who wants to wait that long to eat dessert?" Not me! Thus I went for the dump-the-fruit-on-top approach. If you have more patience than I, you might want to give the rainbow design a whirl. Or, if you have kids who like to do kitchen projects, it's fun to let them decorate their own fruit pizza.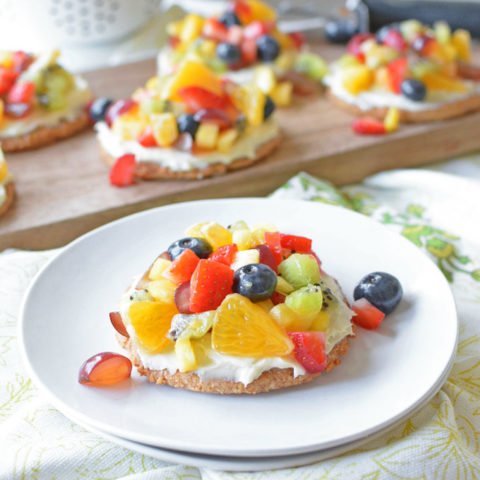 Healthy Mini Rainbow Fruit Pizzas
Yield: 8 servings

Prep Time: 2 hours 15 minutes

Cook Time: 10 minutes

Total Time: 2 hours 25 minutes

This lightened up version of the traditional fruit pizza uses some surprising ingredients to easily create a fun and colorful good-for-you dessert.
Ingredients
Cookie Pizza Crust
12 pitted deglet dates
1 C almond meal
1/2 tsp baking powder
1/8 tsp salt
2 Tbsp honey
1 Tbsp coconut oil
1 tsp vanilla
1/4 C rolled oats
Frosting
6 oz creamed cheese
1 1/2 Tbsp honey
1 1/2 tsp vanilla
Fruit
1/2 C chopped strawberries
1/2 C chopped oranges
1/2 C chopped pineapple
1/2 C chopped kiwi
1/2 C blueberries
1/2 C quartered grapes
Instructions
Soak 12 pitted deglet dates in warm water an hour before you begin. Also, about 30 minutes before you begin, remove the cream cheese from the refrigerator so that it can soften.
Once the dates are done soaking, make your dough. Combine the dates, almond meal, baking powder, salt, honey, coconut oil and the vanilla in a food processor. Process until smooth. Then add the rolled oats and process until they are chopped into small pieces and evenly combined into the dough. Chill the dough in the refrigerator for one hour.
While the dough is chilling make the frosting. In a medium mixing bowl combine the cream cheese, honey, and vanilla. Using an electric mixer whip until light and fluffy, about 5 minutes. Refrigerate until you're ready to use.
Cut up the fruit into small dime-sized pieces while the dough is chilling and then refrigerate until you are ready to use.
Preheat your oven to 350ºF. Roll the dough out between two pieces of parchment paper. Using a water glass as a cookie cutter, cut out 8 circles. This is a soft, sticky dough, so if the dough becomes hard to work with, place it in the freezer for a few minutes to harden. Also, peeling the parchment away from the dough cut outs like a sticker, instead of using a spatula, works best. Bake for 9-11 minutes, and then allow to cool.
Once the cookie crust is done cooling, decorate your fruit pizzas by spreading on a layer of the cream cheese frosting and then sprinkle with fruit. Serve immediately. If you aren't planning on serving the rainbow fruit pizzas all at once, store the cookie crusts, frosting and fruit separately and decorate before serving.
If you enjoyed this recipe, you may also enjoy…