Strawberry Basil Champagne Cocktail – Get some flavorful fizz in your life! This strawberry basil Champagne cocktail captures the best flavors of the early summer in one delicious glass!
Today's recipe is brought to you by Dan (me), Rachel's husband. While Rachel's passion is creating, testing, and photographing delicious meals with seasonal fruits and vegetables, I'm the nerd who enjoys reading about mixology, the history and production methods of different varieties of spirits, and cocktail trends. Every once in a while I'll be contributing a custom recipe for those who enjoy combining fresh, seasonal foods with the art of the cocktail. Enjoy!
In recent years we've seen a resurgence in the art of the craft cocktail. The trend began slowly in the first decade of the millennium. Shows like Mad Men and Boardwalk Empire, among others, helped propel this growing movement into the mainstream as everybody suddenly began ordering Old Fashioneds to see just what Don Draper finds so endearing about them. Plus, let's face it, it feels much more sophisticated to order an Old Fashioned or a Tom Collins rather than the latest glowing neon vodka & artificial flavor mashup.
From the craft beer movement, to Etsy, to the never-ending list of DIY sites out there (oh, and food blogs, too), GenX-ers and Millennials have fully embraced the art of craft. There's a sense of personal satisfaction that goes along with learning a skill and executing on it with a bit of panache. I work at a tech company with a fairly young workforce, and this notion is clearly apparent. On a given day, you'll find no less than 3 different ways to make coffee in the kitchen – whether it be French press, aero-press, pour-over, or (when you're desperate) the Keurig machine. You'll even find hand-grinders lying around for if you've got whole beans, and many of us keep a small stash of "the good stuff" in our desks.
Making a flavorful, well-balanced cocktail is a unique challenge. It requires patience, practice, study, and a bit of scientific curiosity. Also, if you screw it up too many times, it could cost you a lot of money! This particular recipe was just such a challenge. Given that strawberries are locally available, I wanted to create a drink that captured the perfectly sweet flavor of ripe strawberries fresh from the farmer's market. You know, the ones that are red all the way to the center? I wanted to balance the sweetness with some savory basil (also in season now) to create an interesting contrast of flavors. Another requirement was that it would not be made in a blender, as many strawberry-based summer drinks are. I intentionally wanted to avoid the blender, because, as parents of an uncontrollably exuberant pre-schooler, Rachel and I expectantly look forward to "adult time" after we put him to bed. Given that both our kitchen and our patio are directly below where he sleeps, I prefer not to be running a noisy machine late into the night.
The real stumper was figuring out what blend of spirits to use that would enhance the strawberry & basil flavors but not get in the way. Gin works well with basil, but the botanical blends of varieties like Bombay Sapphire and Tanqueray were drowning out the strawberry. I tried vodka with a touch of lemon juice, but the lemon juice got in the way and the vodka was just boring. I substituted Cointreau for the lemon juice and still the strawberry flavor was completely hidden…
After some thinking and discussion with Rachel, I hit upon an idea. What about Champagne? Without an element of citrus, the flavor was a bit flat, but pure lemon juice and cointreau seemed to be overpowering everything else. Instead, I went with a Brut (dry) Champagne made from Chardonnay grapes – called Blanc de Blancs, or "white of whites." This variety of Champagne tends to have citrus and pear overtones, but they're very subtle. Mumm Napa's Blanc de Blancs is especially nice and also affordable, so it was a no-brainer. I also chose New Amsterdam gin, which has a more lemony flavor profile than the standard top-shelf gins that are heavy on juniper berries. This combination turned out to be the winning ticket, as the overall flavor brightened up and the Champagne fizz gave it a refreshing "summer drink" quality. Just one word of caution – drink slowly, because it goes down easy!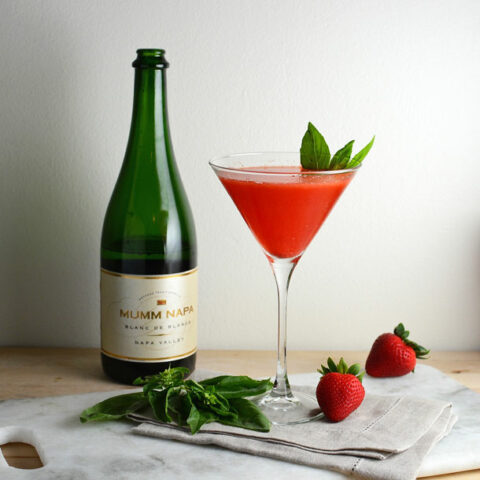 Strawberry Basil Champagne Cocktail
Yield: 1

Prep Time: 20 minutes

Total Time: 20 minutes

Get some flavorful fizz in your life! This strawberry basil Champagne cocktail captures the best flavors of the early summer in one delicious glass!
Ingredients
1/2 C chopped fresh strawberries
1 Tbsp confectioner's sugar
6-8 large basil leaves
1 1/2 oz New Amsterdam gin
white grape Champagne (I used Mumm Napa Blanc de Blancs)
Instructions
Chop the strawberries into small pieces and place in a small container or bowl.
Add the sugar to the chopped strawberries and mix well. Let the mixture sit on the countertop for about 10-15 minutes to allow the sugar to draw the juices out of the strawberries.
Place the basil leaves in a cocktail shaker and pour the strawberry sugar mixture over them.
Using a wooden muddler, gently begin muddling the mixture, pressing firmly so the basil leaves release their oils while also creating a strawberry purée.
When the purée is sufficiently muddled, fill the shaker 2/3 full with ice.
Add the gin and shake vigorously until mixed.
Strain the mixture into a martini glass. (The purée will be thick, so it will take longer to get the liquid out, but your patience will pay off.)
Pour Champagne into the mixture to fill the glass.
Enjoy responsibly!