I know this is my third garlic scape recipe in a 7 day period, but I promise this is the last one for the season. The first recipe I gave you was Garlic Scape Pesto and the second was Garlic Scape Pesto Crostini, but today's recipe for Diver Scallops with Grilled Garlic Scapes is entirely different!
When it comes to grilling garlic scapes, if you're in a hurry, you can toss them with olive oil and seasoning and simply throw them on the grill. On the other hand, if you have some extra time on your hands and you're grilling and chilling, you can make yourself a garlic scape work of art by winding them into a spiral and skewering them…
After they are skewered, simply coat them in olive oil and season with salt and pepper…
Next, toss them on the grill…
A few minutes later you'll have garlicy, mellow, and sweet spirals. The amazing thing is that they actually hold their shape, so you can dress up a simple dish like these diver scallops into your own spiraled work of culinary art. Talk about an awesome way to impress your dinner guests!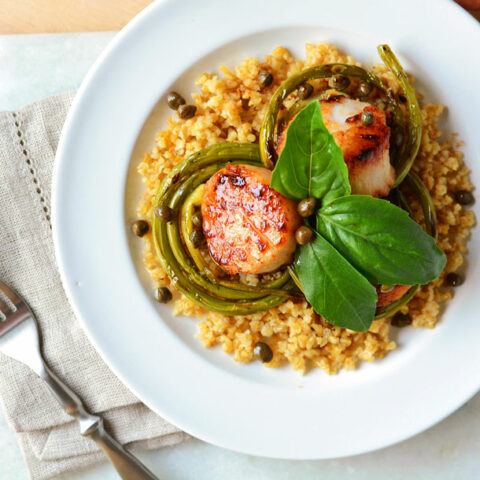 Diver Scallops with Grilled Garlic Scapes
Yield: 4

Prep Time: 35 minutes

Cook Time: 35 minutes

Total Time: 1 hour 10 minutes

Your dinner guests will swoon when served this culinary work of art! Browned butter and capers put the finishing touches on this delightful summer dish.
Ingredients
Freekah
1 C freekah
1 1/2 C low-sodium chicken Broth
Garlic Scapes
12 garlic Scapes
1 Tbsp olive oil
1/8 tsp salt
fresh cracked pepper to taste
Diver Scallops
12 large diver scallops
2 tsp butter
1 tsp olive oil
4 tsp fresh capers
salt and pepper to taste
4 sprigs of basil
Instructions
Brush your grill clean.
In a small saucepan combine 1 C of freekah with 1 1/2 C of chicken broth. Bring to a boil and then reduce to a simmer and cover. Cook for 20 to 25 minutes, or until all of the liquid is absorbed.
While the freekah is cooking skewer you garlic scapes. Do this by winding them into flat spirals, which you then place on your skewers while maintaining the flat shape of the spiral. The fact that garlic scapes have a natural curl make this process a little easier.
Once skewered, brush the garlic scapes with 1 Tbsp of olive oil and season with salt and pepper. Grill over direct medium heat for 8-10 minutes with the lid closed as much as possible, turning once or twice, until they begin to turn golden-brown. Remove from the grill and set aside.
To prep your scallops rinse them under cold water to remove any grit and then pat dry with a paper towel and set aside.
On each person's plate make a bed of freekah and arrange 3 grilled garlic scapes in a beautiful pattern.
Add olive oil and butter to a frying pan over medium-high eat. Allow the pan to heat until the butter is melted and turning brown. Once you have hot, brown butter add the scallops to the pan. Cook about 1 1/2 minutes on each side.
Once the scallops have finished cooking immediately arrange them over the grilled garlic scapes, 3 to a plate. Sprinkle 1 tsp of capers onto each plate and then drizzle with the remaining butter in the pan and season with salt and pepper to taste. For a final touch, garnish with a sprig of fresh basil. Serve immediately.