One of the joys of belonging to a CSA is the endless availability of fresh herbs in the summer. In the winter months I find myself relegated to high-priced, wilted vestiges of what were once fresh herbs. Not so in the summer!
My CSA follows the U-PICK practice when it comes to herbs. It typically involves dragging my 4 year-old out into a sunny, hot field where he languishes while sitting in the dirt, pointing out bugs, and asking if it's time for his promised water ice (I'm giving him an appreciation for the work involved with growing food). I choose to tune him out for a few minutes while I, like a kid in a candy shop, collect little bundles of flavor and gently wrap them in rubber bands, so that I can take them home and carefully bag them with damp paper towels and hide them in the safest part of the refrigerator.
Today's recipe for Israeli Couscous and Sugar Snap Pea Salad is delicate and light. This recipe allows the sweetness of the peas and the gentle bite of the chives to shine through simultaneously. The mild flavors made this recipe appealing to the aforementioned bug-watching 4 year-old. I made this dish as a side with simple, grilled chicken breasts on a busy night, making it an easy and healthy weeknight meal. The next day I enjoyed the leftovers as a quick and delicious lunch.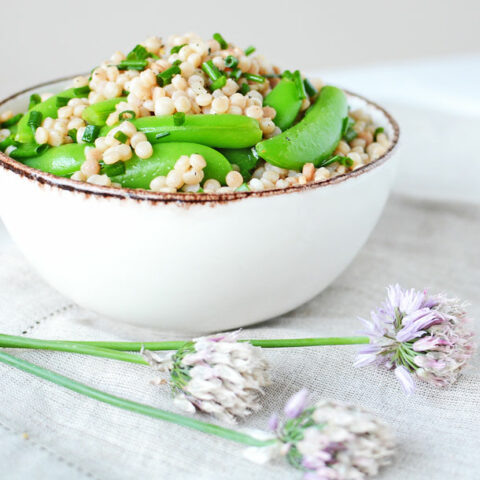 Israeli Couscous and Sugar Snap Pea Salad
Yield: 4

Prep Time: 15 minutes

Cook Time: 15 minutes

Total Time: 30 minutes

Israeli Couscous and Sugar Snap Pea Salad is delicate and light, allowing the sweetness of the peas and the gentle bite of the chives to both shine through.
Ingredients
Salad
1 C whole wheat Israeli couscous
1 Tbsp olive oil
1 1/4 C water
3/4 lb sugar snap peas
ice water bath
Dressing
1/8 C lemon juice
1 Tbsp olive oil
1/2 C chopped chives
1/4 tsp salt
fresh cracked pepper to taste
Instructions
In a small sauce pan, brown the couscous with 1 Tbsp of olive oil for 2-3 minutes. Next, add 1 1/4 C water, bring to a boil and then reduce to a simmer and cover, continuing to simmer for 8 minutes. If there is any liquid remaining in the pot after 8 minutes, drain it off and then set aside to cool.
While the couscous is cooking, use this time to de-string your peas. Do this by snapping a little piece off the top of the pod. You'll notice a stringy fiber, which you'll pull down the length of one side of the pod. Next, flip the pod around and you'll do the same at the opposite end, pulling the string down the opposite side.
Place your peas in a large pot of water over high heat. Cook until the water reaches a boil, at which time you will quickly drain the water off and place you peas in a bowl full of ice and water. This with give them a tender crispness for your salad.
In a large bowl, combine your dressing ingredients, whisking them together with your fork.
Finally, fold in your couscous and sugar snap peas. Serve immediately or refrigerate before serving.