Baked Reuben Egg Rolls – When the leprechauns are done with their holiday mischief, this fun recipe is a tasty way to use up all that leftover corned beef!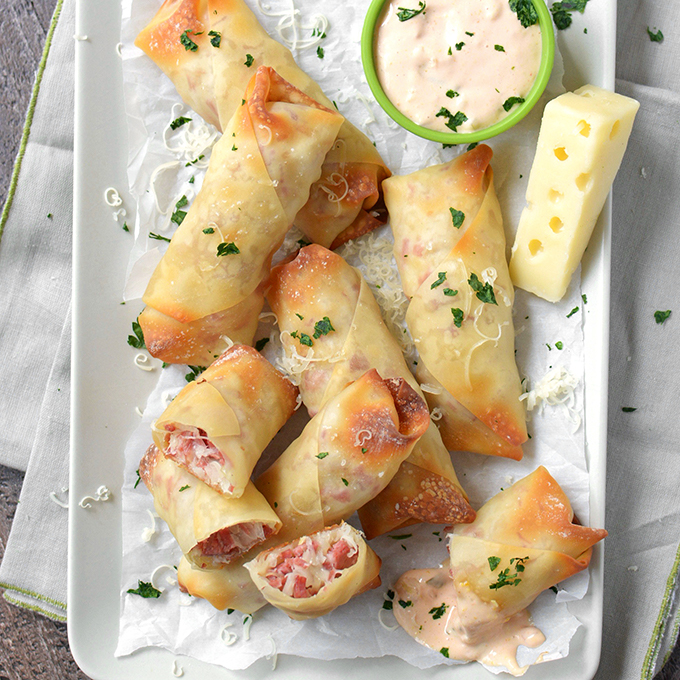 Happy St. Patrick's Day! Okay, yes, I'm a bit late on this one. Truthfully, I meant to post this recipe last week and well before St. Patrick's Day, but you know how life goes – kids, work, dealing with the leprechauns, blah, blah, blah. Fortunately, this is a perfect day-after-St.-Patrick's-Day recipe. The secret ingredient is all that leftover corned beef you woke up to find in your fridge today. It now has a purpose!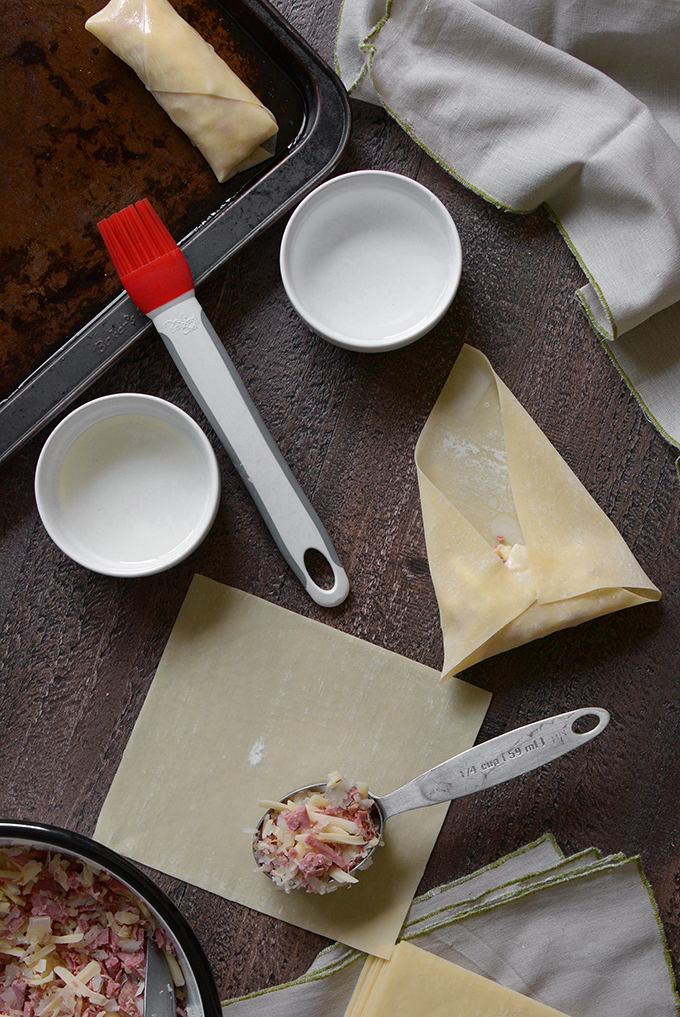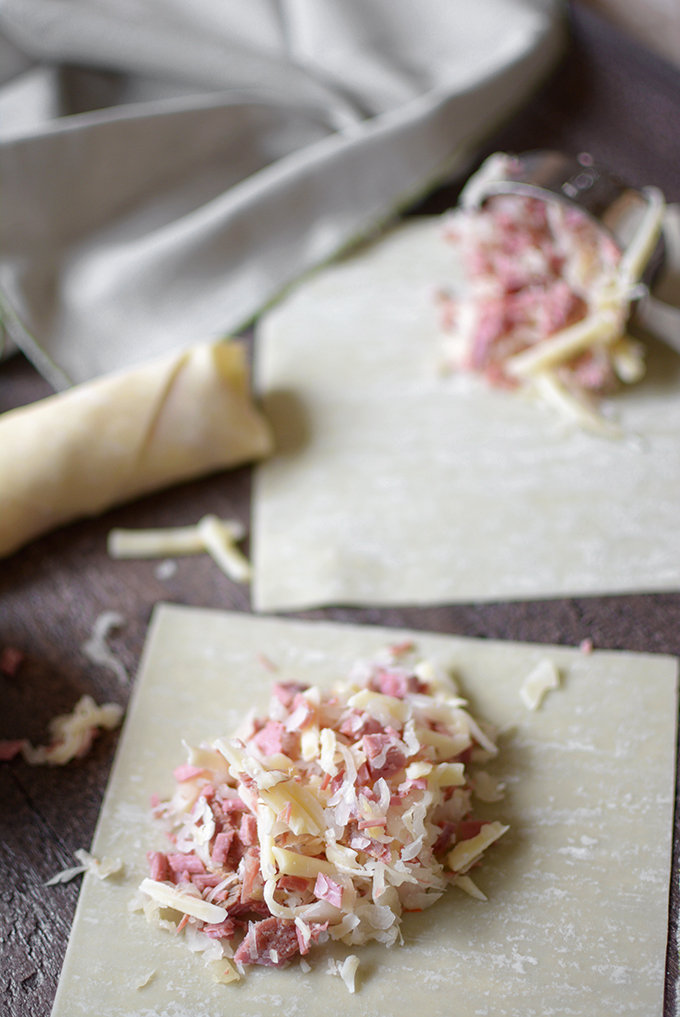 This year St. Patty's Day fell on a Friday, so I say let all the leprechaun, rainbow, and lucky clover fun extend through the weekend by making these Baked Reuben Egg Rolls. They're incredibly simple, really. The filling is a mixture of leftover corned beef, sauerkraut and shredded Swiss cheese. The mixture gets wrapped into cute little egg roll wrappers and baked. There's no deep frying here. That means less fat (a.k.a., more beer calories you can consume) as well as less mess in your kitchen.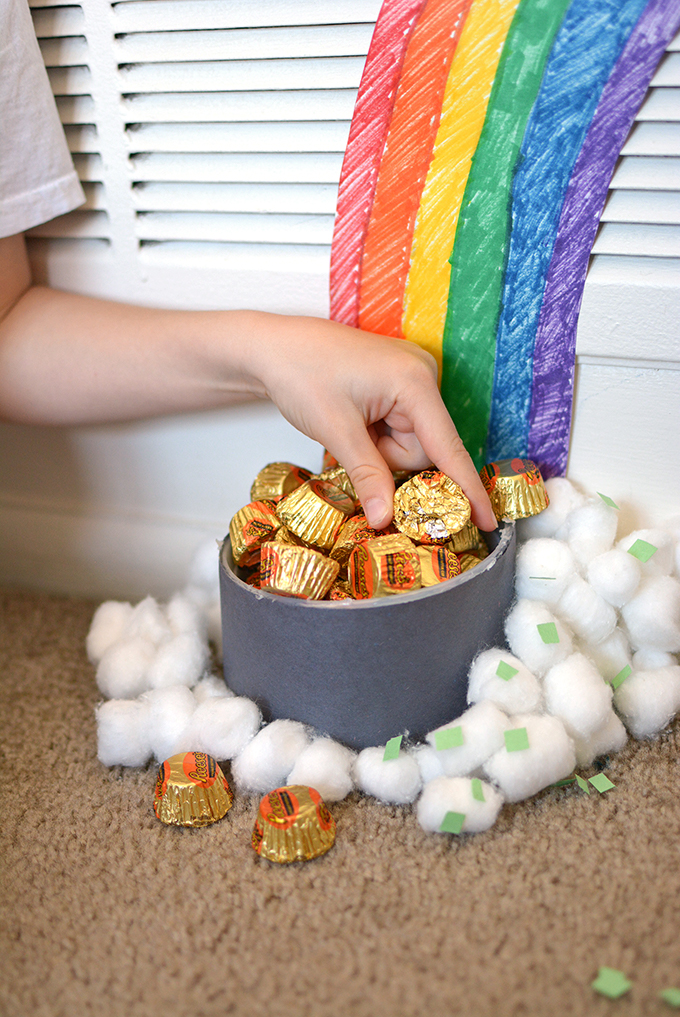 Back to dealing with those troublesome leprechauns… Were they up to any shenanigans in your life this year? According to my son, they spread green and gold confetti all over his kindergarten classroom, as well as knocking over chairs and pencils. What a mess! In my home, we woke up to little green confetti that led a trail from our front door to a rainbow in our living room with a pot of gold at the end. I have to say that the silly games are one of the best parts of being a parent!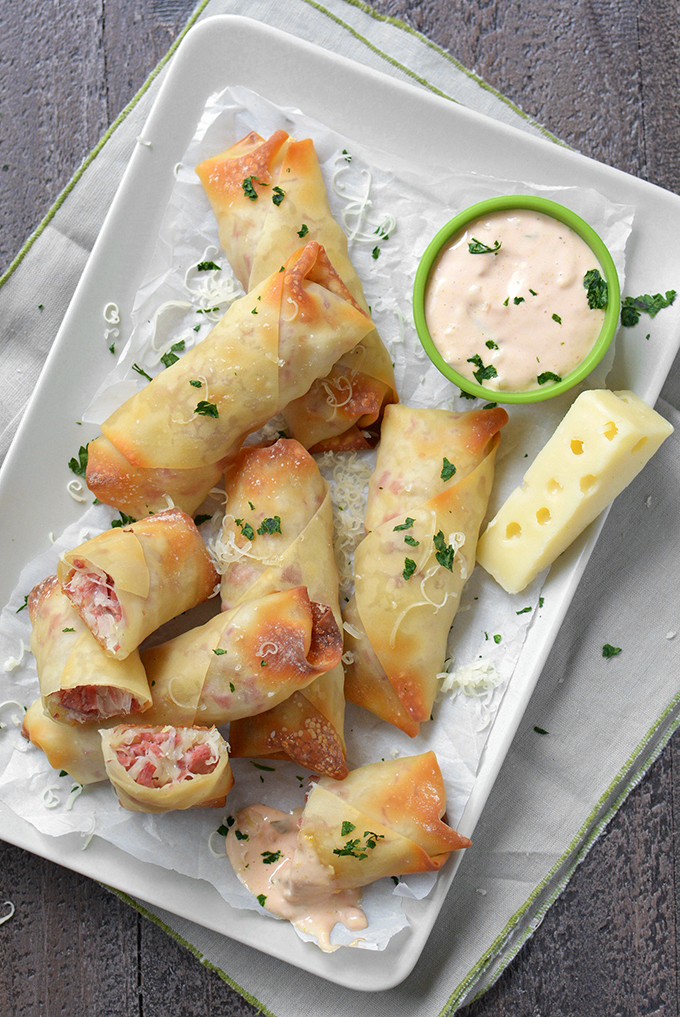 Back to these delicious Baked Reuben Egg Rolls. When you bite into the crunchy egg roll wrap, you're greeted with a savory and cheesy filling. Make them even more delicious by smothering them in my sweet and tangy Homemade Thousand Island Dressing. Leftover corned beef never tasted so good!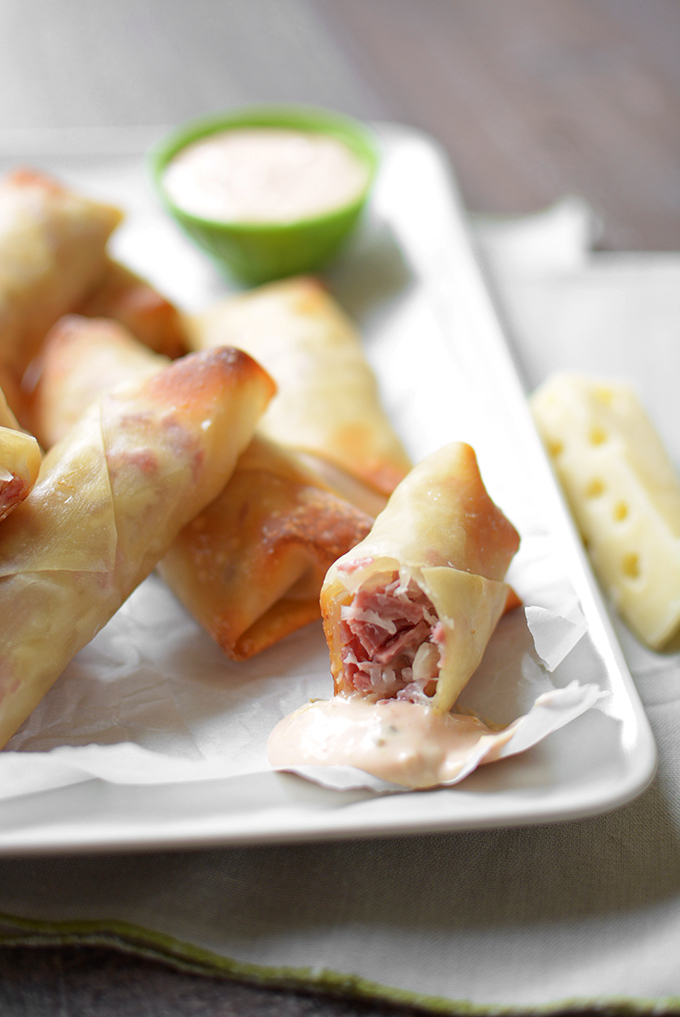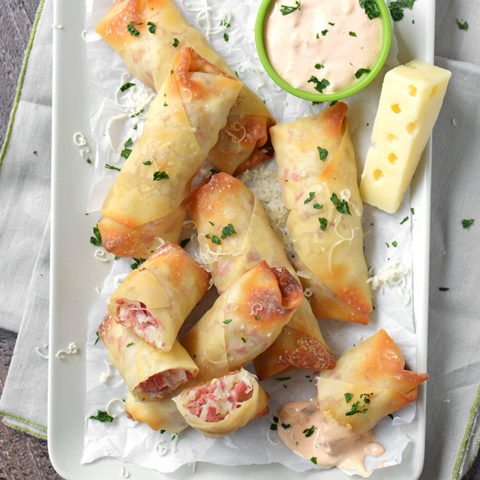 Baked Reuben Egg Rolls
Yield: 8 servings

Prep Time: 15 minutes

Cook Time: 10 minutes

Total Time: 25 minutes

When the leprechauns are done with their holiday mischief, this fun recipe is a tasty way to use up all that leftover corned beef!
Ingredients
2 C chopped leftover cooked corned beef
1 C strained and chopped sauerkraut
2 C shredded Swiss cheese
1 package egg roll wraps (you will need 18 total)
2 Tbsp high heat oil (vegetable, canola, or peanut)
Thousand Island dressing or Russian dressing
Instructions
Preheat oven to 400ºF. Combine the corned beef, sauerkraut, and Swiss cheese in a medium mixing bowl. Be sure to trim any excess fat off of the corned beef.
To fill the egg rolls add ¼ C of filling to the center of the roll, fold in one corner, lightly wet it by dipping your finger in water, and fold over a second and a third corner. Lightly wet the folded corners again, and then roll the egg roll towards the fourth corner to form a roll.
Place each spring roll on a lightly greased baking sheet and lightly brush each one with vegetable oil. Bake in a 400º F oven for 10-12 minutes, or until golden brown. Best served immediately with Russian or Thousand Island dressing.
Notes
Makes 16 egg rolls total. 2 egg rolls is the recommended serving size. Nutrition information does not include the dressing as part of the calculation, as this will vary with brand.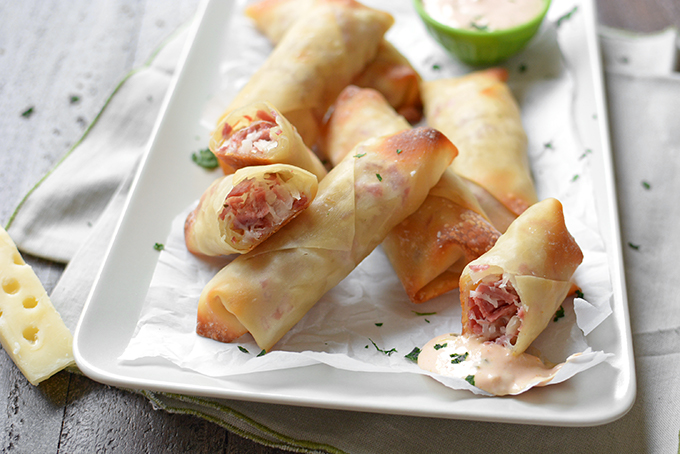 You may also like…