Shrimp Paella – Transport your senses to the Spanish coast with this flavorful and aromatic classic that comes together in just over half an hour!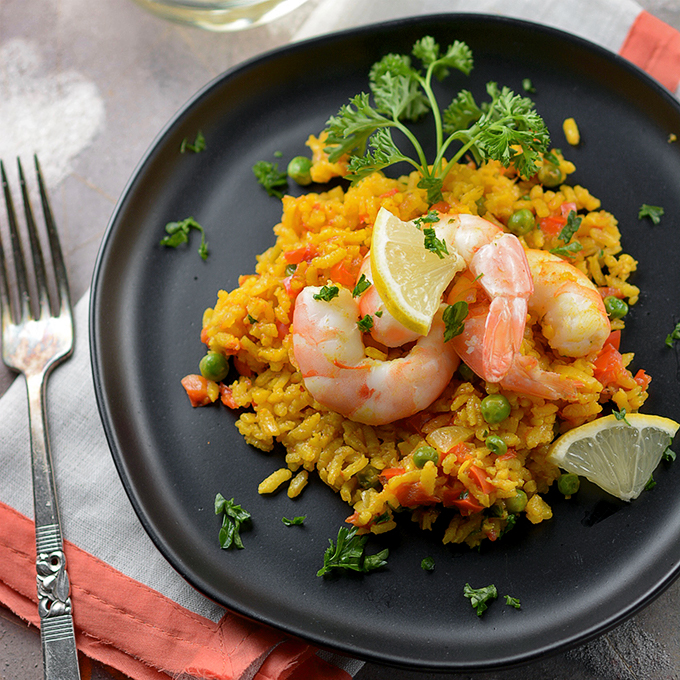 My mom works at a retirement community where people are constantly down-sizing their lives. As such, the community has a flea market of sorts where retirees and their surviving kids can sell off their treasures to turn some cash.
Over the last few years everyone in my family has had a piece of retirement home treasure bequeathed to them. My favorite treasure by far is a Danish style ceramic paella pan.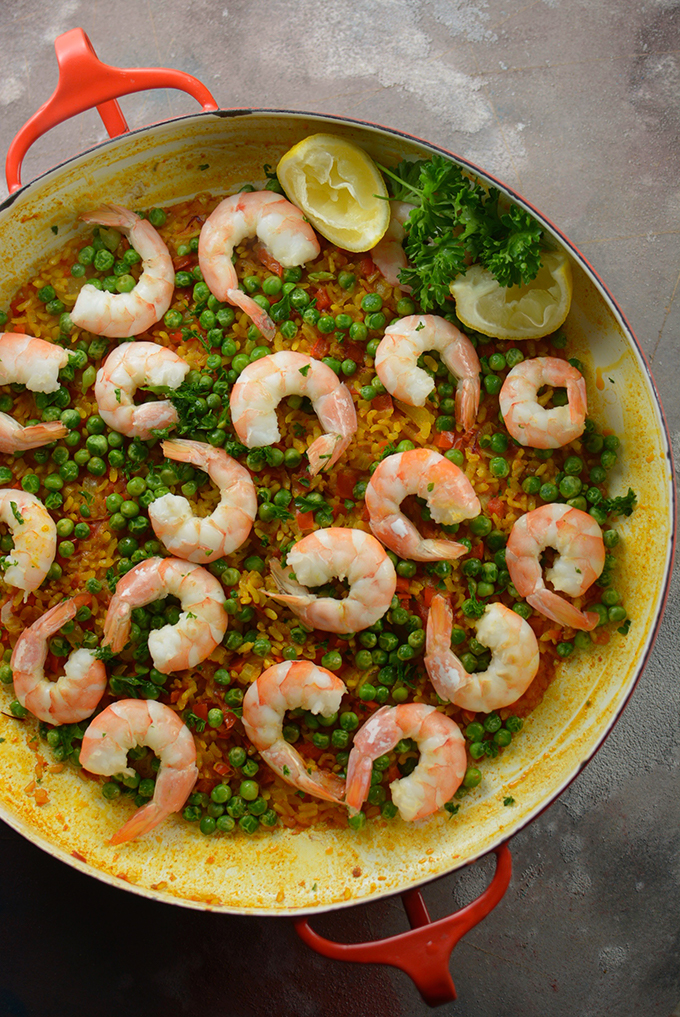 For the longest time my unusual and beautiful red pan sat on display on a cart in my kitchen. I had heard that paella was incredibly difficult to make and I never had all of the right ingredients.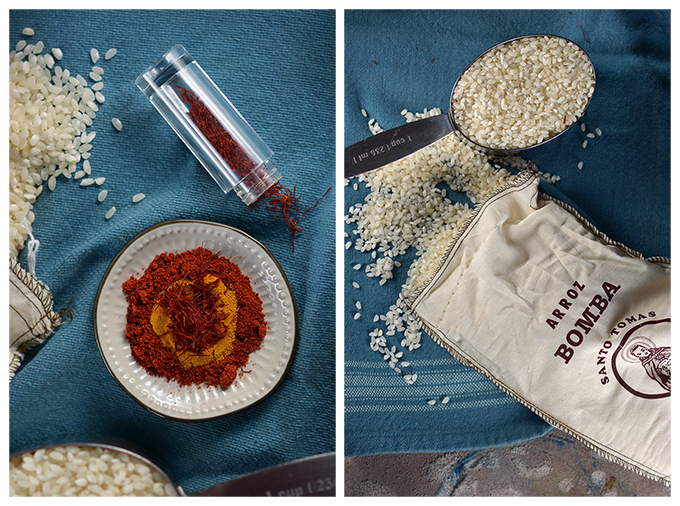 Recently I decided it was time to stop making excuses and finally put my paella pan to use. I was surprised that when I finally did decide to try it, making paella is actually pretty quick and easy. The challenge really comes with finding the ingredients.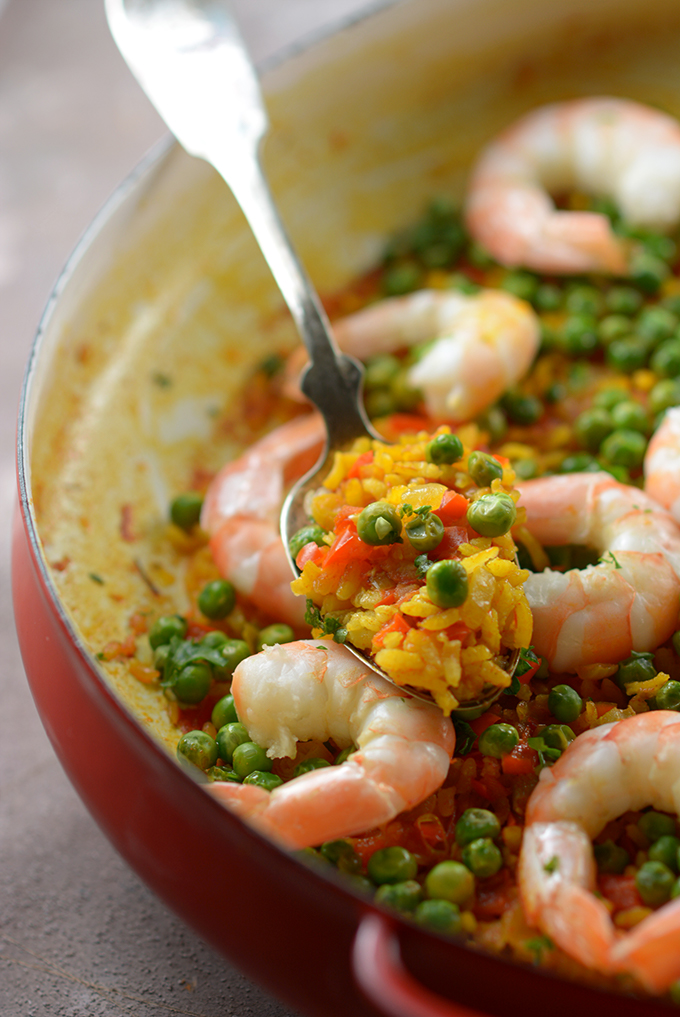 Fortunately, Amazon had what I needed! First, the bomba rice, which is a short-grain variety of rice that is primarily grown in Spain and is perfect for paella. The next thing is saffron, which is the star of the show when it comes to this dish.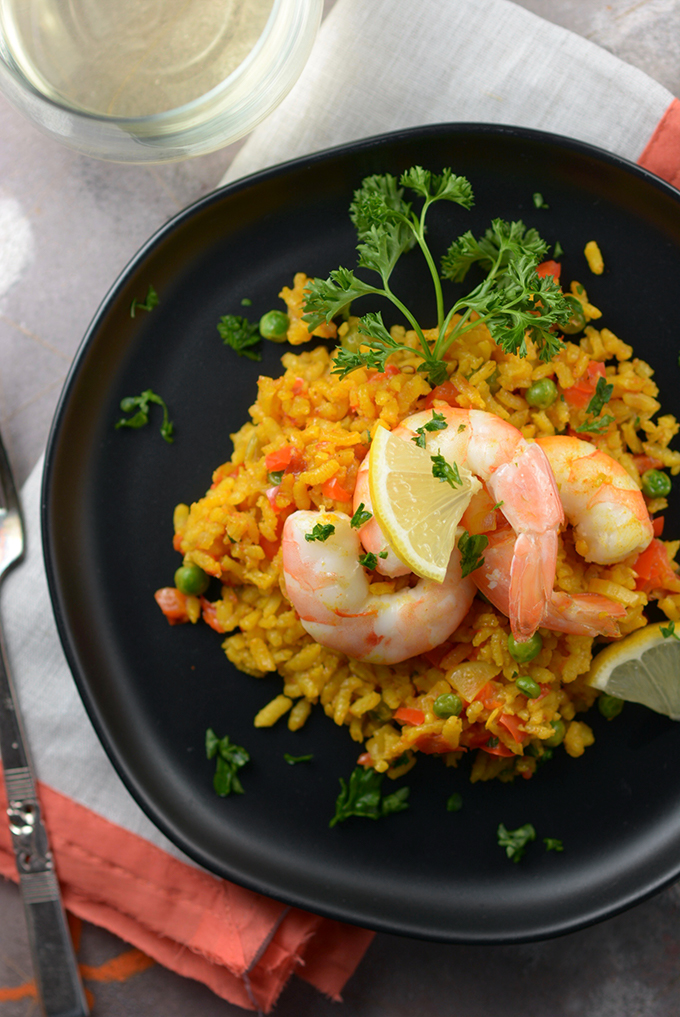 Once I had what I needed my dish came together in about 35 minutes. Not bad! I made it on a weeknight and my kitchen flooded with the aroma of saffron and seafood. Minus the kids, it was like Mr. Simple Seasonal and I were transported to an exotic land on a Tuesday night!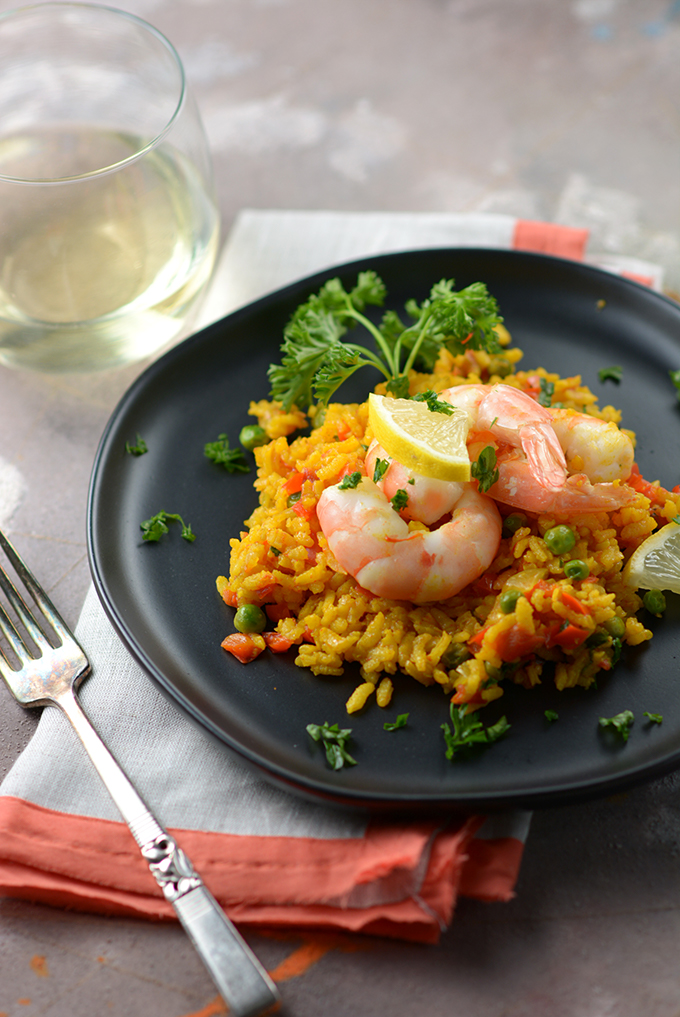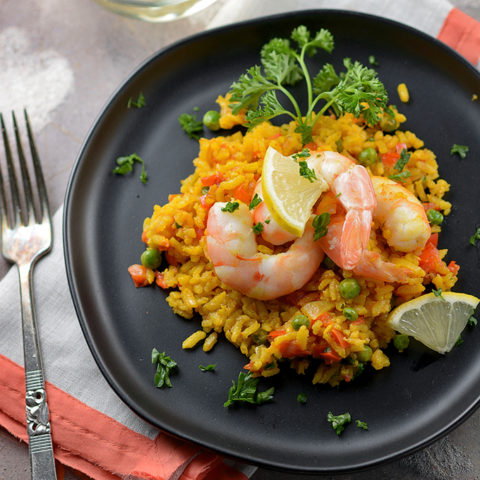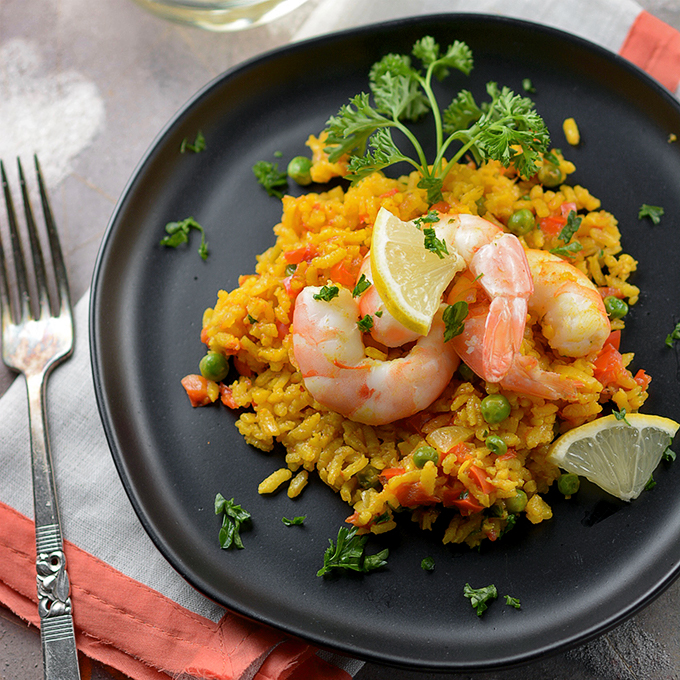 Shrimp Paella
Transport your senses to the Spanish coast with this flavorful and aromatic classic that comes together in just over half an hour!
Ingredients
2 Tbsp olive oil
1 C chopped red bell pepper
1/2 C chopped sweet onion
1/3 C chopped scallions
1 C bomba (paella) rice
2/3 C chopped tomato
1/2 tsp ground turmeric
1 tsp ground paprika
1/2 tsp saffron threads
1 Tbsp minced garlic
3/4 tsp salt
1 jar clam broth (1 Cup)
2 C vegetable broth
1 C frozen peas
1 lb shrimp
1 Tbsp minced parsley
Instructions
Heat 2 Tbsp olive oil over medium-high heat in a large skillet or paella pan. Add the red pepper, sweet onion, scallions and rice to the pan. Cook, stirring frequently, for about 3 minutes or until the vegetables begin to soften.
Add the chopped tomatoes, turmeric, ground paprika, saffron threads, garlic, and salt. Cook 3 more minutes, stirring periodically.
Add the clam juice and vegetable broth, bring to a boil and boil for 3 minutes, stirring occasionally.
Reduce to a simmer. At this point do not stir your rice for the remainder of the recipe. Simmer for about 5 minutes, or until the rice is no longer soupy, but there is still some liquid in the pan.
Evenly sprinkle the peas over the rice and evenly arrange the shrimp over the rice, then lightly cover with aluminum foil. Cook for another 10 minutes or until all the liquid is completely absorbed.
Garnish with freshly minced parsley and lemon wedges. Serve immediately.
You may also enjoy…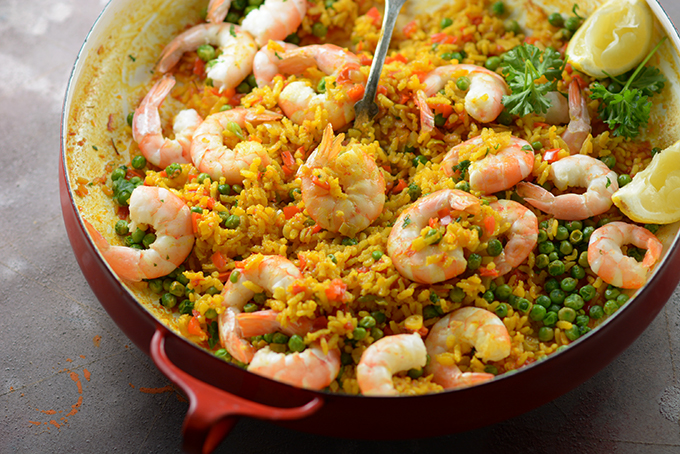 You may also enjoy…