One-Pot Shrimp and Snow Pea Alfredo Pasta – Comfort food meets fresh spring veggies in this simple, creamy, and delicious Italian dinner.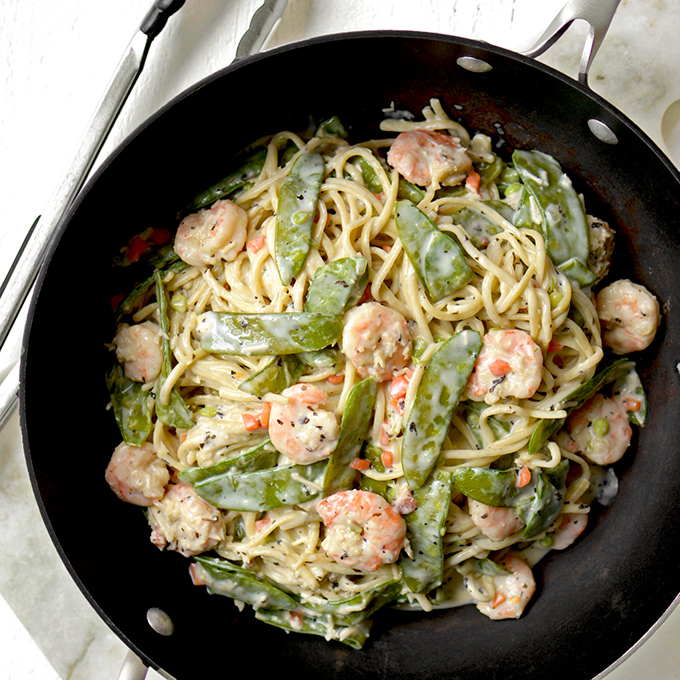 It's been a while since I posted a tasty recipe on my little corner of the internet, and making the family dinner hour a priority has been a challenge. I'll blame the kids and work. This is the first year I've had a school-age child and I never knew how busy the end of the school year could be for a little kindergartener. Between a field trip, class party, olympic day, a violin recital, and all the associated rehearsals, soccer clinics, a kindergarten show, an art show and don't forget the book fair, my 6-year-old's social calendar is fully booked. I'm not even going to get started on my personal and work calendars. And perhaps all those nursing in-services I've been procrastinating on for the last three months are part of the problem, too…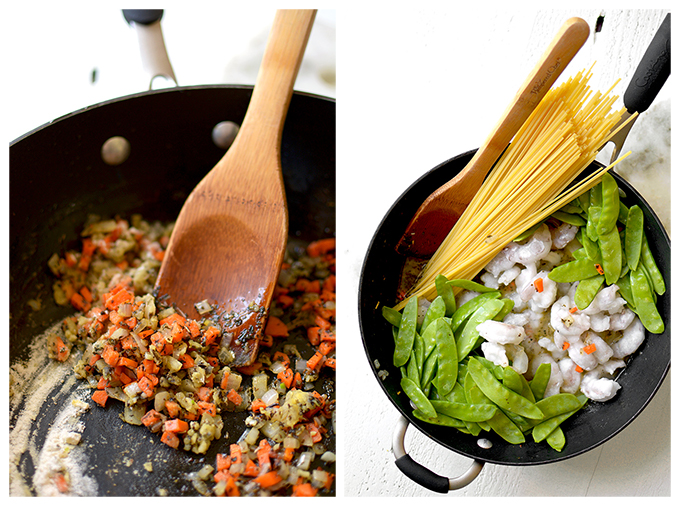 My family's busy spring schedule has practically ruled the dinner hour in my home. That said, a home-cooked meal around the dinner table has been a grounding force for my family in the the midst of all the fun-but-busy things going on in our lives. As such, I'm now obsessed with one-pot and sheet pan meals because they mean less cook time and less dishes without having to digress to Stouffer's lasagna and Kid Cuisine hour.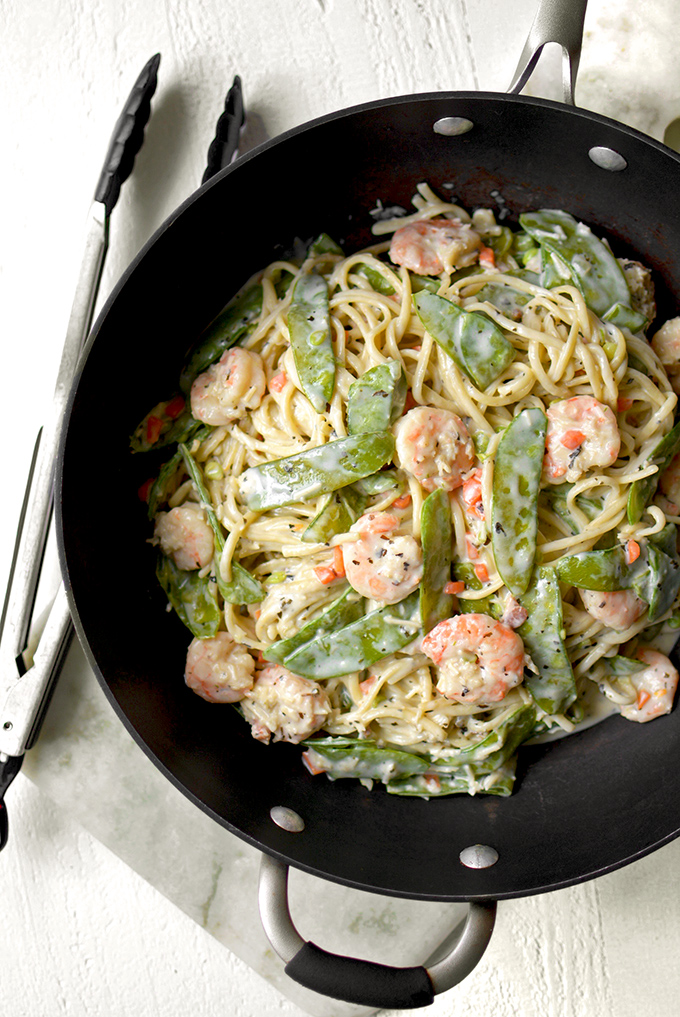 Today's recipe for One-Pot Shrimp and Snow Pea Alfredo Pasta has that "comfort food" quality of pasta and Alfredo sauce, plus some healthy shrimp and snow peas to make it a well-rounded and deliciously creamy meal. It's restaurant quality, but will be pan-to-table in 35 minutes flat with only one pot to wash when you're done! That means more time in your busy life for enjoying the people you love around the dinner table!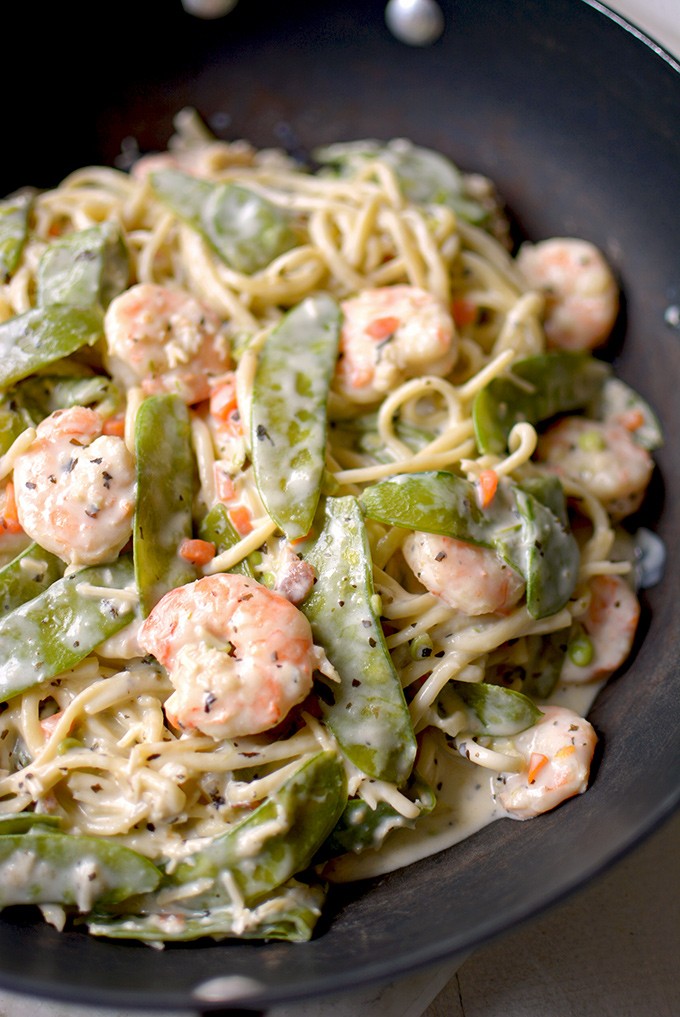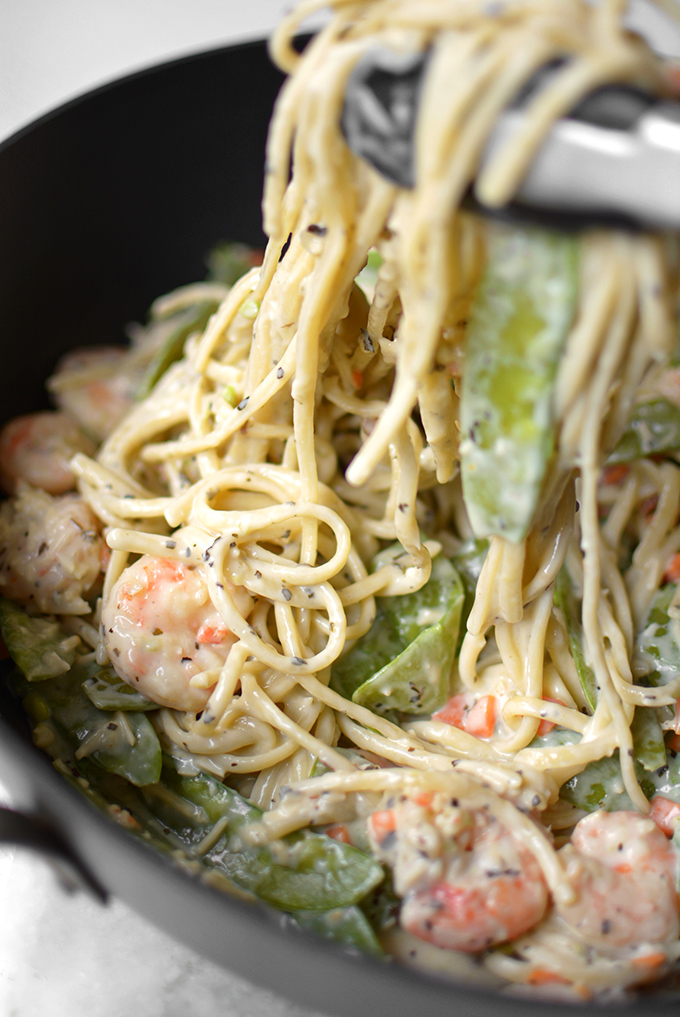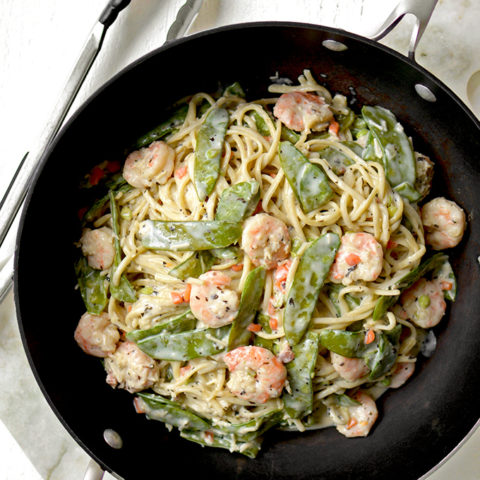 One-Pot Shrimp and Snow Pea Alfredo Pasta
Yield: 5 servings

Prep Time: 10 minutes

Cook Time: 25 minutes

Total Time: 35 minutes

Comfort food meets fresh spring veggies in this simple, creamy, and delicious Italian dinner.
Ingredients
4 slices uncured bacon
1/4 C finely chopped sweet onion
1/3 C finely chopped carrots
1 Tbsp dried basil
3 cloves minced garlic
1 Tbsp flour
2 1/2 C low sodium chicken broth
8 oz dried linguine
1 lb frozen shrimp, unthawed
1/2-3/4 lb stringed snow peas
1 C half and half
1/2 tsp salt
1/4 tsp black pepper
1/2 C grated parmesan cheese
Instructions
In a pot or a large pan cook 4 slices of bacon over medium heat until they are crispy. Remove the bacon from the pot, cool, break into small bits and set aside on a paper towel for later use as a garnish. Add the chopped onions and carrots to the pot and cook in the bacon drippings for 3 minutes. Next, add the basil and garlic and cook for one minute.
To start the base for the Alfredo sauce add 1 Tbsp of flour to the pot with the cooked vegetables. Stir the flour into the bacon drippings and cook for one minute. Slowly add the chicken broth to the pot, 1/4 C at a time, while continually stirring so that the flour and broth become evenly incorporated.
Add the linguine, shrimp and sugar snap peas to the pot. Cook on high heat until the it reaches a full boil and then reduce to a hard simmer. Cook for 11-14 minutes, stirring frequently. Note that the pasta will cook best if you push it to the bottom of pot and the shrimp and snow peas to the top so that the pasta is in the most liquid. If the pasta begins to stick, or if the pan seems dry, add additional chicken broth, 1/4 cup at a time.
Once the pasta is done cooking, turn the heat on low and stir in the half and half, salt and pepper. Heat the half and half over low heat, making sure to not allow it to start bubbling. Once heated, garnish with freshly grated parmesan cheese and the bacon you set aside earlier. Serve immediately.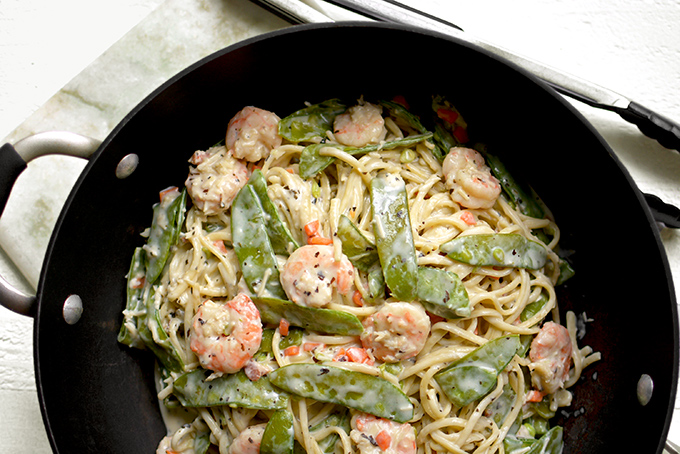 Some more one-pot-and-pan meals you might enjoy…