Strawberry Poppy Seed Couscous Salad – This sweet & nutty blend of spring flavors is the perfect side for your Mother's Day brunch!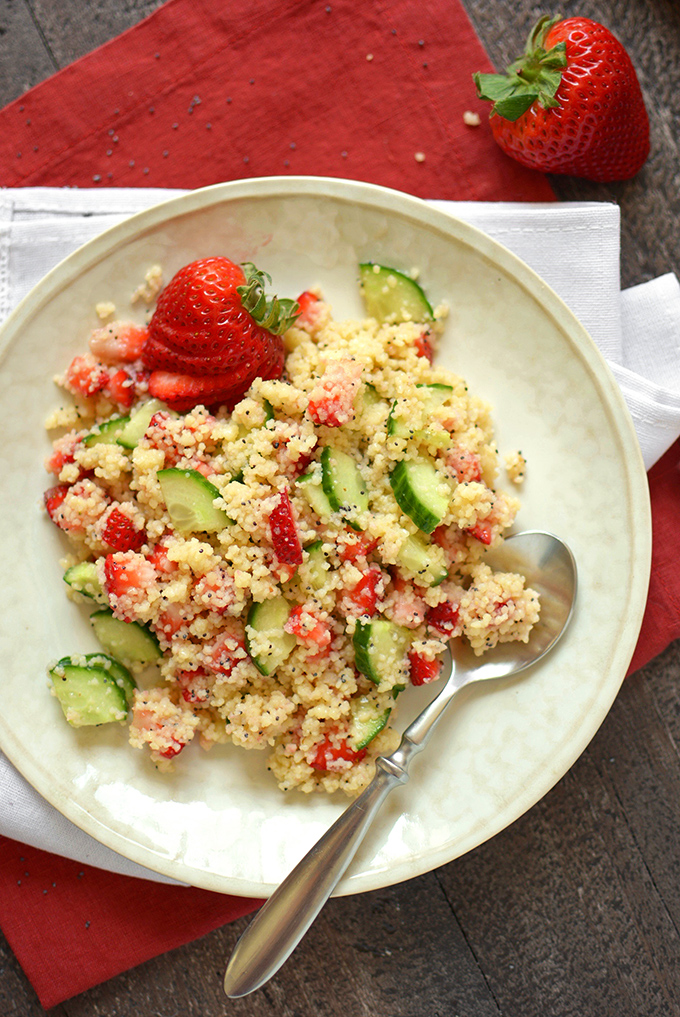 As I sit down to finally write this blog post I realize I'm not sure what I want to say. The baby wasn't feeling well for part of this week and the other part of this week he ate and chubbed up so much (day and night) that the only reasonable explanation is that he's going through a growth spurt. Perhaps that's my excuse for eating and chubbing up so much too. It must be a growth spurt. 😉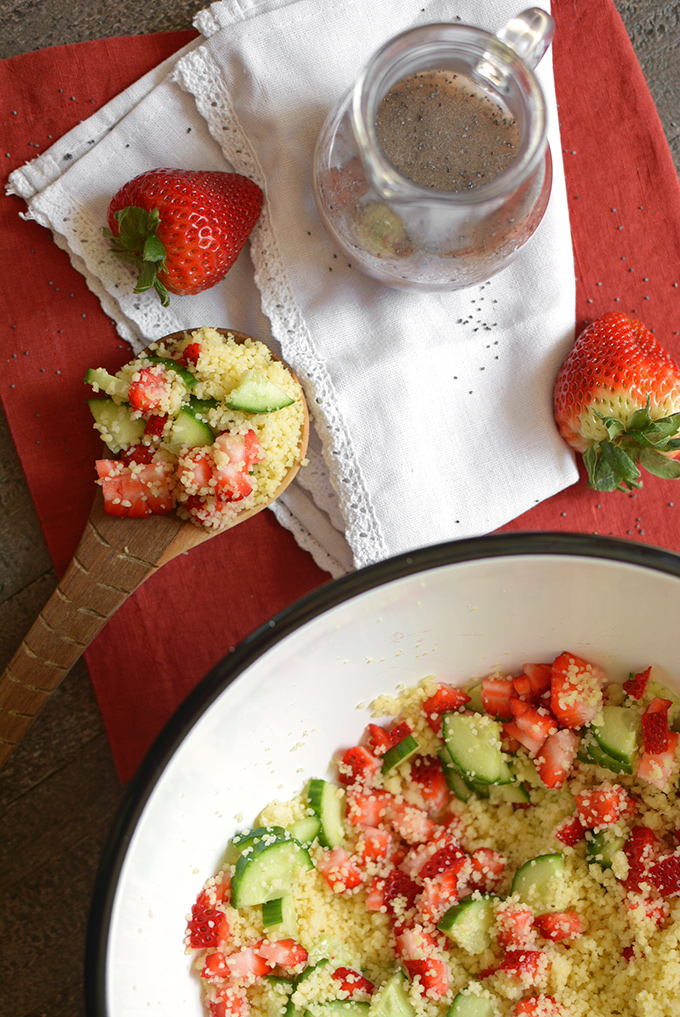 The more likely story is that the constant whining of a fussy baby is starting to get to me and I've made some less-than-stellar food choices this week. The nonsense that moms put up with for the kids that they love! Fortunately a much needed break and admittedly, day of appreciation, is just around the corner in the form of Mother's Day. ☺️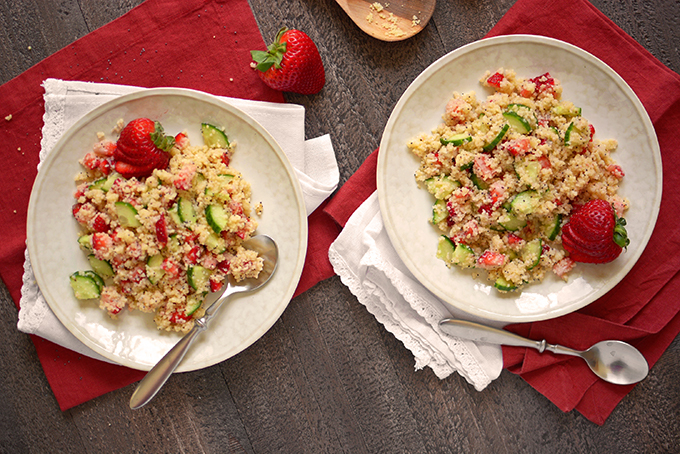 My six year old has already started making pre-Mother's Day cards. My favorite is a twelve foot roll of paper covered in crooked hearts and tracing of his hands and feet. After pouring his heart into this piece of art work he did leave marker foot prints all of the the kitchen floor… Fortunately the markers were washable. Thank you, Crayola!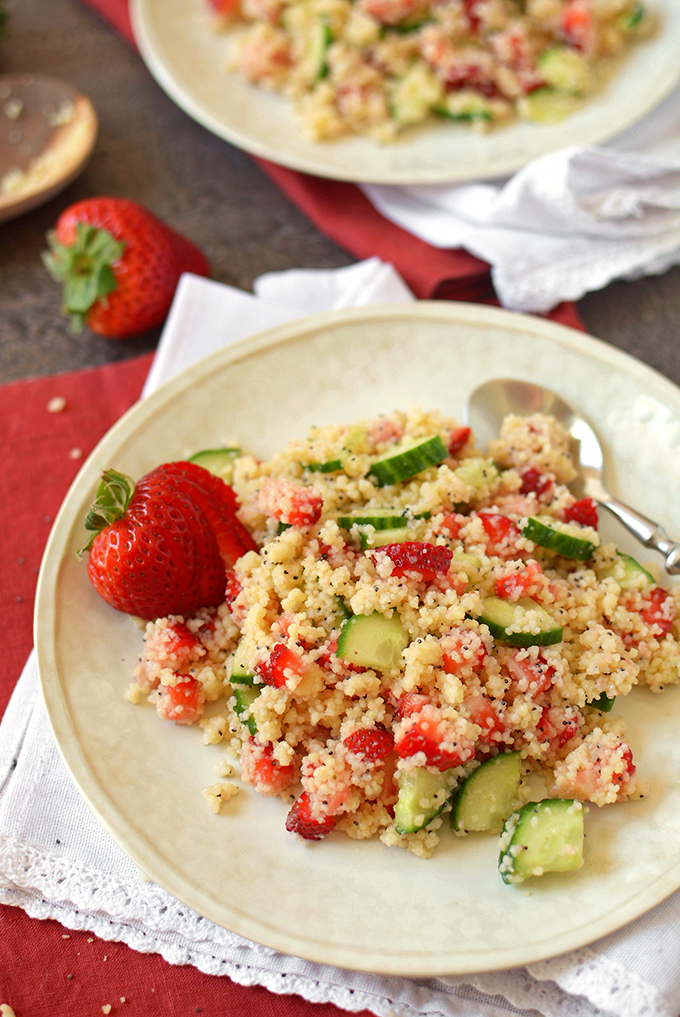 In addition to the homemade kid gifts, one of the things I love about Mother's Day is Mother's Day Brunch. There's nothing to complain about with the fusion of breakfast and lunch, and in the month of May this is especially enjoyable with all the seasonal, fresh, spring flavors. Today's recipe for Strawberry Poppy Seed Coucous Salad is one dish I'd love to eat this Mother's Day, and I'm sure my mom would too. It's sweet and just a little nutty, much like most moms!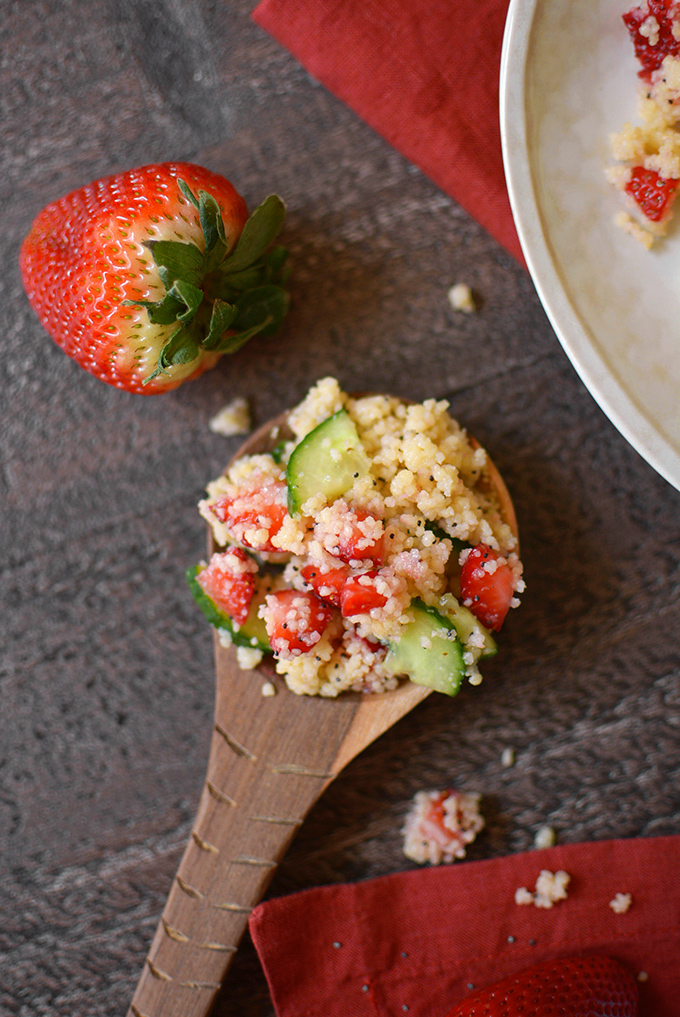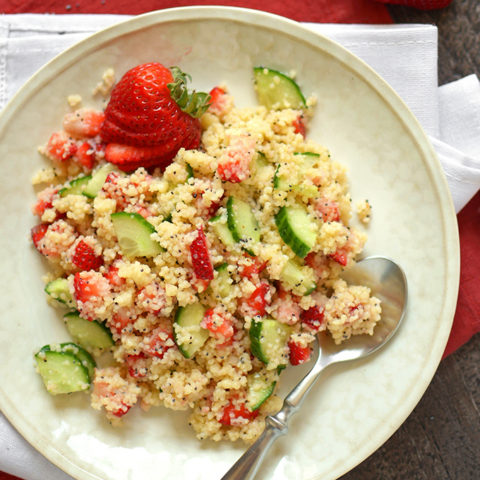 Strawberry Poppy Seed Couscous Salad
Yield: 4 servings

Prep Time: 15 minutes

Cook Time: 5 minutes

Total Time: 20 minutes
Ingredients
Strawberry Poppy Seed Couscous Salad
1 C dry couscous
1 1/4 C water
1 Tbsp olive oil
1/2 tsp salt
1 C chopped strawberries
1 C chopped cucumber
Strawberry Poppy Seed Vinaigrette
1/4 C canola oil
2 Tbsp honey or agave
2 Tbsp red wine vinegar
1/2 tsp dijon mustard
1 1/4 tsp poppy seeds
1/2 tsp salt
fresh cracked black pepper to taste
Instructions
Cook and chill the couscous. To cook the couscous, bring the water to a boil with the olive oil and salt. Once boiling, stir in the dry coucous. Return to a boil and then immediately remove the pot from the heat. Cover and let rest for 5 minutes. After 5 minutes have passed, fluff the coucous with a fork and chill for at least 1 hour.
While the couscous is chilling, chop the strawberries and cucumber and set aside.
Make the vinaigrette by whisking together all of the ingredients and set aside until the coucous is chilled.
Assemble the salad by folding together the couscous, strawberries, cucumbers and vinaigrette.
Notes
If you plan on making this salad ahead of time, it's best if the strawberries are added in just before serving.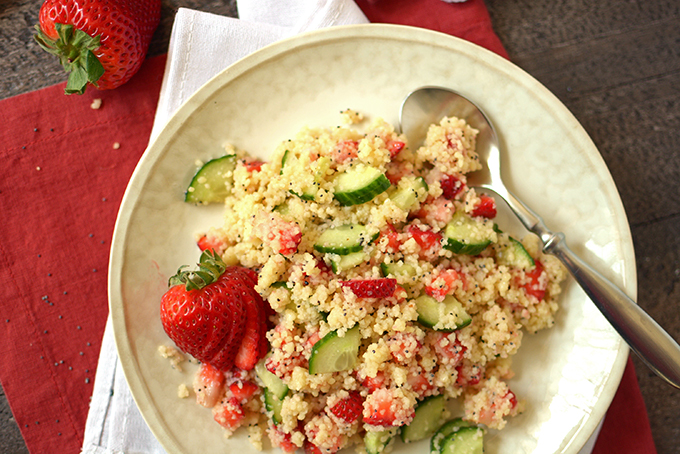 If you enjoyed this recipe, you may also like…