Oyster Stew – Prepared with a deliciously flavorful base, this rich, creamy oyster stew is the perfect way to express your love to that certain special someone!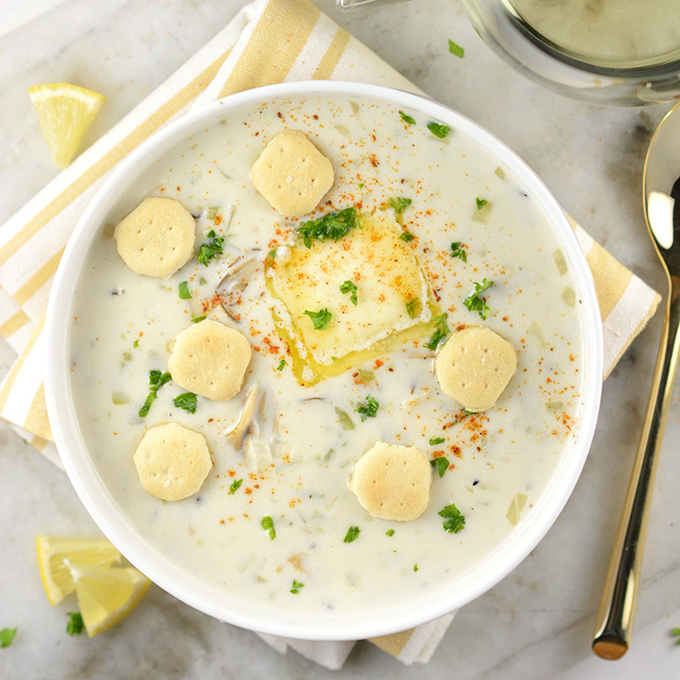 Mr. Simple Seasonal has been talking about oyster stew ever since we met. We've been married for 10 years, so that's quite some time. The terrible thing is that over all that time I've never made it for him.
It's not that I never got the hint. I can totally take a hint. I didn't grow up eating oyster stew and when he described it as oysters cooked in warmed milk, topped with butter and crackers I was thinking, "eeeew, gross!"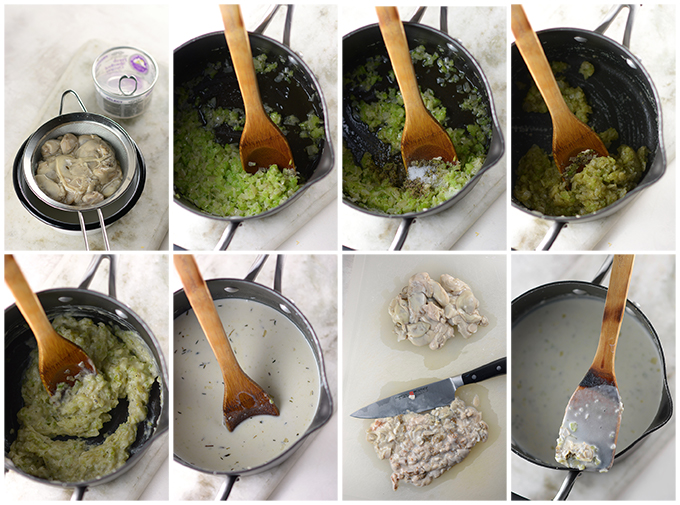 This Valentine's Day I thought it was about time for me to show him how much I love him by making some oyster stew. I promise this recipe is quite good and only slightly echos the recipe my husband described above!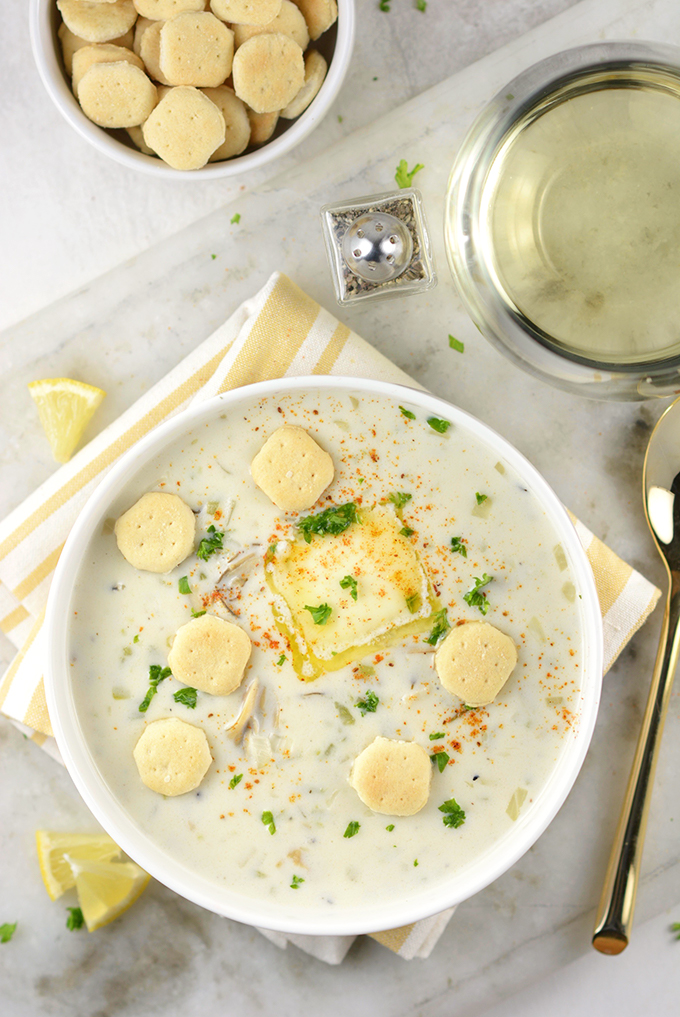 The key to most good soups is a good base. For heaven's sake, you can't just throw oysters in milk and call in a soup or a stew! (Well, apparently you can, but that's gross.)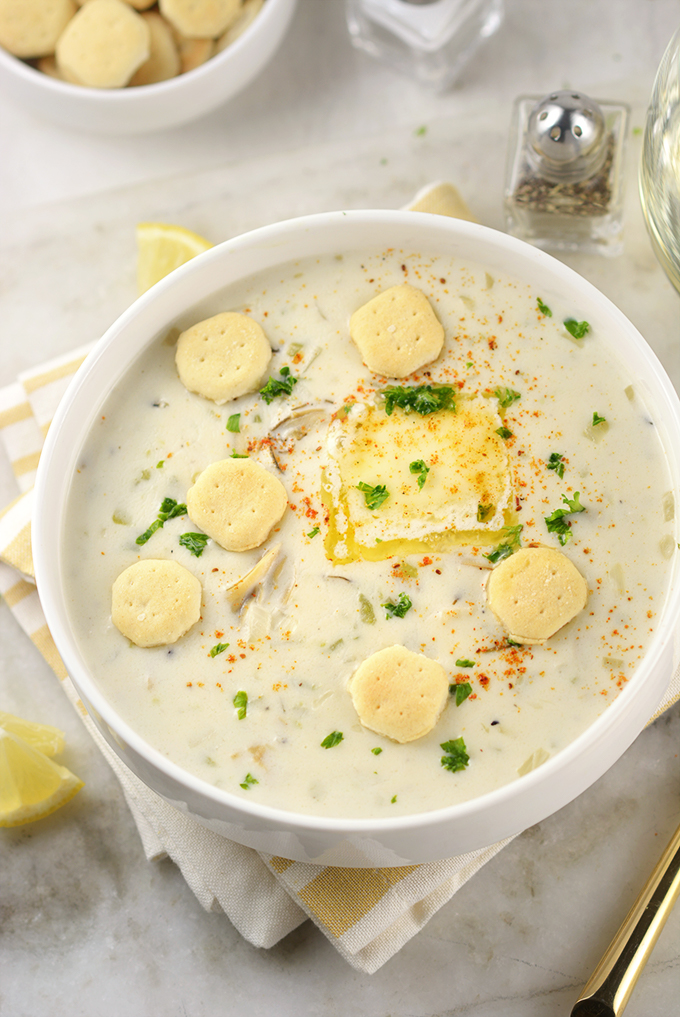 I decided to make my base out of shallots, celery, a couple of spices, butter, and flour. The base adds lots of flavor and a little something to hold the structure of the soup (and the oysters) up.
The next improvement I made to my husband's telling of his childhood oyster stew is that I chopped up about 1/3 of the oysters. This pretty much guarantees you'll get a bit of oyster in each bite. Then, when you come across a whole oyster that's just an added bonus!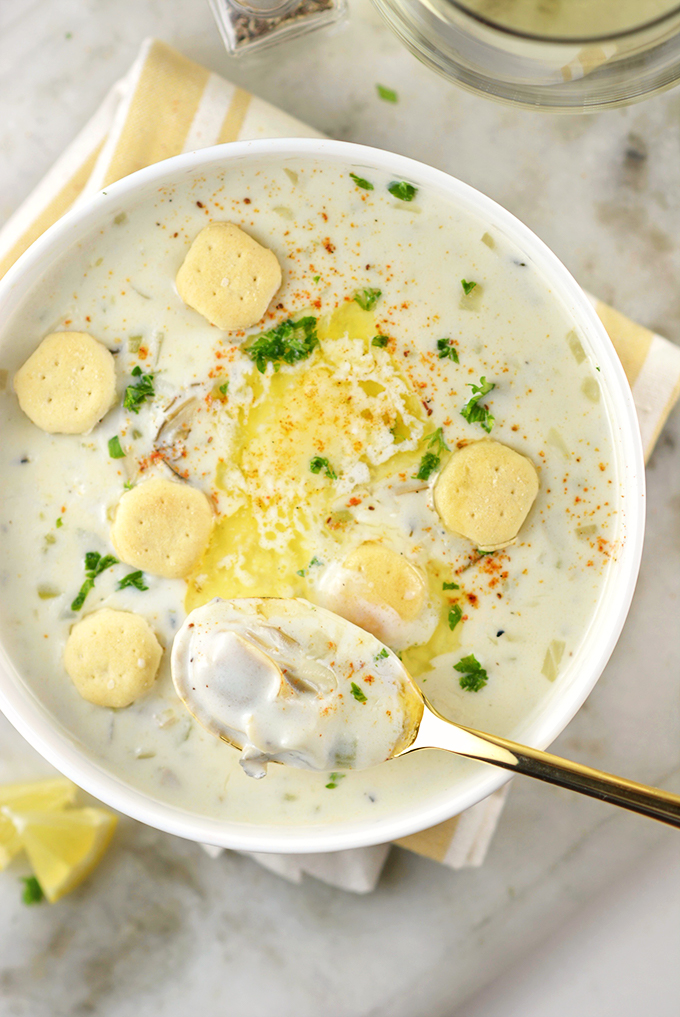 Okay, so aside from the fact that I finally made my husband's dream soup there's another reason why this is the perfect Valentine's Day soup. Raw oysters are supposed to be an aphrodisiac. These oysters are cooked, but I'm hoping that the affect applies to all oysters. I'm optimistic!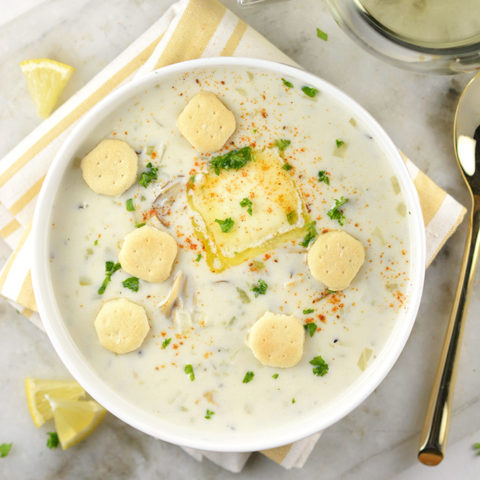 Oyster Stew
Prepared with a deliciously flavorful base, this rich, creamy oyster stew is the perfect way to express your love to that certain special someone!
Ingredients
Soup
1 pint fresh shucked oysters packed in their juice
5 Tbsp butter
3/4 C minced celery
1/2 C minced shallots
1 garlic clove, minced
1/8 tsp dried thyme
1/2 tsp salt
1/4 tsp black pepper
1/3 C flour
2 C whole milk
1 C half-and-half
Optional Oyster Stew Garnishes
pad of butter
tabasco sauce
Old Bay Seasoning
oyster crackers
fresh parsley
small lemon wedge
Instructions
Prepare the oysters by straining through a fine wire mesh strainer to separate any grit from the juices. Reserve the strained juices and set aside. Rinse the oysters under cool water, taking care to remove all the grit. Coarsely chop one third of the oysters.
In a medium pot melt 5 Tbsp of butter over medium heat. Before the melted butter begins to brown, add the celery and shallots to the pot and sauté for 3 minutes. Add the minced garlic, dried thyme, salt, and pepper to the pot and cook for 1 more minute.
Create a roux which will become the thickening base of you soup. Do this by adding the flour to the pot and mixing to combine it with the butter, vegetables, and spice. Cook for three minutes while frequently stirring. Next, slowly pour the strained oyster juice into the pot while continuously stirring. The mixture will become thick and bubbly.
Once your roux is made, slowly add the milk and half-and-half to the pot while continuously stirring so that clumps don't form.
Heat the soup over medium heat until it's hot and steamy, but not beginning to bubble. Cook the soup for 15-20 minutes or until the vegetables are soft. Do not let the soup simmer or boil as this will cause the milk to curdle.
Once the soup is hot add the oysters to the soup and heat for 2-3 minutes or until the oysters are cooked. When the oysters are ready to eat their edges will begin to curl.
Serve with your favorite oyster stew garnishes. I personally prefer a pad of butter, a splash of tabasco, oyster crackers, fresh parsley, and a touch of lemon. My husband is a butter, tabasco, and Old Bay kind of guy.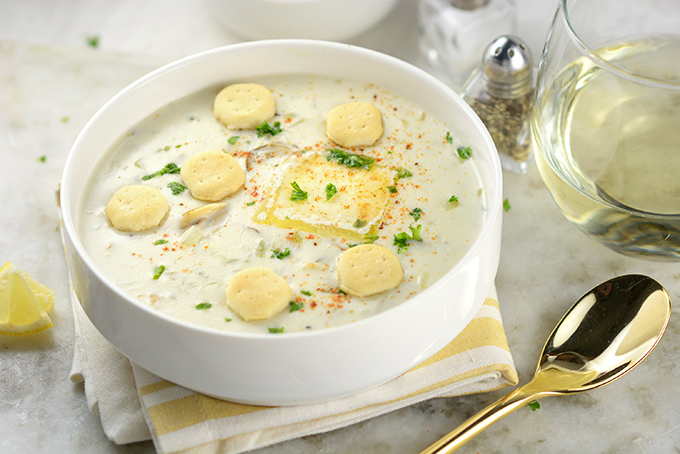 You and your Valentine may also enjoy…