Honey Bear Dinner Rolls with Honey Butter – Nothing says "I love you" like fresh baked bread – especially when it's bear-shaped and smothered in honey butter!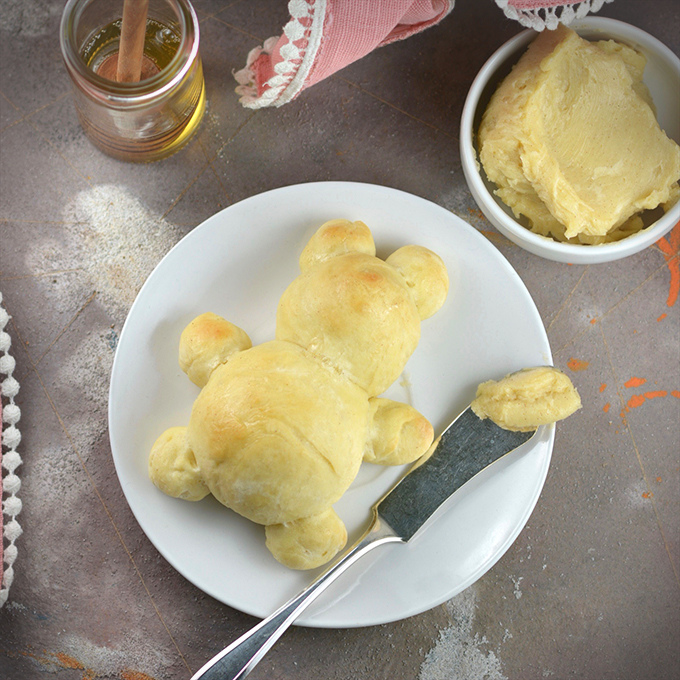 When I was in high school I wasn't great with the guys. I got really good grades, worked after school, and was just a touch shy. You know, your typical nerd.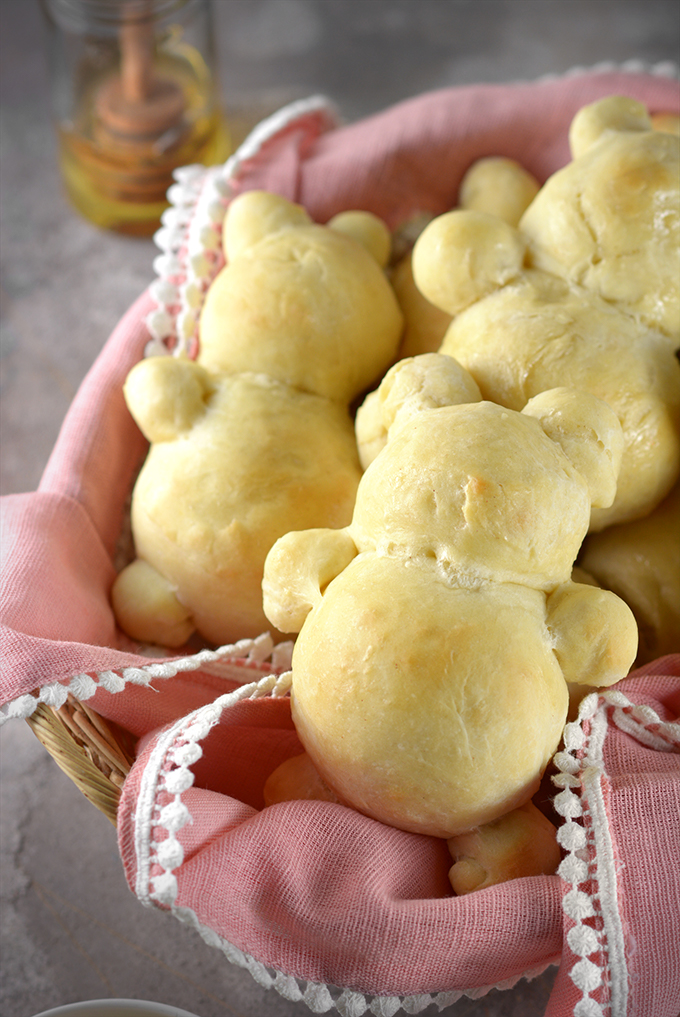 On Valentine's Day the outgoing pretty girls would get in a tizzy about all the attention they would be getting from the boys. Me, I got excited about the bear-shaped bread with honey butter that one of my classmate's mom brought into school.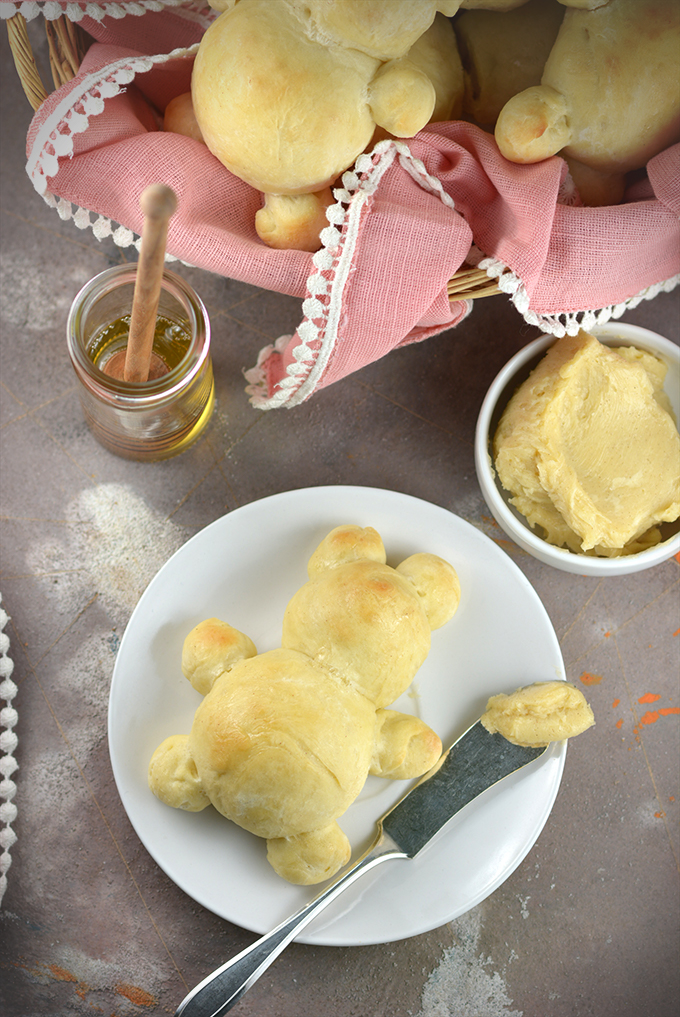 Seriously guys, I graduated high school in '02 and I haven't forgotten those lovely bears! That comforting smell of fresh baked bread smothered with melted sweet butter… I did eventually, finally, get a boyfriend my senior year. I have to say though, those bears are still my favorite high school Valentine's Day memory!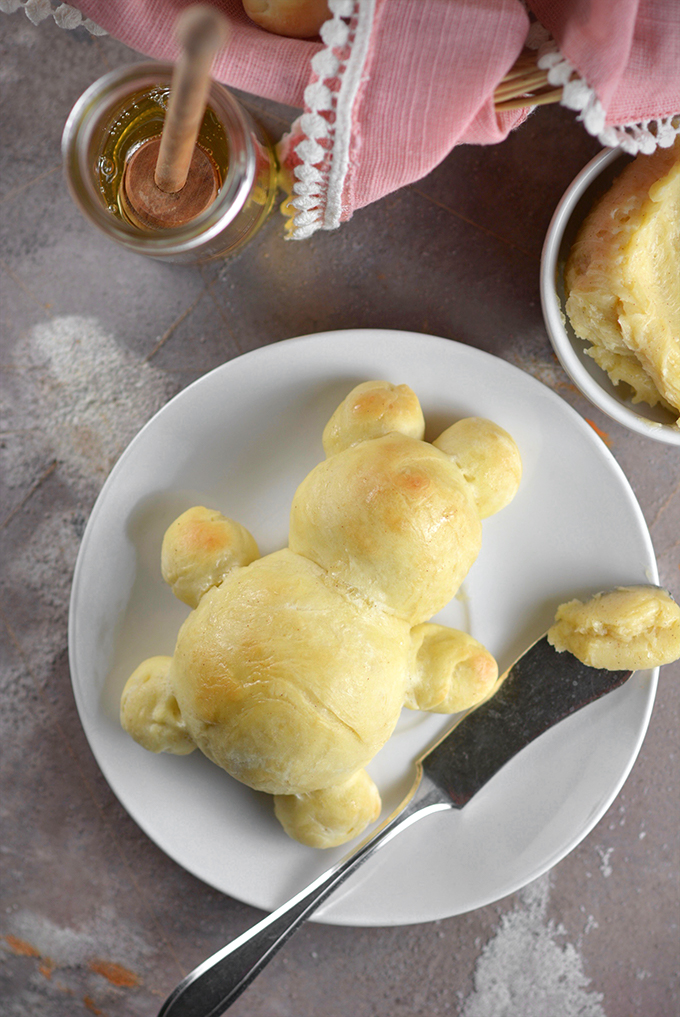 This year I thought I'd start making comforting bear-shaped Valentine's memories with my kids by recreating this recipe. It was a huge hit! Nothing says "I love you" like fresh baked bread! FYI- This recipe is also perfect for snow days!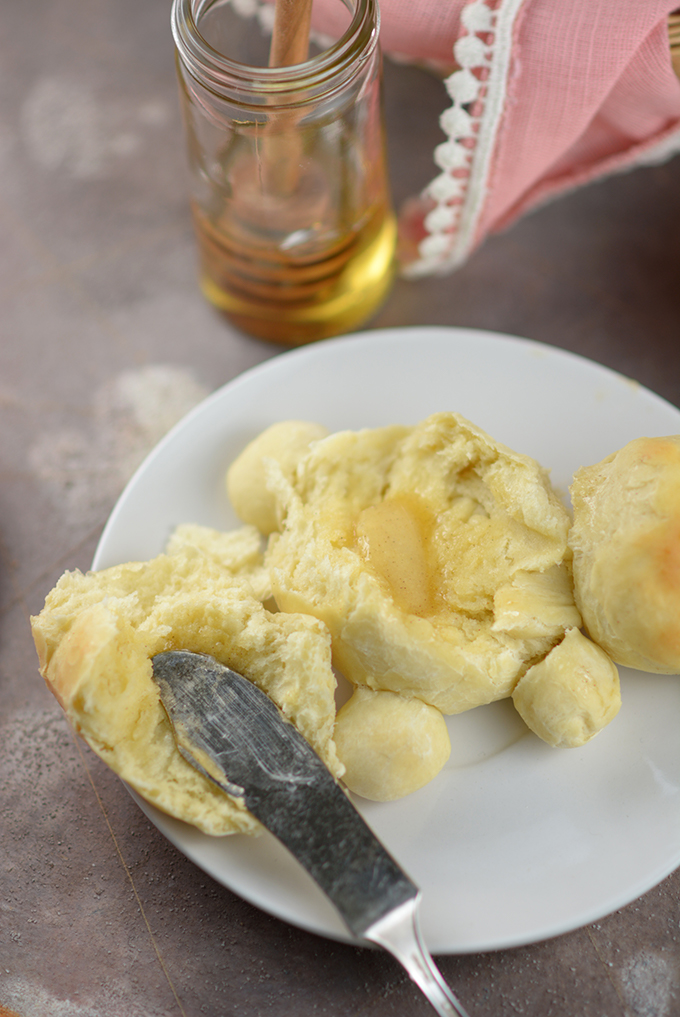 Baking with yeast can be a little intimidating if you don't have much experience. Here are some process photos to help you along…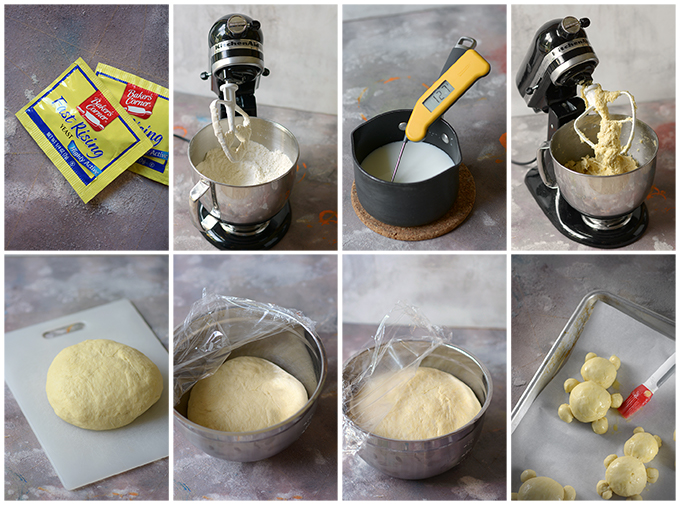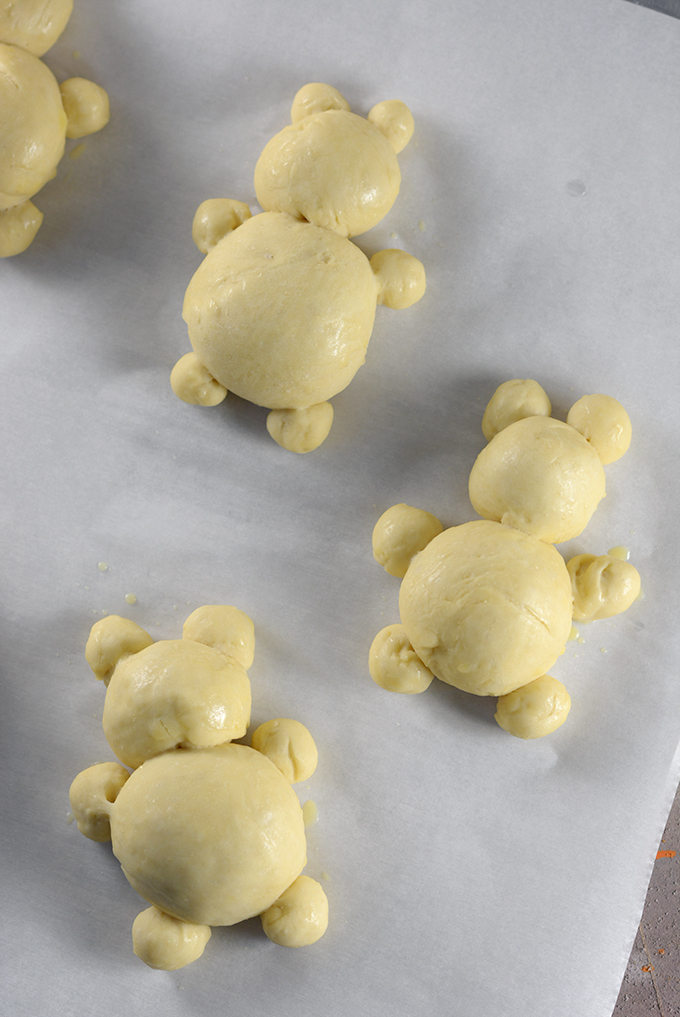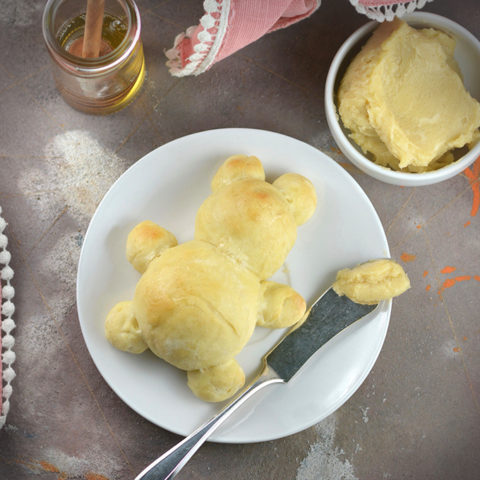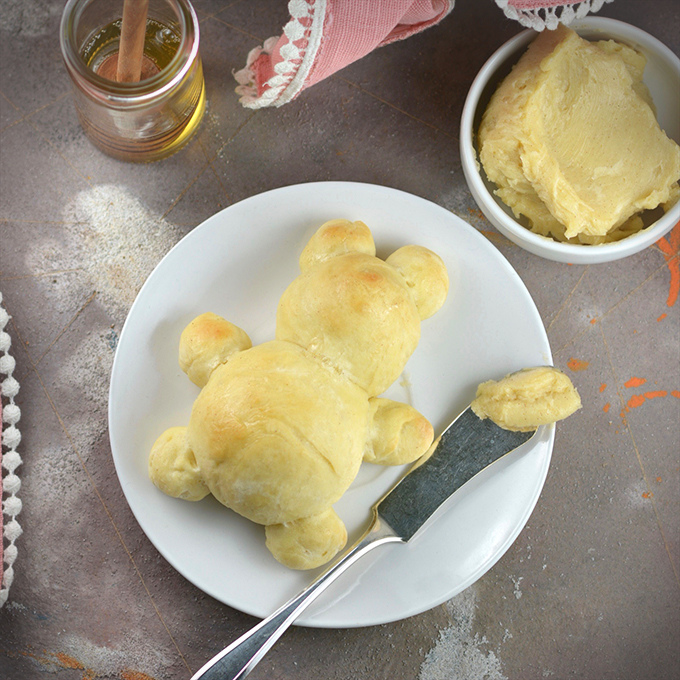 Honey Bear Dinner Rolls with Honey Butter
Rising Time:
1 hour
30 minutes
Total Time:
2 hours
28 minutes
Nothing says "I love you" like fresh baked bread - especially when it's bear-shaped and smothered in honey butter!
Ingredients
Honey Bear Dinner Rolls
7 1/2 C flour
1/3 C granulated sugar
2 packages fast acting dry yeast
2 tsp salt
6 Tbsp salted butter at room temperature
1 C milk
1 C water
2 large eggs
3 Tbsp melted butter
Honey Cinnamon Butter
1/2 lb (2 sticks) salted butter at room temperature
3 Tbsp honey
2 Tbsp powdered sugar
1/4 tsp cinnamon
1/8 tsp vanilla extract
Instructions
Honey Bear Dinner Rolls
In a large mixing bowl, using an electric mixer on low, combine the flour, granulated sugar, fast acting yeast, salt, and butter until it is evenly combined.
In a saucepan over medium heat, heat the milk and the water. Using a thermometer bring it to a temperature between 120ºF and 130ºF.
Using an electric mixer on low, combine the heated milk mixture and 2 eggs with the dry ingredients. Mix until just combined and then increase the speed to medium and mix for 1 more minute. Note that this work best with a standing mixer using the white coated beater.
Lightly flour a clean work surface and knead your dough for 5 minutes. Sprinkle more flour to your surface as needed to prevent sticking.
Lightly grease the sides of a large bowl and place the dough inside. Cover with plastic wrap and let it rest in a warm place undisturbed for about 1 hour.
Your dough is ready to start forming into bears once it is double in size. At this point gently punch your dough before removing from the bowl in order to deflate it. Place the dough on a lightly floured surface and divide 16 ways. Line 3 light colored baking sheets with parchment paper.
Form a bear from each of the 16 pieces of dough you divided out. Rolls a large ball for his belly and a slightly smaller one for his head. Finally use 6 tiny balls of dough to form the legs, arms and ears. If the dough pieces are having difficulty sticking together work the dough between your hands to warm and soften it and then it should stick.
Once your bears are all formed melt 3 Tbsp of butter. Lightly brush each bear with butter using a pastry brush.
Allow the bears to rise undisturbed in a warm part of your home for 30 more minutes.
Preheat oven to 375ºF. Bake for 12-14 minutes, or until golden brown.
Serve warm with honey butter.
Honey Cinnamon Butter
Combine all of the ingredients in a mixing bowl. Whip using a mixer on medium for 3-4 minutes until smooth.
For best results serve at room temperature. The butter can be stored in the refrigerator for up to a week, or in the freezer for up to 3 months.
Nutrition Information:
Yield:

16
Serving Size:

1
Amount Per Serving:
Calories:

422
Total Fat:

19g
Saturated Fat:

12g
Trans Fat:

1g
Unsaturated Fat:

6g
Cholesterol:

72mg
Sodium:

452mg
Carbohydrates:

54g
Fiber:

2g
Sugar:

9g
Protein:

8g
Nutrition values are based on standard nutrient data of recipe ingredients and should be viewed as an approximation only.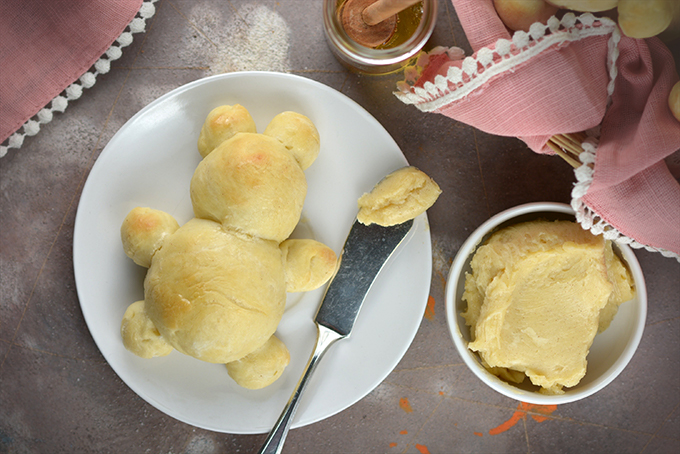 More baking inspiration…