Phyllo Wrapped French Baked Brie – Steal the show with a dose of French flair at your next party when you show up with this rich, savory hors d' oeuvre!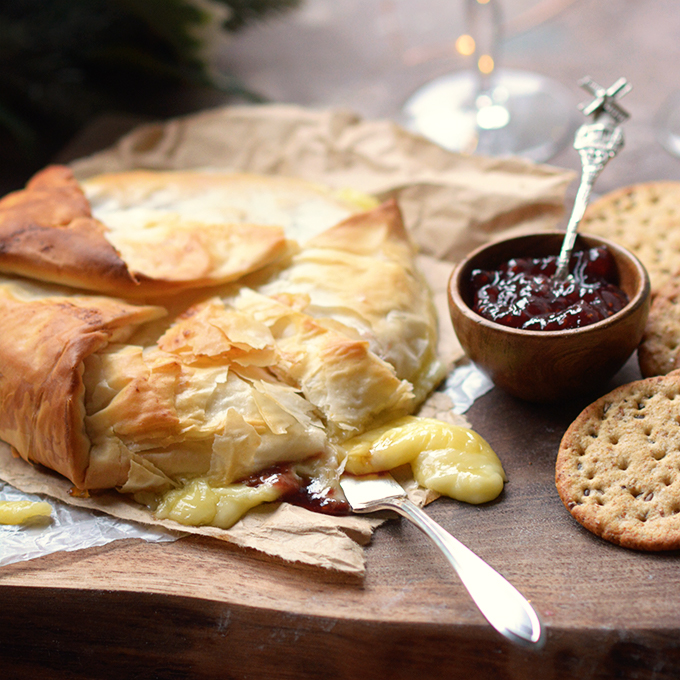 While I was growing up my family's American holidays always had a touch of French influence. My grandad's family was French and his wife, my Nana, embraced the background she married into with her cooking.
Around the time she was establishing her home and her kitchen, she was taking tips from the best via her first edition copy of Julia Child's Mastering the Art of French Cooking. A French service was finding it's way onto many dinner tables of many normal American homes around this time, and I think this was grand!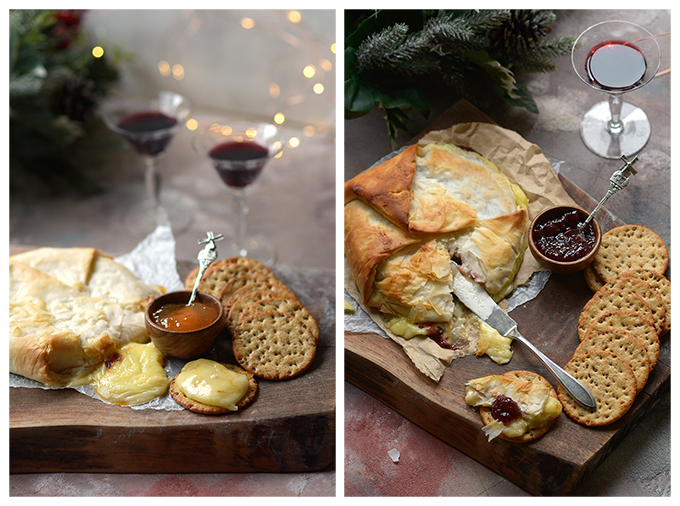 Now, many years later, my family is enjoying the tasty benefits of the blending of family heritage and a great cookbook. Through the years my family has embraced more than just French cooking techniques in every day life. We also eat at what most Americans would consider an unreasonable hour. I think that's because we always serve rich hors d'oeuvres at the start of our parties. Let me point out that they are never called appetizers in my family, always hors d' oeuvres. I never realized that we were the exception until I was around 25 years old…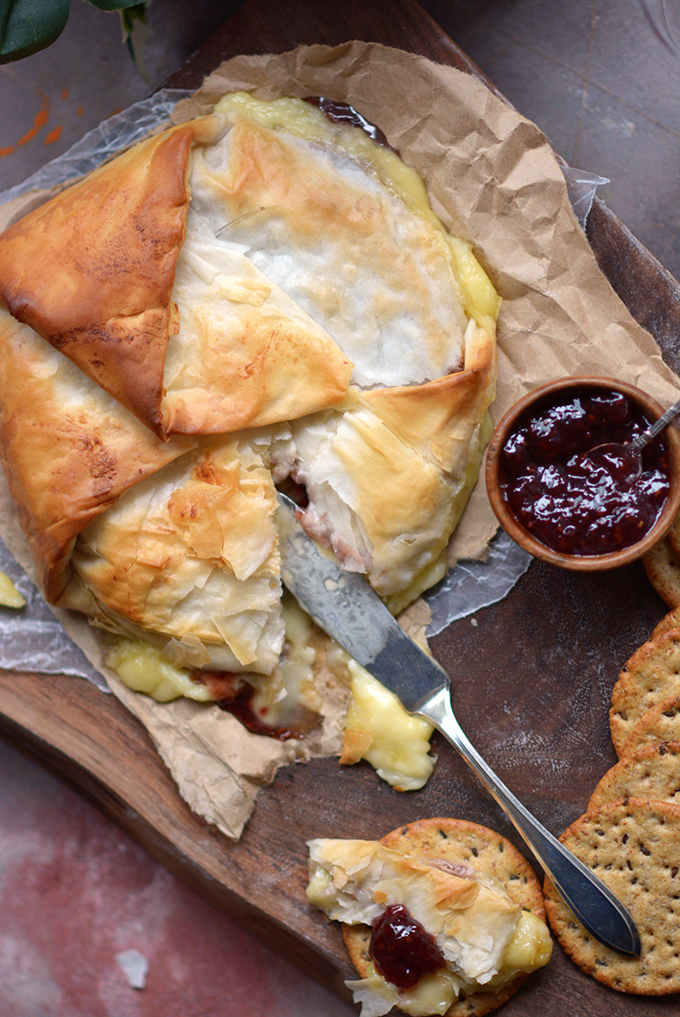 I don't remember a Christmas during which cheese wasn't an important part of the night. There would always be an assortment along with the mainstays of Boursin and brie.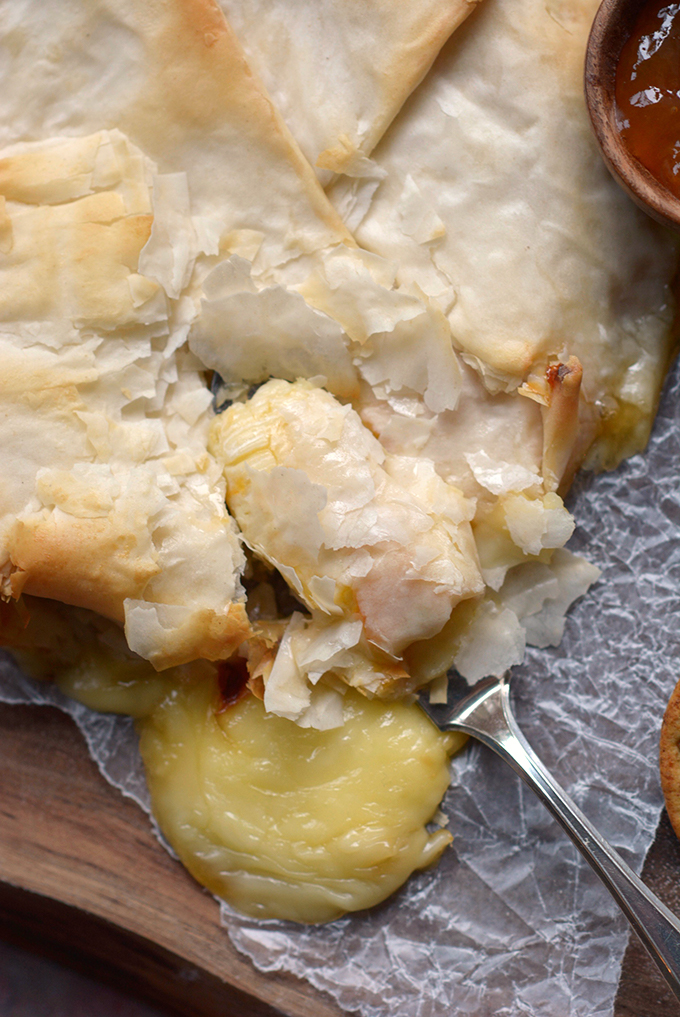 My first memory of noshing on brie was when I was a 4-year-old. I remember having an ear infection that day, but that didn't keep me from eating so much Boursin and brie that I barfed all over the back of my parent's brown Chrysler station wagon. After that they wouldn't let me take as much cheese as I wanted at parties (quite tragic). They also ended up having to buy a new car (not so tragic). All to say, it was an unfortunate course of events.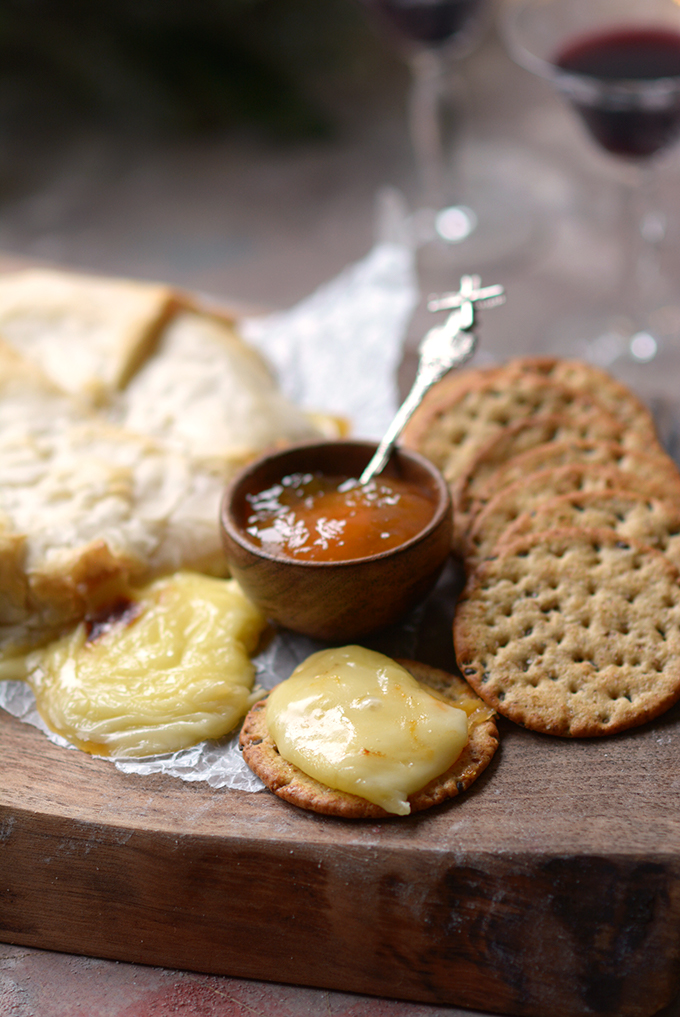 Now I gently smack my own kids' hands when they try to sneak their way onto the Christmas cheese plate too many times. We really don't want to recreate the events of 1988. Truthfully, I don't want to share too much cheese with them. Yes, I'm a selfish Mom. But I ask you, can kids really, truly enjoy fine cheeses for what they are?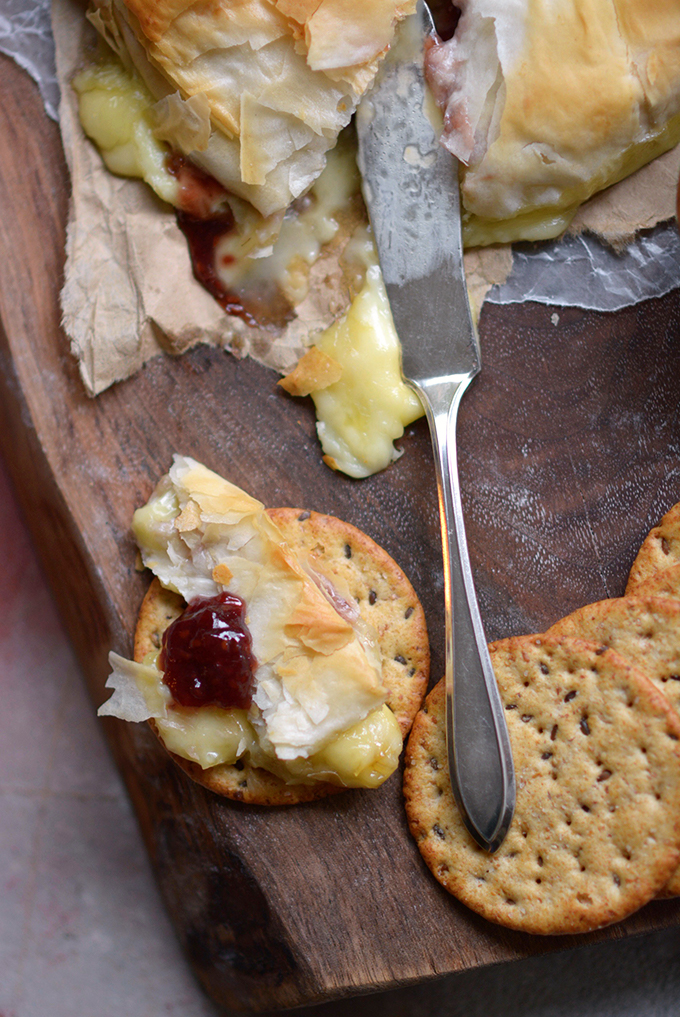 One thing I have wanted to keep recreating is my Phyllo Wrapped French Baked Brie. It has a warm and creamy center with a flaky and buttery shell. Wrapping your favorite jam in with the cheese is even more delicious. Spread this hors d' oeuvres (not appetizer) over a crisp cracker or dip a baguette right in for a rich way to celebrate with those you love. It's so good that you won't want to share with the kids!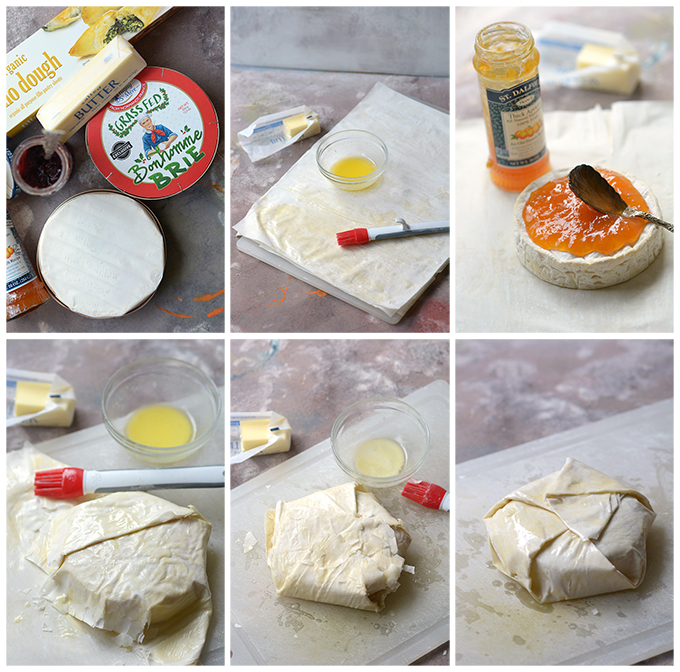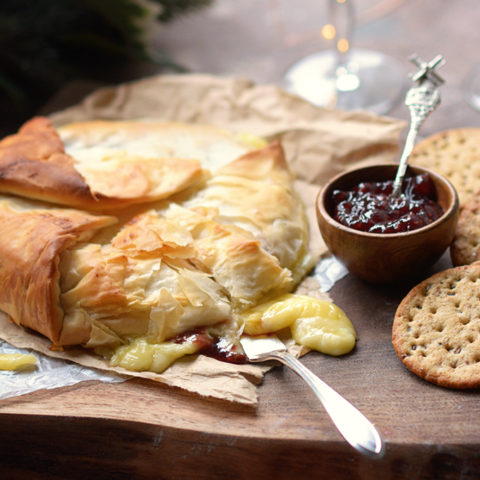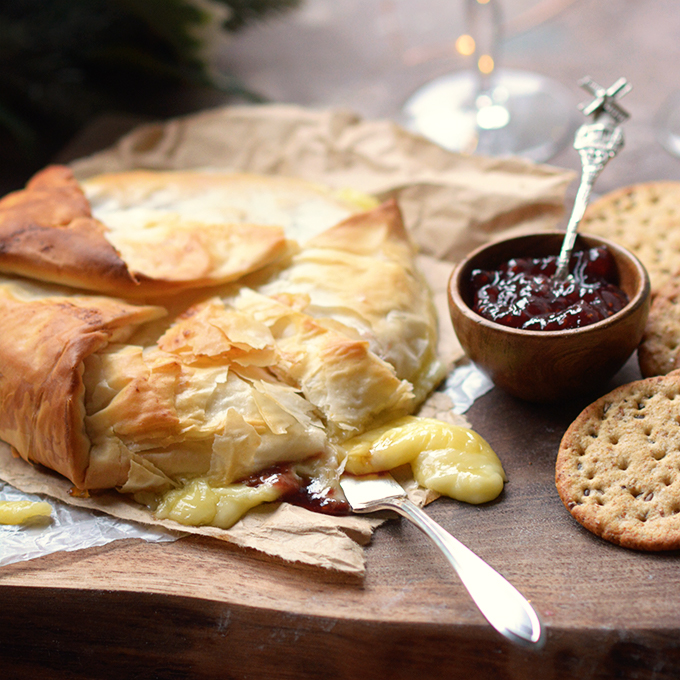 Phyllo Wrapped French Baked Brie
Steal the show with a dose of French flair at your next party when you show up with this rich, savory hors d' oeuvre!
Ingredients
1 12 oz French brie wheel
4 sheets of thawed phyllo pastry*
4 Tbsp melted butter
1/3 C of St. Dalfour Preserves**
1 Tbsp honey (optional)
1 Tbsp fresh chopped nuts (optional)
Instructions
Preheat oven to 400ºF. Thaw the phyllo pastry overnight in the refrigerator.
Melt 4 Tbsp butter.
Place one sheet of phyllo on a work surface and lightly coat with butter using a pastry brush. Place a second sheet over the first sheet along with more butter. Next a third with more butter. Finally add a fourth sheet of phyllo, but don't butter this one. Work quickly so that the phyllo doesn't dry out and become difficult to work with.
Remove the brie from it's wrapping and place it into the middle of the phyllo. Measure 1/3 C of preserves and place it on top of the brie.
Wrap the brie by folding the phyllo onto it while coating the tops of the folds with butter. Be sure to check out my photo directions within the blog post.
Bake in a preheated oven 15-20 minutes or until golden brown.
Allow to sit for 3-5 minutes. Optionally garnish with a sprinkle of honey and chopped nuts. Serve hot with crackers or a sliced baguette and additional jam as desired.
Notes
*This can be found in the freezer section of the grocery store
** Apricot and a raspberry preserves are pictured in this blog post. I perfer St Dalfour's preserves because they are naturally sweetened and thick.

You may also enjoy…