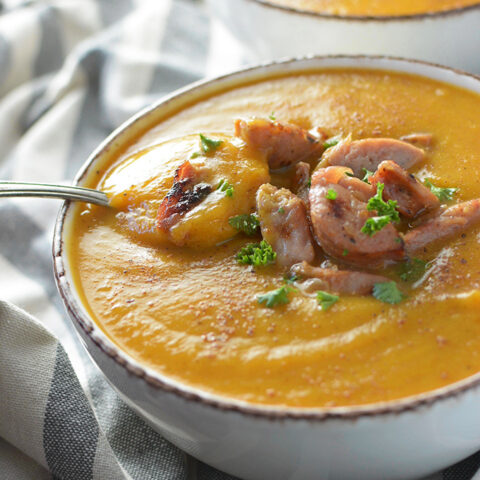 Butternut Squash Apple Sausage Soup
Yield: 4 servings

Prep Time: 15 minutes

Cook Time: 40 minutes

Total Time: 55 minutes

Your little butternuts will love this hot, comforting, and delicious seasonal soup on a chilly fall day!
Ingredients
6-7 C cubed butternut squash
12 oz package uncured chicken apple sausage
1 Tbsp olive oil
1 C coarsely chopped carrots
1/3 C coarsely chopped celery
1 C coarsely chopped sweet onion
1/2 tsp dried garlic granules
1/8 tsp ground nutmeg
1/2 tsp ground black pepper
4 C low-sodium chicken broth
salt to taste
Instructions
Cut the apple sausage into bite-sized pieces, brown in the pot to be used for making soup, and then set aside.
Chop carrots, celery, and onions and place them with the oil into the uncleaned pot that the apple sausage was cooked in. Sauté on medium-low heat until the onions are translucent without browning (about 5 minutes).
Add butternut squash, garlic, nutmeg, and pepper to the pot. Stir and sauté 1 minute before adding chicken broth. Refer to my "How To Cut a Butternut Squash" post for prepping your butternut squash.
Turn heat up to high, bring to a boil, and then reduce heat to medium-low to simmer. Simmer until the butternut squash is soft when pierced with a fork and beginning to fall apart.
Purée soup with an immersion blender until smooth. If you don't have an immersion blender, this can be done in a regular blender (which is more of a hassle).
Reheat sausage in a small sauté pan or the microwave. Serve soup hot, topped with apple chicken sausage, and garnished with a pinch of nutmeg.

Refer to my How To Cut a Butternut Squash for an awesome KITCHEN HACK that makes cutting your butternut less of a hassle.