This will be the last summer squash recipe of the season… I promise! The first day of fall, however, isn't until September 23rd, and this recipe is too wonderful and simple not to share. I've mentioned before that my family has been getting tired of the weekly, sometimes triweekly, doses of summer squash, so I've been trying to bring more excitement to this common vegetable.
For today's recipe I used the eight ball variety of zucchini… No, sadly, this dish won't give you vague and wavering inclinations of your future if you ask it, but it does taste really good! I haven't used this variety of summer squash on the blog yet, so I'm excited to add it to the Simple Seasonal squash repertoire. It tastes fairly similar to traditional green zucchini and can be prepared in much the same way, but it has slightly nutty and buttery hints when it's cooked and is far more fun to stuff. When selecting 8 ball zucchini, the smaller specimens are more tender and sweet, and you don't want a fruit (yes, zucchini is technically a fruit) that's more than 4 inches in diameter as the seeds begin to thicken and become barky and unpleasant to eat. For today's recipe I used squash that was closer to 4 inches in diameter, as they allowed for more stuffing space, and I was removing the seeds anyway. It's a great way to use up 8 ball zucchini that lingered in the garden a little too long.
This recipe is technically for squash bowls. It's not a stuffing recipe per se, which I think makes the zucchini all the more delightful to eat. After your fruit is hollowed out drizzle the inside with olive oil, season with salt and pepper to taste (and maybe some hot pepper flakes if that's how you roll), and then sprinkle with parmesan. Pop it in the oven while you prepare your orzo, and when you pull it out it will be tender, sweet, well seasoned, and not in the least bit soggy, as sometimes happens with stuffed squash.
While your zucchini bowls are roasting away, simply boil orzo per package instructions, mix in pesto, and garnish with a few pine nuts and grated parmesan. I made this recipe on a school/soccer night, so I opted for already made pesto; store-bought or your own frozen stash both work. As pictured, I served this dish as a satisfying vegetarian meal. If you like meat with every meal, it's also good with grilled, cubed chicken mixed in with the orzo, or with grilled shrimp. There was no hassle involved and I was able to wash dishes as I went and answer some e-mails. Even though the squash takes a little while to cook, there's very little prep involved with this dish. That's my kind of weeknight dinner! Also, because of the dramatic presentation, it's a low stress way to impress your next dinner guests.
If you're looking for more squashy inspiration, you might enjoy these recipes: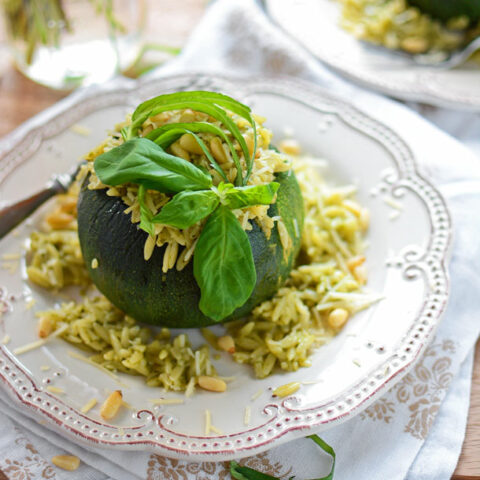 Pesto Orzo Stuffed Squash Bowls
Yield: 4

Prep Time: 15 minutes

Cook Time: 45 minutes

Total Time: 1 hour
Ingredients
8 Ball Zucchini Bowls
4 4" round, 8 ball zucchinis
1 Tbsp olive oil
salt, pepper, hot pepper flakes to taste
2 Tbs parmesan cheese
Orzo Stuffing
1 1/2 C uncooked orzo
large pot of water
2 Tbsp olive oil
1 tsp salt
3/4 C pesto
2 Tbsp pine nuts
2 Tbsp parmesan cheese
Instructions
Preheat your oven to 375ºF.
Cut the tops off of four 8 ball zucchinis. Using a spoon, scrape out the zucchini, leaving approximately 1/4 inch of the zucchini flesh behind.
Drizzle the insides of the squash bowl with olive oil, and turn them to evenly coat. Next, season with salt, pepper, and hot pepper flakes (if desired), and sprinkle with fresh parmesan cheese.
Place the 8 ball zucchini bowls into a glass baking dish and bake at 375º F for 40-45 minutes. They are finished when the flesh of the zucchini becomes soft, but the bowls still hold their shape.
While the zucchini bowls are baking, make your pesto orzo. Cook 1 1/2 cups of orzo per package directions. Before draining the pasta, reserve about 1 cup of the pasta water. Drain, but do not rinse the orzo, as the starch left behind will make for a smoother, creamier pasta.
After draining, gently combine the pasta with pesto. Because I made this on a weeknight, I went for my favorite in-house made pesto from my local grocery store (shhh… don't tell!). If your pasta appears dry, drizzle in 2-3 Tbsp of pasta water at a time until the dish reaches your desired consistency.
Finally, scoop the pesto orzo into the cooked zucchini bowls. Before serving, garnish with pine nuts and freshly grated parmesan. Serve immediately.