Zesty Potato and Pepper Hash – Feeding a crowd and need something simple and delicious? This hearty skillet dish satisfies those hungry bellies and can be adjusted for picky eaters.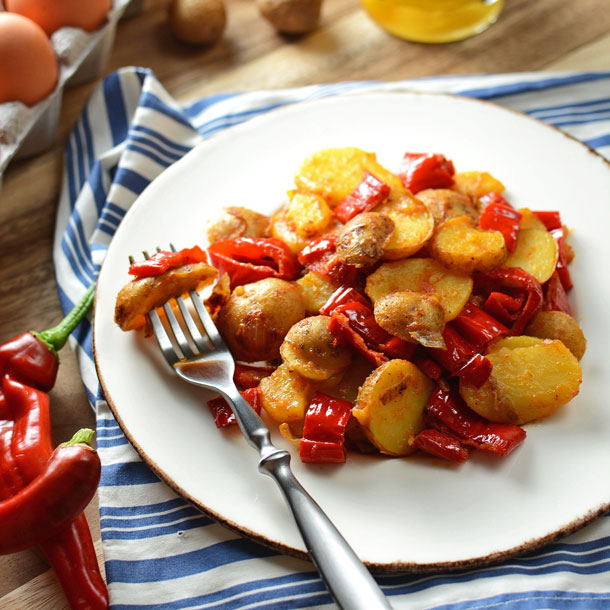 I'm off to the beach! Every September my husband and I pack our son and all of our beach gear into the car for week of sandy, fun, insanity with my family; that's parents, grandparents, and aunties.
If you ever find yourself on the US East Coast, mid-September is the best time of year for being a beach bum. It gets hot during the day but not oppressive, and the ocean water temperature is at its warmest, so there's no shockingly cold dips. The evenings are cool, crisp, and perfect for donning light sweaters and pedal pushers for a spontaneous late night ice cream outing or a walk on the beach.
Sadly, this is probably the last year that we'll be able to spend a whole September week at the shore because next year my little one starts kindergarten. I hear that the public schools frown upon absences for beach excursions… Maybe I'll get away with pulling him out for a long weekend next year. Yeah, I'm that mom.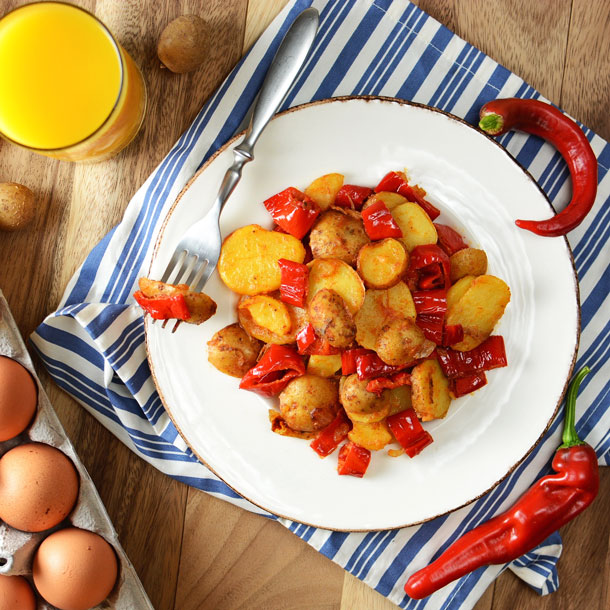 Along with our week at the beach with the WHOLE family comes 10 hungry mouths to feed. My mom, sister, and I end up cooking a couple of meals a day for the crew.
With 10 people, eating out gets pretty pricey, so it makes sense based on that. Also, as my dad says in his Philly accent, "why wood I wanna godo a rest'rant when yous' guys food is better?" Hmmm… I don't know how I feel about that. As much as I love to cook, it's nice to take a break and have someone cook for me every once in a while! That's why my mom and I keep it simple with our meal planning. No highbrow, gourmet meals this week (as much as I love that). Think classic, simple dishes that the whole family can get behind (including a couple of picky eaters who will remain unnamed). Things like meatballs, corn on the cob, and cod chowder. My favorite beach time meal, after our annual Maryland crab cake night, is all things brunch. I'm talking monkey bread, my sister's pancakes, local doughnuts, and a big breakfast of eggs, bacon, and potato hash.
Today's recipe for Zesty Potato and Pepper Hash is perfect for serving just such a crowd as mine. It's well seasoned, but you can give it as much heat with cayenne as you like to make it appeal to your particular group. The red frying peppers add a sweetness to the dish that no one can resist! Make it by the trough-full to fill lots of hungry bellies before an exhausting day of relaxing on the beach.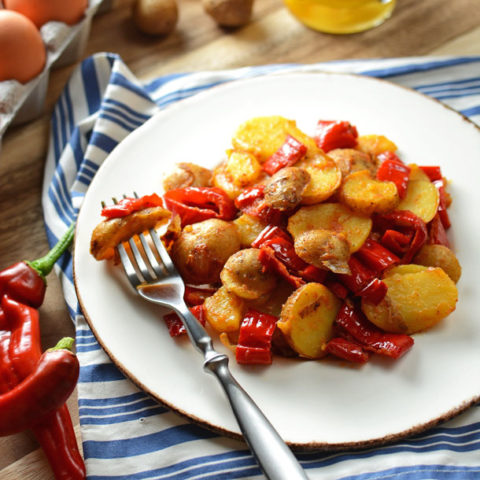 Zesty Potato and Pepper Hash
Yield: 5

Prep Time: 20 minutes

Cook Time: 30 minutes

Total Time: 50 minutes

Feeding a crowd and need something simple and delicious? Zesty potato and pepper hash satisfies those hungry bellies and can be adjusted for picky eaters.
Ingredients
1 1/2 lbs yellow new potatoes
2 Tbsp plus 1 tsp olive oil
1 lb nardello peppers or other sweet frying pepper
1/3 C yellow sweet onion, diced
1 tsp granulated garlic
1 tsp paprika
cayenne to taste*
1/2 tsp salt
Instructions
Clean your potatoes and place them into a pot of water and boil until they're just fork-tender. If the skins are cracking or the potato is beginning to fall apart, they've been over cooked. The time this takes will vary on the size of your potatoes. Mine took approximately 15 minutes. Once fork-tender, drain and set aside and allow to cool to the point that they can be handled for cutting.
While your potatoes are cooking, wash your sweet frying peppers and cut them into 1/2 inch thick rings. To remove the seeds, place them under running water and press the seeds out with a finger or a thumb.
Over medium-low heat, add olive oil to a large frying pan and cook the onions and peppers until they begin to soften, about 10 minutes.
While the peppers and onions are softening, slice your yellow potatoes about 1/8 inch thick.
Once the peppers have softened, add granulated garlic, paprika, cayenne and salt to the pan. Stir to combine and cook for 1 minute.
Turn the heat up to medium-high and add the remaining olive oil to the pan. Once hot, fold in your potatoes. Sauté until the potatoes are heated through and browning a little. Serve immediately.
Notes
*I used 1/8 tsp of cayenne for heat that that was somewhere between mild and medium.
Double or triple the recipe as desired based on the size of your hungry crowd. As written, this is a vegan recipe. If you are a love of cheese, this is also delicious when topped with freshly grated parm.