Cheddar Parmesan Scalloped Red Potatoes – Achieve scalloped potato perfection with this cheesy, lightly herbed recipe that elevates this staple holiday dish to new heights!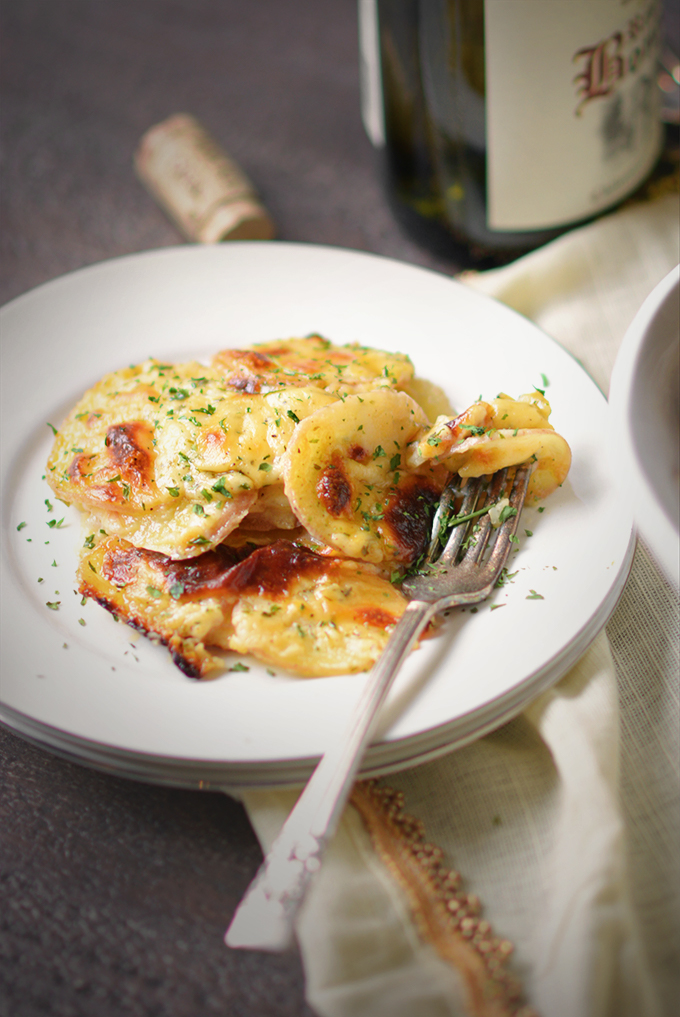 In the interest of transparency and honesty, I would have to say this… If, at Christmas or Easter dinner, there was a large multi-course meal, but no scalloped potatoes, I would sadly feel that the whole meal was somehow lacking. On the other hand, if just scalloped potatoes and dessert were served, I'd probably be okay with that.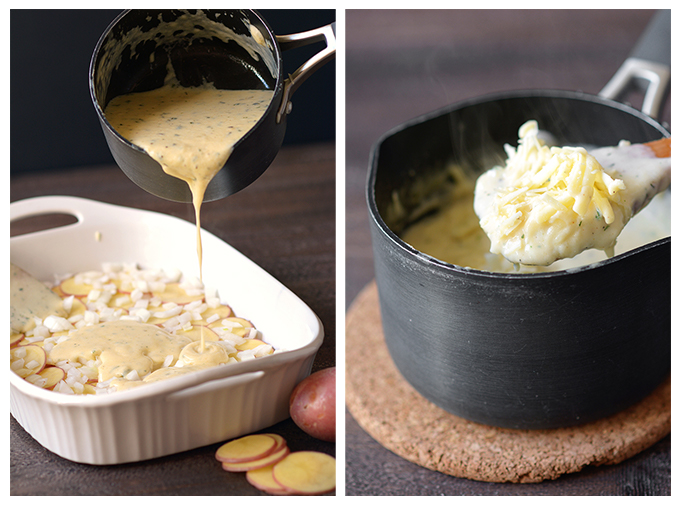 Perhaps this is something I should be a little ashamed of, but my love for creamy, cheesy potatoes runs deep. Plus, it's traditional in my family. Fortunately for me, I don't have any memory of not having scalloped potatoes at our family holiday meal. I guess that means I can go on living in my blissful addiction to holiday scalloped potatoes!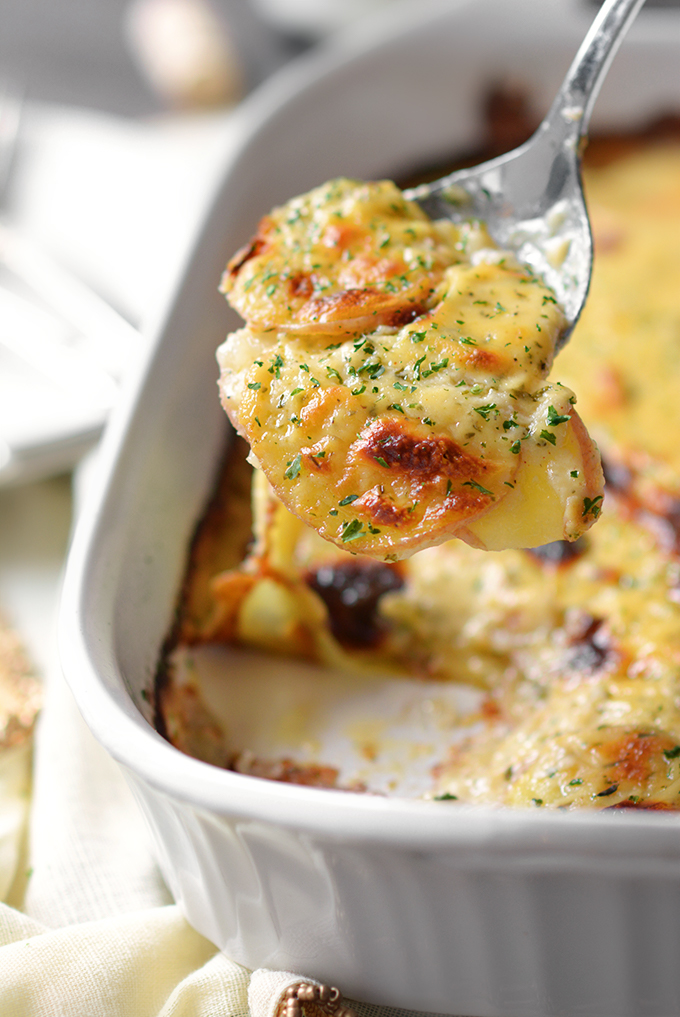 Over the last few weeks I've been experimenting on Mr. Simple Seasonal and the kids with today's recipe for Cheddar Parmesan Scalloped Red Potatoes. I like this recipe because in addition to being creamy and cheesy, it has a little bit of garlic and herbs in the sauce to make them even more flavorful, but not so much so as to scare off the kids.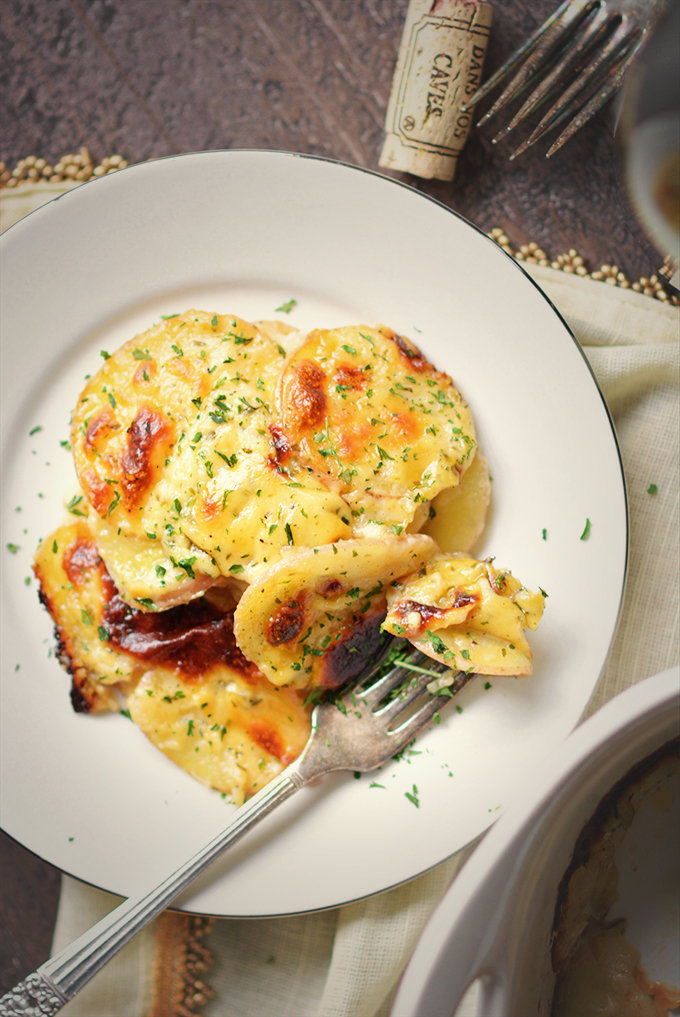 If you're more familiar with a box of Betty Crocker's prefab, highly-processed scalloped potatoes, don't be scared off by the "from scratch" element of this recipe. I'm guessing it's probably easier to make than you think and the reward is big when it comes to flavor. But be forewarned – if you do bring these potatoes to your family's holiday dinner, they'll probably ask you to bring these Cheddar Parmesan Scalloped Red Potatoes every year thereafter! 😉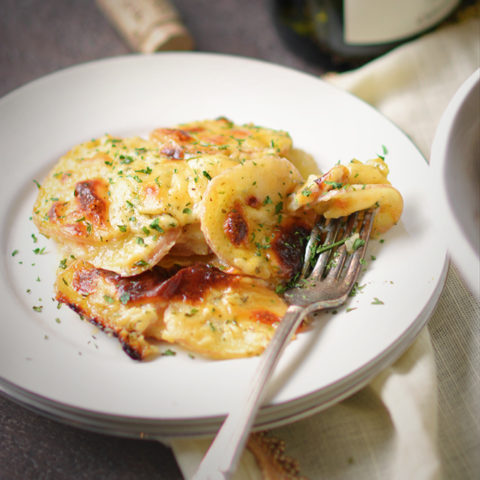 Cheddar Parmesan Scalloped Red Potatoes
Yield: 6 servings

Prep Time: 20 minutes

Cook Time: 50 minutes

Total Time: 1 hour 10 minutes

Achieve scalloped potato perfection with this cheesy, lightly herbed recipe that elevates this staple holiday dish to new heights!
Ingredients
1 1/2 lb red potatoes sliced thin (1/8 inch)*
3/4 C finely chopped sweet yellow onion
3 Tbsp butter
3 Tbsp flour
1 tsp dried parsley
1/2 tsp dried garlic granules
1/2 tsp dried thyme
1/2 tsp salt
1/8 tsp paprika
1/8 tsp pepper
2 C 2% milk
1 1/4 C shredded extra sharp cheddar cheese
2/3 C shredded fresh parmesan cheese
Instructions
Preheat oven to 400ºF.
Melt the butter in a sauce pan over medium heat until it is just beginning to bubble and then add the flour and the spices. Mix well and cook until the mixture has bubbled for one minute.
Reduce the heat to low and slowly add in the milk, stirring constantly, so that a sauce forms without lumps. Increase the heat to medium again and bring the mixture up to a gentle simmer for one minute or until it begins to thicken, then remove it from the heat.
Stir in the shredded cheddar and parmesan cheese until evenly combined.
Lightly grease a 9x13 pan with with butter or cooking spray and arrange half of the potatoes evenly along the bottom and then evenly sprinkle with all of the onions. Evenly coat the potatoes and onions with half of the creamy sauce. Next arrange the remainder of the potatoes and coat with the remainder of the creamy sauce.
Bake for 45-55 minutes, or until the sauce is bubbling and the potatoes are tender when pierced with a fork.
Notes
*The potatoes should ideally be sliced with a mandolin.

Some more dinner sides…