Snowman Popcorn Cups – Help the kiddies celebrate the magic of the holiday season with these festive and whimsical little craft-snack combos!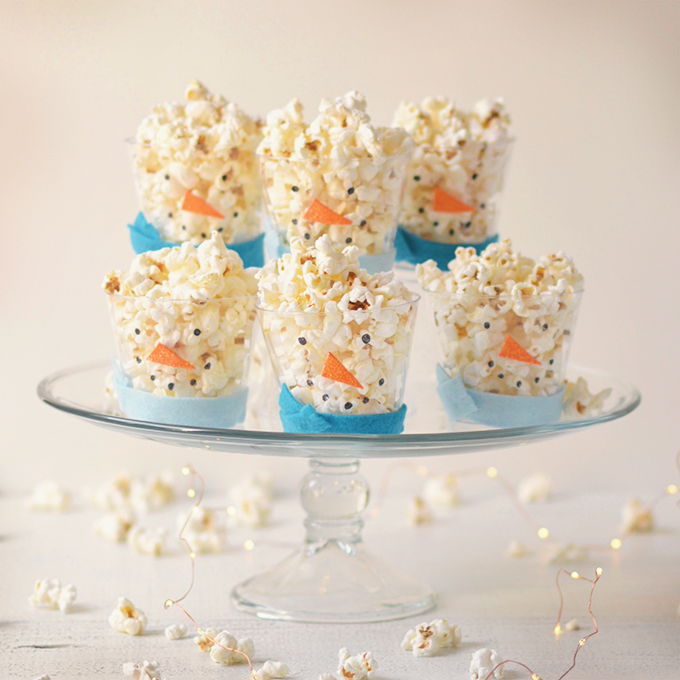 When I was a child one of my favorite days of the school year was the last day before winter break. All of the kids in the class would be buzzing with anticipation. The promise of the magic and the new toys that come with Christmas morning, not to mention a whole week of no school to play with all those gifts, brings far more excitement than any normal kid can contain!
On that day before Christmas break I think the teachers pretty much gave up on teaching anything. Instead, the day was filled with a holiday sing-along assembly, holiday-themed coloring pages, games, and – best of all – the CLASS PARTY!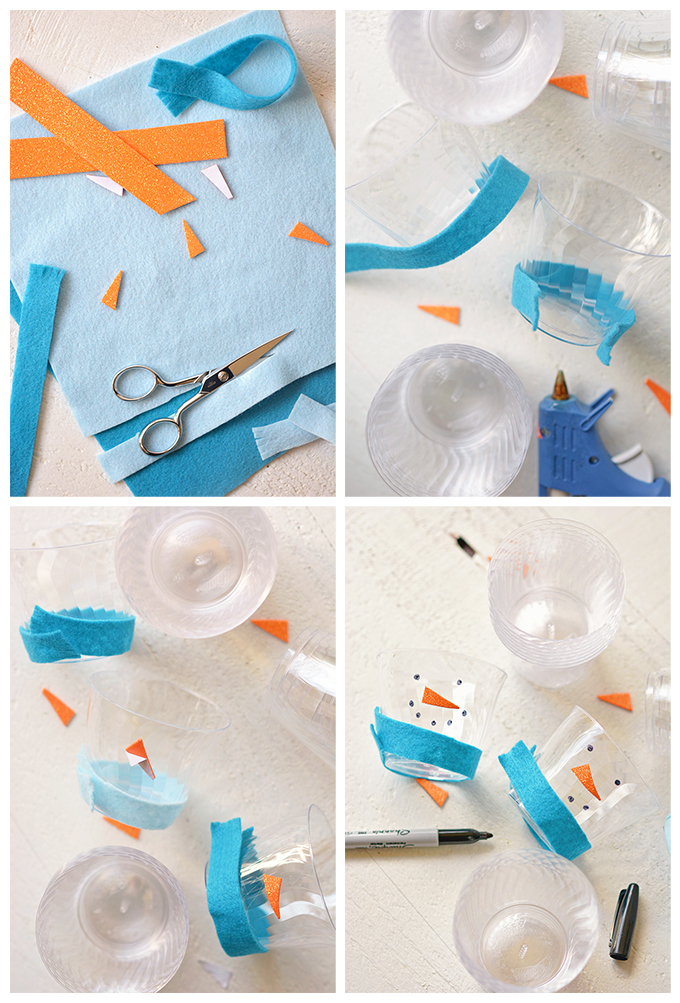 Now that I'm a boring old grown-up, I'm excited that I get live vicariously through my 1st-grader by catching some of the day-before-Christmas excitement by helping to throw his class holiday party! We're going to have games, crafts, cookie decorating, and a holiday spread of sorts with kid-friendly snacks.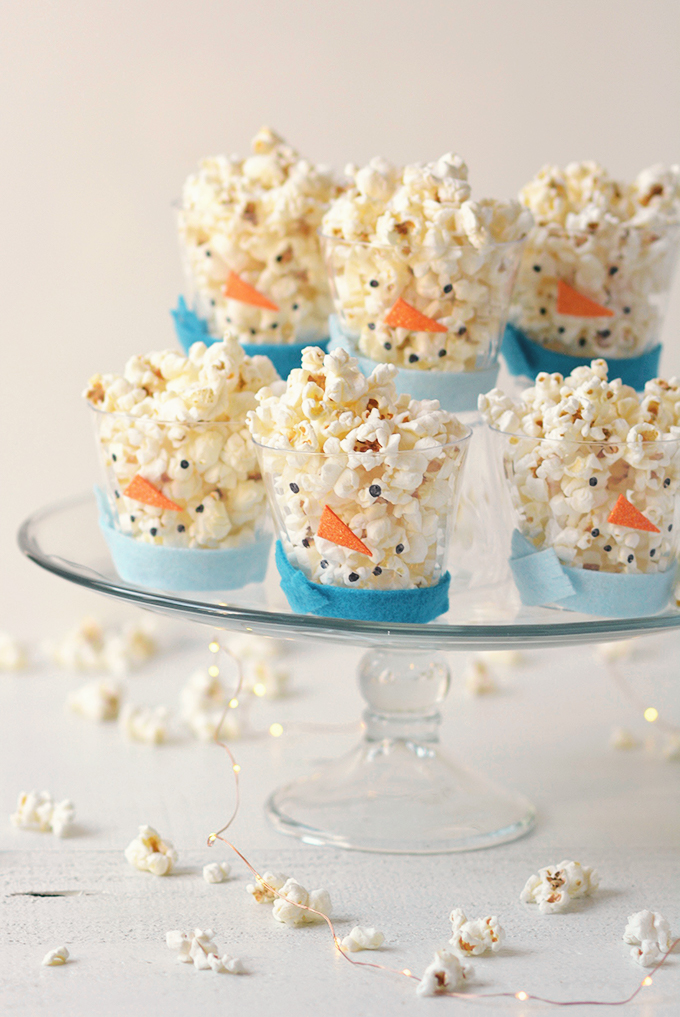 Back when I was a kid the school parties were Christmas themed, but now everything has to take on more of a winter theme to be sensitive to the different beliefs of the children at school. Which by the way, living in an urban and ethnically diverse area, I totally get. That's why I thought these Snowman Popcorn Cups would be perfect for my son's winter break party! If you want to make them too, then check out my photo directions above and the step-by-step directions below.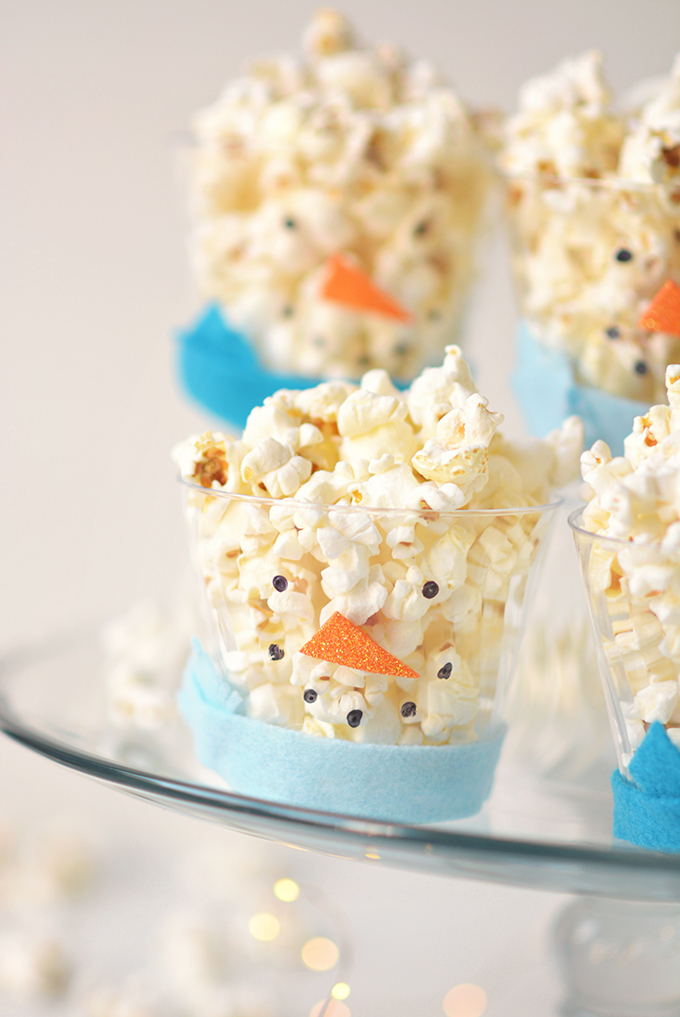 You can make the cup part of these snowman cups in advance and then pop your own popcorn or use store bought. That makes this cute snack easy to prepare in advance during the busy holiday season. Not to mention it's a tasty, yet healthy snack the kids will actually eat (to balance out all that holiday candy). And the best part? The whole craft/snack cost less than $10 to make for my son's entire class! The end result is festive and whimsical little Snowman Popcorn Cups that will bring some snowy magic to any kid's (or grown-up's) day!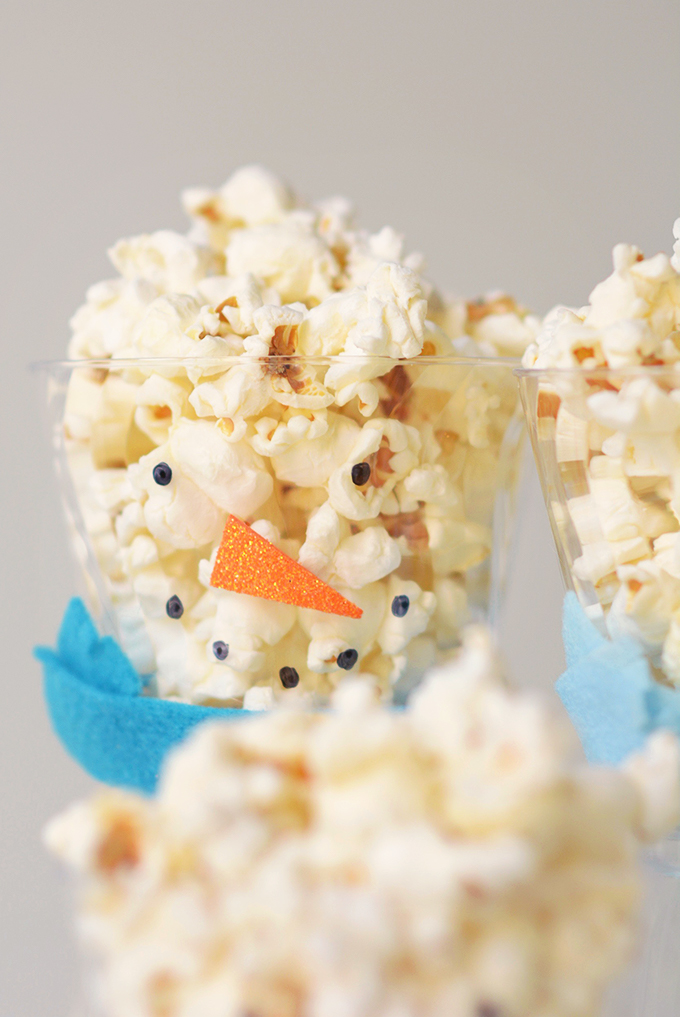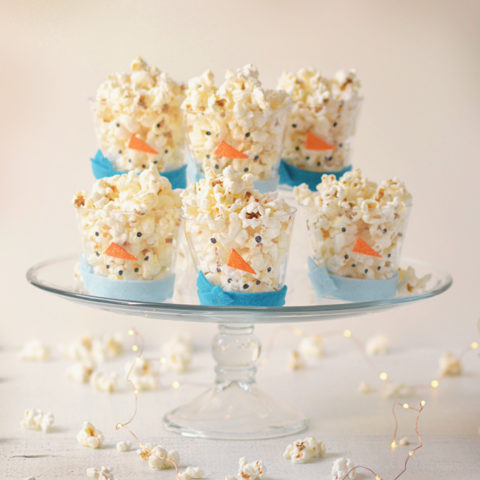 Snowman Popcorn Cups
Yield: 25

Prep Time: 1 hour

Total Time: 1 hour

Help the kiddies celebrate the magic of the holiday season with these festive and whimsical little craft-snack combos!
Ingredients
1 25-count pack of Chinet 9 oz. Cut Crystal Cups
2 pieces of 8x12 felt*
1 piece of 8x12 adhesive orange foam*
1 black sharpie marker
Hot glue gun and glue sticks
14 ounces of popped popcorn**
Instructions
Cut the felt into 25 1/2 inch thick strips along the narrower side of the felt, so that each strip is 8 inches long. Next, make 4 to 5 little cuts into each end of the felt strips to create the scarf fringe. Apply the scarves to cups by putting one dot of hot glue on bottom outer edge of the cup and center the scarf over it. Next add a couple more dots of glue around the bottom outer edge of the cup and work the scarf around the cup on either side until the two ends come together. Cross one end of the felt over the other and adhere with one last dot of glue. Continue until you have applied scarves to all 25 cups.
To make the carrot noses, cut little triangles out of the orange foam so that they are a little over 1/2 inch long. Remove the adhesive backing and stick a nose to each cup so that it is off center and right of where the scarf comes together. Continue until each snowman cup has a nose.
Using a black Sharpie Marker, draw two eyes and a smile on each snowman with dots, so that it looks like the snowman's face is made from rocks or coal.
Finally, fill each snowman with a heaping cup of popcorn and serve.
Notes
*Both the felt and the foam are inexpensively available by the piece at Michael's Craft Stores. Feel free to select any color you like for the felt scarves.
**1 14 oz family sized bag of popcorn will be enough popcorn for each person to have one heaping cup of popcorn. If you think your snackers might be hungry for seconds, I recommend having more popcorn available.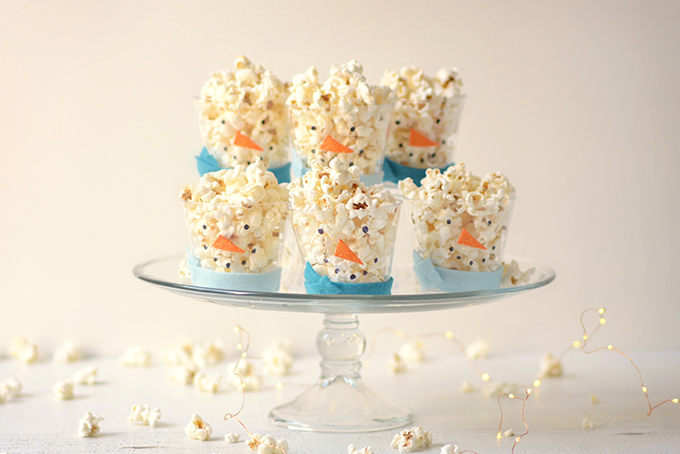 Consider filling these snowmen with my recipe for deliciously crunchy and sweet Homemade Kettle Corn: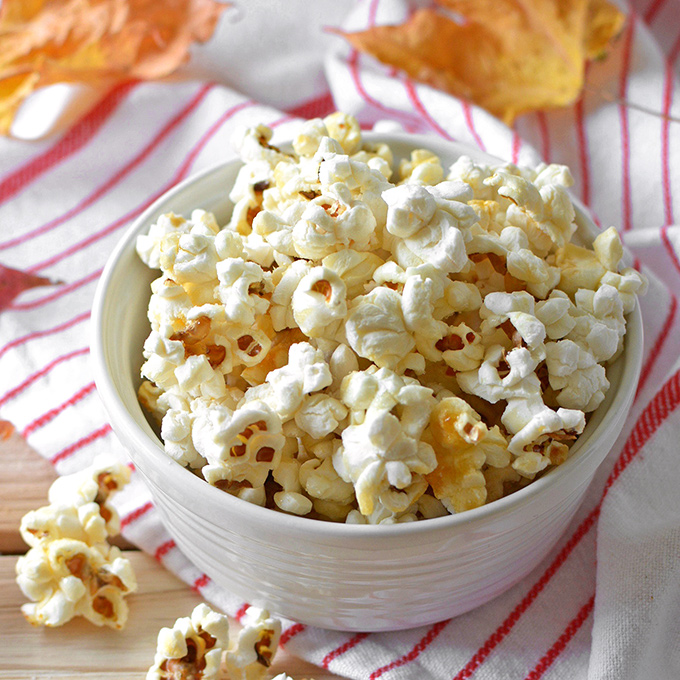 Some more fun ideas to do with the kids…