Today I got my first negative comment (gasp) on a social media site. Although true, it was pretty nit-picky, and I'm sorry the person wasted their precious personal time criticizing me, a stranger – especially since the person still "favorited" my recipe (odd). At the end of the day negativity always hurts a little, especially when you've worked hard at something, but it's a part of life. The more risks you take and the more you put yourself out there, the more you open yourself up to mistakes, failure, and criticism.
I'll never forget when I was a new nurse and I had a manager question wether I belonged in the position that I was in. At the time I was struggling with juggling a stressful new job that I loved and being a new mom. I was working hard, thought I was improving and growing in the position, but knew I could be better. Her criticism was devastating at first. I was someone who eventually did well at whatever I set my mind to and suddenly my best wasn't enough.
I tell this embarrassing story because eventually I pulled myself out of self-deprecation mode, acknowledged the true criticisms, chose not to believe what wasn't true, and figured out what I needed to do to be successful at my job. The whole experience made me a better nurse and person, and to this day I'm working at and loving the same job!
At the end of the day there is always room to grow. I'm a pretty good home cook, but I'm not a professional chef… My photography has been improving and I usually like it, but it never turns out exactly how I imagined it would be… and some days I still feel like I'm trying to find my writing voice as a blogger. The funny thing is, I'm okay with all of this, because if I didn't have things to improve on, it would mean that I wasn't taking any risks, which would mean that I wasn't doing anything with my life! If you've had similar experiences I'd love to hear what you learned from them.
On a lighter note, for today's recipe I have a Chopped Plum Salad and Ginger Miso Dressing. For the green, this salad is made with spicy mizuna. It's topped with white salad turnips, toasted almonds, and plums, and it's drizzled with an Asian full-bodied vinaigrette. It's a little spicy, a little sweet, with a touch of tart.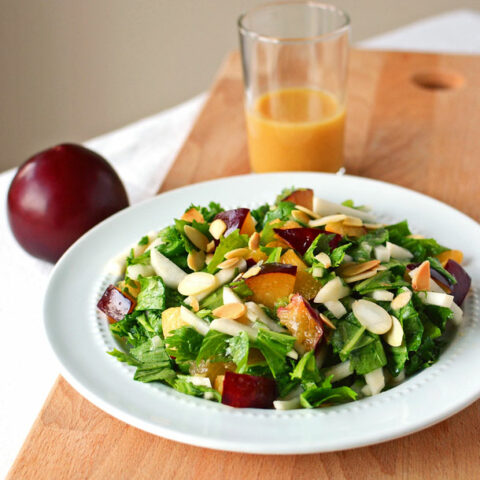 Chopped Plum Salad
Yield: 4

Prep Time: 20 minutes

Total Time: 20 minutes

This is not your grandma's salad! Chopped Plum Salad is a culinary exploration of complex flavors that form a wonderful harmony of spicy, sweet, and tart.
Ingredients
CHOPPED SALAD
1/3 C toasted sliced almonds
4 C mizuna, chopped
3 plums, diced
1/2 C white salad turnips, cut into little sticks
1/4 C green onions, finely diced
GINGER MISO DRESSING
2 Tbsp white miso
2 Tbsp rice vinegar
2 Tbsp vegetable oil
3/4 Tbsp ginger (fresh minced or frozen)
1/2 Tbsp water
2 tsp honey or 2 tsp agave
1 tsp sesame oil
Instructions
If your sliced almonds didn't come toasted, place them in a small skillet over medium-low heat and toast them for 3-5 minutes, stirring frequently, until they become golden-brown. Once toasted, set them aside in a dish to cool.
To make your dressing, place all of your ingredients into a jar or a bottle with a tightly fitting lid, shake well, and then set aside.
Next, prep your salad ingredients by chopping the mizuna, dicing the plums and green onions, and cutting the turnips into little sticks that are about half the size of a match stick. Toss all of the veg together in a bowl.
To serve, divide the greens among four plates, sprinkle with toasted almonds, and drizzle with Ginger Miso Dressing.