Let's be real here… I stayed up until 1 AM last night writing an elegant entry for this post, but as the clock approached one, in my half-asleepness, I accidentally clicked "Move to Trash," and then, thinking I was saving my entry, I clicked "delete permanently." After that, a pop-up window appeared asking if I was sure I wanted to delete my entry, and guess what… I clicked "yes!" I guess I should be embarrassed here for my stupidity, but I think everyone is allowed to do something really stupid from time-to-time when they're half asleep…
Recently, my husband helped me write a survey for Simple Seasonal that appears when people enter our website. BTW – thanks to everyone who has already filled it out! The survey basically asks about reader's cooking habits and what they'd like to see more of on the blog. These sort of things are really helpful because they help a blogger get a fresh perspective on their content and target it to what people want to read. I've learned a few things from the survey, like people really like Tex-Mex and Asian food. I also had one reader point out to me that I have very little lunch content on my blog.
As I was looking through my published content I realized that she couldn't be more right. I think I've been neglecting that meal because, since I've become a nurse, a lunch break has become a rarity for me (any nurses out there reading this, I feel your hunger pains). As a visiting nurse, I typically eat snacky foods in between house calls – things like veggie sticks and granola bars (I try to keep it healthy). This doesn't mean I don't like lunch. In reality, I'm jealous of all the lunch-break-having workers out there!
So… today I bring you a sandwich, well a pita actually. It's made from my Curried Sweet Pea Hummus, but if you don't have time for hummus making it would also be good with an "original" or "garlic" variety of store-bought hummus. It's quick and easy to throw together for work, vegetarian- and vegan-friendly, and oh, it's super healthy. Enjoy!
P.S- If you regularly visit my blog and you haven't already filled out my survey, I'd love to hear your feedback!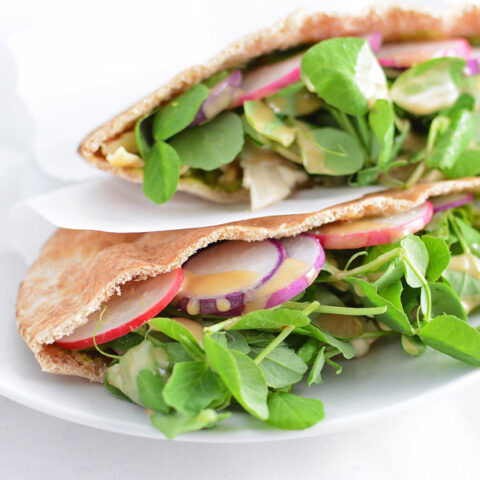 Spicy Spring Garden Pitas
Yield: 4

Prep Time: 30 minutes

Total Time: 30 minutes

Need a healthy lunch option that doesn't skimp on the flavor? Spicy Spring Garden Pitas will give you a nutritional boost to power your afternoon!
Ingredients
1 batch of Curried Sweet Pea Hummus
4 pitas
rotisserie chicken (optional - omit for vegan recipe)
2 C microgreens (I used pea shoots)
8 assorted radishes
2 Tbsp tahini
salt and pepper to taste
Instructions
Make 1 batch of Curried Sweet Pea Hummus. If you don't feel like making your own hummus you can always buy some at the store, but I doubt it will taste as good!
Wash and dry your microgreens and slice your radishes into thin slices.
Cut your pitas in half and gently pull them apart to create a pocket. Spread the hummus along the inside of the pitas. Cut a few pieces of meat off a rotisserie chicken and add it to your pita pockets. Omit this step if you follow a vegetarian or a vegan diet. The pitas will still be awesome!
Stuff each pita full of delicious microgreens and radish slices. Drizzle with tahini and season with salt and pepper to taste.