As of late I've been on a huge hummus kick. Ever since I read a recipe for Roasted Carrot Hummus on the blog Choosing Raw, I've become obsessed with blending chickpeas with various veggies and spices to create a whole new flavor profile with each batch.
I grew up in a mayo-obsessed home and, admittedly, I still love it, but once my husband and I decided to start eating healthier I realized I needed to moderate my affection for mayo. For a while I stopped eating sandwiches, because what is a sandwich without mayo? I tried some of the healthier "mayos" and was absolutely disgusted, and I thought my sandwich eating days were over. That is, until I started putting hummus on everything. It's totally different from mayo, so I don't fall into the comparison trap. It adds the flavor and smooth texture to sandwiches, pitas, and wraps that I was missing!
Today I have a recipe for Curried Sweet Pea Hummus. Really, it's lightly curried so that it's a little exciting, but you can still taste the sweetness of the peas and the flavor of whatever you decide to pair it with. I have it pictured with pita which makes a great appetizer or a snack. Later this week I'll be posting a recipe for Spicy Spring Garden Pitas.
If you love hummus as much as I do, you can also check out my recipe for Butternut Hummus!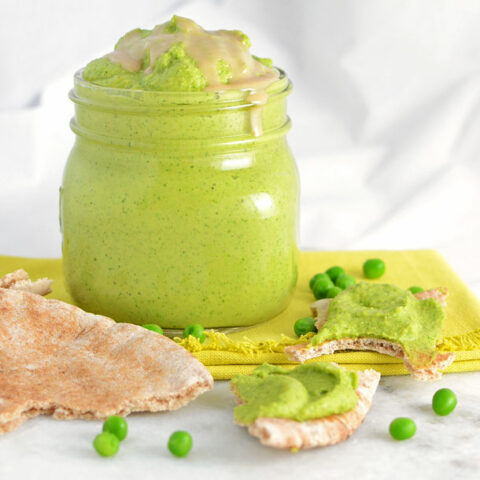 Curried Sweet Pea Hummus
Yield: 6

Prep Time: 10 minutes

Total Time: 10 minutes

Curried Sweet Pea Hummus is a mildly spicy & sweet alternative to mayo that's bursting with spring flavor, and it's so easy to make!
Ingredients
2 C peas (fresh or frozen thawed)
1 15 oz can garbanzo beans
1 C cilantro leaves
3 medium garlic cloves
1/8 C tahini
1/8 C olive oil
2 Tbsp plus 1 tsp lemon juice
2 Tbsp honey or agave
1 1/2 tsp cumin
3/4 tsp Himalayan pink salt
1/8 tsp cayenne (optional)
1/8 tsp black pepper
Instructions
Combine all of your ingredients in a food processor.
Process on the "puree" setting until your hummus is smooth.
Enjoy! So easy!