Before you click through thinking, "Oh, just another jar of classic strawberry jam," I just want to say that my jar of jam has become a delicious labor of love. Not to toot my own horn (well, maybe a little), but it's the result of numerous seasons and batches of experimenting with different sugars, pectins, strawberry ripeness, and lemon ratios to achieve what I feel is the ideal jar of strawberry jam. It might seem silly to put so much effort into jam, but trust me – when you open up a jar of the good stuff in the middle of January, it will all make sense…
For this recipe I started with the Strawberry Jam recipe that can be found in the Ball Blue Book, and over time deviated a little bit from the original. Ultimately, this delicious jam is all about the right ingredients.
1. Berries: First things first, you will need 2 quarts of amazing strawberries. Store-bought berries simply won't do, and it's best to get locally sourced berries in season. The ideal situation is to pick them yourself. You'll want to look for the just-ripe berries that are dark pink all the way through, but not bright red and at the peak of ripeness. Contrary to what may be expected, I find that these very ripe berries result in runny, way too sweet jam. On the flip side, under-ripe berries make jam that lacks any kind of luster (a.k.a. berries from the grocery store).
2. Sugar: My preference is organic cane sugar. I find it behaves better with my pectin, not to mention it's not chemically treated, and is subsequently, despite being sugar, a healthier choice. I've also tried low sugar versions of strawberry jam and have decided that the full sugar is worth the calories, at 7 cups of sugar per batch.
3. Pectin: The Ball Blue Book recipe naturally calls for Ball's pectin. I've tried Ball, Pomona's, and Sure Jell, both liquid and powder pectin. For strawberry jam I've settled on 1 packet of Sure Jell powdered Premium Fruit Pectin.
4. Lemon: Don't be tempted to cut corners on this one and buy bottled lemon juice, as it has a different flavor and it has additives to make it shelf stable. You're already putting the effort into canning, you might as well squeeze your own lemons. The Ball Book calls for 1/4 C of lemon juice. I find this is just barely a tad tart, so I measure 1/4 C, remove approximately 1 Tbsp, and then I'm satisfied.
Despite my specific opinions about strawberry jam ingredients, it's actually pretty easy to make, and a good place to start if you're new to canning. If you're feeling a little skeptical about the merits of making your own jam, just scroll down and imagine this deliciousness in your own kitchen…
A couple of pouty faces; one wanted to lick the butter, the other wanted jam on toast, but they both had to wait until I was done taking photos.
Freshly baked bread from The Bread Box and Bakery. Check it out if you're ever in PA visiting beautiful Buck's County!
If you're new to canning, I highly recommend purchasing a basic canning utensil set. These inexpensive and helpful tools will make the job much easier.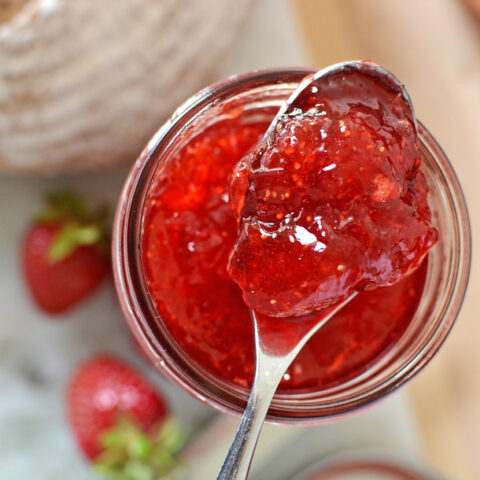 Strawberry Lemon Jam
Prep Time: 50 minutes

Cook Time: 10 minutes

Total Time: 1 hour
Ingredients
2 quarts of perfectly ripened strawberries
1 1.75 oz package of 100% Natural Sure Jell Premium Fruit Pectin
1/4 C minus 1 Tbsp fresh squeezed lemon juice
7 C organic cane sugar
6 12 oz Ball canning jelly jars with lids and rings
A large pot of boiling water
Instructions
WASH YOUR HANDS. Fill a large pot with water and begin to heat up to a boil (this will be used for processing your jam). Place your canning jars into the dishwasher on the high heat setting to sterilize (don't use soap). If you don't have a dishwasher, sterilize them by boiling. Place your lids and rings in a small, empty pot and set aside.
Rinse the strawberries and remove the stems and any rotten spots. Place them into a large saucepan and smash them until they have released their juices and only small pieces remain. A potato masher works well for this.
Add 1 package of Sure Jell Pectin and the lemon juice to the saucepan and stir to evenly combine. Bring to a boil over high heat, while stirring frequently, and scraping the bottom of the pot to prevent burning. A wooden spoon works well for this.
Once you have achieved a rolling boil, add 7 cups of sugar to the pot and stir to combine. Return the pot to a rolling boil, while continuing to stir and scrape the bottom of the pot. Boil for 1 minute and then remove the jam from the heat.
Allow the jam to sit for a couple of minutes, until it has stopped bubbling. Scrape any foam off of the top with a large spoon and discard.
Remove your sterilized jars from the dishwasher, taking care not to touch the inside of the jars. Add water to your small pot with the rings and lids and clean them by heating them on the stove top until the water begins to bubble, but DO NOT BOIL, as over-heating can damage the seals on the lids. I don't boil the lids and the rings ahead of time as they tend to rust if they sit in water too long.
Using a canning funnel, ladle the jam into your jars, leaving approximately 1/4 inch of space between the jam and the top of the jar.
Before placing lids on the jars, wipe the rims clean with a damp paper towel to ensure a good seal. Then place the lid and the ring on the jar. Tighten the ring until you feel resistance and then loosen slightly (about 1 millimeter).
Place your jars into your pot of boiling water using canning tongs, taking care not to burn yourself. If there is any empty space in the pot, fill it in with empty jars, so that your jam doesn't roll around. Process your jam by boiling for 10 minutes.
After 10 minutes have passed remove the jam jars from the pot using your tongs. Place them on a counter top that doesn't receive direct sun, where they can sit undisturbed for 24 hours. Soon after the jars are removed from the pot, you should start hearing popping sounds as the jars seal. If after 24 hours the bubble on the top of the lid hasn't been sucked in and "pops" when you press on it, then that jar did not seal, and needs to be refrigerated and used within a month. Sealed jars are shelf stable for one year. Store in a cool, dark place with the rings removed.
Notes
With home canning, food safety is first priority. Although food poisoning from home canning is uncommon it is important not to eat if a seal becomes broken or the lid is bloated. It is normal for the color to fade after a number of months, but if the jam is not even in color, or new specks are noted in a stored jar, do not eat. Jam is very shelf stable and this is not likely to happen, but always remember to look first, and then eat.


Serving size of reflective of approximately 1 oz of jam.