This week, the CSA my family uses started up for the season. It's so nice to be eating fresh local produce again! For today's recipe all of the veg (except for the garlic), was from Living Hope Farm. The new growing season always begins with cool weather vegetables… some sugar show peas, carrots, onions… and oh… mountains of greens! Personally, I love eating my leafy greens, but I'm guessing they're pretty intimidating for a lot of people. This week we got a green that I've never cooked with before called "Mizuna."
Mizuna is a Japanese mustard green and thus has some spice to it. I think it tastes like a milder, more earthy arugula. Traditionally, it is used in salads, soups and stir fries. It's most commonly used in salads, but for today's recipe I decided to add it to a stir fry. When it comes to spicy, leafy greens I find that my family is most open to giving them a first try in a dish like this one, rather than as the star of the show. In fact, this green would be great added to a variety of stir fries for a little extra nutritional boost. Mizuna is high in Vitamin A, C and K, folate, and manganese. Not to mention it has smaller amounts of almost everything else. It's also high in glucosinolates, which are antioxidants that help our bodies defend themselves against cancer. Basically, it's always good to eat your greens!
Today's recipe for Snow Pea and Mizuna Stir Fry is a late spring, early summer stir fry. It's mildly seasoned and crunchy, so that the fresh flavors shine through. And, although it seems like I won't shut up about mizuna, the fresh sugar snow peas really are the star of the show here!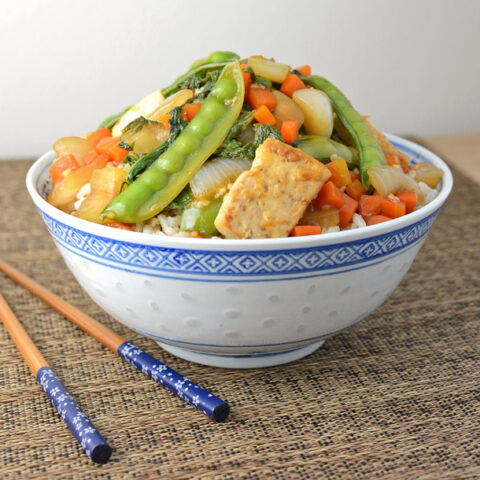 Snow Pea and Mizuna Stir Fry
Yield: 4

Prep Time: 25 minutes

Cook Time: 25 minutes

Total Time: 50 minutes

Snap Pea and Mizuna Stir Fry is mildly seasoned and crunchy, so that the fresh flavors of late spring shine through.
Ingredients
1 C brown jasmine rice
1 3/4 C water
1 14 oz package extra firm tofu
1 Tbsp peanut oil
1 Tbsp low sodium soy sauce
2 tsp minced garlic
3/4 lb snow peas
1 1/2 C sweet onion, coarsely chopped
1 C carrots, medium dice
1/2 lb mizuna or other bitter green
3 Tbsp dark brown sugar
1.5 Tbsp minced garlic
1.5 Tbsp tamari
2 Tbsp low sodium soy sauce
2 Tbsp mirin (rice cooking wine)
1/4 tsp cayenne (optional)
1/4 C water
1 Tbsp arrowroot flour
Instructions
A hour before starting dinner, drain your tofu and place it onto a couple of paper towels on a plate. This will remove some of the moisture and make it easier to brown. If you're in a hurry and skip this step, it's not the end of the world, your tofu just may not have as crispy of an outside.
Prep all of your vegetables and set aside. For the snow peas, your will have to snap off the tops and then remove the veins.
Rinse and drain 1 cup of brown jasmine rice and combine it in a saucepan with 1 3/4 cup of water. Bring it to a boil and then reduce to a simmer and cook covered for approximately 25 minutes, or until all of the fluid is absorbed.
Now that your veggies are prepped and your rice is simmering, you're ready to start stir frying! Cut your tofu into bite sized pieces and in a large pan or wok heat 1 Tbsp of peanut oil over medium-high heat. Add the tofu to the wok, fry until it becomes golden brown and then flip and cook the opposite side until it becomes golden brown. Once cooked, turn the heat down to medium and add 1 Tbsp soy sauce and 1 tsp of garlic to the pan. Stir to evenly coat the tofu and cook 1 more minute and then dish the tofu onto a plate or a bowl for later use. This should take about 10 minutes.
Add all of the veggies to the wok, except for the garlic and the mizuna. Cook over medium heat, stirring every couple of minutes for 8 to 10 minutes, or until the veggies begin to soften, but aren't mushy.
While the veggies are cooking mix together your garlic, tamari, soy sauce, mirin, cayenne, water, and arrowroot flour. Mix well, making sure there are no arrowroot clumps.
Once the vegetables are soft, add the arrowroot and spice mixture to the wok and coat your vegetables. Continue cooking, stirring frequently, until you reach a simmer. Add the tofu back into the wok and stir in your mizuna, simmer for 1 minute and then remove from the heat. At this point your rice should be done cooking. Now you're ready to serve!