Pears with Brown Sugar Bourbon and Millet – Need to warm your soul on a chilly fall morning? This cozy, hearty, and healthy breakfast will put you in the right frame of mind to seize the day.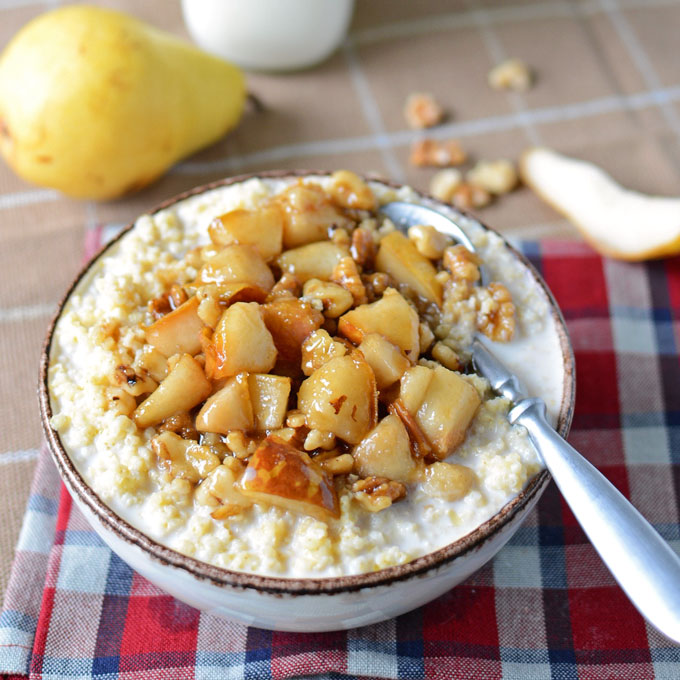 Life can be a hustle. The day-to-day responsibilities constantly seem to demand my attention and distract me from the priorities that I hold dearest to my heart. At the end of the day, I'm left feeling exhausted and stretched thin.
Some distractions are necessary and unavoidable. For example, performing well at my job and stocking the fridge. Others feel necessary, like saying "yes" to every favor others ask of me or burden they place on me.
The thing is, in the end, I get to choose whether I say "yes" or not.
You know… I have a boundaries problem. If you have a similar problem I'm guessing you understand the compulsion to say "yes."
For me, it's not so much out of the desire to please or gain approval, but it comes from a place of genuinely caring about the people in my life. If someone is struggling, I feel the need to fix their problem, save them, or sometimes just convert them to my point of view. It's an unhealthy complex.
I think it developed from being a firstborn and growing up in a home where substance abuse was an issue. There's a belief that "if I just do or say the right thing, then so-and-so will change or make better choices."
What I'm learning is, more often than not, that's not the case. There's a difference between being empathetic and inappropriately taking on the burdens of others. The latter is unhelpful and doesn't make you a better friend or loved one. Maybe the change needs to begin with me…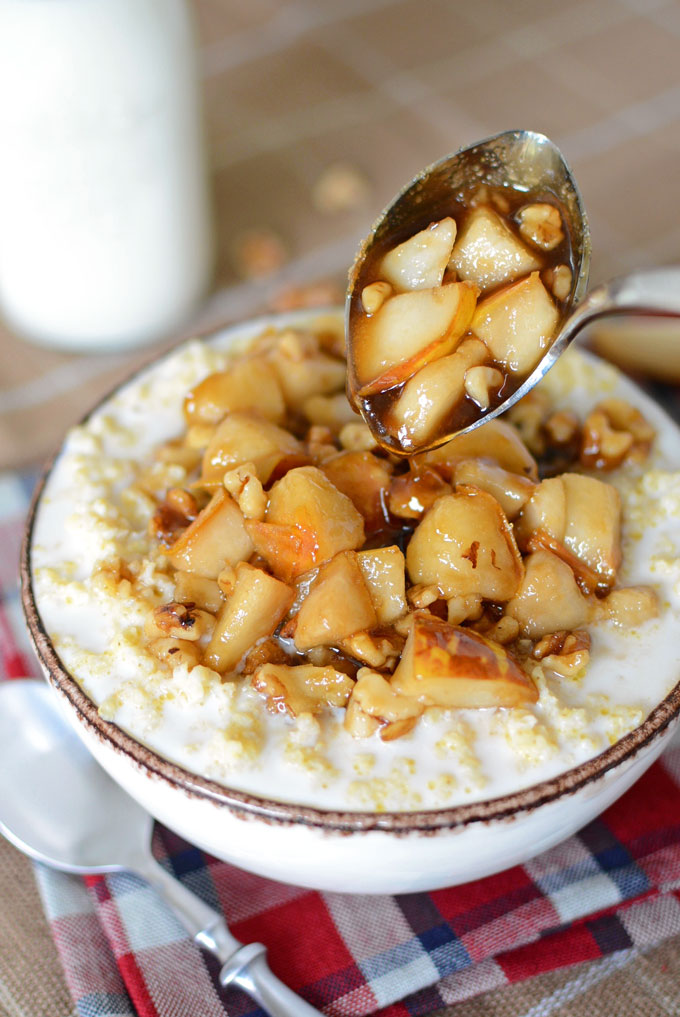 There's a passage in the Bible that says "Why do you look at the speck that is in your brother's eye, but do not notice the log that is in your own eye?" It would seem that I have some speck, or perhaps some log removing to do.
The stillness of early morning, before my 4-year-old releases his bright sunshine and energy throughout my home, affords me some precious time to enjoy a cup of coffee, some breakfast, and a little quiet self-reflection in order to work on some of that speck removal.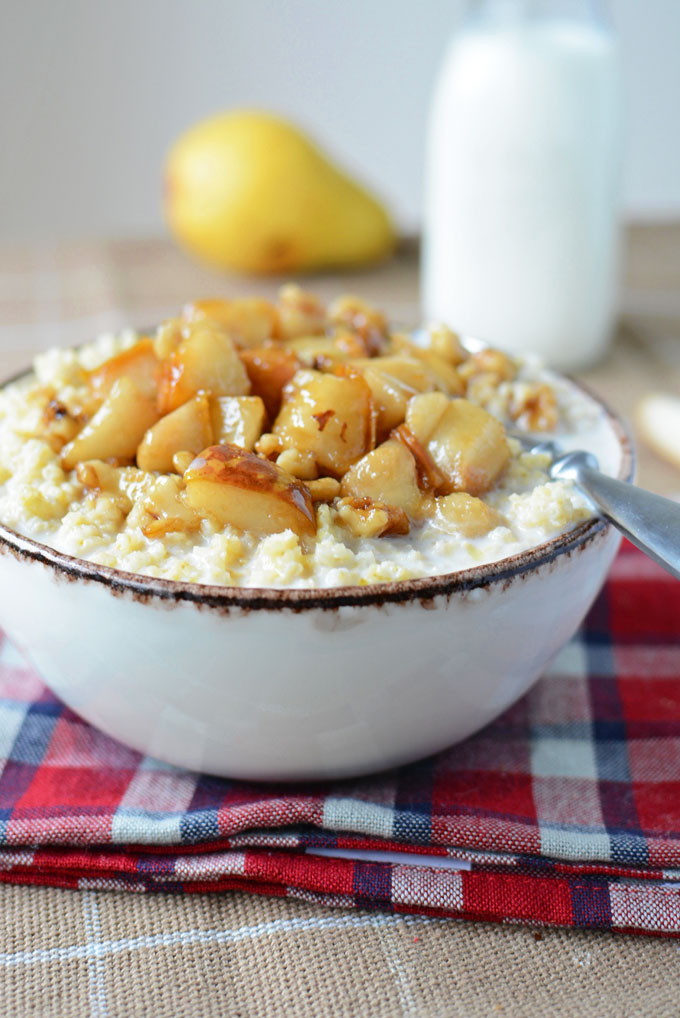 This cozy, hot cereal is the perfect accompaniment on a chilly October morning. The millet has a light, nutty flavor and the walnuts add a hearty crunch to the cereal. And who can go wrong with warm pears dripping with brown sugar, bourbon, and a little butter?
Why not make a bowl and share in some quiet introspection yourself?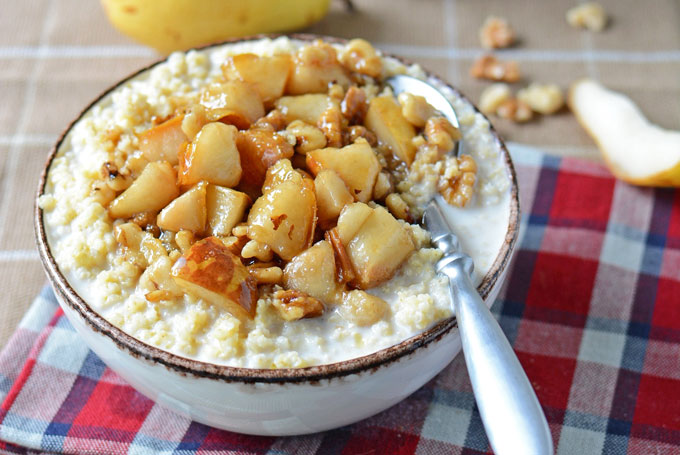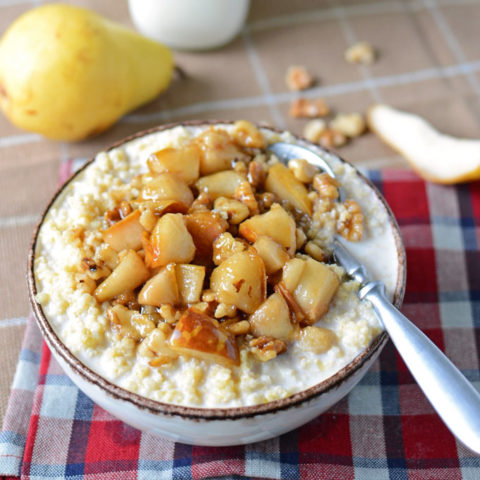 Pears with Brown Sugar Bourbon and Millet
Yield: 2

Prep Time: 5 minutes

Cook Time: 5 minutes

Total Time: 10 minutes

Need to warm your soul on a chilly fall morning? This cozy, hearty, and healthy breakfast will put you in the right frame of mind to seize the day.
Ingredients
Hot Millet Cereal
1 C cooked millet
1 C 2% milk
1/2 tsp vanilla
pinch of salt
Brown Sugar Bourbon Pears
1 1/2 Tbsp butter
3 Tbsp organic light brown sugar
splash of bourbon
2 pears cut into bite-sized pieces
1/8 C walnuts
Instructions
Combine cooked millet*, 2% milk, vanilla, and salt in a small saucepan and slowly heat over low heat until it reaches scalding temperature, which is 180ºF. Basically, you'll be heating it until it's about to start simmering. If you see any signs of a simmer or a boil starting, immediately remove the pot from the heat. You can also heat the millet and milk in the microwave, on high, in a microwave safe bowl, in one minute increments until it's heated through.
While the cereal is heating, prepare the brown sugar bourbon pear topping. Place butter and brown sugar in a pan over medium heat. Cook while stirring frequently until it begins to bubble, and then add a splash of bourbon. Simmer the bourbon for one minute while continuously stirring in order to cook the alcohol off. Finally, add the pears and the walnuts to the pan and continue heating until it returns to a simmer, then remove from the heat.
Divide the hot millet between 2 bowls and serve topped with the brown sugar bourbon pears. Serve immediately.
Notes
*For this recipe I used millet that was precooked in a larger batch so that I could use it throughout the week. To precook millet place 1 C of millet into a saucepan over high heat, and toast the grain until it becomes aromatic. Then add 2 C of water to the saucepan, bring to a boil, and then reduce to a simmer. Simmer the millet covered for about 25 minutes or until all the water is absorbed. Fluff with a fork. Cool before refrigerating. It can be stored in a sealed container for up to a week.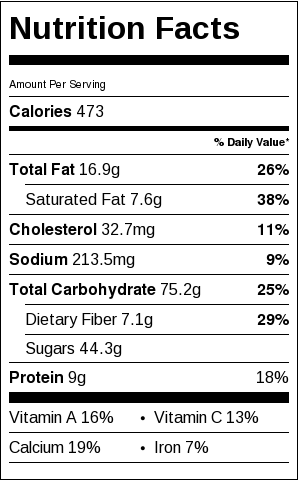 If you like this recipe you may also enjoy…